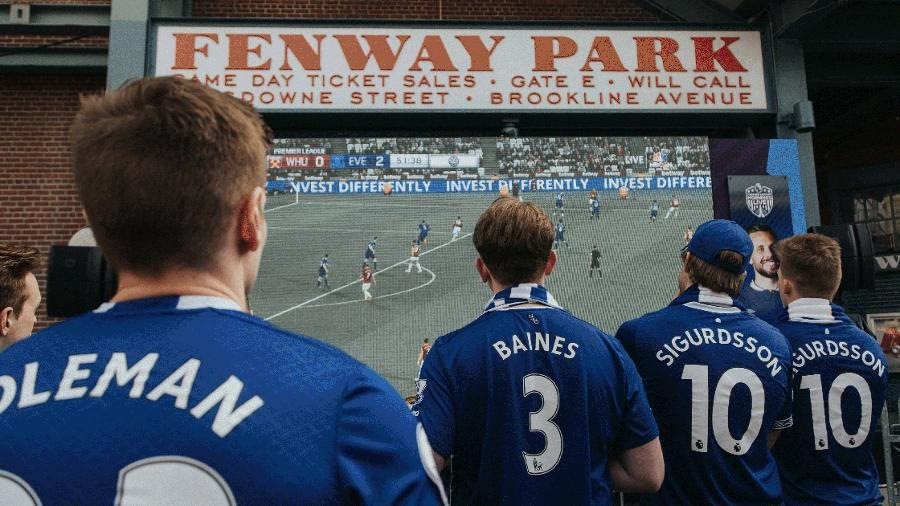 Richard Kenyon, the Premier League club's director of marketing, communications and international, tells Tariq Saleh about its ambitious long-term global growth plans.
Having made ambitious moves on the pitch in recent years, Everton, one of England's most historic soccer clubs, have developed a meticulous plan to replicate this elsewhere.
'Internationalisation' has become a buzzword in sport as clubs continuously seek to grow their global profile and has become embedded in commercial and marketing strategies.
For Everton, now is the time to turn the concept into action as they seek to capitalise on what could be a significant period in the Liverpool-based club's history.
The Premier League outfit recently unveiled an ambitious international growth strategy as part of a concerted effort to expand both its footing and fanbase to "build on the club's growing global profile".
Everton were one of the founder members of England's original Football League, but their last top-flight title came in 1987 and in recent decades they have been overshadowed on the global stage by local rivals Liverpool and other leading English teams.
This partly explains the new plan, which is made up of six pillars, including fanbase growth, strategic partnerships, brand and business development, and the launch of an international academy.
"About two years ago, we put a robust, long-term strategy together," Richard Kenyon, Everton's director of marketing, communications and international, tells GlobalData Sport.
"We put some real rigour into this and ran a formula and ranked different factors. We looked at where there is strong interest in football, the Premier League and Everton, where we have an existing fanbase and where there is already engagement.
"We also looked at where there is good heritage, where we've got a foothold and how easy it's going to be to actually engage in particular territories and how easy it is to travel and communicate there and, if it's a foreign language, can we use some of the communication channels at our disposal to run sites in those languages etc?"
The process enabled Everton to stringently select markets to target against a set of criteria.
Kenyon continues: "In terms of choosing our target markets, we wanted to try and look at a long-term strategy. Opportunities come up all the time for us to do something in many different parts of the world and we were conscious that we needed to work within a set of parameters.
"Unless we have a focus and have a long-term view, we're never really going to be able to capitalise on things, it'll always be reactive ad hoc.
"We put a robust strategy together and wanted to look at scientifically trying to establish where we should go and then obviously what we're going to do in those territories.
"Through all of those things, we weighed up if there was an opportunity for us to grow and build a stronger platform. If all the answers to those things are yes, and we go in and we do a good job, was there going to be a commercial opportunity?
"It's not driven by short-term commercial gain, but if we do all of this well, in the longer term, if we create that platform, there should be commercial opportunities."
While targeting multiple regions, Everton have honed in on North and Latin America, particularly USA, Colombia and Brazil, born out of the club's players, past and present.
The signing of Colombian star James Rodriguez at the start of the 2020-21 season gave Everton an opportunity to develop a presence in the country, while compatriot Yerry Mina is also on their books.
Brazilian internationals Richarlison and Allan give the team a gateway into the biggest South American market.
Kenyon, who has headed up the club's marketing efforts for the past seven and a half years, describes the approach as "a long-term engagement-led strategy".
US activation
Everton have identified significant opportunities in North and South America and have already taken steps to activate in the US.
The club's six-pillar strategy is highlighted by a partnership with Miami, Florida-based agency Pulse Sport and Entertainment, led by Jurgen Mainka, the former deputy general secretary and chief commercial officer of continental governing body Concacaf.
Mainka and his team at Pulse, including a dedicated brand and business development manager for Everton. will act as an extension of the club's UK-based international team, and provide an on-the-ground presence across North America.
The expanded team will work alongside marketing, engagement, commercial and brand specialists of the club and be tasked with securing strategic partners.
With North America a key target market, Everton's international team will work with Pulse to further develop their presence across the region, while the agency will primarily support brand and business development projects and the club's engagement strategy with its US fanbase.
"The opportunities for us [in the US] are very much on the ground, we want to grow our supporters club network there," Kenyon says.
"We want to appeal to young supporters. It's very much about that on-the-ground connection and ultimately that builds a stronger platform for us.
"It's okay saying we've got this many supporters but what companies who will work with us will want to know is if they are engaged supporters or are they just numbers on a page? Ultimately then, we can also do more meaningful activations."
The club will launch a new international Soccer Schools programme in the US, which will run alongside the recently established Everton International Academy Affiliate programme.
The team also recently staged a first-ever virtual event specifically for US fans as part of EvertonUSA Live.
Everton said that "this creative and collaborative approach to fan engagement is a focal point of the club's digital engagement strategy".
The strategy has had the desired effect as the US audience for the official Everton YouTube channel increased by 743 per cent in four seasons, while there has been a 54 per cent rise in official US account followers on Instagram and a 36 per cent uplift of followers on Twitter.  
Fan engagement and Latin America
Everton's strategy is underpinned by fan engagement, and the club is hopeful of organising pre-season tours in the USA and South America in the coming years, something which they had planned last summer before Covid-19 struck.
The concept of fan engagement has taken on a life of its own in the modern sports world and its significance increased tenfold during the pandemic.
For Everton, fan engagement presented both a challenge and a new way to increase their global reach.
With their Goodison Park home largely closed off to supporters over the last year, the club had to get creative in keeping their fans, both at home and abroad, engaged.
A key aspect of the international strategy, which also includes Australasia, the Far East, the Middle East and Europe, focuses on engagement with fans in their local language and creating tailored activity.
Digital engagement, that considers different cultures, has played a significant part in the club connecting with their fans worldwide.
"Fan engagement is always really important to us and it's something that we're going to continue and want to develop," Kenyon explains.
"Everyone has been remote over the last period so the engagement that we would usually have on a matchday is gone. Everything has become virtual and because of that, all the events that we've done have had to be virtual and we found that some of them have been absolutely fantastic.
"We can now see how much more there is at our disposal from a digital and content perspective so that would have been part of the plan anyway, but we can now see there's a huge appetite for that kind of thing so it's definitely something that we'll want to build on."
Everton are looking to take an authentic approach to fan engagement, with supporters' clubs and soccer camps in global territories to directly reach followers outside of Liverpool.
The club have also entered into exclusive content deals with the likes of RCN Television in Colombia and online sports marketing outlet MKT Esportivo in Brazil to service their fanbase in the region.
The Merseyside outfit additionally launched exclusive Chinese, US, Portuguese and Spanish-speaking club social media accounts.
"What we wanted to do is really have an authentic voice in these regions and that means that we can't do everything on our own," Kenyon says.
"A lot of the people that work for us are mainly familiar with the Premier League and England and the north-west and Everton.
"We need a different perspective and voice sometimes to help us in those territories, so that's why we would do collaborations like that and that's really important because if we're going to be engagement-led, then it's got to be authentic engagement.
"It has to be real and in the right tone and have all the right nuances for people in those regions. If we can work with partners to be better at that, then we will."
Asked if the club could look to do more partnerships on the ground similar to Pulse, Kenyon replies: "In other parts of the world, if there was a similar opportunity to work with somebody of Jurgen's calibre and experience, whether that's directly or indirectly through an agency type of agreement, we'd be happy to do it because we can't do all of this on our own.
"We need to work with good partners, whether that's in an executive type role like Jurgen or different companies to help us so there'll be a lot of collaborative working."
To add another layer to their engagement efforts, Everton have also looked to regional partnerships, particularly in Colombia.
On the back of signing Rodriguez, Colombia's most high-profile player, from Spanish giants Real Madrid, the club identified a major growth opportunity in the country.
In addition to the content deal with RCN, Everton secured their first commercial partner in the South American territory last December in a deal with gaming brand Rushbet.co, which became the club's official betting partner for the market.
Then, this February, the club teamed up with Cracks Colombia, the popular Latin American soccer social media influencer platform, to stage the first-ever Spanish-language live watchalong for Everton's 2-0 win over Liverpool.
In addition, Everton became the first soccer club in the world to use TikTok's live geo-stream focused on one territory and the event, which the team claim was the first of its kind to be undertaken by a Premier League side in the region, generated 7.3 million video views on the Chinese video-sharing platform, while Everton's Colombian followers increased by 9 per cent across that weekend.
"When we signed James [Rodriguez] last September, we thought there's a launch pad here, there's a real opportunity to use that and so we'd done our research and had things in place," Kenyon explains.
"Some of the things that we wanted to do as part of the mix we just haven't been able to like the [pre-season] tours, but we wanted to push on and start now because the sooner we start, the sooner we can start hitting those targets and build that momentum.
"It's not been ideal doing it in the middle of a pandemic where you can't travel but it's started off very well. A lot of the activities we were on with before we announced them publicly, but everything so far is on track and once we're able to actually do things in person and travel, it will only accelerate further."
Could more regional commercial partnerships be key?
Kenyon says: "This international strategy will give us more opportunity because if we're in a particular region where our engagement is strong, then that's going to make us even more attractive.
"It's not the primary driver, but in the longer term, it will definitely be helpful. If you've got the Premier League and the global platform it gives you, and you've also got high levels of engagement locally, then it can be a really powerful mix.
"The engagement strategy, as we build a stronger platform within particular countries, will definitely support commercial objectives as well."
In October 2020, Everton further strengthened their international ties to Latin America by signing a partnership with their Chilean namesake, Everton de Vina del Mar and its owners Grupo Pachuca.
New stadium
A new state-of-the-art stadium that is on the horizon can only serve to boost Everton's ambitious growth plans.
After years of planning, the club was finally given the green light by Liverpool City Council earlier this year to develop a new 52,888-capacity home at Bramley-Moore Dock in the north of the city.
The stadium on the waterfront is projected to cost in the region of £500 million and Everton hope to relocate to the venue for the start of the 2024-25 season.
Everton, which have been playing at Goodison Park since 1892, have been seeking to move to a modern new home for the past 25 years and described the approval from the local council as "a momentous day".
Kenyon, whose team delivered the public consultation and engagement process for the relocation plan, as well as a £100 million community-led legacy at Goodison Park, believes the new stadium will provide a financial boost and play a key role in helping the team fulfil their long-term goals.
"It will definitely help us support our objectives," he says. "We're currently constrained at Goodison, we have a very large waiting list so we're missing out on revenue from just a number of supporters in the stadium.
"We also have a very small hospitality offering at Goodison. There will always be a commitment from the club to have some affordable seating in this stadium, but we just haven't really been able to stretch that pricing at Goodison.
"It's all very narrow and all benchmarks favourably in terms of affordability at the low end in the Premier League and while that philosophy will be maintained, we don't have enough of the premium seating and the hospitality, and that has made us fall behind in terms of those matchday revenues, so we'll be able to catch up on some of that."
He continues: "The other thing it will do is really help with a repositioning of the club, because we are a very ambitious and dynamic organisation and that new stadium, even just the plans before it's built, is just shifting the narrative about Everton and a club that is going places.
"This has always been a very progressive club but through the new stadium, you can see that even more visibly."
The move represents another strong financial commitment from majority owner Farhad Moshiri, who has invested heavily in Everton since taking control in 2016.
By the end of February 2021, this stood stood at over £400 million.
The British-Iranian businessman, who owns a 77.2 per cent stake in the club, could soon increase his share to over 90 per cent through his Blue Heaven Holdings after agreeing to invest more money.
Moshiri has also spent significantly on the playing side, with an outlay of more than £200 million on transfers in recent years.
His commitment to the club adds more weight to their long-term aspirations.
So what can we expect from Everton in the next five to 10 years?
"It's all about growth and progress," Kenyon concludes. "We want to grow off the pitch, so we want to have more supporters and all of the opportunities that brings.
"Obviously, we want to have that new stadium and we want to be competing at the very top of all the competitions that we can and that's clear across the organisation.
"Off the pitch, whether it's the stadium or our investment into the international stuff, people will be able to see that this is an ambitious club that is keen to go places quickly."