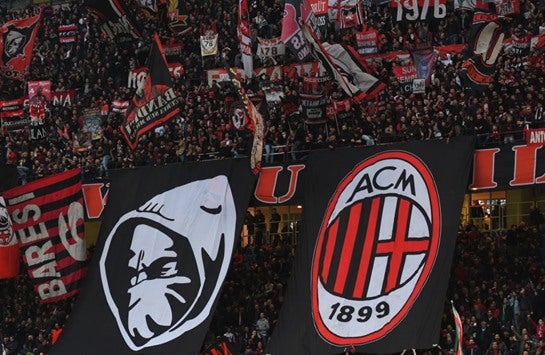 "Milan l'è semper un gran Milan" is a famous phrase in Italy's fashion capital. "Milan is always a magnificent Milan."
In relation to the seven-time European Cup/Champions League winners, it has seldom been uttered in recent years.
AC Milan are considered one of the fallen giants of European soccer.
On the pitch, the club has not won the domestic Serie A title since the 2010-11 season and last tasted Champions League success in 2007. They've also been absent from the continent's elite clubs competition since the 2013-14 campaign, an eternity for a club of its size and stature.
Sporting results have fallen below expectations but the club's ownership group, US investment management firm Elliott, has ambitious plans to restore Milan to their past glory by delivering significant results off the pitch and has carefully put a team in place to carry out this particular brief.
Casper Stylsvig (pictured below), who was appointed as chief revenue officer in March 2019, is a key figure in fulfilling this task.
Chief executive Ivan Gazidis, who himself had only joined the club three months prior from England's Arsenal, said Styslvig's appointment was part of his "strategic aim to drive sales and increase revenue through all commercial divisions."
The most ambitious of Milan's plans is unquestionably a proposed move to a new stadium, which is seen as a priority to enable the club to once again compete financially with Europe's elite.
"It is absolutely fundamental for a club like AC Milan to have a new, modern stadium which is up to the requirements a stadium will have today," Stylsvig tells Sportcal Insight.
Milan and local rivals Inter last year filed a request to jointly build a €300 million ($331.5 million), 60,000-seater stadium in the San Siro area and have been engaged in regular discussions with the local government to get the necessary approval.
The stadium is the key element of a wider plan to build a €1.2 billion sports and entertainment district adjacent to the current site by 2023.
Stylsvig continues: "Both from an experience point of view with the fans and obviously a safety point of view, but also from an economical point of view, having a new stadium is absolutely fundamental.
"It will create attractiveness. Italy is one of the few countries in Europe with the lowest amount of new stadiums so adding a new stadium to Milan, especially after this epidemic, will be a financial boost to the local economy and also create jobs. For a club like ours, it is absolutely fundamental."
The iconic San Siro stadium (pictured below), which was built in 1926 and has been shared by Milan and Inter for 71 years, will need to be demolished and the clubs' hopes of doing this took a huge step forward in May when Italy's heritage authority said it raised no objections to the venue being torn down.
This removed a major obstacle but as Milan and Inter pay rent to the city, which owns the venue, a common arrangement in Italian soccer, the final decision will lie with the local authorities.
Although the global pandemic has had a major financial impact on the sports industry, including the economy in Italy, which was one of the worst-hit countries in the world, it has not had a detrimental effect on Milan's plans.
On the contrary, Stylsvig says it has been strengthened.
"We are continuing to have very good dialogue with the local government and there is still a commitment from the ownership, the two ownerships including Inter Milan, that we are still committed to further exploring this opportunity," he notes. "If anything, it has become even more important now for the financial injection to the local economy."
The Milanese rivals are pressing ahead and in May, architect firms Populous and Manica/Sportium, which were shortlisted to design the stadium, unveiled concepts for the venue and sports and entertainment district.
It is described as a hub dedicated to retail, sports, cultural and leisure activities both outdoors and indoors, including a running track, a cycle path, an outdoor gym, a skateboard park, a five-a-side pitch and sports museum. Most of the sports services will be available for free to local citizens of the surrounding areas.
Milan and Inter believe "it is essential, especially in light of the current moment, to commence a project that represents more than €1 billion of private investment, which will generate thousands of new jobs and serve as a cornerstone for the future development of the city of Milan and Italian football."
From a commercial perspective, Stylsvig sees many opportunities to increase revenue through upgraded facilities which the San Siro lacks.
He explains: "What a new stadium will bring to the table are areas for our partners, opportunities for implementing partners, hospitality areas, which today are probably not up to the standard they should be when you compare it to other stadiums. So that is a revenue source where we certainly can improve further.
"Then also the safety of it and the amenities, everything from concessions to the megastore. When we start to compare numbers to the other clubs, we are far behind so it's a huge growth area. Then implementing technology in a new stadium, which would make the whole fan experience much broader and much more interactive, is a key thing as well."
Ultimately, Stylsvig's primary task is to grow the club's commercial income, which has taken a significant hit in recent years.
For the 2018-19 season, Milan posted a record financial loss of €145.9 million, a 16 per cent slump year-on-year. Sponsorship revenue dropped €6.7 million, with the continued absence of Champions League action cited as a major factor.
The club has also fallen foul of Uefa's Financial Fair Play rules and were banned from this season's Europa League as a result after qualifying for the competition through a fifth-place finish in Serie A. Milan accepted the measure in return for Uefa ending its proceedings against the club.
This came after Milan had successfully appealed to the Court of Arbitration for Sport against a two-year ban from European competition imposed by Uefa in 2018 after being found guilty of overspending between 2015 and 2017.
This meant that they were able to take part in the 2018-19 Europa League, but had until June 2021 to resolve their financial situation. The club ultimately accepted a one-year ban as it was facing further punishment for FFP violations between 2016 and 2018.
Under Uefa rules, clubs face sanctions if they run up losses above a permitted level over a three-year period.
Stylsvig is under no illusions about the size of the role he has to play to get Milan back to a stable financial position.
"It is crucial because it is one of the things we can control and FFP has an impact on all football clubs so an area we can grow is certainly on the commercial impact, particularly around partnerships," he says.
"We can't control what is happening on the pitch but we can control what is happening all around the pitch and also from the ownership perspective it is a true growth area for the club and we need to grow the commercial revenues.
"When we compare to other clubs, we are nowhere near where we should be and it's clear for everyone to see when you look at the various charts where we are at the moment but if you look at the scope of the club and the size of the club, there is certainly room for growth."
---
We are a global club and we need global brands to follow our path.
---
Stylsvig, who hails from Denmark, is no stranger to boosting the commercial coffers at big European clubs, having previously spent almost eight years as head of sales and global sponsorship at England's Manchester United and two years as business development manager at Spain's Barcelona.
At Milan, he immediately began by restructuring the club's commercial team, which included the appointment of Maikel Oettle from the IMG agency to head up sponsorship sales. Stylsvig said the revamp was done to develop a more "direct and targeted approach."
Milan are now focusing on actively approaching global brands and have put a strong emphasis on acquiring high-profile partners in line with the standing of the club.
"We are a global club and we need global brands to follow our path," Stylsvig insists.
As is traditionally the case in soccer, major brands are interested in major clubs competing in the major competitions.
Hence why a return to the Champions League is high on the agenda for Milan.
"I think seven Champions League wins speaks its own language and the Champions League is AC Milan's natural habitat if you look at our history," Stylsvig says. "So obviously going back to compete in European competitions on a regular basis is a top priority for the club without a doubt and that will further help strengthen our financial goals from a financial perspective but also from a commercial perspective."
Sport is increasingly embracing digital and with a dearth of live action in recent months, it has become an even more valuable commodity.
In the sponsorship market, digital is the trend and experts are predicting it will become an even more essential component in activations moving forward.
Even before the pandemic, Milan identified this as another area to attract partners and are undergoing a "digitalisation process", which began by launching their first mobile app in August 2019.
Last year, Milan also expanded their digital footprint by launching websites and social media accounts in several languages, adding Spanish and Portuguese to the Italian, English and Mandarin versions which were already available.
Spanish and Portuguese Twitter accounts were also launched, as well as an Arabic-language one, with localised content on Facebook.
Stylsvig has identified China, Indonesia, the Middle East and Brazil as markets where Milan have a "stronghold" and is keen to service these by developing "an ultimate global strategy."
The club also partnered with UK-based digital marketing agency WePlay at the start of the season, a collaboration that resulted in a 7.5 per cent increase in ticket sales.
Stylsvig explains: "Big brands are spending more money on digital assets so a big part of their marketing spend is going through that and if we are to attract some of the biggest brands in the world, we need to follow that trend.
"So having a very clear strategy of how we do that is essential and one of the things is having our app up to scratch. But it's not only that, it's also having a mind-set where we are linking up with a company like WePlay and we start to push, for instance, e-commerce or ticketing much harder on the digital platform.
"Last year, we had our highest average attendance in 10 years and that is despite this season not going according to plan but that shows that once we start promoting the assets we have in the digital space, the results will come.
He adds: "We are also focusing on our growth on social media and that is something we keep investing in so it's about retaining existing followers on the various channels, opening new channels like TikTok, but also making sure that we monitor everything in a systematic way because ultimately our partners will look to these channels and will see how many followers we have, what is the engagement and so on, and we are basically being judged by that."
Milan have developed a strategic commercial plan to exhaust all potential revenue streams but effectively, results on the pitch will need to improve to give themselves the best possible opportunity to meet their ambitious targets.
The club were seventh in Serie A before the season was suspended in March and 12 points off a Champions League place with 12 games to play. It may be a tall ask to finish in the top four once the campaign resumes on 20 June but a top six finish is within distance, which would at least return them to the Europa League.
Although commercial success depends largely on performances and results, Stylsvig is not prepared to hang his head on that.
"That is usually the first excuse any commercial guy will come up with but I do think the fact of the matter is having the highest average attendance in the stadium in 10 years is a testament to certain sources we have not fully explored," he says.
"The second point is, I have no say on what is happening on the pitch. From that perspective we can control everything outside the pitch and there are many areas where we have not fully explored yet where we are behind compared to other clubs but also behind in regards to our own expectations, so that is a huge opportunity there.
"Once all those revenues have been explored, it is down to the performances on the pitch but where we are at the moment, there are so many unexplored opportunities so we cannot really blame that [results]."
So, what then are these unexplored opportunities?
"It is the level of partners, and we are not just benchmarking ourselves to the Italian league, we are benchmarking ourselves to the biggest clubs," Stylsvig replies.
"We also look at how we sell e-commerce, in terms of retail from amount of shirts sold, so we are benchmarking on that.
"Then of course, on the ticketing side of things and having a stadium with a capacity close to 80,000, that's a huge opportunity for us to sell, not just the big games but also the less big games and make sure we get as many people in to experience visiting San Siro. If you look at other clubs, they have more retail outlets so there are plenty of opportunities to work on."
---
Commercially, we will be incredibly busy in the next five to 10 years.
---
Despite the size, history and appeal of the club, based in the fashion capital of the world, returning Milan to their old glory days is not an overnight job.
Milan fans may be losing patience but a degree of it will be required as the long-term future looks brighter.
They may have fallen but they're determined to get back up.
"Commercially, we will be incredibly busy in the next five to 10 years," Stylsvig predicts.
"We know what we need to do, we know what areas we need to focus on and we have a clear project in place. We're not trying to fix everything at once, we'll have to go slowly and make sure that we have a strong foundation in place and then we will move onto the next thing.
"That being digital, sponsorship, the venue side of things, retail and e-commerce and then once that's done, we will have to move on and having a clear priority list is fundamental in order to achieve this.
"It is a long-term project, it will take a number of years to get this right but the advantage we have, besides a strong ownership, is we have a clear philosophy. We also have a stadium coming up which makes this feasible.
"We do have a big asset which will make it more appealing for big brands to be a part of this journey and that will also help to transform the club which can lead to more funds to invest on the team side of things.
"As I see it, and one of the reasons I joined is I do not believe there is a more appealing and interesting project in the world of football out there at the moment. This is huge history for a huge club and there is a very bright future if we manage to do it the right way."
Sportcal