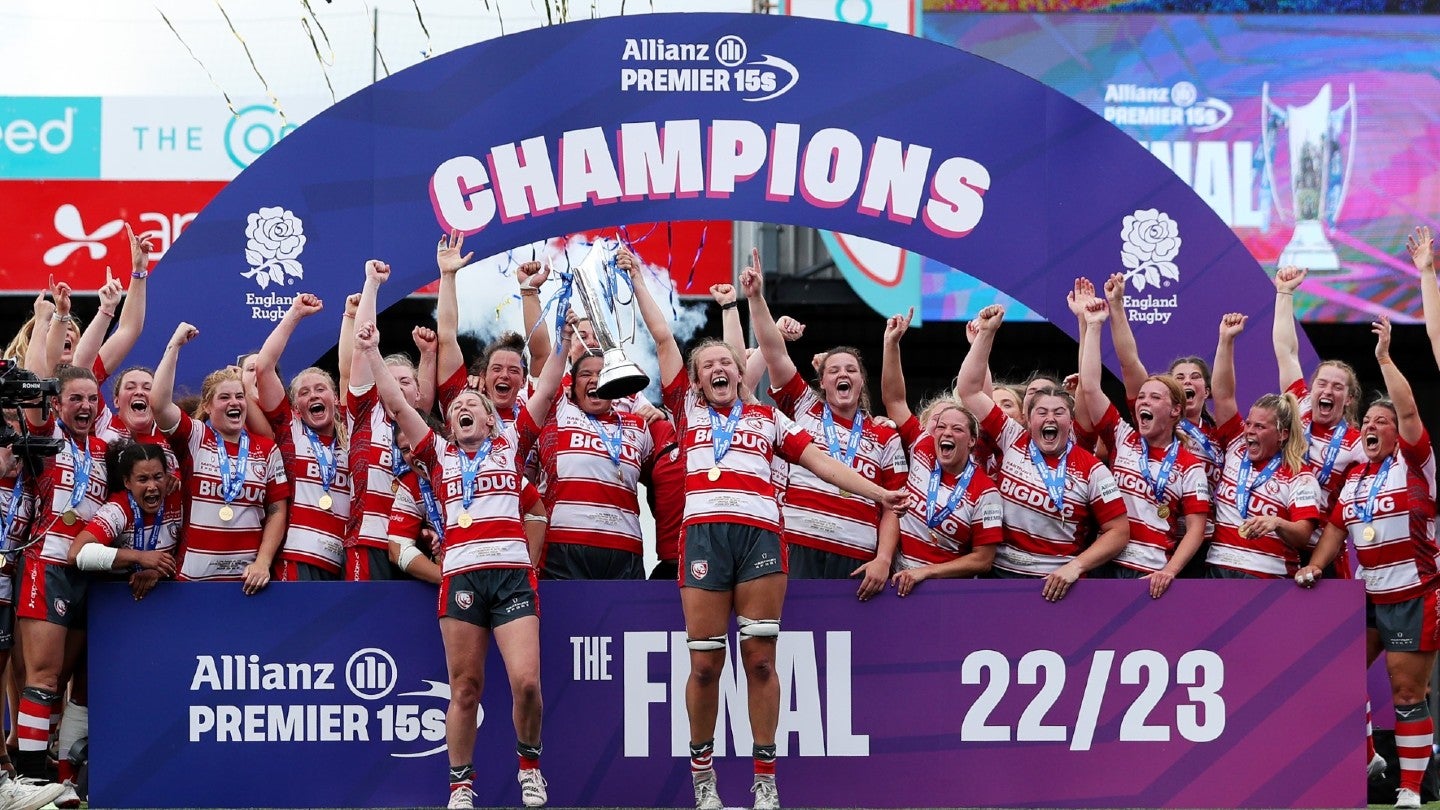 In the early hours of a Saturday morning on November 12, 2022, the UK woke up in their droves to watch England's Red Roses step out to a roaring, sold-out crowd of 42,579 fans at Eden Park in Auckland, New Zealand, as they prepared to take on the host country's Black Ferns in the Women's Rugby World Cup final.
Billed as the biggest game of women's rugby ever played, there was an unprecedented level of demand for tickets, and as the Six Nations champions and the game's number one ranked side, England entered the game as favorites.
The women battled, they fought, but they lost – a second chastening defeat to the Black Ferns in consecutive World Cup finals and their first defeat to anyone in 31 Tests.
However, while the players felt bereft in their loss – they were 14-0 up and cruising, only to be reduced to 14 players after a red card was shown to winger Lydia Thompson for a high challenge – the Roses had captured the imaginations of so many by playing their part in perhaps the best World Cup final in women's rugby history.
It showed how far the sport in England had come since the inaugural women's World Cup in 1991, organized by four female volunteers with full-time jobs from Richmond Rugby Club and a shared love of the sport.
The event, which ran for nine days, was staged without the backing of the Rugby Football Union governing body or the International Rugby Board, both of which told the organizers that women's rugby was "a participation sport, not a spectator sport."
Since then, the country has made enormous strides in its mission to professionalize the women's game, culminating in the announcement that England will host the 2025 Women's Rugby World Cup.
And the growing popularity of women's rugby has not been lost on the RFU, which has forecasted that 2025 will provide a £156 million ($198.8 million) uplift to the UK economy.
While England's international reputation abounds, domestically, things have been a little slower.
Its top-tier Premier 15s competition was only launched in 2017 and has been dominated by two teams – the Saracens and Harlequins – who have shared all title wins between them until this season.
But things are about to change.
After a record crowd of 9,668 turned up to see Gloucester-Hartpury beat Exeter 34-10 to be crowned Premier 15s champions last weekend (June 24), the league announced a complete rebrand as part of a 10-year plan to further boost the women's game in the country.
The rebrand, created in partnership with creative sports agency MATTA, where current Saracens player Flo Williams serves as the organization's women's sport lead, will see the competition renamed Premiership Women's Rugby (PWR) and the launch of a new 10-team league in partnership with the RFU.
Announcing the change, PWR chief executive Belinda Moore said the ambition is to "transform the league into the world's most competitive, progressive, and sustainable domestic rugby competition."
She added: "The new era starts today, and the competition's new look and feel is designed to be powerful, dynamic, and eye-catching. It aims to capture the excitement and high energy of the league, the players, the fans, and the sport as a whole."
As other sports organizations choose to rebrand their competitions, including Europe-based rugby union clubs competition Pro14 changing to United Rugby Championship and soccer governing body CONCACAF renaming its flagship men's Champions League to Champions Cup, GlobalData Sport spoke to Pete Gomori, creative director at MATTA to discuss the merits and pitfalls of rebranding.
What is the reasoning behind sports organizations rebranding themselves and their competition in today's competitive market?
Cutting through in a crowded market is crucial for sports organizations – and there's never been more competition for attention. The best way to do that is to keep adapting and evolving – staying true to your roots and unique offer but also absorbing the shifting energy of wider culture into the way you present to the world.
By doing that, you show fans that you're always ahead of the game, in tune with what they're interested in, and a vibrant and dynamic product. Specifically, for PWR, women's rugby has hit a real tipping point in terms of how it's broken into the public consciousness following the World Cup, and the moment was right to take advantage of that wave of interest.
What factors should sports organizations and competitions consider before deciding to rebrand?
Relevance is crucial for brands, and the world moves fast around them, from changing trends in design, music, style, and culture. It's probably fair to say that marketers have a bit of an instinct for when a brand has started to feel like it needs shaking up, on this basis.
So the core benefit is staying ahead of the curve and retaining that relevance. The risks, of course, are alienating the older or more traditional fans or ripping up the equity your brand heritage has built up – but the truth is that fluidity is essential in today's media landscape, so when done at the right time, the benefits outweigh the risks.
Rebranding often involves changing logos, names, and identity – how can sports organizations ensure that their new branding resonates with fans and maintains a connection to their history?
Fans build up an affinity with a brand over the years, and there are always more traditional audiences who don't like change. We need to forgive that as they're showing love for the history and meaning of a brand in their hearts. So, rebranding in a smart way that balances the past, present, and future is critical.
That involves understanding what's truly at the core of a brand from an emotive and motivational point of view and re-articulating it in a way that's up-to-date and energizing.
What strategies are used to effectively communicate an organization's new brand and generate positive reception from fans and the public?
One of the best ways to create a positive feeling about a new sport brand is when the players themselves show enthusiasm by posting or reposting brand assets. There's nothing like an endorsement from your heroes! So, bringing them on the journey and gaining their buy-in if possible, is great – and just having a good knowledge of their mindset is unbeatable. (Quick shout out to Flo Williams, as it helps if, like us, your Women's Sport lead also actually plays for Saracens!)
How can rebranding help sports organizations and competitions attract new audiences and commercial deals?
There are two areas where sports organizations often go for new audiences. One is fans of other (often adjacent) sports who haven't gotten involved yet, and the other is younger audiences who have new sets of motivations and aesthetics which need to be catered to. So, a rebrand can help tick some boxes for these audiences and bring them into the fold.
What trends or innovations do you anticipate in the future of sports rebranding? How can organizations stay ahead of the curve and ensure their branding remains relevant in a rapidly evolving landscape?
Things move faster than ever now, so flexibility is essential. And the truth is, there's no true way to futureproof your brand entirely – the only way to ride a wave of the twists and turns in popular culture is to keep your eyes and ears open and respond intelligently.
"Remember that your brand isn't just a logo, a colorway, or a name – it's a spirit, an attitude, and a raison d'etre expressed through everything you put out into the world. So, you change any one of these – or put out content and advertising that expresses your brand in whole new ways – as long as you stay true to your essence.