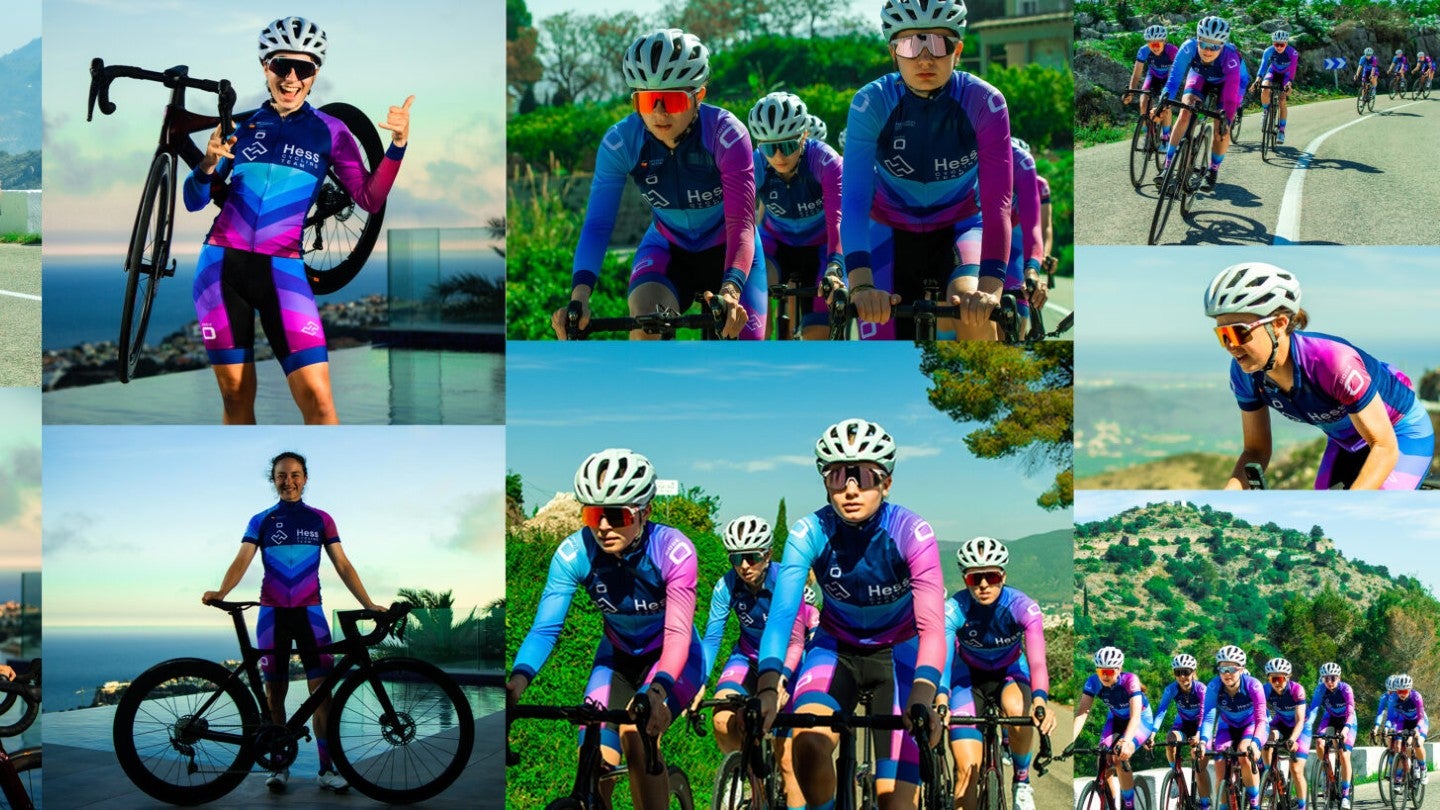 Only founded this year, Hess Cycling Team is a new female professional cycling outfit currently competing at UCI Continental Level.
The team is aiming for entry into the prestigious Tour de France Femmes by 2025 and will be competing in a series of UCI WorldTour races in 2024 across Europe, North America, and Asia.
They were founded by entrepreneur and investor Rolf Hess, with the backing of Hess Enterprises Limited, which is the Hess family-owned group of companies operating within luxury goods, beverages, sports, entertainment, and skin care.
The launch comes at a time when women's sport is going from strength to strength, with the NCAA's women's college volleyball match in the US between five-time NCAA champions Nebraska Huskers and the Omaha Mavericks setting the world record for in-stadia women's sports attendance last month.
Meanwhile, in the summer BeIN Sports, the international pay-TV sports broadcaster, attracted a cumulative audience of 93.5 million for soccer's 2023 FIFA Women's World Cup across the Middle East and North Africa.
Within cycling, the recent successful launches of the Tour de France Femmes and Giro Donne in 2022, and La Vuelta Femenina in 2023, make women's cycling a good entry point for brands looking to start investing in sport.
Speaking to GlobalData Sport, Hess explains the decision behind founding the team, as well as the challenges and benefits that come with it.
What are the main benefits that you as a brand are looking to tap into from sponsoring a sports team, both in terms of brand exposure and market reach?
Our ultimate goal is to create a sustainably run, leading women's cycling team. Time and again – and particularly in cycling – sponsors come and go leaving teams without the funding in place. Our entry into cycling is not focused on growing the Hess company but to create an environment where female cyclists can thrive on and off the bike.
Hess Enterprises comprises luxury goods, beverages, sports, entertainment, and skin care products which is where we will be looking for brand exposure and market reach leading to growth for each separate brand within the group. In time, our separate businesses will be marketed through the team at appropriate times to tap into the market reach; however, the first stage is to grow the cycling team so there is a platform for product marketing in phase two.
What was the decision behind Hess' decision to sponsor a women's cycling team? Were there any other sports that you were interested in sponsoring and if successful, will you look to sponsor other sports teams outside of cycling?
Over recent time and most evidently shown by the FIFA Women's World Cup 2023, Women's sport is exploding, and rightly so. Cycling is very much on this path with 23.2 million watching the Tour de France Femmes avec Zwift in 2021 live. From seeing this year's race and the incredible scenes at the recent Glasgow UCI World Championships – we expect this to grow further. We have a long history of building companies from the outset into successful properties so rather than sponsoring an established well-known club or team, we prefer to build our own from the outset with the control to grow this in a commercially sustainable way.
Absolutely, we are currently analyzing future investment opportunities notably in both men's and women's football that align with our strategy of establishing or growing teams from the outset in multiple different sports and regions.
What are the risks associated with sponsoring a sports team that underperforms or becomes associated with negative events?
The most obvious risk is our team platform not generating the exposure we are looking for both Hess-owned companies but also our external partners. We are particularly cognizant of this while we are still a growing team with younger riders at the start of their careers. However, our strategy for growth is highly focused on non-live race action to account for this. As we are growing our rider roster and team, we will look to attract new fans with each rider signing however it is noticeable at this stage in women's cycling, fans are more connected to teams and brands digital channels compared to the riders' channels themselves. We are therefore looking to establish a community of fans of the team and our riders rather than purely through 'big name signings'. We would like committed fans who follow Hess not only for the cycling results but for the content and values we share.
There is always a risk of negative association and we're all very aware of cycling's past. Cycling is however now vastly different from 15-20 years ago and we believe the upward trajectory of professional women's cycling is something we would like to be a part of and contribute to.
What role does the live and televised nature of sports play in making sports team sponsorship an attractive way for brands to reach a large and engaged audience?
Reaching our target audiences through live and televised sports is of course important but interestingly, where women's cycling currently is it is not the sole way nor should be relied upon to reach our audiences. WorldTour events must provide live TV coverage of at least the final 45 minutes of each stage however there is no guarantee each team will feature in this with coverage often of the leaders. Therefore, developing our own committed fan base is hugely important whether this is embracing new media platforms or more traditional media coverage. Also, we think creating experiences is a great way to grow the team. We have a spread of nationalities within our team so will be offering training programs and ride-along days.
What strategies are you employing to measure the return on investment on your sponsorship and how are you evaluating the effectiveness of your marketing efforts?
Currently we are prioritizing growing the awareness of the Hess brand via social media engagement and media coverage as we are a relatively new entrant into the sports marketing sector. When our consumer products are marketed via the team this will also focus on growing awareness but will also have a customer acquisition mindset with our ROI based on the direct revenue generated from the platform the team provides.
How are you planning to link your sponsorship of the cycling team to your products? Will you be leveraging the sponsorship to create an advertising campaign around your products?
Yes, in the coming months, we will be announcing a series of products partnering with the team with wholesale marketing campaigns launched aligned to the 2024 cycling season and when we are racing in our key markets with some of our products only produced in certain regions. Organic and paid digital marketing will of course be key and we will be releasing customer offers, exclusive events such as train with the team days, link tracking, and specific offer codes will all be deployed in the coming months.