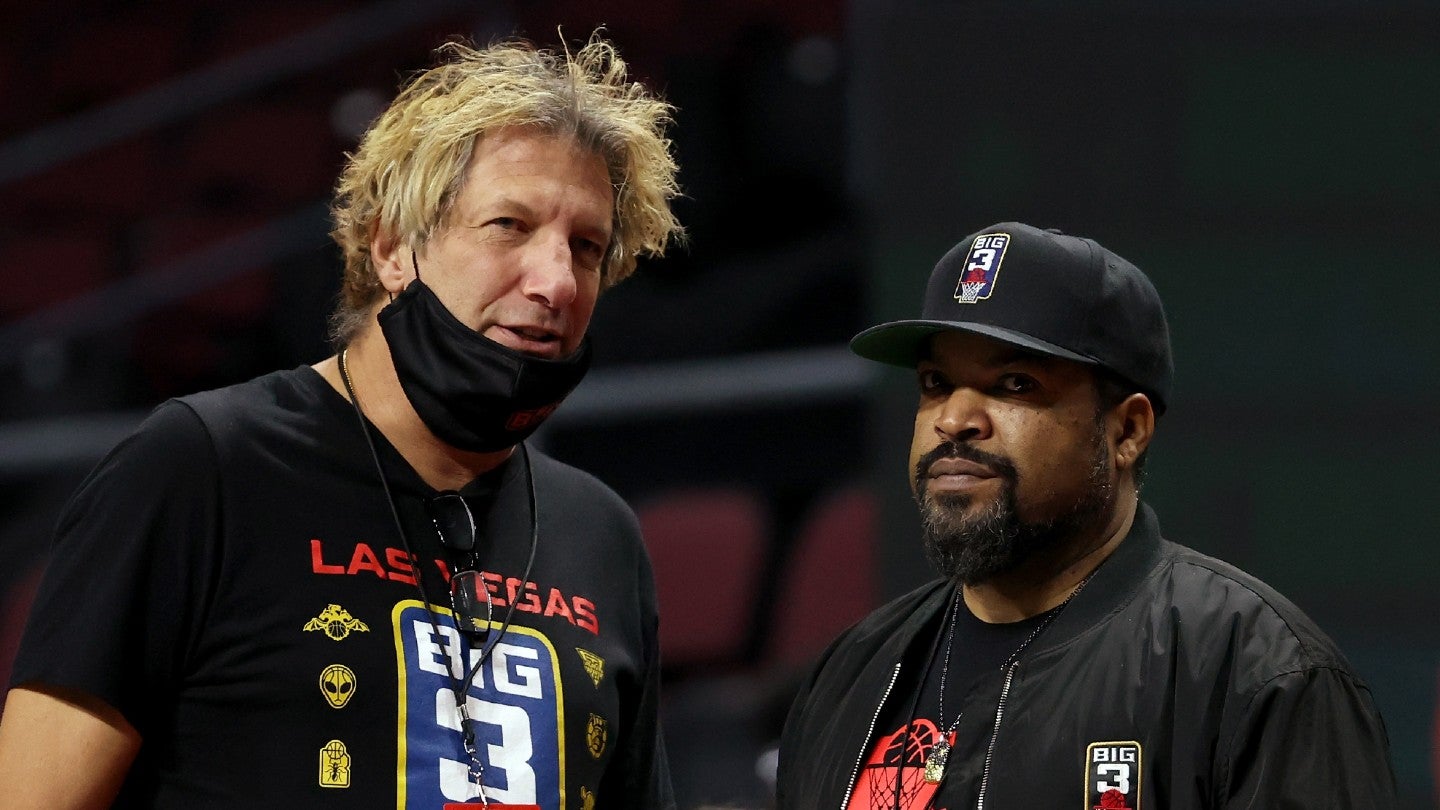 Big3, the US professional three-on-three basketball league co-founded by rapper Ice Cube and his long-term business partner and American entertainment industry executive Jeff Kwatinetz, is set to make its debut outside of North America with the Big3 Championship at London's O2 Arena tomorrow (August 26).
Following increases in television viewership and live attendance in its sixth season, including beating the NBA summer league on ESPN, UK fans will be able to watch the Triplets, led by eight-time NBA All-Star Joe Jonhson and coached by Hall of Famer Lisa Leslie, take on the Enemies, with 2018 NBA champion Nick Young leading as player and coach.
There will also be an All-Star game involving two teams with ex-NBA players.
After facing the difficulties of Covid-19 interrupting the league's early momentum, and other established leagues fighting for Big3's young viewership, the league's Fireball3 rules (which sets it apart from FIBA's 3-on-3 rules), and its mix between sports and entertainment, have led to healthy growth.
The league was born out of a feeling that 3-on-3 basketball in its current FIBA form was not entertaining enough and that this presented an opportunity.
Kwatinetz, Big3 president and co-founder, tells GlobalData: "What you need to decide, is this dodgeball, stickball, kickball, or is it some sport that can be professionalized? Is there another version of basketball that could work? When we looked at the marketplace, 3-on-3 was being played internationally.
"We just felt that the game wasn't designed for excitement, and so we came up with what we thought would be a really exciting sport. A lot of the rules that it has made it super competitive and very quick."
Big3 believes that it knows why other major sports properties are having trouble getting new fans, with leagues not reflecting what younger fans are looking for culturally.
This was highlighted in the league's celebrity match this year, which featured several rappers, as well as ex-NFL stars such as Terrell Owens and Vernon Davis.
Kwatinetz explains: "We obviously utilize a lot of social media because we're getting to a younger fan base than the NBA or Major League Baseball, but we also at the live games utilize music performances, and we make them very entertaining as events, instead of just simply sports events.
"We have an advantage in that. Our league is really tapped into the culture, the urban culture where 3-on-3 basketball comes from, from the streets, and with Ice [Cube] who's the CEO and involved in everything.
"We use his understanding of culture to bring in music, to bring in entertainment, and to cater towards that urban fan base that's probably overlooked by US sports that are more about corporate season ticket holders.
"You go to an NBA game, and it's pretty much 90% white, very male, very corporate, lots of hedge-fund people, lots of people who can afford corporate season tickets – whereas we have a lot of families.
"Our background is not sports, our background is entertainment, music, film, and TV, and so we use a lot of our understanding of entertainment to bring to this, and by having people who have been in the sports business their whole lives with us, hopefully they don't let us step over the line where we're doing things that aren't credible, as well."
Kwatinetz explains that whilst Big3 utilizes entertainment in addition to the sport, the sport still comes first.
"The games themselves are all about the sport, the credibility of the sport," he says. "We might have artists doing songs at half-time or between games, and Monster Energy is one of our sponsors and it has athletes, skateboarders, break-dancers, and BMX bikers, we have those between games and it creates an exciting live event, but ultimately the games themselves are marketed as great and competitive, exciting. That's ultimately what would determine our success."
Big3 also believes that it is an attractive proposition for the players as well as viewers, due to its format and media deals, especially to those from outside the US.
Overseas players are exposed to the US market in NBA-sized arenas on a leading network in CBS. They only play 10 matches per season (soon to be increased to 14) instead of the NBA's 82-match minimum.
"I do think that having every game matter is really important," Kwatinetz says in regards to having fewer matches. "The NFL and the European football leagues prove that. In some sports in America, there are just too many games, and it's not as competitive as it could be.
"Looking at LIV and the PGA, one of the things that's been overlooked that the LIV players have said is, yes, it's about the money, but it's not only about the money it's about the lifestyle too, the fact that they don't have to play every weekend, and they could spend time with family in between and they can recover and get healthy. It's a huge advantage.
"It's hard for basketball players to constantly be playing and on the road. A lot of the wear and tear is from travel, not sleeping in your own bed and airports, and that takes a real toll.
"With us, players get to play 100% for 40 minutes on average, and then they have a week to recover, and it enables them to go all out. We have fewer injuries than the NBA does and that's because we're not pushing people to the limits of what they're able to do.
"That part of why the players play is because they feel that the people running this league actually care about them and don't look at them as employees."
While Big3 takes a different approach to its peers in terms of format, its business model in regard to revenue is largely the same.
Its three main sources of income are media rights, sponsors, and advertising, with tickets and merchandising "a distant fourth and fifth."
But Kwatinetz explains that Big3 won't be experimenting with subscription-based media deals like the MLS' recent agreement with Apple.
"At our level, this is our sixth season," he explains. "We need to gain fans, and have as broad distribution as we can, which means we need to be advertisement sponsored, and supported on broadcast TV. That way we can get to as many people as possible."
Big3's rapid growth did not come without significant challenges, however, especially in its first few years, when companies did not want to get involved with the league due to its infancy, and then the derailment at the hands of Covid-19.
"Very early on, networks and sponsors told us there is a rule, never get involved with first or second-year leagues, but (Ice) Cube and I didn't know about the rule," Kwatinetz shares.
"We knew it would be hard. But so many leagues have fallen, that people don't realize how many leagues are started every year.
"It's in the high 90 percentile, the failure rate, even well-financed things like XFL and the USFL struggle. People told us we were crazy, that there's just no room for new leagues."
Big3 had to overcome both the reasons why new leagues fail, and the perception from potential sponsors and media partners that the competition would fail simply by virtue of being new.
With all the issues Big3 has faced, Kwatinetz ranks Covid-19 as the worst.
"Our first years there's so much momentum and then all of a sudden you have to take a year off," Kwatinetz says. "So much of the live experience is what created the excitement around the league. And then, all of a sudden we couldn't be alive.
"But we've got momentum back, our ratings are great. We're getting around 10,000 people per arena. But for a young league, it hurt."
Big3 has, in addition, faced issues from more established major leagues, especially the NBA, with Kwatinetz and Ice Cube speaking out about these issues regularly.
"The NBA, they look at us as competition," Kwatinetz explains. "It has done a lot of things that, in our opinion, have intentionally tried to hurt us. The NBA has an attitude that they own basketball on a worldwide level and people shouldn't come in and mess with them.
"That's been another thing to overcome. They carry a lot of weight with sponsors and advertisers and networks and the media, and they've used it. That's been interesting, but ultimately we're winning because the fans love the game and the players love playing it."
Established leagues also provide unintentional problems to Big3, such as the NFL. Fans tend to support the NFL team their family support, however, with a new league like Big3, this is not possible.
Kwatinetz says: "Fans are passed on for generations. So when you start this sport, you don't have any of that. You have to make people care about who wins and loses when they didn't even exist a year ago. How do you make them care? It's a tough process but we've managed to do that, which is what separates us from the other 95% who don't succeed.
"The NFL as a league didn't make money until its fifth decade, over 40 years of losing money. For every NFL team that exists, there are three that went bankrupt and people don't realize that. The league went through so much to get to a place where it just was able to exist, now obviously, it's way beyond that.
"Even when the first year was successful, it's very hard to get a first year to be successful, but even then, there's a newness to something, a novelty. So how do you get people to come back the second year? They have to start to care about the players, the teams, and the sport. It just takes time, and the sport has to be great.
"Every game people bring 100%, and the audience wants to know that the players are enjoying themselves. That the players feel treated well, and that they're really trying to win and care about the game they're playing. It's hard for fans to care if the players don't care."
Following the league's success in its early years, Big3 is starting to look more towards internationalization, and the event at the O2 is part of a wider process of reaching markets outside the US, partly fueled by the belief that 3-on-3 basketball is more accessible to the general public than 5-on-5 basketball, requiring fewer players and space.
"In a lot of regions, in Asia, or even Eastern Europe, 3-on-3 is more popular than 5-on-5," Kwatinetz outlines "It's just accessible. In certain regions like Brazil or China, we have millions of fans, so the opportunity is there.
"What's good is our players are known everywhere around the world. Most of our players play professionally during the Big3 offseason. A few play in the NBA, but many play in China, Eastern Europe, or South America, leagues all over the world, and these players are known."
Following a rule change where the league no longer owns its teams, the introduction of team owners has opened up the possibility of sides in other countries.
"One of our first markets where we're going to have an owner will be a London team," Kwatinetz reveals. "Team one is going to be London, one is going to be Toronto, so we're starting out with an international footprint. Ultimately, we think there's a market for what we do everywhere.
"Our long-term goals are to keep building and having teams throughout the world, in cities that we can build a fan base and also that we can really become part of the culture there, not just put a city name on a jersey, but actually be part of that city.
"We want to be one of the biggest leagues around the world. We have a young fan base, and we just want to keep delivering for fans and continue to be a player-oriented league. We're innovating and breaking a lot of boundaries, on behalf of our players and coaches, and by bringing sport back to fans and making it affordable and accessible."