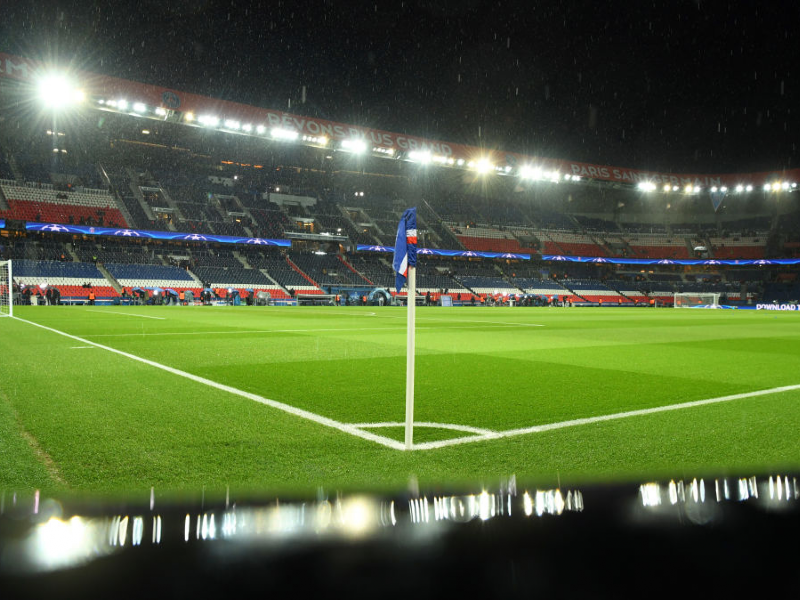 Paris Saint-Germain (PSG), perennial champions of French soccer's top-tier Ligue 1, are assessing whether to leave their home venue, the 48,000-capacity Parc des Princes, having sold out the last 100 consecutive matches there.
One of the options the Ligue 1 heavyweights are considering is moving to the French capital's other main stadium, the Stade de France, which is currently used mainly for national team events and cup finals.
PSG has played at the Parc des Princes in central Paris since 1974, but with the club becoming a major force in European soccer over the last decade, its support base now exceeds the Parc des Princes' capacity.
Nasser Al-Khelaifi, PSG's president, has told Bloomberg in an interview after the 100th consecutive sellout took place earlier this month: "Paris deserves a better stadium."
He added that the club's authorities had been in discussion with the Parisian local government over enlarging the Parc des Princes across the last five years, but the discussions have been fruitless in terms of gaining approval for the level of expansion and renovation needed.
Al-Khelaifi, who has run the club for the Qatar Sports Investments (QSI) vehicle since 2011, said: "My first opinion is that we don't move, but the City of Paris [authority] is pushing us to move."
The option of buying the Parc des Princes is currently not an option unless the local government lowers the asking price, it has been suggested.
PSG has claimed to have already spent €85 million ($88.4 million) on stadium upgrades despite not being the owners, and to have set aside another €500 million for improvements and expansion – however, that will only be spent if QSI is able to buy the stadium.
The French government has been reported as keen for PSG to buy the Stade de France, although that venue's authorities currently have hosting contracts in place with the French Football Federation and the French Rugby Federation until 2024.
The club is believed to have identified two sites where an entirely new, state-of-the-art stadium could be built if purchasing the Stade de France is not possible.
It has also been reported by Bloomberg that PSG's owners are considering selling off a minority stake in the club.
QSI acquired a majority stake in June 2011, and then become the sole owner in March 2012.
Tamim bin Hamad Al Thani, Qatar's Emir, is the technical owner, with Al Khelaifi having been president since the takeover.
Elsewhere, US-based private equity firm 777 Partners has reached an agreement to buy a controlling stake in the top-division German club Hertha BSC.
Sportico has reported the Miami-based investment firm will be buying a stake of 64.7% from Tennor Holding, the holding company of the club's owner Lars Windhorst.
Those shares would give 777 Partners voting shares worth 49%. German Bundesliga regulations mean outside investors can never own 50% or more of a club.
Windhorst first invested in Hertha BSC in 2019, initially buying a 37.5% stake and then raising that.
The current owner has said: "The sale to 777 Partners is an excellent solution, and we are very happy with this outcome.
"We are selling our Hertha shares to a well-known international soccer investor who believes in the multi-club ownership model and is actively developing it successfully across the globe."
Josh Wander, founder and managing partner at 777 Partners, added: "We are excited to have the opportunity to partner with Hertha BSC and look forward to engaging with the club and its stakeholders."
This represents the fifth time 777 Partners has bought a soccer club outright in 2022 – the investment firm's multi-club network covers Genoa in Italy, Vasco da Gama in Brazil, Standard Liege in Belgium and Red Star FC in France.
It also holds minority stakes in Spanish club Sevilla, and in Australia's Melbourne Victory (the last deal struck, in early October).
Outside soccer clubs, 777 Partners also has investments in streaming platform Fanatiz, Chilean agency 1190 Sports, and women's soccer company Ata Football.
Image: Matthias Hangst/Getty Images