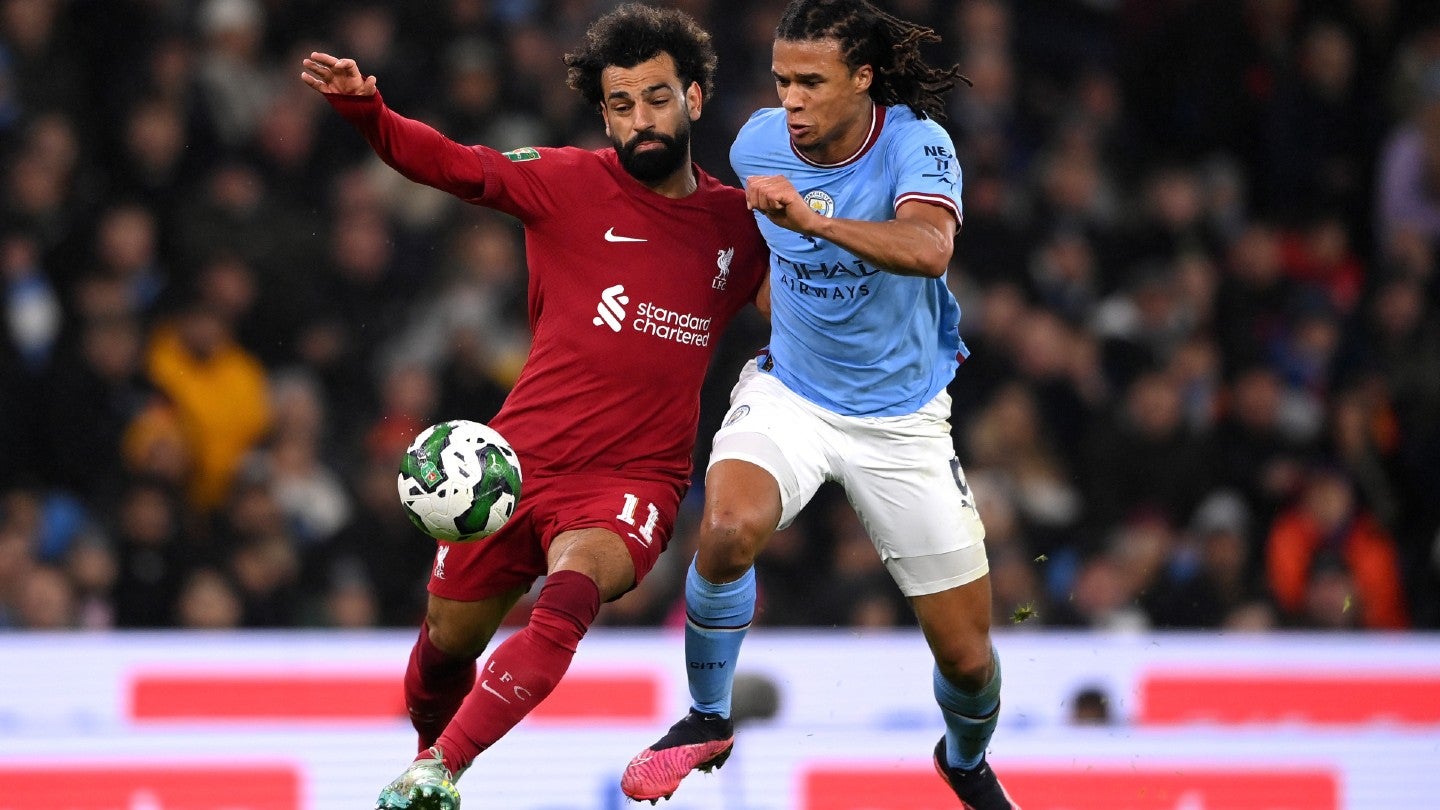 English soccer's Premier League features more than half of the world's top 20 richest clubs for the first time in history as it continues to demonstrate its financial power, according to the 2023 edition of the annual Deloitte Football Money League (DFML).
Manchester City remain top having generated the highest revenue for the second consecutive season in 2021-22. The Premier League champions posted €731 million ($790.5 million), up 13% from €644.9 million in the 2020-21 campaign.
The growth was fuelled by an increase in commercial revenue (up €65 million to €373 million in 2021-22), which is a new English top-flight record.
Spanish giants Real Madrid stay in second once again having generated €713.8 million last year, a significant increase from €640.7 million in the previous campaign.
Liverpool were the biggest movers, climbing four places to third to achieve their highest position in the history of the DFML, and in doing so overtook rivals Manchester United for the first time, on the back of a run to the UEFA Champions League final in 2022.
The Merseyside-based club made €701.7 million last season, a 27% increase from €550.4 million from the prior year.
Liverpool were also only one of five clubs to report over €100 million in matchday revenue, which was the first time the club had done so, as fans returned to soccer stadia in their masses. This is expected to increase further in the coming years, with the expansion of their Anfield stadium due to be completed prior to the 2023-24 season.
Manchester United moved up to fourth after dropping to their lowest-ever position of fifth last year. The club posted €688.6 million, a rise of 23% from €558 million.
The top five is completed by French giants Paris Saint-Germain which generated €654.2 million in revenue and remain the only representative from Ligue 1.
For the first time since 2018-19, a new club entered the Money League top 10, with Arsenal replacing Juventus (who fell from 9th to 11th), primarily by virtue of the significant matchday revenue generated, which was almost three times that of the Serie A club in 2021-22. Arsenal's revenue came in at €433.5 million.
Premier League clubs dominate the top 20 with Chelsea (8th, €568.3 million), Tottenham Hotspur (9th, €523 million), West Ham United (15th, €301.2 million), Leicester City (17th, €252.2 million), Leeds United (18th, €223.4 million), Everton (19th, €213.7 million), and Newcastle United (20th, €212.3 million) all featuring.
Spain's LaLiga and Italy's Serie A once again have three teams each. Barcelona (€638.2 million) dropped to seventh having occupied fourth spot last year, while Atletico Madrid (€393.9 million) moved up one to 12th.
The historic Money League powerhouses of Barcelona and Real Madrid are yet to recover revenue to their pre-pandemic levels, with the clubs' income down €203 million and €43 million respectively from 2018-19, a year which saw them both generate revenue that would have enabled them to top the DFML in 2021-22.
Conversely, the chasing pack of Liverpool (up €97 million compared to 2018-19), Paris Saint-Germain (up €18 million), and Chelsea (up €55 million) have outperformed their pre-pandemic levels, while Manchester City (up €120 million) have risen to the top of the ranking in that time.
Barcelona's drop was primarily due to a 13% decline in broadcast revenues, which were partially attributed to underperformance in UEFA club competitions in comparison to previous years, as the club competed in the second tier of UEFA club competition in 2021-22 for the first time since the 2003/04 season after dropping out of the Champions League group stage.
Furthermore, the growth in their commercial revenue was significantly bettered by other clubs (€7 million compared to €65 million for Manchester City, €37 million for Liverpool, €47 million for Manchester United, €46 million for Paris Saint-Germain and €33 million for Bayern Munich).
Juventus fell out of the top 10 after posting €401 million in revenue, with AC Milan (16th, €264.9 million) and Inter Milan (14th, €308.4 million) continuing to be the only other Italian representatives. Juventus' fall was attributed to ongoing restrictions on Serie A attendances in 2021-22 and less successful performances in UEFA club competitions.
Bayern Munich (6th, €653.6 million) remain the only German club in the top 10 but are again joined in the top 20 by Borussia Dortmund (13th, €356.9 million).
All 20 clubs come from Europe's big five leagues after Russia's Zenit Saint Petersburg dropped out.
The total revenue for the top 20 teams in 2021-22 stood at €9.2 billion, an increase of 13% compared to the €8.2 billion reported in 2020-21 (and was only marginally lower than pre-pandemic levels, also €9.2 billion in 2018-19).
Deloitte's report showed that the rise was driven by the return of fans after two Covid-hit seasons, with matchday revenue increasing from €111 million in 2020-21 to €1.4 billion in 2021-22.
Additionally, cumulative commercial revenue rose by 8% (from €3.5 billion to €3.8 billion), which was primarily facilitated by English clubs. Five of the Premier League's 'big six' reported increases of 15% or more (a total increase of €226 million) as new sponsorships were agreed and non-matchday events such as concerts and stadium tours returned.
However, the increase in commercial revenue was offset by an 11% (€485 million) fall in broadcast revenue, as the bumper year experienced in 2020-21, as a result of the deferrals of revenue relating to the postponed 2019-20 seasons being recognized in the financial year, was not repeated.
The report found that the return of fans brought the overall revenue split of clubs in line with pre-pandemic levels last season, with the top 20 clubs generating 15% of their revenue from matchday activities, 44% from broadcasting, and 41% from commercial sources, which was almost identical to the split recorded in 2018-19.
However, whilst the average revenue of a Money League club increased from €409 million in 2020-21 to €462 million in 2021-22, it is still marginally below the record levels experienced three years prior (€464 million).
Among the 'big five' European leagues, only the Premier League and La Liga commenced new broadcast rights cycles in 2022-23. The Premier League saw the total value of its media rights increase, driven by demand from international broadcasters, which saw the value of international rights rise by €422 million per season (an increase of 26% for the 2022-23 to 2024-25 cycle when compared to the 2019-20 to 2021-22 cycle).
The value of domestic media rights remained flat as rights deals were rolled over with existing rights holders Sky, BT Sport, and Amazon for a further three seasons.
Meanwhile, LaLiga began a new domestic broadcast cycle. The league agreed to deals with Telefonica and DAZN for an extended five-year period, sold certain rights packages on a non-exclusive basis, and operated them directly.
In 2023, for the first time, the publication also analyzed the revenue generated by the affiliated women's teams of the 20 clubs.
The women's sides reported average revenues of €2.4 million in the 2021-22 season, according to Deloitte's Sports Business Group.
Barcelona Femení, the 2021 UEFA Women's Champions League winners and 2022 finalists, generated the highest revenue with €7.7 million.
Manchester United reported the second-highest for their women's side (€6 million), followed by Manchester City, Paris Saint-Germain (€3.6 million), Arsenal (€2.2 million), and Tottenham (€2.1 million).
Image: Stu Forster/Getty Images