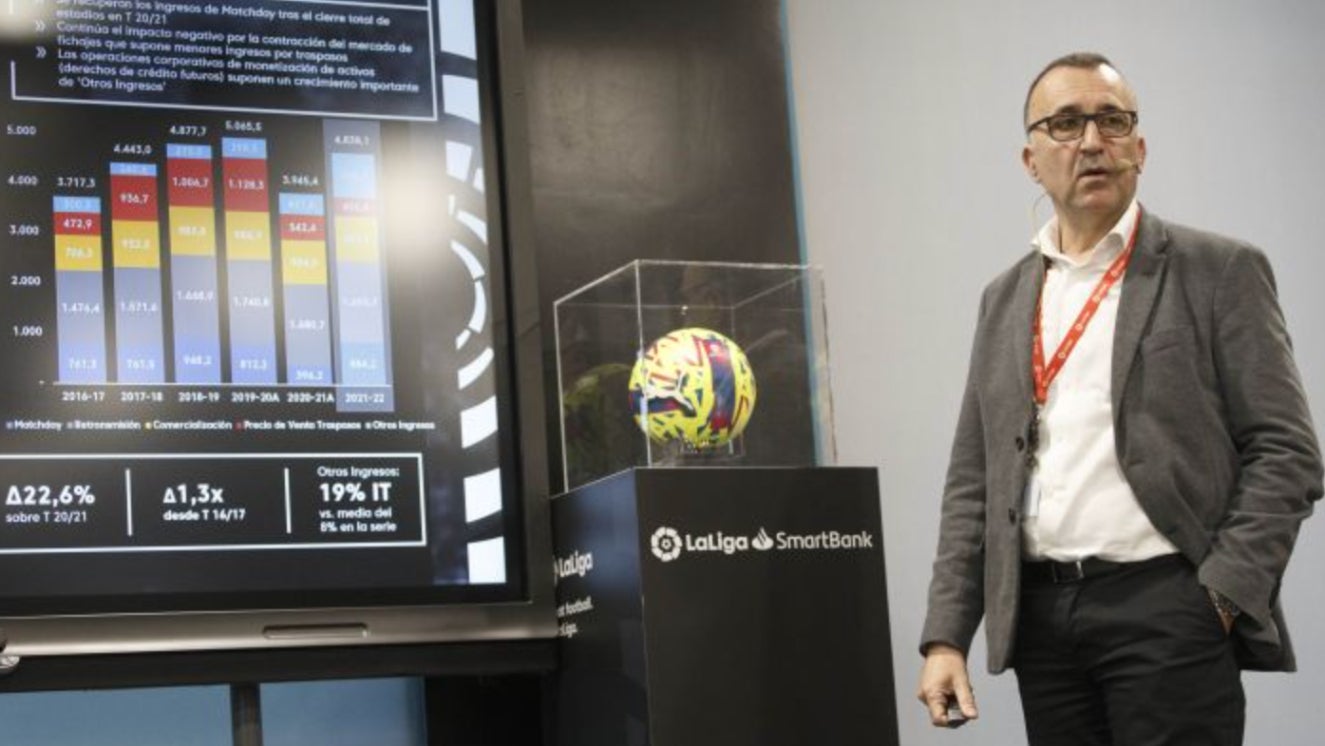 Spanish men's soccer's top-tier LaLiga secured total income of €4.84 billion ($5.3 billion) in the 2021-22 season, but still recorded a loss of €140.1 million.
These figures compare favorably when put next to those for the 2020-21 season, which was heavily affected by the Covid-19 pandemic. In that campaign, revenue came to only €3.8 billion, with the league making a total loss of €900 million.
Growth in revenue year-on-year, therefore, was 22%, LaLiga noted today (May 4) as part of its 2021-22 economic report.

This was primarily down to a 123% growth in matchday revenue, LaLiga has said, with 2021-22 having seen a return to full-capacity crowds in stadiums after two years of Covid-19 restrictions.
Commercial income, from sponsorship and merchandising, also recorded a rise, of 2.9%.
In terms of total expenses, meanwhile, the cost of sports staff is the largest contributor to total expenditure, at 47%.
Earnings before interest, taxation, depreciation, and amortization (EBITDA), before player transfers were taken into account, came to €23.9 million for 2021-22
That campaign also saw LaLiga formally agree to an investment deal with private equity firm CVC, through which that company has committed to injecting €1.99 million into 38 clubs across Spanish soccer's top two divisions, under a 50-year agreement.
LaLiga has said that with these income figures, it has "once again regained second place among the major [European] leagues …
"This data confirms the sustainable model of LaLiga … In contrast to other models based on the absence of adequate economic controls and on constant losses of their clubs, funded with systematic and huge contributions from their shareholders …"
LaLiga's president, Javier Tebas, has regularly taken aim at English soccer's Premier League for the structure of its financial model, and the substantially higher losses that league incurs compared to Spain's top flight.
The Premier League and second-tier Championship, put together, recorded a combined loss of just over €1 billion for 2022-23.
LaLiga has also said that, in terms of a 2022-23 forecast, revenue "is estimated to gradually continue growing and, most importantly, that aggregate positive net results will once again be reached …"
It added, with regard to the 2021-22 results, that "it is important to highlight that the long-term negative effects derived from the health crisis will take a few years to be completely overcome, a situation shared by the main European competitions as a whole, although LaLiga's overall situation is particularly favorable in comparative terms."
The ongoing 2022-23 LaLiga season comes to an end on June 4.