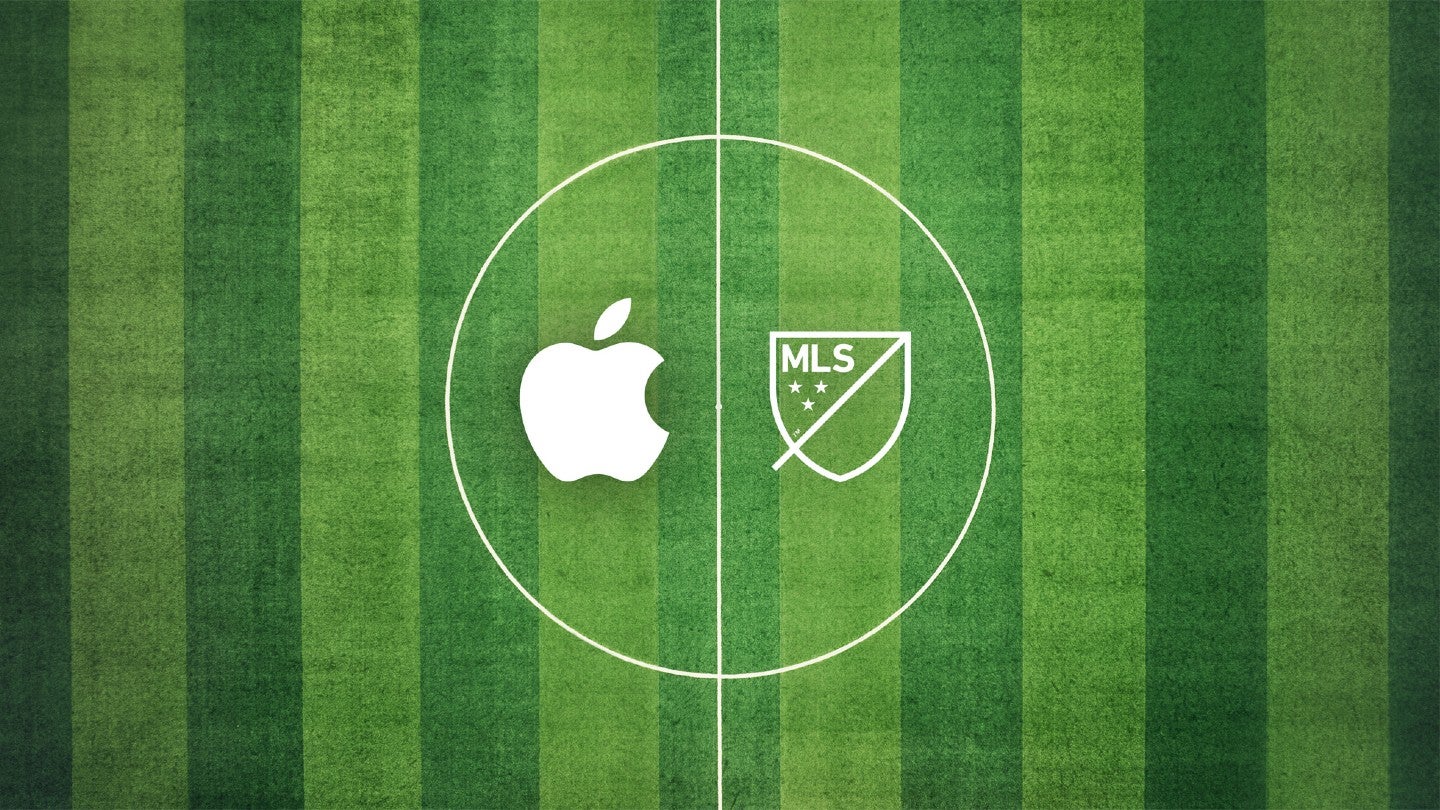 US sports leagues have dipped their toes into the streaming world in recent years, but Major League Soccer (MLS) opted to dive in headfirst.
Still a relatively new league in comparison to major players such as American football's NFL, baseball's MLB, and basketball's NBA, MLS has prided itself on being innovative to stand out from a crowded North American sports landscape.
When it comes to innovation, tech giant Apple has carved out its own lane. This made a partnership with MLS a match made in (streaming) heaven.
The two parties announced a landmark $2.5-billion ($250-million-per-year) deal last year in which the tech powerhouse would launch a streaming service available exclusively through the Apple TV+ app globally, without any local domestic broadcast restrictions.
The MLS Season Pass debuted in February for the start of the 2023 season. The agreement was described by both parties as a "historic first for a major professional sports league."
The deal made MLS the first major North American league to take the bold step of committing to a streaming service as its primary rightsholder.
Although the NFL (Amazon) and MLB (Apple) have gone down the streaming route, they did so with the safety net of primary and traditional linear agreements to mitigate risks.
However, given the demographic of MLS' fanbase, the league felt its decision to go all in with an over-the-top (OTT) platform was an easy one.
Speaking to GlobalData Sport, Seth Bacon, executive vice president of media for MLS and Soccer United Marketing, the marketing arm of the league, explains: "Streaming is part of the culture for soccer fans. We have the youngest, most tech-savvy fans in sports.
"We believe this is where our fans are going and where the industry is heading. We liked the idea of being the first to do this, and to do it with Apple is something we could not pass up. They give us the ability to reach and connect with fans, unlike anything we have ever seen before. That's an exciting path for us to take."
In making a significant commitment to a streaming partner, MLS did so with a service that is new to the sports world.
Apple made its first entry into live sports last year when it agreed an exclusive streaming deal with MLB to show Friday night games in the 2022 season.
The 10-year MLS tie-up followed just three months later – a contract length rarely seen in modern sports broadcasting.
Despite being in unchartered territory, MLS was again not afraid to go against normal convention with such a long-term agreement.
"We are now partners with the most innovative and successful company in the world that is focused on helping us grow the sport by creating the very best experiences for fans," Bacon says.
"Apple has the ability to bring MLS to the world unlike any other company, which provides endless opportunities for us to reach new fans and grow our fanbase.
"Apple's focus and commitment to creating world-class products and experiences for the consumer is unparalleled. All MLS matches are available in more than 100 countries and regions, giving us global reach.
"Add in the entire Apple ecosystem – music, news, podcasts, maps, arcade – and MLS now has new and exciting ways to connect with current fans and build the next generation of fans all over the world."
As well as MLS games, Apple TV+ has rights to air matches from the Leagues Cup, the annual competition contested by clubs in MLS and Mexico's Liga MX, and select matches from the MLS Next Pro affiliate league and MLS Next youth league.
Games from all competitions are being shown without any local broadcast blackouts or the need for a traditional pay-TV bundle.
As well as live match coverage, the service airs a weekly live 'whip-around' show – similar to the NFL's RedZone – showing key moments from matches, as well as game replays, highlights, analysis, and other original programming.
Almost 10 weeks into the 2023 season, Bacon declares the league is "encouraged and confident with what we are seeing so far" from the MLS Season Pass and revealed the feedback from viewers has been "overwhelmingly positive."
"They love the production quality and the comprehensive coverage we provide," he notes. "They have not had access to all that content before. We have also heard from some of our international players whose families and friends can now readily view their matches.
"That feedback has been really rewarding. At the same time, we are literally just getting started and will continue to look for ways to improve the overall experience for the fans. There is no other sports streaming product like this on the market."
With coverage all over the world, the platform must be almost perfect, but the MLS Season Pass has inevitably encountered some technical issues along the way as a new product.
To minimize the production problems, MLS teamed up with IMG, the international sports and entertainment giant, and US-based broadcast and event production firm NEP.
The companies oversee live match and studio productions for Apple's coverage and will power the event production for over 900 fixtures, adding up to more than 2,000 hours of live coverage.
"Launching something brand new always creates some challenges, but we have partnered with the very best to mitigate any issues," Bacon says.
"This is a global project, and we are working with two industry leaders in IMG and NEP that have the same ambition as MLS and Apple to produce a best-in-class production for fans all over the world. And there is no one better at delivering compelling consumer experiences than Apple."
Before the deal with Apple was struck, MLS' domestic broadcast rights partners were ESPN, ABC, and Fox. Indeed, the latter network is still set to cover 34 MLS games annually between 2023 and 2026.
The league's shift has fueled the linear versus streaming debate that has engulfed the sports media world in recent years.
With the likes of DAZN, Amazon, and YouTube TV making significant breakthroughs in the industry, consumption habits have changed.
Despite not fully 'cutting the cord', MLS is clearly focused on the streaming market as a league and the decade-long Apple deal shows how much confidence it has in that route.
"MLS fans (and soccer fans overall) index much higher than fans of traditional North American sports leagues when it comes to sports TV hours watched per week on streaming devices or recorded TV," Bacon outlines.
"MLS fans are twice as likely to stream compared to the general population and fans of the NBA, NHL, NFL, and MLB.
"Soccer is perfectly positioned for the next evolution of how people consume live sports, and our partnership with Apple provides our digitally native fans the opportunity to consume content anywhere and anytime without any restrictions."
Now in its 28th season, MLS has enjoyed huge growth with the 2023 campaign featuring 29 teams as St. Louis City became the latest expansion franchise. The league's debut season featured 10 teams in 1996.
The commercial appeal of MLS and the value of its teams have also increased significantly over that period. According to Forbes' latest iteration of its most valuable teams list, the average is $579 million.
Since 2019, the average team valuation has climbed 85% from $313 million. The price tag for the next expansion team (likely Las Vegas or San Diego) is set to reach $500 million, a considerable increase from the previous record of $325 million set by billionaire David Tepper when he founded Charlotte FC in 2019.
Forbes also listed Los Angeles Football Club (LAFC), the reigning MLS champions, as the league's first billion-dollar franchise. The team joined MLS just nine years ago.
Despite its growth both on and off the field, MLS believes it still has some way to go to fulfill its overarching goal of becoming a global league.
The partnership with Apple, which has unified the league's local and national broadcast rights under one umbrella, is viewed as the key to transforming the competition's internationalization efforts and opening doors into new territories.
"The commissioner [Don Garber] said this really well: 'We are playing in the global game but we're not the global league that we want to be yet,'" Bacon states.
"Apple provides us with the opportunity to super-serve our existing fans and create new ones around the world.
"All MLS matches are now available in more than 100 countries and regions around the world, making us perhaps the most accessible league in the world."