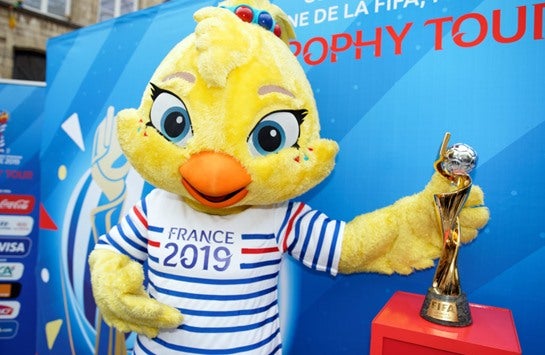 "Women's soccer is the biggest growth market in the sport," according to Uefa, the sport's European governing body. The 2015 World Cup in Canada set the tone for France to stage potentially the biggest World Cup on record this year, and take the women's game to a new level.
Canada attracted a record total attendance of 1.35 million, along with TV coverage in 188 territories, and record viewing figures topping 750 million globally. The final between USA and Japan was the most viewed soccer game in US history with an audience of 23 million.
Given that the World Cup has expanded from 16 to 24 teams since the 2011 edition, Fifa, world soccer's governing body, expects this year's competition to surpass the figures from four years ago, and to be the most watched and attended edition in the tournament's history. The 2018 men's World Cup in Russia achieved a reach of 3.5 billion people and Fifa expects that this year's women's version will reach one-third of that figure – over 1 billion people, representing almost 40-per-cent growth.
The opening game, in which host team France will take on South Korea at the Parc des Princes in Paris on 7 June, along with both semi-finals and the final, all sold out within 48 hours. The 1999 Women's World Cup in USA holds the record for ticket sales with 1.194 million sold, but this year's edition is on course to surpass that mark. As of last month, 720,000 tickets had already been sold. This World Cup could be a game-changer for women's soccer.
Major brands, which have traditionally reserved their soccer sponsorship for the more popular and visible men's game, are sitting up and taking notice. Some are doing more, by recognising the value and making big investments.
So why has women's soccer now become so appealing to brands? Tomos Grace, head of sport at YouTube, EMEA, cited two reasons.
"Firstly it's a growth story," he told Sportcal Insight. "If we look specifically at World Cups, we did a lot of work with Fifa and official broadcasters around the men's World Cup and that got a TV audience of 3.5 billion people watching last year. Fifa expects the women's version to reach a third of that, which is a huge number and a very impressive rate of growth. There's a lot of momentum around the game and a lot of growth in the market, and that's the first element of appeal.
"The second element is the ability to come in at a level where there's greater commercial freedom: freedom to do new things, to be creative and to be innovative. When you come in as a brand in a sport or a segment of a sport which is younger, which is more dynamic and in an earlier phase in its growth, the potential to be innovative is greater and that is also a big element of the potential for brands."
The opportunity for brands is evident from several record attendances at women's matches in Europe earlier this year. A total of 60,739 spectators watched a clash between Spain's Atletico Madrid and Barcelona at the former's Wanda Metropolitano stadium in a Spanish league game, setting a new world record for a women's club soccer match. The previous European record had been set as recently as January, when 48,121 fans watched Atletico take on Athletic Bilbao at the San Mames in a cup game in Bilbao.
Just a week later, women's soccer in Italy also set a new attendance record as Juventus Women beat Fiorentina in front of 39,027 fans at the Allianz Stadium in Turin, surpassing the previous Italian record attendance of 14,000.
To put these figures into perspective, the previous record attendance for a women's club match was set in 1920, when 53,000 people watched Dick Kerr Ladies play St. Helen's Ladies at Everton's Goodison Park stadium in England.
Controlling the narrative
Activations by brands increasingly differ from the men's game, with campaigns heavily focused on providing strong social and cultural messages, particularly around the timely issue of gender equality. As well as sponsorship in the traditional sense, brands are using their associations with women's sport to change perceptions and promote equality and inclusion.
In 2017, Uefa launched its plan to unbundle its women's sponsorship packages from the men's for the first time, as part of a wider commercial overhaul of the female game in Europe.
For its women's soccer sponsorship, Uefa is keen to move away from tradition and collaborate specifically with companies which will act as a voice for the women's game, and the response has been positive.
Guy-Laurent Epstein, Uefa's marketing director, said: "There's gender equality matters that companies are getting very close to in their business which is attractive in women's sport and women's soccer in particular. The quality and the evolution of the women's game, together with the evolution of society, makes it far more attractive at the moment."
Nike, the US sportswear giant, will have a major presence at the World Cup through kit deals with 14 of the 24 teams. All 14 women's national teams have been given their own bespoke kits for the first time, instead of playing in strips that are copies of the men's national team kits, as they had been doing for many years.
Mark Parker, Nike's chief executive, said: "We believe this summer can be another turning point for the growth of women's soccer."
Sue Campbell, director of women's soccer at England's Football Association, claimed that having unique kits is "a real marker of progress and an indicator of how much the profile of the women's game has grown."
Fifa has increased the overall prize money for this year's Women's World Cup from $15 million to $30 million. The figure remains minimal compared with the $440-million overall prize fund the men will receive in Qatar in 2022, but is being seen as a step in the right direction.
Uefa also recently launched its Women's Football Strategy, having outlined its plan to pump 50 per cent more investment into women's soccer by 2020.
Commercial attraction
An increase in fans attending games has been accompanied by an increase in brands wanting to associate themsleves with the sport. Uefa said: "Since Uefa women's soccer sponsorship rights were unbundled from men's soccer competitions, dedicated women's soccer partners have been keen to share in this ongoing success."
Epstein says the strategy has enabled Uefa to gauge the true value of women's soccer, adding: "We took a decision to unbundle the women's sponsorship to give a proper platform to women's soccer on one end and to provide an opportunity for sponsors that really wanted to associate themselves with the game and the values that it has. From there, we saw clearly that partners are coming on board specifically in the context of women's soccer rather than to come as a general partner for Uefa, so we can now identify very clearly the interest in women's soccer and it has grown significantly."
One major brand which was quick to share this journey with Uefa was Visa, the worldwide credit card provider and long-time sponsor of elite soccer competitions. Last December, Visa signed a seven-year deal with Uefa to become its first standalone sponsor of the women's game at all levels, being named a main partner of the Uefa Women's Champions League, the Uefa Women's Euro, the Uefa Women's Under-19 and Under-17 championships and the new Uefa Women's Futsal Euro until 2025.
Visa has had a long-standing partnership with Uefa and has been a top-tier sponsor of Fifa since 2007. It also has prominent sponsorships across other sports, most notably with the Olympic Games and the NFL. But the deal with Uefa represents one of its biggest commitments.
Suzy Brown, Visa's marketing director, UK and Ireland, tells Sportcal Insight: "It's about really demonstrating Visa's support for female empowerment, diversity and inclusion, those are values that we've always stood for but it's a continuation of our sports sponsorship, it's those two things coming together.
"The Uefa deal now makes Visa the biggest global corporate sponsor of women's soccer and we'll use it for big campaigns. It's a long-term investment, as opposed to something which will see a short-term return on investment, but we're committed to supporting women's soccer, so we're in it for the long haul.
"We're at a tipping point and what Visa wants to do via our support of the Women's World Cup and Women's soccer is just be a catalyst. If we can help propel that along a bit faster that would be great."
Visa has made a strategic decision to match its marketing spend on men's soccer with the women's game, and other brands are beginning to emulate this. Nike soon followed Visa in signing a deal with Uefa to sponsor the women's game.
Among the biggest deals this year, Barclays, the UK-based bank, recently became the first title sponsor of English soccer's Women's Super League, in what was reported to be the largest investment to date by a brand into UK women's sport, worth £10 million ($13.2 million) over three years.
Barclays was quickly followed by Boots, the UK health and beauty retailer, partnering with the soccer associations of England, Scotland, Wales, Northern Ireland and the Republic of Ireland in three-year deals to sponsor their respective women's national teams ahead of the World Cup, marking the first time any brand or retailer has sponsored all five women's national teams.
Fifa has signed up six national sponsors, to go along with its global sponsors.
Fifa Women's World Cup 2019 sponsors
Global sponsor
Fee ($)
National sponsor
Fee ($)
Qatar Airways
60m
Credit Agricole
4m
Wanda Group
56.67m
Arkema
2m
Adidas
50m
SNCF
2m
Coca-Cola
31.25m
EDF
2m
Visa
28.75m
Proman
1m
Hyundai/Kia Motors
27.5m
Orange
750k
Source: Sportcal Sponsorship
Philippe Le Floc'h, Fifa's chief commercial officer, said that the line-up of national sponsors for the tournament "clearly confirms the growing interest for women's football."
Exposure
With the competition returning to Europe for the third time – after Sweden in 1995 and Germany in 2011 – mainstream exposure and coverage is set to be bigger than ever on the continent. The success of the Women's European Championships in 2017 showcased the appetite for the women's game in the region.
A cumulative audience of 265 million watched the tournament across all media platforms, according to Uefa, with a cumulative stadium attendance of 615,000, as the Netherlands became the first hosts to sell out all of their games. The 2017 Euros surpassed the audience from the 2013 competition by 50 million viewers.
With more teams and bigger venues, the World Cup is primed to build on those audience figures, with games taking place in well-known soccer stadia such as Paris Saint-Germain's Parc des Princes and Lyon's Groupama Stadium.
Alongside the broadcast rights-holders, YouTube will also be hosting regular content via Fifa and the broadcasters' official YouTube channels, as the platform has established itself as one of the biggest for women's soccer consumption.
Grace says: "We've seen a lot of growth on YouTube in women's soccer, there has been a 300-per-cent growth in women's soccer consumption on YouTube in the last 12 months. It's grown very quickly and we expect it to grow much further and the Women's World Cup could be a watershed moment for the women's game.
"It's very hard to say where women's soccer can go but it's going to be a lot bigger than it is now, and the excitement you see, not only with Fifa, international federations, national federations and broadcasters, but also with platforms like YouTube and amongst brands, demonstrates that everybody understands that we are in the early days of the development of women's sport and the potential is really there."
The
tournament will be aired in all the major markets and by prominent broadcasters
such as the BBC (UK), TF1 and Canal Plus
(France), Grupo Globo (Brazil), CNR (China), ARD, ZDF and DAZN (Germany), Rai
and Sky Sport (Italy), NOS (Netherlands), Gol (Spain), Fox and Telemundo (USA)
and BeIN Sports (Middle East and North Africa across non-participating nations)
among others.
Uefa's Epstein says: "It will have a global appeal, a global broadcast platform and global exposure and it can only be positive for women's soccer. It will hopefully portray a positive picture of women's soccer and the exposure from the broadcast platform will be very strong. We're all in the same boat to make sure we push women's soccer and the boundaries so it'll work very well.
"Being in Europe is very interesting because, although it's in France, it also resonates across Europe and you see it in England with the Lionesses and in France the announcement of the list of the 23 players in the World Cup squad was the main news programme at 8pm, exactly like it was done for the men's team. They were treated exactly the same and showcased at the same time. This would never have been seen a few years ago, so it also demonstrates the level it's reaching in terms of interest and popularity and also that France as a host market will be fantastic."
The World Cup-winning triumph of the France men's national team last year in Russia has whetted the appetite for the tournament in the country, where fans are keen to support the women in their attempts to emulate their male counterparts.
There's a misconception that women's soccer is predominantly consumed by women. In fact, the forthcoming World Cup is set to be viewed by as many men as women, if not more. Nike has sought to cash in on this interest, creating men's versions of all of its women's national team kits for the first time.
Grace says: "Brands can be part of a positive story, taking something that has been underdeveloped for many years and being part of the positive change in this sport. Then there's the commercial piece: women's soccer sponsorship is still below where it should be compared to the audience size and the level of interest. Brands follow the audience and at the moment there does appear to be a mismatch between the size of the audience and the level of investment of brands.
"Women's soccer sponsorship is still woefully below where it should be compared to the audience size and the level of interest. If a brand follows an audience, there is still room to catch up with the level of audience interest in women's sport."
Brands are likely to catch up quickly as interest in the women's game is set to increase significantly again after this summer. With record attendances and audience figures projected, the 2019 Women's World Cup is shaping up to be the biggest women's soccer tournament of all time, and possibly the biggest sporting event of the year.
"I strongly believe it will be the biggest World Cup ever," Epstein says. "If you look at the evolution of women's soccer it has been very strong historically in a few markets.
"The US has been strong, China has been strong and then Europe, following on from the World Cups in Sweden and Germany a few years ago. Now the viewership and the audiences for women's soccer are strong across Scandinavia, England, France, and even the Latin countries are developing strongly. Europe has developed strongly in terms of interest and participation in women's soccer so this World Cup can be the biggest ever for sure."
To read Sportcal's recently published report analysing all Fifa Women's World Cup 2019 sponsorship deals, click here.