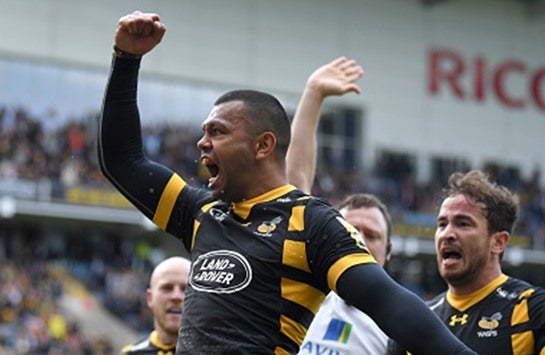 Wasps, now based in Coventry in England's West Midlands, believe that they and other Aviva Premiership Rugby clubs will enjoy a boost to their media profile from 2017-18 as a result of the advent of live matches on free-to-air television in the UK and regular-season fixtures in USA.
In May, commercial terrestrial broadcaster Channel 5 landed
the rights to show five live top-flight games per season in a four-year deal
that also incorporates weekly highlights.
This will complement pay-TV operator BT Sport's extensive live coverage of the top flight, amounting to 80 games per season, in a deal that runs for the same four years to 2021-22 and is worth £70 million ($90 million).
Eastwood, who has switched from deputy chairman to succeed David Armstrong at Wasps, welcomed the arrival of Channel 5, saying: "Their viewership is expected to be about three quarters of a million so it's a valuable add. BT do an amazing job from a production side, but the free-to-air gives you access to a broader audience."
He cites the example of the annual Six Nations Championship, live rights to which are now shared by public-service broadcaster the BBC and commercial network ITV.
Eastwood says: "It provides a fantastic shop window and that can only be good for the game. The Six Nations just goes from strength and strength and clearly is essential viewing for around 8 million people in the UK."
---
"Channel 5 viewership is expected to be about three quarters of a million so it's a valuable add. BT do an amazing job from a production side, but the free-to-air gives you access to a broader audience"
Nick Eastwood, chief executive, Wasps
---
Next season, Channel 5 will simulcast a selection of the
Premiership Rugby games shown by BT Sport, including the clash between
Newcastle Falcons and Saracens in Philadelphia in September.
That fixture, only the second regular-season game to be held
in USA, forms part of a new four-year tie-up between the league and Anschutz
Entertainment Group, the events and venue owner, and there will be live TV coverage
in the host country on national network NBC.
Eastwood believes English rugby can only benefit from such initiatives, saying: "I think the recognition and profile of the game in America has come on in leaps and bounds in the last 10 years. It's still a minority sport in terms of commercial clout, but now when there's a big game going on, everyone in the city knows it's going on."
Saracens featured in the only previous Premiership Rugby match to be held in USA, defeating London Irish in New York in March 2016, although there have been other high-profile games in the country, including last November's sold-out clash between New Zealand and Ireland in Chicago.
The growth in popularity of rugby in USA is reflected by NBC's recent record eight-figure deal with World Rugby to show major international events up to and including the 2023 Rugby World Cup.
The Premiership is now enjoying greater exposure overseas,
where broadcasting rights are distributed by RDA TV, the UK-based agency, and
Altice, the international cable and telecoms operator, and Wasps are open to
playing matches stateside.
Eastwood says: "Obviously we'd have to have a lot of internal conversations. However, I think highlighting games over there and using them as a window is a very positive development."
Wasps recently completed their third season at the Ricoh
Arena in Coventry and are delivering encouraging results both on and off the
field.
The club's move to the Midlands at the end of 2014 was not without controversy as one of English rugby's biggest names was abandoning its traditional home in the south east of England and taking over the stadium of a struggling soccer team in Coventry City, which remain tenants.
However, the relocation has been regarded as a success in
that Wasps have hovered around the top of the league and retained fans from
their former base while being able to tap into the demand for top-class rugby
in an area that had been without a competitive elite team.
The club averaged 19,530 spectators for its home games in
the 2016-17 Premiership Rugby season, an increase of 11 per cent on the
previous campaign.
Wasps drew an average of 16,916 fans across all home
fixtures in 2015-16, up from 11,401 in the previous season, which they began at
their previous home in High Wycombe in Buckinghamshire.
Although this season ended in disappointment with a 23-20 defeat to Exeter Chiefs in the Premiership Rugby final at Twickenham last weekend, Wasps can reflect on a campaign in which they finished top of the league and attracted nigh on 300,000 spectators for all games at the Ricoh Arena.
This has had a positive impact on finances with turnover for the six months to the end of December 2016 amounting to £16.9 million, an increase of 12 per cent on the £15.1 million a year earlier, while losses narrowed from £2.9 million to £1.1 million.
Season ticket membership for the next campaign is up by 27
per cent on the same point last year, and sales volume and revenue has already
exceeded the total for 2016-17.
---
We sold out the 2,400 hospitality packages for the
[Premiership Rugby] game against Saracens and the semi-final against Leicester
broke all revenue records
---
Eastwood says of the attendances: "Two or three years ago we'd have been accused of being off our rockers if we had predicted those figures. We sold out the 2,400 hospitality packages for the [Premiership Rugby] game against Saracens and the semi-final against Leicester broke all revenue records."
Wasps, historically a west London club, had been playing at Adams Park, the home of fourth-tier soccer club Wycombe Wanderers since 2002, but, in 2014, seized on the opportunity to buy Arena Coventry, the owner of the Ricoh Arena, the 32,600-capacity home of Coventry City, which opened in 2005 and staged soccer matches at the London 2012 Olympic Games.
Although Coventry City have continued to slide, suffering relegation to the fourth-tier this past season, Wasps have flourished, rising from third to first in the domestic league and posting improved financial figures.
Sport is only part of the equation, accounting for £8.3 million, or less than 50 per cent of all revenues, in the second half of 2016, albeit this represents an increase from £5.8 million a year earlier.
Recent developments have included the launch of a Wasps netball team, which competes in England's Netball Superleague, and the club is exploring the possibility of hosting more rugby league events at the Ricoh Arena on the back of the Four Nations games played at the venue last November.
Stressing the varied nature of Wasps' business, Eastwood cites growth in turnover at the on-site hotel, rebranded from a De Vere to a DoubleTree by Hilton, and in the conference and exhibition business and casino, plus several music concerts at the Ricoh Arena.
He continues: "You always want more. Conferences and banqueting are developing off the field, which is the bread and butter. We have 800 events across the year and the hotel is performing really well following the upgrade."
"We are pleased, but not satisfied, because we are only at the end of phase one. The next phase is to build on the foundations. It's to keep the conference and exhibition business going at a reasonable rate and building on the rugby side."
Wasps are now responsible for the stadium naming rights and have been in negotiations with potential new partners in the past year. In the meantime, the deal with Ricoh, the Japanese imaging and electronics firm, which was worth £10 million over a decade and expired in 2016 has been extended on a rolling basis.
"We have a number of very positive conversations going on," Eastwood notes. "The marketplace is pretty crowded and these are very long-term deals so they don't happen overnight."
Wasps, which call on the services of Two Circles, the UK-based, data-driven sports agency that is part of WPP's ESP Properties, claim to be well-placed to attract new commercial partners, to join a portfolio that already includes shirt sponsor Land Rover, kit supplier Under Armour and technology solutions giant Dell EMC.
The latter has helped to develop a new mobile app at the Ricoh Arena, itself fitted with a new high-speed wi-fi system intended to make it the best-connected stadium in England.
Eastwood says: "The development of the app will support the digital business across all areas, when we have 1.3 million to 1.4 million visitors per year, and is an opportunity to capture information. It underpins the next phase which is about consolidating our revenue streams."
Next season marks the 150th anniversary of the birth of Wasps
and a series of promotions are planned to commemorate the occasion. These will
include a special Premiership Rugby match, events for season ticket holders and
charities, the production of a history of the club and a dedicated kit.