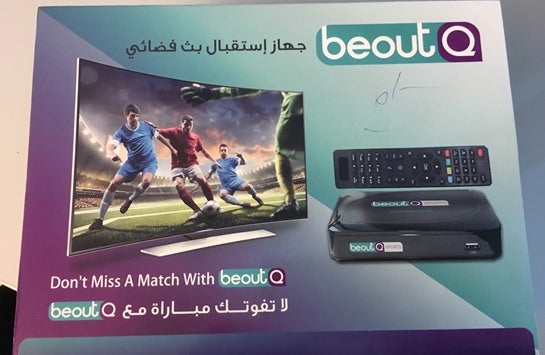 BeoutQ, the high-profile pirate sports broadcaster which has provoked BeIN Media Group, the Qatar-based pay-TV network, to seek $1 billion in damages in an investment arbitration against Saudi Arabia, appears to represent a sinister development in television signal piracy: unauthorised broadcasting of sport as a means of undermining a rival state.
BeIN claims to have been "unlawfully driven out of the Saudi
market and subjected to what has been described as the most widespread piracy
of sports broadcasting that the world has ever seen" as beoutQ continues to
offer coverage of sports events to which BeIN holds exclusive rights.
Meanwhile, Qatar's Ministry of Economy and Commerce, in a
separate but related case, has filed a complaint with the World Trade
Organization, claiming that Saudi Arabia is in breach of international treaties
on the protection of intellectual property.
BeIN has also attempted to take legal action against beoutQ through the Saudi courts, but having failed to find a Saudi law firm that is prepared to act for it, has accused Saudi Arabia of blocking its "ability to bring civil actions in the Saudi courts to enforce its intellectual property rights against beoutQ and those behind it."
The beoutQ controversy is playing out against the backdrop of a
bitter political and economic dispute between Qatar and other Middle
East nations, with the small Gulf state having repeatedly and vehemently
refuted allegations that it supports terrorism in the region.
---
Quite clearly, we are being unfairly used as a political football in a wider regional dispute
---
"Quite clearly, we are being unfairly used as a political
football in a wider regional dispute," Sophie Jordan, BeIN's executive director
of legal affairs and general counsel, said in October.
Of course, sport has long been used as both a tool of
diplomacy and as a means of exerting pressure in conflicts between governments.
Take September's news that North and South Korea had agreed to pursue a joint
bid to host the Olympic Games in 2032, as part of a summit meeting between
South Korea's president Moon Jae-in and North Korean leader Kim Jong-un.
At the same time, the two previously antagonistic countries
committed to an era of "no war," with North Korea saying it would close a key
missile test facility in the presence of "international experts" and
potentially destroy its primary nuclear complex if USA agrees to corresponding
measures.
Conversely, the heads of more than 200 Palestinian sports
organisations threatened in September to boycott sportswear giant Puma over its
sponsorship of the Israel Football Association.
And in July, the International Judo Federation suspended two
events which were scheduled to take place in the United Arab Emirates and
Tunisia after the countries refused to guarantee equal treatment to Israeli
competitors.
BeIN has not hesitated to make explicit its allegations that beoutQ's piracy is politically-motivated, and that the state of Saudi Arabia is behind it. Yousef Al-Obaidly, BeIN Media Group's chief executive, told Sportcal: "The scale and sophistication of the piracy – and its utter audacity – are completely unprecedented. It's hard to fathom but this is state-supported theft of world sport and entertainment – beoutQ and Arabsat's piracy operations have continued almost with impunity on a daily basis for over a year, with multi-million dollar funding and state support underpinning it.
"And it is not just football content that is being stolen by Saudi Arabia – across the 10 pirated channels that beoutQ operates, it steals whatever content it can get away with, including the NFL Super Bowl, Formula 1 grands prix, Olympic Games coverage, world tennis grand slams, UFC fights and even Hollywood movies.
"While for political reasons BeIN was clearly the primary target of this commercial theft by the KSA [Kingdom of Saudi Arabia], beoutQ and Arabsat have opened Pandora's box – if it's possible to steal from us, it's possible to steal from any broadcaster or rights-holder in the world; and that genuinely puts the entire economic model of sports and entertainment at risk."
If BeIN's allegations are to be believed, beoutQ's piracy of BeIN's signal represents an instance of one state, Saudi Arabia, using TV piracy to fight a proxy war against another, Qatar. Yet (alleged) international internet piracy being used as a political weapon by one state against another is not even new, according to Pascal Metral, head of anti-piracy intelligence, investigations and litigation at NAGRA, the Switzerland-based cyber security group.
Metral draws a comparison with the actions of China, a haven
for internet pirates which target the west and which have semi-official status
there, he says, being tolerated by the authorities and even paying taxes, like
any legitimate business. Speaking in an interview at NAGRA's headquarters on
the outskirts of Lausanne, he says: "What is China doing? It's supporting all
of these efforts. It manufactures a good 98 per cent of pirate devices, and is
also setting up pirate servers to make sure content is leaked, aggregated and
distributed. China remains a safe harbour in terms of piracy.
"If you look at the big picture of USA versus China, it's another ongoing political war in terms of copyright piracy. Large [pirate] set-top box manufacturers give jobs and pay taxes in China. But they're stealing our jobs, impacting our clients and the clients of our clients, including sports rights-holders."
NAGRA has been in the front line as these political proxy
wars have raged. In 2016, it claimed to have struck a "major blow" against
global pay-TV piracy when a US district court awarded sister company
Nagravision SA a final default judgement worth $101 million in a lawsuit against
China's Zhuhai Gotech Intelligent Technology, and two related companies. NAGRA
filed the case alleging that Gotech's technologies and services were primarily
designed and intended to circumvent content protection technologies.
Gotech sold millions of piracy-enabled set-top boxes
annually while pretending to be a reputable company doing legitimate business,
NAGRA said, with its investigations having shown that Gotech had targeted all
major conditional access providers and was enabling illegal content
distribution.
In the beoutQ case, NAGRA was one of three digital security,
media solutions and technology companies, together with Cisco Systems and
Overon, which, BeIN said "independently and definitively confirmed that the
Saudi-based pirate TV channel beoutQ – which has orchestrated a plague of
piracy on world sport over the past year – is being distributed on the satellite
provider Arabsat."
---
If you look at the big picture of USA versus China, it's another ongoing political war in terms of copyright piracy
---
Saudi Arabia had attempted to distance itself from beoutQ by denying accusations that the pirate network was operating out of the country (Arabsat is based in Riyadh, and the state of Saudi Arabia is its largest shareholder).
But BeIN's Jordan said at the time: "The evidence is irrefutable: the illegal channel beoutQ is backed by Saudi nationals and openly promoted by leading Saudi figures; it is operating with the tacit consent of the Saudi government and its World Cup pirate feeds were viewed on public screens under the responsibility of Saudi authorities across the country; it is broadcast on the Riyadh-based satellite provider Arabsat; on a daily basis it is carrying out – in broad daylight – a mass-scale theft of highly valuable intellectual property rights."
Can NAGRA be certain that beoutQ is being distributed via Arabsat? "We're 100-per-cent certain," Metral says. "We've been in the anti-piracy business for over 25 years. You purchase a box, plug it in and point your dish to the satellite. You use a satellite pointer to ensure you're receiving it via this satellite.
"We instructed our tool to capture the Arabsat frequencies used by beoutQ and analyzed the captures to establish beoutQ channels were indeed broadcast by such and such Arabsat frequencies. We also reverse-engineered a beoutQ box and found parameters in the beoutQ software to tune to Arabsat frequencies. But we've also observed Arabsat and beoutQ changing behaviours, hiding links to Arabsat, so adding complexity."
Metral demonstrates his point with the cardboard sleeve of a
beoutQ set-top box which openly advertises that beoutQ has been offering
coverage of soccer's Fifa World Cup this summer, plus the Uefa Champions League
and Europa League, England's Premier League, Spain's LaLiga, Germany's
Bundesliga, Italy's Serie A and France's Ligue 1, among others, all rights held
by BeIN.
The use of Arabsat to broadcast the pirate signal means that the reach of beoutQ is at least limited to the satellite's footprint, albeit, Metral said, that covers "at least all of the Middle East and North Africa and, according to an Arabsat satellite footprint map, even extends into parts of Europe – a broad region."
But the problem is much wider than this. BeoutQ also makes available IPTV apps which mean its beoutQ channels and a wide variety of other content can be watched worldwide by beoutQ set-top box owners. "We know as a fact from having analysed IPTV apps that they're broadcasting a lot of sports content from a lot of rights holders: all the major European football leagues, Formula 1, US leagues, you name it," he says.
And then there's the piracy of beoutQ's own signal: the "pirates
of the pirates" effect, as Metral describes it. "BeoutQ does not prevent that
from happening," he says. "Potentially, everyone can connect to the internet. They
don't have a monopoly of piracy."
Many pirate operators like beoutQ actually charge a subscription fee for their services (albeit much less than the legitimate operator). Why would consumers pay to buy a beoutQ set-top box and take out a subscription, when much of the content is available for free on the internet? "Many will pay something for a high quality of pirate service," Metral says. "We at NAGRA therefore focus our anti-piracy battle against commercial or paid piracy."
---
If you steal from a candy store you feel you've done something bad. Yet if you steal content worth much more from home, you don't feel like you've done something bad
---
"On a broader philosophical aspect, crimes you commit at
home don't feel like crimes. If you steal from a candy store you feel you've done
something bad. Yet if you steal content worth much more from home, you don't
feel like you've done something bad."
The publicity that the beoutQ case has attracted, its proxy
war status and the high financial stakes involved have raised the profile of
international TV piracy (together with much-trumpeted anti-piracy victories by
the likes of the Premier League), suggesting that the problem is more
widespread than it's ever been. Not so: the problem has always been widespread,
according to Metral, who says: "You've had piracy ever since you've had pay-TV.
The methodologies and techniques have evolved along with the broadcast world.
Thanks to the internet, you can get access to pretty much everything in terms of
live content for no fee or a small fee.
"It's true that pirate OTT platforms are becoming the true competitors of legitimate platforms, offering all you can eat, drink and watch for a small fee. That's becoming very visible to the entire industry. But in the video world you still have the advantage of encryption and live content; the music industry is much more impacted. We're able to contain it in video through encryption and other tricks, although the emergence of high-speed broadband and the internet makes it more difficult to contain. It's not too widespread yet, but the cat-and-mouse game is not over."
NAGRA's own approach to the 'cat-and-mouse game' is to work together
with rights-holders to identify the "big threats" to which they are subject,
and then "define what type of piracy it is they want to put an end to," Metral
says, adding: "Then we put in place 10 or 20 targets. Twenty per cent of
pirates are generating 80 per cent of piracy, so we identify the 20 per cent and
build a plan. That's usually a combination of technical measures, monitoring
and take-down and investigation and litigation."
So what are the trends in TV piracy? "The first trend is
commercial [pirate] services that compete with traditional legitimate services
with a great offering," Metral says. "If you want to watch French, English,
Spanish, German or US football, you can get it in one place. There are still a
lot of websites, but usually the user experience is not that great. That's stable
in terms of trends."
Beyond this, Metral says, many sports leagues and
rights-holders feel they're at war with the social media giants like YouTube
and Facebook whose platforms are used to distribute pirate video – albeit, he
says, in the long run, "regulation will probably solve this. Either regulation
or litigation. They [the social media giants] have their own tools [to combat
piracy], but some are better than others. YouTube is making progress, although
it's not there yet. Facebook is still a big problem. It's not rights-holder
friendly."
In some cases, the social media platforms have defended themselves by pointing out that consuming pirate videos in some territories is not illegal. But, says Metral, "in most countries offering it is illegal. In the case of Facebook, it's not [being given away] for free; every time you connect they get revenues from advertisers. For me, they're a direct infringer. They benefit from the traffic connecting to [pirate] services in dollars. They want the best of both worlds, just like the Chinese.
Is the war on TV sports piracy, like the war on sports
doping, one that can't be won? "The end goal is not zero piracy," Metral
replies. "The idea is to mitigate and contain piracy to an acceptable level, where
the industry still makes a living. Containing piracy means to defeat those
competing with our clients, and to deteriorate the [pirate] user experience. There's
no one silver bullet, because the eco-system is so fragmented.
"It's a very challenging fight. The fact that it's continuing
but also evolving makes it difficult. The industry has been pitching anti-piracy
for many years. I've been speaking to Interpol and the European Union Intellectual
Property Office for many years. For IP blocking, a change in regulations is
still needed in some countries.
"There are other ways to make [the fight against piracy] more efficient, but they have to be discussed at the ISP [internet service
provider] level. The OECD [Organisation for Economic Co-operation and
Development] will add TV piracy in their next round of talks, and so will the WTO.
So these lobbying efforts are leading to some place."