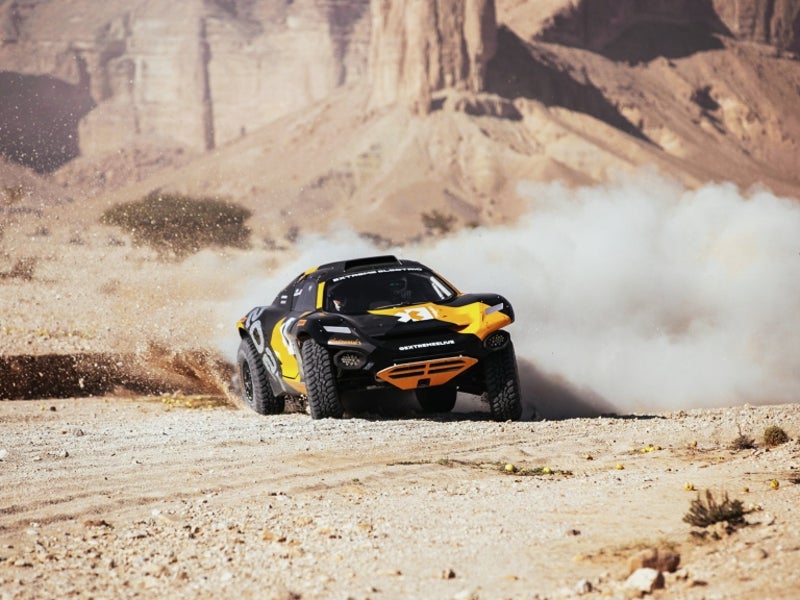 Adrenaline-filled racing, sustainability and remote production – Susan Lingeswaran explores how new motor racing series Extreme E will stage an eco-friendly sporting spectacle while driving home its climate change message.
It started as a casual brainstorming session between two of motor racing's most brilliant minds.
Now Extreme E is on the cusp of becoming the first all-electric, off-road racing series, with a budget of tens of millions of dollars, a mission statement to save the world and events at five of the most remote locations on the planet.
Touted as the next step to the hugely successful Formula E track series, Extreme E is the brainchild of motorsport legend and Indianapolis 500-winner Gil de Ferran and eclectic businessman Alejandro Agag, chairman of investment management firm Addax Capital and founder of Formula E.
The goal? Not to entertain or declare a winner, but to promote sustainability, highlight the increasing threat of climate change and deliver innovations which will allow us to have a less extreme impact on the environment.
One thing this series does not lack is creativity, and the ingredients that make up the sport have certainly piqued the interest of broadcasters and investors alike: a revolutionary electric-powered SUV, a floating paddock created from a Royal Mail ship, race locations that range from glaciers to rainforests to deserts, a line-up of famous drivers from all the furthest corners of motorsport and an environmental legacy programme that would make David Attenborough proud.
Mission electrification
Much has been made in recent times of the environmental impact of sports like motor racing which, despite driving several real-world innovations, remains both resource-intensive and unable to break away from its gas-guzzling credentials.
But it is Extreme E that is bringing new hope to the cause by taking a more pointed approach to emphasise climate change damage through sport, Ali Russell, chief marketing officer of Extreme E, tells Sportcal Insight.
"This idea of using motorsport to promote electric vehicle innovation and clean mobility started with Formula E and we were always discussing ways to evolve, but it was Alejandro (Agag) who came up with the idea to take the racing to already damaged parts of the planet and create an ecosystem of content that might start with people watching for the sport but walking away with a deeper understanding of climate change.
"Scientists have been talking about climate change for about 20 years but the message hasn't cut through, people are fatigued with the same documentaries on television, and we believe that sport has that ability to connect with a mass number of people and amplify the message where maybe other mediums haven't worked.
"If there's a simple message, its 'drive electric' and it is making electric cars sexy and breaking down the barriers that people have about the technology. If you look at how we are charging the cars, we are using solar energy to make the green hydrogen, and then the green hydrogen charges the batteries which powers the cars and the only by-product is water which is then used to wash the cars.
"We are showing what can be done in the middle of nowhere in the most extreme environments, we are showing that electric can thrive and be cool and that's a super important message because people think electric is the Uber that they were in not these high-powered vehicles."
The global off-road series has FIA status but is as far removed from traditional motorsports as you could possibly imagine. From conception, Agag's lofty ambition to stage the sport in the most sustainable way created unique challenges from global transport to on-site production.
For a start, the inaugural series will be travelling to some of the areas in the world that, while extremely remote, are being impacted by humanity's effects on the environment. It will get underway in Saudi Arabia (Desert leg) on 3 and 4 April, before moving on to Senegal (Ocean), Greenland (Arctic), Brazil (Amazon) and Argentine Patagonia (Glacier).
Race locations were chosen carefully, with governments to environmental groups sharing their input into how the race could be hosted with as little impact on the region as possible. But after successfully securing five regions for the first series, Russell believes the sport has the capacity to expand out in the coming years.
"It's not like we could show people a previous version so we have had the benefit of some visionary governments that have really backed us, together with the local automobile authorities and the ones accredited by the FIA to run these races, we had multiple buy-in by everyone for this project," he says.
"On top of that we had the scientific committees who helped us ensure that we aren't going anywhere that is too sensitive and we are not damaging the locations further and that helped our case too.
"Now we have been inundated with locations wanting to do races because it's important that governments illustrate how they are actively making changes to accelerate that green revolution and that's been reassuring because we don't want to stay in the five locations where we are going to, we want to build the championship and also go to many different places."
Big names, little footprints
Extreme E will use a traditional round-robin format with two groups of six teams, with the top-four progressing to the knock-out sage and each driver going head-to-head to earn a place in the final. The off-road stages will be up to eight miles in length, with a series of virtual gates to be navigated by drivers in a mixture of extreme heat, high altitude and sub-zero temperatures.
The cars used for the series are specially designed electric SUVs, called the Spark ODYSSEY 21, made by the same manufacturers of Formula E's cars and making use of a battery developed by the engineering arm of the Williams racing team.
It boasts 450hp and can go from zero to 100 in 4.5 seconds.
As Formula E did in its early years, Extreme E has attracted a wealth of talent not only in the form of prospective drivers, but among its team owners as well. Formula 1 drivers Lewis Hamilton, Nico Rosberg and Jensen Button have entered teams, as has rally legend Carlos Sainz, and American racing legend Chip Ganassi.
High-profile drivers from across motor sports have signed up to compete, including W Series champion Jamie Chadwick, seven-time World Rally Champion Sebastian Ogier, Australian Rally Champion Molly Taylor, Formula E champion Nelson Piquet Jr, two-time DTM champion Timo Scheider and Dakar Rally champion Sam Sunderland.
For Russell, having big-name players from the world of motorsports has brought gravitas to the project as a legitimate offering and not just a niche sport with a mission statement.
"For us to really succeed as a sport we need to resonate with people and having those big names validates this as a blue riband event because it immediately gives us huge audience numbers so we aren't just starting as a new proposition.
"We've made it more short form, so more like the motor racing equivalent of T20 cricket, and we did that to make it accessible to a younger and larger audience while making it more gender neutral.
"The races are only 12 minutes long whereas Formula 1 is three hours long and that's a long time to invest. It was super important to us in this digital age to create something that is snackable and doesn't require hours of buy-in by fans."
On the practical side of staging a racing series globally with as little impact as possible, Russell says Extreme E worked with professional services firm EY to measure the overall footprint of the series.
A scientific committee, consisting of leading academics from the universities of Oxford and Cambridge in the UK also advised on the logistics and impact of the race itself.
One of the biggest innovations has been the series' 'floating paddock', which will be moving all the cars and equipment from location to location to lower the sport's carbon footprint.
The RMS St. Helena, a 7,000-tonne former Royal Mail ship was bought from the British government and given a modern makeover. From having large solar panels fitted to being kitted out with a state of-the-art research facility, the liner will become the very first self-propelled paddock in history.
Organisers put an open call out to universities and educational establishments to make use of its research centre at different points of the voyage.
Five successful projects have now been announced: research to understand predator movements and how these could change as a consequence of climate change; radar tracking of bird movements at sea; biomonitoring of vertebrate communities in the north-west Atlantic using eDNA metabarcoding; quantifying persistent organic pollutants in the open ocean; and quantifying distribution and abundance of micro plastics in the South Atlantic.
Back on the ground, to ensure the series remains as non-intensive on resources as possible, each team will be only permitted to fully charge their car once per race weekend and the number of on-site staff has been kept to a minimum.
But where the real difference lies, is having no spectators at the events, says Russell.
"Not having fans at events really helps – we're not ticketing these events; we reduced the number of employees that teams can have on site and really lowers the impact that we're having on site.
"Unfortunately, being pragmatic, there has to be some footprint but what we want is to make it as little as possible and offset it with what we do in the long-term by accelerating that uptake of green energy."
Changing the broadcasting game
What was supposed to be the sport's Achilles heel when it was first launched was that not only would it be a sport without fans present, but it would be totally reliant on television coverage to promote its message.
The initial idea was to run the races in private and then release a documentary which showcased the racing but also highlighted the environmental challenges in those locations. But the team was forced to change tack after broadcasters clamoured to get the rights to the series.
Now a plethora of international broadcasters have signed up to air Extreme E's inaugural season, with the series projecting hundreds of millions of viewers in 180 countries worldwide will tune into the action.
Europe's broadcasters include: the BBC and Sky (UK); Virgin Media (Ireland); ProSieben (Germany); Mediaset (Italy); Cosmote TV (Greece); RTL 7 (the Netherlands); ORF (Austria); Arena Sport (Balkans); MySports (Switzerland); Saran (Turkey); and BTRC (Belarus).
Further afield, the series will be shown by Discovery (North America and Europe); TVNZ (New Zealand); Globo (Brazil); Fox Sports (USA, Canada and the Caribbean, southeast Asia and Australia); ESPN (Latin America and sub-Saharan Africa); StarTimes (sub-Saharan Africa); Huya, Douyin and Zhibo.tv (China); Sony (Indian subcontinent); and Dubai Sports (MENA).
High-class production is guaranteed by Aurora Media Worldwide and North One Television, which are already the host broadcasters for Formula E.
The concept behind broadcasting the series was to use hybrid storytelling to get the message across without resorting to already tried and tested documentary lecturing, says Lawrence Duffy, managing director of Aurora.
"Audiences can get pretty fatigued, we've seen it with the constant overload of coronavirus information, they can switch off with climate change stories because they don't see a big change happening and I think this type of programming is a way of talking about climate change without actually talking about climate change," he says.
"My thoughts were if we can create an entertaining sporting spectacle with many of the same elements people are familiar with but show them what's happening in those places, that would draw attention and capture the imagination.
"We've seen devastating fire pictures from California and Australia, we've seen footage of glaciers melting away and its incumbent on the television industry to find different ways of telling the same story."
To demonstrate the effects of climate change on the particular area they are racing in, Aurora will be incorporating data from the environment and using it as comparison points throughout the broadcast, which Duffy hopes will pique the interest of viewers to want to know more.
"Everything is about data these days and sport is about how the contest was won and lost based on who was strongest, fastest, who scored more goals, but the planet gives off a lot of data points too in terms of how far a glacier has receded, how fast the ocean is warming, how hot the ground is.
"So what we are effectively doing is fusing some of the data points of sport and the planet and bringing the two genres together because I think that people that are interested in sport will also be interested in geography, topography, culture and travel.
"For example, one of the races is in a place called Kangerlussuaq in Greenland and the race track is adjacent to a glacier called Russell Glacier so we'll be looking at the ice melt and tell the story of what's happening on the racetrack at the same time.
"It'll be the same in the Amazon, we'll look at the square meterage of deforestation, we might be looking at rising sea levels when we are doing the Ocean-based race. These landscapes are natural theatres so it's quite easy to set the stage."
On the non-live content side, Extreme E will be captured as a 20-part magazine series by filmmaker Fisher Stevens, who won an Oscar in 2010 for best documentary feature with 'The Cove'. The series will delve into all the behind-the-scenes aspects of the series, as well as the science behind the environmental changes.
To keep audiences interested throughout the year between the five races, there will be bite sized videos and updates on the research being carried out onboard the St Helena, while drivers and crew will bring a human element to the story.
Remote revolution
To keep with its low footprint goals, Aurora has been tasked with producing all live races of Extreme E almost entirely remotely, with crews on site kept at a minimum.
It was a feat that was deemed radical at first, says Russell, but with emergence of the coronavirus pandemic and need for social distancing, many broadcasters will now be looking at Extreme E's remote solutions in earnest.
"People thought it was strange to be doing a sport in the middle of nowhere but now they can see that we can operate at a time where the world has been forced to shut down and we can still fulfil our objective of conducting a world-class sporting event which can be replicated by others," he says.
However, the requirements created fresh challenges as the sport not only moves around the world but also moves within the race itself. To make it work, they enlisted international outdoor broadcasting group NEP as the series' technical production partner.
"Live sports programming with this level of remote production hasn't been done in these parts of the world before so getting live pictures out of these places with the level of integration was going to be a challenge," Duffy says.
"Remote technology and remote production have really come on stream fast driven by the pandemic. Some sports are easier to make remote than others when they are in a fixed field of play, but Extreme E is one of the more extreme shows you can make using remote technology."
After working with NEP for 18 months, an agile end-to-end solution for the sport was developed, with NEP providing a specially built flypack, remote production, crewing, satellite, and fibre connectivity, edit, augmented reality, virtual reality, graphics, display and projection and specialist cameras.
Wireless cameras have been fitted onto the cars to tell the story of what is happening on the racetrack, while track cameras will be set up. Drones have replaced traditional helicopters for an aerial view of the cars and the overall landscape.
The on-site crew is also made up of people with duel skillsets as to limit the amount of people needed.
The on-site logistics have been relatively straight forward to plan and test, but it is the sport's remote production solution that has pushed the boundaries the most.
Touted as a full IP broadcast solution, all feeds from the cameras will come back from the five race sites to NEP's broadcast and media centre in London to be distributed to the series' broadcast partners.
But while the master show is produced in London, the sporting graphics will come from Al Kamel Systems hub in Barcelona, Spain, and the AR and VR will come from NEP's Hilversum hub in the Netherlands. A total of four remote sites will have to work together simultaneously to produce one live show.
"We have been able to test all those individual elements and we've done a lot of that and we've brought them together and done a big test in the UK in December where we had cars running, we were testing cameras and data flows and work flows, drones in the air – that was all successful," explains Duffy.
Now we have to take all that equipment to all the places that we are racing and while we have done site surveys and looked at positions of the cameras and data flow, the teams will only get together once before it is proper proof of concept and we go live.
"But I think the solutions are very resilient, it's very modern and I suspect when it rolls out, we'll be using it again."
Leaving a legacy
In line with its commitment to the environments they are racing in and to offset the inevitable footprint they will leave behind, however small, one difference between Extreme E and its sister race Formula E is the legacy programmes it plans to leave in its wake.
Each of the five race locations will have a unique programme to combat the issues that it faces. In Senegal, Extreme E is working with conservation organisation Oceanium to plant one million mangrove trees off the coast to increase carbon capture in the area and protect the coast from erosion from the rise in sea levels. It will also serve to provide a nursery system for biodiversity.
Another initiative in Senegal will be working with Ecobricks and Ecozone to take ocean plastics from the area, recycle and use them to develop the building of schools and infrastructure in the country.
Meanwhile, in Brazil the series will be working with The Nature Conservancy's Forest Restoration programme to restore 300 hectares of Amazon rainforest while also setting up an agroforestry scheme to help farmers move to growing crops that are better for the environment.
Its Greenland initiative will be working with Unicef to educate children in the country on the climate crisis and to empower them to have a voice in the conversation.
"It is super important for people to feel part of this," Russell says. "What you'll see in the whole proposition is it is very consumer focused, it is very behind-the-scenes, it's very transparent so what we want is for people to feel they can help, whether it is my 12-year-old son wanting to donate 50p of his pocket money or corporate businesses that want to get involved.
"We want to win over hearts and minds and introduce people to some of these solutions and as they grow, there is no limit to the funding they might receive. The one thing we know is as we go around the world, there's a lot of damage to areas and highlighting the projects can accelerate the adoption of these programmes elsewhere."
On the production side, Duffy believes the series will be able to show other sports how remote production can thrive even in extreme circumstances, hastening its implementation in more mainstream leagues.
"The cost is commensurate with the technology you employ and the landscapes that you're employing them in so while this isn't an off-shelf proposition, other sports will benefit from a lower cost base as they are in mostly fixed locations and a fixed field of play," he says.
"The industry has pivoted to a digital space and I think the facilities businesses have pivoted to a remote space so once you've gone there, it's very difficult to go back because it allows you to do so many more things.
"What we are trying to do is be pioneers and show sports what can be done if we think outside the box and find sustainable solutions. If this can be done in the most extreme environments, then just think about what can be done closer to home."
This article appears in the latest issue of the Sportcal Insight magazine available at https://sportcal.nridigital.com/sportcal_insight_magazine_mar21/issue_5