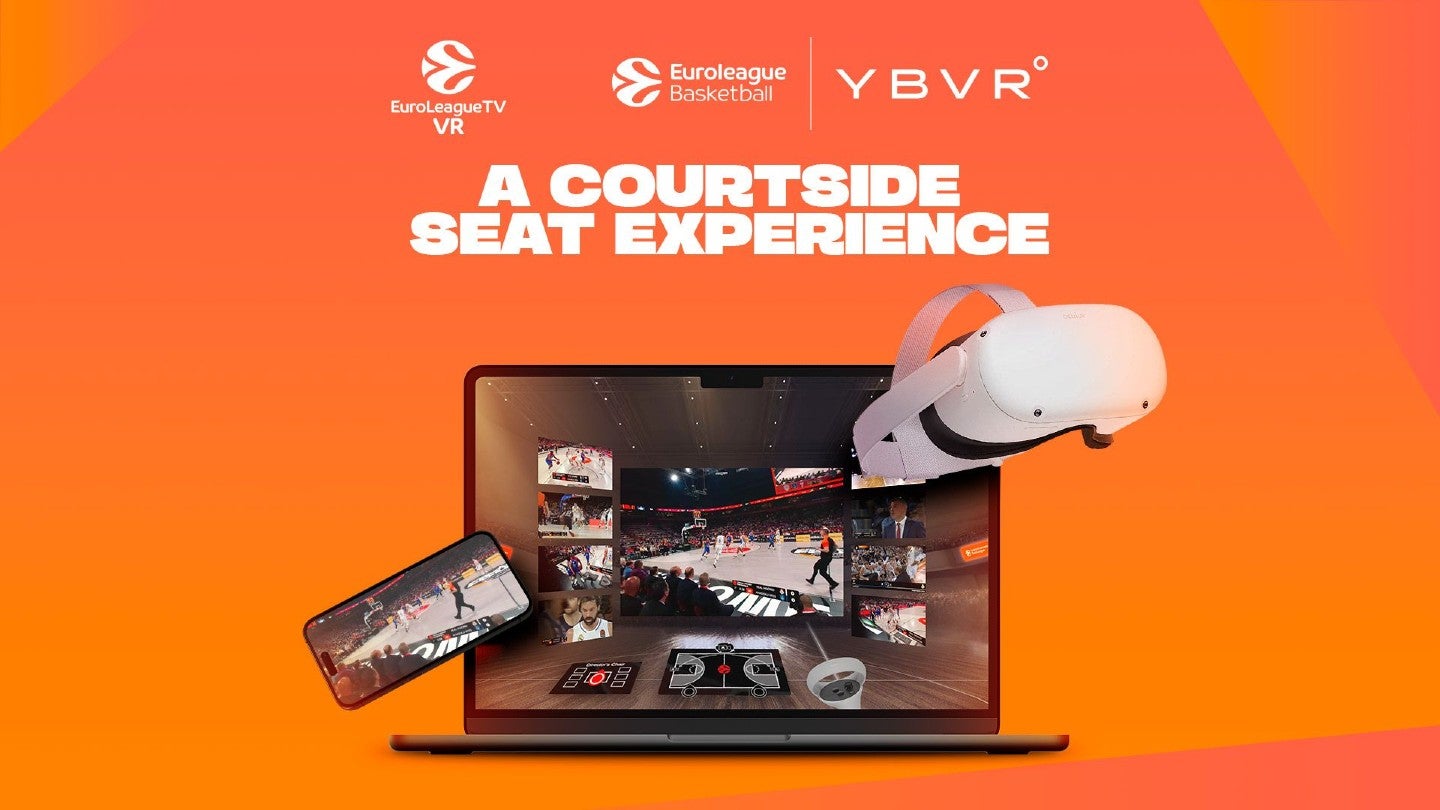 As an early adopter of streaming, Euroleague Basketball was ahead of the curve and well-positioned for the digital revolution heading for the sports world.
With the launch of the Euroleague TV (ELTV) platform in 2007, the league was among the first to dip its toe in the game-changing digital media landscape.
Now, with digital output a key component in the commercial strategies of almost all sports organizations, the EuroLeague is continuously looking to reinvent its product offering and remain at the forefront in this space.
With traditional consumption habits changing constantly, the top European basketball competition is keen to reach fans in every way possible, which requires a different business proposition.
"We have to deliver what people want, where they want it, and when they want it," Marshall Glickman, Euroleague's acting chief executive, explained to GlobalData Sport at the recent Final Four season climax in Lithuania.
"With the traditional model, you sell your audiovisual rights to a broadcaster for however much money you can convince them to pay, and you hope there's more than one at the table. That model is changing across the globe with streaming.
"This great equalizer is also going to force everybody to change the business model. You can't just rely on the traditional way of doing things because of the technology. We need to adapt to the technologies as quickly as we can, and we need to package our product to some extent differently. It's not all about the live game."
ELTV
Since launching 16 years ago, ELTV has evolved to become a key revenue source for the EuroLeague.
The service was initially operated by international sports marketing agency Infront before Perform Group took over the management a few years later.
Eventually, the EuroLeague took the operation of the platform in-house through a partnership with NeuLion (which was then acquired by Endeavor and is now Endeavor Streaming).
ELTV has more than doubled in subscribers and revenues over the last three seasons, with a 30% compound annual growth rate in both cases over this period.
The service is available worldwide (except in Spain, France, and Italy) and offers season, monthly, and pay-per-view passes in most markets, as well as special packages for the end-of-season playoffs and Final Four championship finale.
"We started early, and it took years for it to be the solid revenue source that it is today, and, with all the tech we have put behind our digital operation, it allows us to have a meaningful direct interaction with fans," explains Alex Ferrer Kristjansson, Euroleague Basketball's marketing and communications senior director.
Despite bringing the platform to a stage where it is contributing significantly to revenues, the league is keen to expand its digital offering and explore new opportunities.
One avenue is by enhancing the non-live content on the service to continue to engage with fans beyond the action on the court.
The service is now also adopting a freemium model with pay-to-watch and register-to-watch options, as well as free content, including a 24/7 channel that will launch later this year.
"ELTV as a standalone would mean a big investment because we have to create new programming, we have to give you a reason to go there not just when there's a game on, that's one model," Glickman outlines.
"Or potentially there's a model in partnership with an Apple, Netflix, or Google, or whoever it may be. Warner Bros. is coming in with Discovery and so there are those kinds of choices and then we must see how that integrates with traditional broadcasters who are delivering through satellites and traditional ways and finding that balance and keeping that interest."
Although the EuroLeague is placing a huge emphasis on streaming, it will not shift completely from traditional linear broadcasting and understands the need to find a happy medium.
Despite the rise and popularity of over-the-top streaming, the importance of linear exposure is not lost on the organizers of Europe's elite club competition.
"The NBA took a long time to find a balance, but it managed to do this," US native Glickman says. "On the one hand, it provides its games to a mass audience through a television network that you can still get on an antenna on your roof with ABC.
"Then the next tier down it delivers games to a very mass audience through TNT and ESPN.
"In TV, do you need the intermediary? Yes, I think we do today to some extent. The intermediary and we as the property together must realize that the change is going to be forced on us whether we like it or not.
"People are consuming content differently and we have to adapt and so we need to work with our partners at IMG to find a business model that makes sense for both sides but allows us to adapt to the changing realities."
Over the past year, the EuroLeague has secured new or extended broadcast deals with operators in several key growth markets.
Agreements were struck with ESPN in the US, Fedcom (France), Deutsche Telekom (Germany), FanCode (India), LRT and TV3 (Baltics), and United Media (Greece, Serbia, Cyprus, Slovenia, Croatia, Montenegro, Bosnia and Herzegovina, and North Macedonia).
"There's an unfilled space in France, Germany, and the UK," Glickman states.
"The business intelligence that we have suggests that these markets, particularly the demographic characteristics of certain cities suggest that we have a real opportunity to grow. We need more brand relevance.
"We also have a big opportunity in the US. There are so many basketball fans generally. It's not a question of taking away market from the NBA, there are certain people that want to consume both things.
"There's a tremendous opportunity and the EuroLeague has to try to identify those pockets of opportunity and get much better at telling its stories."
Innovation
As well as maintaining traditional rights agreements, the Euroleague is pushing the boat out with technology by offering innovative broadcasts and features to expand its audience.
In terms of live content, the league this season launched two new experiences: The Players View – which features alternative commentary with active and retired players, and guests on screen interacting with fans – and EuroLeague TV VR – selected games offered with an immersive experience with 180 and 360-degree cameras and the ability to direct your own game with eight feeds at the viewers' disposal.
In January, the EuroLeague partnered with technology company YBVR to stream games in virtual reality (VR) for the first time. The 'clasico' between Spanish giants Real Madrid and Barcelona earlier in the year was the first regular season game to be shown using the technology.
VR games were available to ELTV subscribers and on Xtadium, the VR sports app developed by YBVR.
For the Final Four, the EuroLeague partnered with tech company MindFly to fit referees with artificial intelligence ultralight-powered bodycams during the games. The bodycams captured an immersive experience that provided both video and audio feeds to fans.
Fans were able to experience the immersive content that was created through special clips shared on Euroleague Basketball's official web and social media platforms.
The EuroLeague will be entering the eighth season of a 10-year joint venture with international sports marketing agency IMG that jointly manages the commercial operation of the competition, including global media and sponsorship rights.
The league is keen to use the partnership to expand and offer alternate broadcasts and commentary options to appeal to a tech-savvy younger audience such as player casts like the 'Manningcast' rolled out by ESPN for its Monday Night Football NFL coverage featuring former NFL quarterbacks Peyton and Eli Manning.
"I want to see the production quality move up a notch," Glickman says. "It's difficult here in Europe, it's very different. The cost of television production seems to be much higher here.
"In the States, we're doing things to make the broadcasts more interesting. We've got player casts now. The Gen Z crowd is more into that instead of listening to traditional commentary.
"My dream is to turn on a TV and have a menu down the left-hand side with coverage in 13 languages and that would bring you commentary and graphics in that language, player casts, and betting-centric feeds with different odds and things on screen.
"The NFL did a deal with Nickelodeon and then the business intelligence came behind it and they were gaining an audience that didn't exist before. The NBA sells 10-minute versions of games now and cuts out all the boring parts and they cut it down to the essence and that's a different way to consume it.
"That's where we need to be and that's where we need to be in our conversations with IMG so ultimately, we can do more of that."
With a strong product on the court, bringing together the elite teams in Europe, the EuroLeague's following is consistently growing.
The league's aim to target younger fans is having the desired effect across social media as the competition generated record engagement numbers during the 2022-23 season with double-digit increases across its platforms.
The total number of accumulated impressions on social media topped the 1 billion mark following a 55% increase from last year's figures.
In terms of engagement, this figure rose by 71% to 40 million. The biggest leap came with video views, increasing by 130% to 393 million. There was also a 17% uplift in followers to 3.4 million.
The EuroLeague also generated record digital numbers for the Final Four as its social media accounts (Instagram, Twitter, Facebook, and TikTok) registered record double-digit growth with a reach of 57 million, up 55% compared to the 2021-22 season, 32 million views (an increase of 104%), and 3 million engagements (up 48%). There was also an increase of 44% in impressions and 17% in total followers.
The competition set new attendance records during the regular season, averaging 8,748 spectators per game, beating the previous high of 8,676 during the 2019-20 campaign.
Throughout the year, a total of almost 2.7 million fans attended regular season games. There were also huge attendances for the Final Four in Kaunas, Lithuania – a prominent basketball nation.
The EuroLeague will soon be under new leadership as it was recently announced that Glickman will step down from his role when his contract expires in July.
Jordi Bertomeu, who was forced to step down in June 2022 after 22 years in the position, was a hard act to follow but the American has helped to continue the league's strong momentum and upward trajectory.
The league's next leader will have a strong foundation to build on.