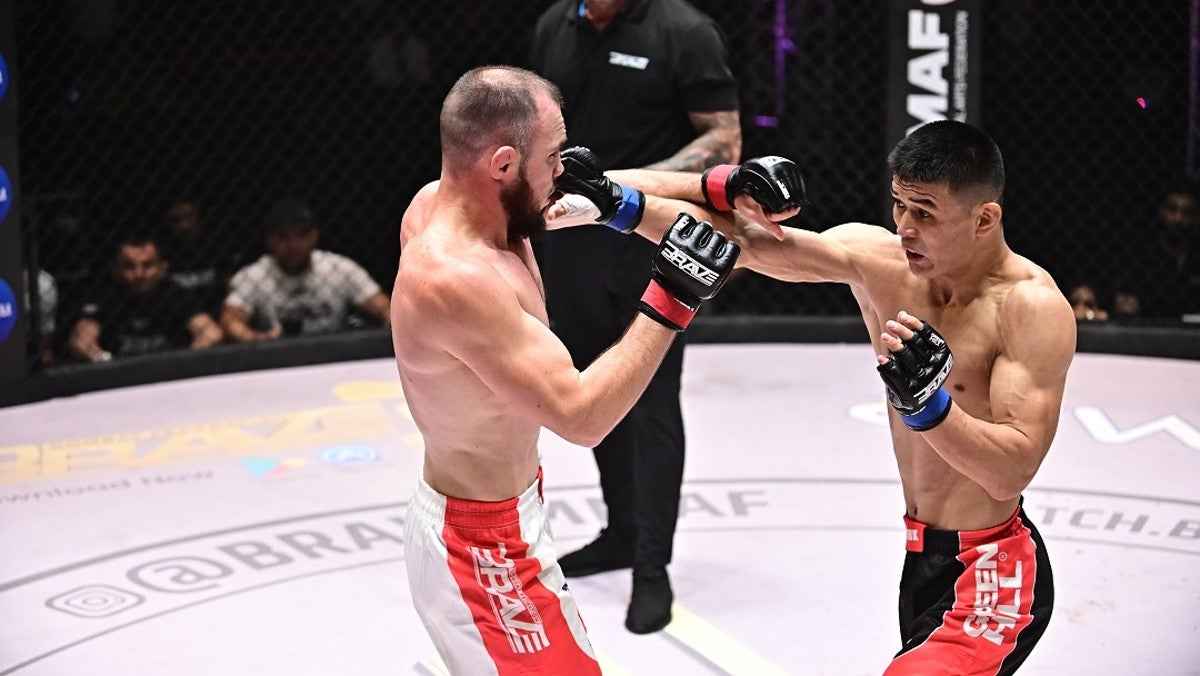 As a sport that has emerged over three decades, MMA still lacks the formal, unified talent pathway of traditional sports.
From the start, it has been private, commercial promoters that have hosted amateur bouts on their undercards, invariably in a 'white-collar' vein, creating a route for competitors to the pro leagues.
Some have established dedicated development platforms, for example, Tuff-N-Uff in Vegas, Cage Warriors with its regional Academy events, and MIMMAA with a (now defunct) reality show that saw hopefuls try-out across shopping malls in Malaysia.
However, over the past 10 years, a trend has emerged of promoters supporting more global development structures. In 2012, the UFC (USA) and M1-Global (Russia) funded the launch of competing world governing bodies.
Both the International Mixed Martial Arts Federation (IMMAF) and World Mixed Martial Arts Association (WMMAA) were tasked with cultivating international amateur MMA with the goal of seeing it into the Olympic Games.
This ushered in the establishment of international amateur rules sets, modified from the professional Unified Rules; standardized definitions of amateur status, which had been hitherto multifarious; and nations tournaments.
When IMMAF and WMMAA merged in 2018 to bolster MMA's bid for recognition from the Olympic movement, Asian promotion ONE Championship entered the game, supporting a new amateur body, GAMMA (Global Association of Mixed Martial Arts), that comprised breakaway parties from the merger.
This year, following the UFC's withdrawal of its funding commitment to IMMAF, the federation announced a deepened partnership with Bahraini promotion, Brave CF, owned by HH Sheikh Khaled bin Hamad.
This trend has also been mirrored at a national level: For example, under the IMMAF umbrella, a Polish federation was founded by KSW entrepreneur Martin Lewandowski; while UFC briefly sponsored a fledgling UK governing body as part of their aborted deal with British Judo. Under GAMMA, the Croatian federation enjoys a partnership with promoter FCC, while their Korean federation is backed by Road FC.
What is driving commercial promoters' interest in universal, structured athlete pathways? It is not by chance that a huge advocate of the UFC's support of the UKMMAF and IMMAF, circa 2014-15, was its then European vice-president, Garry Cook.
Best known for his executive career in football, Cook's vision was the establishment of similar structures for martial arts as FIFA holds, not only to create a talent funnel, but also for potential cooperation between stakeholders over rights packages and other shared industry interests.
Another motive for UFC was the facilitation of independent sanctioning bodies for events in markets where none such existed.
The mantle was picked up more recently in the UK by The Professional Fighters League (PFL), which is establishing a regional professional leagues system internationally, and last week made waves with its announcement of investment from the Saudi Public Investment Fund.
This year, PFL sponsored the Amateur Four Nations Championships organized by the English, Welsh, Scottish, and Irish federations, on top of their existing developmental, sanctioning arrangement with the English association.
PFL senior vice president, James Frewin, explained: "The Professional Fighters League is committed to investing at every level. Our mission is to professionalize and advance the sport, creating a global system from amateur to world level that currently does not exist.
"The English Mixed Martial Arts Association…plays a critical role in safeguarding the development of the next generation of MMA athletes, so it is a privilege for the PFL to play our role in providing opportunities for amateur athletes to compete more regularly and showcase their skills on a global platform as they pursue their goal to turn professional."
Asked whether PFL has a broader plan in place, Frewin expanded: "We actively pursue both individuals and organizations who invest and support at the amateur level, to lend our platform and capabilities to finding ways in which we can provide more opportunities to advance and grow the sport… We will be announcing several more partnerships with grassroots and amateur organizations very soon."
Similarly, for Brave CF president Mohammed Shahid. Through the events partnership Brave enjoys with IMMAF and their amateur Super Cup tournaments, "we have built a pathway where fighters from the amateur ranks can find their spots in a global organization immediately after going pro. We are proud to have given global debuts to many amateur superstars, like Muhammad Mokaev, Ramazan Gitinov, and Axel Sola.''
Indeed, the successful transition of amateurs to the big leagues is gaining some momentum after a shakier start, thus increasing the perceived legitimacy of a longer amateur career. Not only are new talent pathways shaping athlete skills development, but the boost that amateur platforms gain from affiliating with commercial shows is equally influencing the outlook of upcoming fighters.
On Thursday (September 7), French promoter Hexagone MMA presented an amateur undercard on its internationally broadcast show, co-promoted with Brave and sanctioned by law by the French MMA Federation (FMMAF).
Indeed, according to co-President Jerome Pourrut, "Our goal is to find the new Ciryl Gane and Benoit Saint-Denis. It is a young sport here in France. Our responsibility is to find, educate, and offer a platform for amateurs."
A common theme among the FMMAF licensed amateurs on the card is their plan is to gain maximal experience at that level before turning pro. Says Dylan Hervouin, "Defeat on the amateur circuit is much less problematic than a defeat at professional level.
"My goal is to become [amateur] French champion, to be able to represent my country at the European Championships and World Championships. I'm also interested in the pro circuit, but I am giving myself time. MMA is a sport in which it takes time to mature."
This attitude marks a departure from the old-school desire to accumulate a fast and (optimally) easy professional win record to attract the bigshot matchmakers. The younger generation are looking to test themselves before they make the jump. They are looking at the long game.
And so, without a doubt, the demand exists for universal talent development structures, and Pourrut echoes Frewin's agnosticism: "Importantly, we are not involved in the management of these athletes. The idea is to provide a platform for amateurs from whatever region they come from. We won't block them if they want to go on to fight elsewhere."
However, there is no one cohesive framework yet for the sport. International bodies, GAMMA and IMMAF remain locked in their race for Olympic recognition, with both boasting national Olympic committee and sports authority recognition in different countries, while GAMMA has gained inclusion in the Africa Games.
Meanwhile, United World Wrestling continues to include MMA's forerunner, Pankration, in the World Combat Games, with recent modifications to its rules towards MMA and the participation of some GAMMA members. Newer too is the Olympic Council of Asia's inclusion of an iteration of mixed martial arts into the Asian Games, under its very own Asian Mixed Martial Arts Association.
Then add to this, the traditional martial arts codifying their own multi-discipline variants to capitalize on MMA's popularity, besides internal rifts. For example, IMMAF recently ejected its founders from the board after they attempted to bring an inquiry, creating some disaffection among members. And so, in true combat spirit, if one world body does eventually achieve Olympic recognition, it is unlikely to put a stop to other actors.
Excepting where national jurisdictions force adherence to a mandated body, as in France and Sweden, the governance landscape is still fragmented. Meanwhile, the MMA press continues to sleep on the subject, showing scant interest in how the sport is organized, rendering a complete absence of public scrutiny.
So, while the organization of MMA is nowhere near football's set-up, the mutual interests of stakeholders have nonetheless propelled the sport and athlete development forward and wrought significant changes in public perception. Collective achievements include the Council of Europe changing its verdict on MMA in 2020 to a positive one and the legalization of the sport in France.
The rise of youth MMA championships provides another indicator of sport maturation as the organic demand for youth participation has rocketed: There now exists a first generation that has only ever trained in unified rules MMA, not only reshaping the playing field but further solidifying the discipline as a sport of its own.
Asked how he sees MMA's talent pathway continuing to evolve and PFL's role in it, Frewin comments: "We launched PFL Europe this year and it is the first of six regional leagues to launch in the next three years. Our vision is to develop a true system in the sport that does not exist today in MMA.
"Sports such as football have academies that develop talent from amateur level to professional. Each region has its own system which develops talent on a regional level who compete on a pan-regional and world level. Here at the PFL you can now sign as an amateur in Europe or the Middle East and have a clear pathway."
"We are also excited for MMA to become an Olympic sport in the very near future!"
Ditto Brave: "Our ultimate goal in supporting amateur MMA development is to establish a global ecosystem for mixed martial arts from grassroots to professional, and also establish strong governance for the sport and to see MMA into the Olympics."
Olympic vision aside, as Pourrut encapsulates: "MMA is unique in sports history as it started 30 years ago with a professional product in UFC, unlike traditional sports that began as amateur. We have a big responsibility in France as a homegrown promoter to create pathways from amateur to pro. This is very much within the DNA of Hexagone MMA."