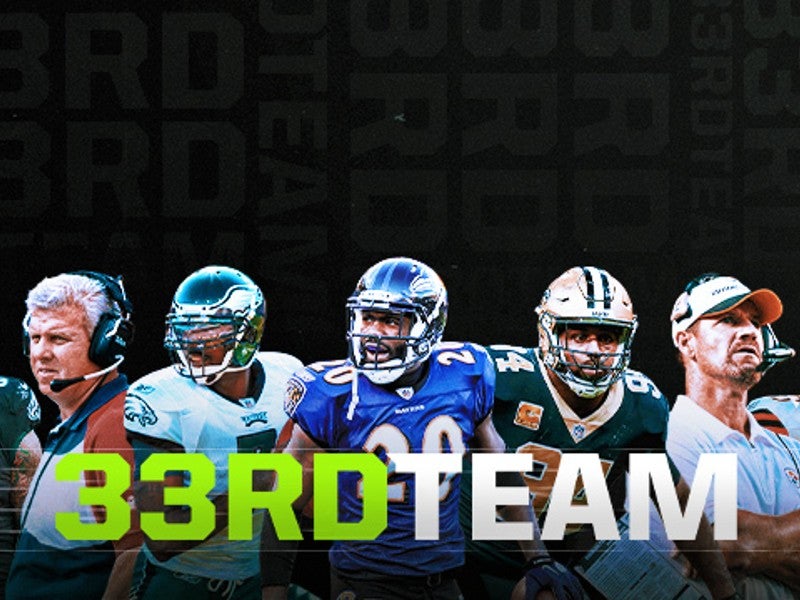 At a time when on-demand is king, live sport has so far remained a stalwart in the ever-changing world of broadcasting. Week in and week out, on-field drama, results, and data feed the insatiable appetite for studio commentary and social media debate long after the final whistle has ended the action.
The decades roll on, different ex-pros take up a seat on the panel, the format stays the same.
Pre- and post-game studio analysts have played a key role in keeping the action alive. They engage millions on live television and in clips for social scrollers – outraging and pacifying, informing, and entertaining with their insights about their sport and the personalities that influence play.
In the US, sports fans have been clamoring for more – more analysis, more commentary, more debate, and more content – as they look to engage with the country's most popular league, American football's NFL, beyond the pre-and post-match television parameters.
Such is the craving for expert views and analysis, top US broadcasters have been shelling out big-money contracts to their American football analysts to sate their viewers' appetites, with the balance of power between management and talent now firmly tipping in the way of the latter.
Two years ago, national network CBS's pundit Tony Romo, a former quarterback in the NFL, got a raise from about $3 million per year to more than $17 million. He was the highest-paid sports announcer in history until earlier this year when Fox's Troy Aikman moved to international sports broadcaster ESPN for $18 million per year.
While the numbers are high, they almost obscure how much richer every top NFL announcer has gotten over the past few years. In the last year, NBC's Cris Collinsworth ($12 million per year) and CBS's Jim Nantz ($10.5 million per year) negotiated contracts that are probably among the biggest ever signed.
Fox's Joe Buck and NBC's Al Michaels could also soon join them if they make their reported jump to ESPN. For the NFL 2022 season, Aikman, Romo, and Collinsworth will make nearly $50 million combined – at least $30 million more than they made five years ago.
In the world of the NFL, one thing is clear: It's a good time to be a top-tier football analyst on broadcast television.
Changing times
But viewers' tastes have started to change with the growth of younger, more digital-savvy fans. With such a wide-ranging audience, there has been a growing eagerness to consume content in shorter formats including behind-the-scenes clips and interviews for deeper analysis of the more technical aspects of the game.
The nature of football analysis has also changed immeasurably in the social media era. Gone are the days when the opinions from behind the desk were taken as gospel as the only platform for the watching masses. To the chagrin of many, the objective behind the studio desk can sometimes seem to be about creating the next soundbite rather than any deep analysis of the game itself.
It was within this environment, former New York Jets general manager Mike Tannenbaum dreamed up his new project – a media collective of NFL players, coaches, and decision-makers that would provide fans with insights directly from people who are in the game or the boardroom.
The group, called The 33rd Team – a reference to the 32 franchises that currently make up the NFL – was founded last year by Tannenbaum with assistance from the University of Massachusetts (UMass) Amherst's sport management program and a network of creators who were recognizable to NFL fans, including former Philadelphia Eagles president Joe Banner and former coaches Eric Mangini, Ken Whisenhunt, and Wade Philips.
The idea for The 33rd Team came after Tannenbaum hired a group of UMass Amherst sport management students to help him prepare for the 2019 NFL Draft while he was working for ESPN. The fruitful experience led him to formalize the partnership with the school, allowing students to work directly with a growing group of former NFL decision-makers.
At the time of launch, Tannenbaum touted the company as "a football think tank." Armed with a website, newsletter (with 50,000 subscribers), and plans to release content through its distribution channels and others, the group said it would do private work for teams and universities, assessing anything from practice schedules to injury rates.
The group's main source of income was sponsors, which at the time had all been universities and academic institutions.
A year later, however, the group had completely transformed into a company much more focused on content after adding two industry veterans – former Major League Baseball (MLB) deputy commissioner Tony Petitti as co-chief executive and Fox Sports president of production John Entz as chief content officer.
Its new remit is to provide the public with up-to-date insights, and analysis from a roster of current and former NFL general managers, coaches, and players to offer behind-the-scenes perspectives of the latest NFL news, as well as life in the league, both on and off the field.
It would also enlist fantasy and betting experts to provide tips, predictions, and strategies ahead of league games.
The big leagues
The group of analysts now features 21 former and active NFL players, 11 former NFL coaches, and six former NFL executives all contributing analysis content to the platform through written pieces and short-format videos that they film from their personal computers.
The group is an impressive who's who of the NFL including Super Bowl champion Chris Long, All-Pros Ronde Barber, Cam Jordan, and Eddie George, and Pro Bowls Matt Cassel, Lavernues Cole, Cam Jordan, and Greg Jennings, as well as several Hall of Fame alumni and Super Bowl coaches, among many others.
On average, the group produces over 100 videos and over 70 written pieces of content each week, including film breakdowns they co-produce with NFL Films, the production company behind television coverage of the league. Of that content, over 50 pieces each week are focused on fantasy and betting analysis.
Speaking to GlobalData Sport from his native US, Pettiti says that, since he joined the project, the response to the group's initial product offering from both users and participants has been positive, giving them room to build out the platform further after their first year.
"I think the last couple of years has changed a lot of the way people consume their content especially since Covid-19 when even studios were zooming people to do interviews instead of having them physically there – we've played on that," he says.
"It's user-generated content, and there's a whole generation that understands the format being 'Hey, I'm going to get on my phone, I can create content, I post it to various channels, and people air it.'
"I think that's where we fit in. We can take people that are super interested in football and connect them to this remarkable group that can teach them more and have some fun along the way. It's not traditional panelists talking in their suits.
"What I love about this is that the guys are speaking in their own voices, they are talking about things the way they talk to teammates in the locker room and fans have liked that element.
"We aren't asking them to change how they explain things like a TV approach, they just talk about this play, what they were thinking, what they'd do differently, and I think that's what people want to see and hear – authenticity."
The 33rd Team's launch comes as sports media companies large and small work harder to give fans more behind-the-scenes perspectives from ESPN's alternative broadcast of Monday Night Football, featuring retired quarterbacks Peyton and Eli Manning breaking down the game from a player's view.
The NFL itself has been keen to lean on the behind-the-scenes content to feed hungry football fans year-round programming, creating an estimated 30 shows with 525 episodes per season covering all 32 NFL teams who play throughout an 18-week regular season plus 16 postseason games – 288 in all.
Petitti says what attracted him to get involved in this particular project, having previously played a major role in developing MLB Network, the dedicated channel of MLB, where Petitti worked as president and chief executive was the potential to build a unique product that would arm fans with football knowledge they can't get anywhere else.
"I think, for a project like this, you have an idea and you need validation that you can execute the most important piece, which was to get football payers and current coaches to make it a premium product – because they are the talent. Fans are coming to hear what they have to say, their knowledge and experience," he says.
"But when we started talking to current players and coaches about the idea and asked them 'Hey, if we paid you and we professionalize the content production, would you be interested in doing this?' The response was remarkable – I don't think we heard a 'No'. Everyone wanted to be part of it.
"That was the first part, and the second was that this is a way to connect fans with athletes more quickly that isn't just clips on their social media accounts. We want to live in a space where we can do things in the moment and react to what's going on straight away."
Content is king
At the same time as announcing Petitti and Entz's appointments, the group announced it had secured investment from big hitters in the industry, including Liberty Media Corp, the parent company of motor racing's major Formula 1 series, MLB's Atlanta Braves, US satellite radio broadcaster SiriusXM, and investment company The Baupost Group.
The cash injection and the players behind it say a lot about the potential of the group, especially after striking a partnership with NFL Film that will see the pair work together for 'Now You Know' segments in which The 33rd Team analysts will highlight key moments from Sunday and Thursday night games.
With no plans to charge subscriptions, the group currently relies on advertising and investors for its main source of revenue, which Petitti says will remain for the time being while the product is still in development.
"I think with our investors, it was important to say 'Let's try and build this out as big as we can and build awareness of it as our first goal before we think about anything else.'
"As we think about supplementing, there could be a hybrid where certain content could eventually be treated differently than other content and where there could be a premium content offering, but, for now, we are building awareness of the product and trying to get brands to support us, which we know is going to take a little time."
Petitti added most of the new investment it secured will be used for content creation and distribution, as well as marketing.
"What we are focused on is trying to take as close to 100% of the investment and turning it into content, that's the way my mindset is, whether it's analysis, betting, or fantasy," he says.
"The second piece is then amplifying that either through marketing or finding people to help us do that.
"For me, when I was hired to build the MLB Network, I wanted to take the investment that baseball was giving and make sure that investment turned out to be on the screen where fans could find it. That's the way I think now – let's take this investment and do all we can to make sure that almost all of it goes into the things that fans can interact with, which is video production and written production."
Generally speaking, if a company is showing something that people want to see, they will by and large seek it out. The fundamentals of broadcasting remain the same – but what's changed is the way fans engage with sports analytics, with viewers now able to access endless streams of them via digital channels.
The key, however, is delivering quality and packaging them in a way that is easy to digest and distribute among other digital properties from video clips, to written articles and longer podcasts – a process, Petitti says, The 33rd Team is currently undergoing to reach its widest audience.
"It's definitely a learning process for us. I will say that we've gravitated to shorter rather than longer content but there is still longer programming that we do like podcast interviews which do well with fanbases.
"But our bread and butter is the two-minute, six-minute-type video, and that's really where we are mostly spending.
"The key thing is making sure the content is good, that we're talking about the right things that people want to actively seek out, and making sure we're smart enough to adjust it according to the platform we're distributing it on.
"So, you might see something on the site, and it might be slightly different on Twitter but it's just about having the right content in the first place to migrate across different platforms."
Game changers
Amid the frenzied emotion, spectacular runs, heroic upsets, and grand displays of athleticism and skill, the post-game analysis serves as an important service for those looking for validation or explanations of what they have just witnessed.
The opinions of studio analysts can make blood boil or soothe disappointment. They have knowledge, power, and influence over the audience and characters within the game.
Traditionally the views of current players, coaches, and decision-makers within the game were limited to post-match interviews and press conferences. Most of the time, it was left in the hands of sports journalists to disseminate the quotes and package them – often to the detriment of the speaker in question.
In the digital era, however, things have changed. Those previously at the mercy of the studio have the option to bite back at unfair criticism via their chosen platforms. Through the power of digital media, they have found their voice.
However, not everyone who is a good player or coach makes a good announcer, and the commonly held perception that talking about football is easy is far from the truth.
But Petitti says the way the group produces content is picked up easily by those keen to get stuck in, giving current players a chance to hone their skills away from the live television studio and the full glare of the public.
"We have staff that have worked in traditional broadcast roles and are very familiar with it, but even for them it's a different format because they are looking at the camera and they're talking by themselves without the safety net of throwing over to a colleague," he says.
"For the new guys, we just tell them to speak about a subject matter that they are most interested in, so if you're a wide receiver, talk about that position, talk about people you think are playing well and those who are difficult to play against or why a certain play is being used. It makes them comfortable.
"We have a producer on the line so they're getting feedback in real-time and the beauty of it is, if we have someone for 15 minutes, we might have four or five different topics he can jump to, and we can separate those clips into two-minute bites.
"And if it's all off to a bad start, we just stop and start again – easy. They talk in their voice, and we'll give them a couple of topic suggestions. If we do it right, we end up covering everything in those 15 minutes.
"I think they've been surprised at how easy it all is, there's no pressure so that allows them to open up more and give fans what they want, which getting real views from professionals that are within the game."
Alongside the importance of having the right talent saying the right things in a way, the key to any successful media company is the consumers. You could have the best insight at your fingertips but if no one is watching, there seems little point in shouting opinions into the void.
If you build the railway, the train will come, and Petitti says that a year on from its launch The 33rd Team's audience is rapidly growing after using its star power to grow brand awareness.
"One crucial element is that the guys on our roster have massive social media followings so people will be excited to hear them break down football in their own words and then their fans become aware of us and then suddenly very organically people recognize our brand," he says.
"In terms of which content resonates most with the fans, I think it's our clips that analyze big moments involving big players and when our staff take strong positions on them.
"Also, when someone explains a play or a situation in a unique way, where we say to the fan 'Hey, this is something you may not have seen but is important, and here's why' – those are the things that take off."
Although still in its infancy, The 33rd Team has carved out a niche for itself in the world of sports analysis that leaves most people thinking "Why has no one thought of this before?"
In a world where there is an abundance of knowledge of the game and no end to former and current players, coaches, and decision-makers keen to have their voices heard, it seems a no-brainer to form a collective to house this bank of talent.
What The 33rd Team has done may be a glimpse into the future for sports analysis that is looking for a way to engage fans away from the traditional television studio and out of the hands of the usual suspects behind the desk.
So, what's next for The 33rd Team?
"We're still in the phase of trying to do what we are doing well, and I feel really good about where it's heading – people have reacted well to the quality of the content, how fast we can generate so much.
"The concept can easily be replicated in other sports. We're fortunate that we are covering a sport that has so much interest, but I think the natural progression here would be more like college football because a lot of our guys can do both, they all came from the college system and they're happy to talk about it.
"Then the next thing we'll try and do is find another passionate fan group and analyze it would be suitable for what we are doing here.
"Generally, I think fans want to hear directly from players, that's pretty universal so we have the world at our feet at this point. We can go anywhere, that's the beauty of being digital."
You can check out what The 33rd Team is doing at the33rdteam.com.