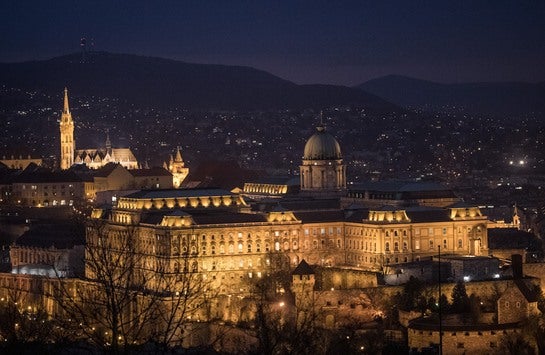 Budapest, the Hungarian capital of almost three million people that sits on both sides of the picturesque Danube, is on its way to joining the likes of Paris, London and Moscow as a major player on the continent in terms of bidding for and successfully hosting sporting events.
The facts bear this out: between 2013 and 2026, Budapest is set to host a total of 16 major sporting events. That's more than global sporting capitals such as London, Abu Dhabi, Moscow and Beijing. Indeed, in that specific timeframe, it is actually the most out of any city worldwide.
World-renowned competitions such as athletics' 2023 IAAF World Championships, the finals of women's tennis' revamped Fed Cup between 2020 and 2022, swimming's FINA World Championships in 2024 (and 2017), the inaugural 2019 World Urban Games in September (as well as in all probability the event's second edition in 2021), as well as four matches from men's soccer's 2020 Uefa European Championships, are all examples of high-profile sporting properties the city has managed to attract in recent years.
Budapest has also hosted handball's Women's EHF Final4 tournament since 2014, and will continue to do so until 2024, at the Papp Laszlo Sportarena, while the city's Groupama Arena played host earlier this year to the final of soccer's Uefa Women's Champions League for the first time.
Balazs Furjes, the former chairman of Hungary's withdrawn 2024 summer Olympic Games bid, has been one of the key figures behind Budapest's reputation as a sporting capital growing, and chaired the city's World Urban Games organising committee. He believes there are a number of factors behind the city's continued rise to prominence, and noted that the conditions are in place for Budapest to now enter an era of dominance among European peers.
The Hungarian capital scored highly in Sportcal's own 2019 Global Sports Impact Nations Index, climbing four places to third spot in the report's 'Global Sports City' rankings, which uses an algorithm to rank cities based on the quantity and calibre of sporting events held there. This is Budapest's highest position yet.
Furjes describes his city as "a real sporting capital now… One of the top three in Europe really."
Rafaele Chiulli, president of the Global Association of International Sports Federations, owner of the World Urban Games, described September's event as "exceeding all initial expectations", and Furjes confirms that the plan is for Budapest to host the 2021 tournament too.
Budapest's big selling point to international federations and event owners is its location. To quote Furjes: "This city has it all. It's very accessible, in the heart of Europe so teams have no problem travelling here."
This is a key issue – in an era of tightened athletes' schedules and less leeway for lengthy travel to and from events, the fact that Hungary is one of Europe's most central countries ensures strong transport links to Budapest from the rest of the continent.
Furjes adds: "It's also a safe city, the economy's booming… Hungary has one of the strongest economies in the EU now."
Indeed, at the turn of 2019, the International Organisation for Economic Co-operation and Development released a report stating that the Hungarian economy was growing at "a rapid pace", and that this had led to "unprecedented levels of employment [and] unemployment at historic lows."
This growth, coming as the country's economy continues to emerge from several decades of 20th century Communism, and an era of Soviet rule behind the Iron Curtain, as well as from the global financial crisis of 2008-09, has led to several new stadia being planned and built in the city.
Furjes calls the new stadia "state-of-the-art", and believes their construction is integral to Budapest cementing its position as a realistic host of future soccer and athletics events.
A new soccer stadium, the Puskas Arena – named after the legendary Hungarian striker Ferenc Puskas – was officially opened in October, hosting its first national team match in November. The stadium, which has a total capacity of just under 68,000, will host all four games at the pan-European Euro 2020.
Plans have also been made for the construction of a new National Athletics Centre, which will be used for hosting the World Athletics Championships in 2023. Although ground has not been broken on the new arena yet, which will be built on the Danube's eastern bank, it will have a total capacity of 40,000, to be scaled down to 15,000 for future events after 2023.
The World Athletics Championships, athletics' showpiece event, is arguably one of the most significant sporting properties that Budapest has successfully landed.
Discussing the 2023 championships with Furjes, after the 2019 event in Doha, Qatar sustained repeated criticism for poor attendances, the Hungarian expresses his belief that Budapest will encounter no such issues.
"I can say that it (the overall attendance) will be very different (to Doha) for several reasons… There will not be the same challenges with the climate, so we won't have to put on races late in the evening. Also, people will be very keen to see the championships return to Europe, where they will not have been held since 2017 [in London]. It is very popular on this continent so people will be glad to see it return home."
Furjes adds: "We will also have a slightly different approach to ticketing than the Doha games had… The income is not particularly relevant for us, instead we want to make sure that all real fans of athletics can afford to come, from all across Europe and worldwide too."
Selected as the event's host city in December 2018, the Hungarian government has reportedly provided a budget of around 31.5 billion forints ($110 million), for hosting the championships.
"We want the championships to be a festival of athletics, with everyone engaging with the city," Furjes notes. "We will put on cultural events like festivals and concerts for those coming here. Above all, we want both locals and tourists to enjoy the city."
As for the prospect of empty seats? "Hungary is a sport-loving nation… I do not think there will be difficulties for any events."
The Hungarian government, to which Furjes advises on its sports hosting plans, is not fearful of stretching finances and budgets to breaking point by taking on too many sporting events, or spending too much on new stadiums.
According to Furjes, the new stadia and other sport-related infrastructure "is taking up less than 0.1 per cent of the government's central budget… Our economy is very strong and planning has been done carefully.
"The city needs these new stadiums, it is not an option for us not to build them, if we want to keep successfully bidding for and hosting these events."
The construction cost for the National Athletics Centre is estimated to be in the region of €310 million ($346 million), while the Puskas Arena set the government back in the region of €638 million in total (after having originally been budgeted at €112 million), according to reports.
The stated intention for the Puskas Arena is that it would bid to host soccer's prestigious Uefa Champions League final in 2021. However, it was not included in the final list of stadia that submitted dossiers and expressed interest, and the event was awarded in September 2019 to the Krestovsky Stadium in St Petersburg, Russia. The city's authorities also expressed interest in the venue hosting the 2021 Europa League final, which was eventually awarded to Seville in Spain.
Undeterred, Budapest is hopeful of "hosting both a men's Europa League and Champions League final" by 2027.
Despite the country's capital now emerging as a major player in terms of hosting sporting tournaments and finals, Furjes admits that a bid for the biggest sporting event of them all "won't be on the agenda" for at least the next few years.
---
We've realised that although it would be nice to host it [the Olympic Games] eventually, we're quite happy hosting other events for the moment, so it's not on our radar
---
Budapest was up against Paris and Los Angeles in an intriguing three-way bid for the 2024 Olympics, but the campaign was abandoned in early 2017 as political support ebbed away.
"We've realised that although it would be nice to host it [the Olympic Games] eventually, we're quite happy hosting other events for the moment, so it's not on our radar," Furjes says.
Indeed, Budapest has been able to build its profile purely through bidding for the games, not quite the Olympic legacy it was hoping for, but nonetheless one that has resulted in "lots of positives" for the city.
And as for the foreseeable future, Furjes says the plan is a simple one: "Continue to be the top sporting events capital in Europe, and for Budapest to be in the top three cities worldwide for attracting major tournaments and championships."
The sports city focus on Budapest appears in the new-look issue of Sportcal Insight, available to read here.
Sportcal