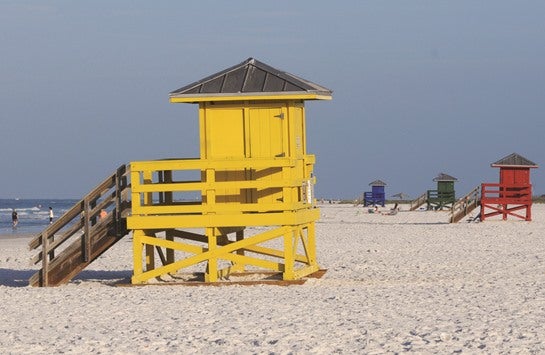 Sarasota County Sports Commission (SCSC) is one of 528 active sports commissions and visitors bureaus in USA today.
The aim of these commissions and bureaus is to increase tourism footfall by strategically bidding for and hosting local, regional, national and international events throughout the year which attract people to the area, increasing hotel room nights and tourism spend.
The area for which SCSC works within the state of Florida is populated by 390,429 inhabitants according to the latest United States Census Bureau.
The commission operates on a fiscal budget of around $850,000 from 1 October each year. From this budget, local organisations can apply for funding to help support their events, so long as strict criteria are met, with grants split in to two categories:
1. Large/Multi-Year Events
Large events open to competitive bids which are often confidential in nature and time-sensitive with respect to the turn-around of an official proposal. Visit Sarasota County Board decides whether to proceed following due diligence.
2. Destination/Regional Events
Events held locally producing an economic impact through non-local participation in sporting events. Grants can be increased if specific criteria such as event dates, length, location and media exposure are met.
It is estimated that events supported by the SCSC over the three-year period from 2014 to 2016 produced more than $336 million in economic impact for the region. This equates to $862.87 for every inhabitant of the area per year.
Rob Wells, director of sports at SCSC told Sportcal: "We have shown incredible growth over the past four years and hope to maintain growth throughout the foreseeable future."
Sarasota's location, natural resources and strong tradition of outdoor sports makes it an ideal location for events in modern pentathlon and rowing. Events in these two sports have provided the region with substantial economic impact in recent years, particularly following significant investment in world-class sports facilities.
Rowing
Having hosted youth national events, regattas and Olympic trials, Sarasota's state-of-the-art Nathan Benderson Park, the only World Rowing-approved, Class A rowing venue in North America, is arguably the county's biggest asset.
The venue will host the World Rowing Championships in September this year with 1,700 athletes from 60 nations anticipated to compete.
An event of this size would not be possible with the support of the SCSC alone and therefore the support of Sarasota County leaders was required to ensure funding was agreed before submitting its bid. These additional funds are generated through the county's 'Tourist Development Tax' or 'Bed Tax'.
More than 42,000 athletes, coaches and spectators are expected to attend in total, with 40,000 room nights created as a result.
It will be the first time the event has taken place in USA since Indianapolis hosted it in 1994.
The record for the highest attendance at a World Rowing Championships lies with Cheongju, Korea in 2013 where 157,000 spectators watched the action, with 21,206 out of 27,840 tickets sold for paid viewing locations.
Cheongju

Amsterdam

Aiguebelette

Sarasota-Bradenton

Korea

Netherlands

France

USA

2013

2014

2015

2017 (Projected)

Economic

Attendance

157,000

*

32,000

42,000

Sporting

Athletes

948

1,168

1,300

1,700

Competing
Nations

73

60

75

60

Media

TV
Nations

*

82

193

10**

Broadcasters

*

63

154

10**

Accredited
Media

361

257

400

200+

Social

Volunteers

*

813

600

2,000

*
data unavailable

**
deals agreed to date

Source: Sportcal research
Broadcast deals have been signed in New Zealand (Sky NZ), Australia (Fox Sports), China (CCTV-5), Canada (Rogers SportsNet) and Brazil (GloboSat). Agreements in other key markets such as the UK, Germany, Italy and France are expected to follow in the coming months, along with domestic broadcast deals for USA.
Before hosting the world championships, SCSC is already in talks with World Rowing to host future world championship events, specifically at the youth and U23 level. Securing such events would complete the set for all age groups in rowing, with Sarasota having already been selected to host the 2018 World Rowing Masters Regatta. The Masters Regatta is World Rowing's largest event, featuring more than 400 individual races, typically attracting more than 3,000 masters competitors aged 27 and older from over 40 countries. Hosting events such as these could create a lasting legacy from the county's hosting of the World Rowing Championships and contribute towards achieving the goal of becoming "the premier rowing destination in the world".
Modern pentathlon
Modern pentathlon is also a popular sport in the region, with multiple editions of the UIPM World Cup having been held in Sarasota, as well as the Biathle and Triathle World Championships in 2016.
The events, which are thought to have contributed $10.7 million to the region, were held at the Selby Aquatic Center and Polo Grounds in 2014 and at Nathan Benderson Park thereafter.
Event

Days

Economic
Impact

Room
Nights

Total
Participants

Total
Spectators

UIPM
World Cup 2014 – Final

3

$1,891,154

916

268

7,500

UIPM
World Cup 2015 – Leg 2

5

$5,765,534

2,722

376

9,598

UIPM
World Cup 2016 – Final

3

$1,301,991

705

225

4,902

UIPM
Biathle and Triathle World Championships 2016

2

$1,741,638

664

979

1,776

Totals

$10,700,317

5,007

1,848

23,776

Source: Sarasota
County Sports Commission
SCSC measures its success based on the feedback of participants and rights holders with the hope that each will leave with a strong desire to return to the county in future.
Wells explained that the commission doesn't set specific targets for each of the events it hosts. Rather, it sets annual goals with the aim of attracting events that increase county room nights and economic impact.
He said: "Where some destinations have specific targets they are seeking to hit, we judge each event off its own merits and gauge any potential risk with the reward. Some events are attractive because of their potential effect on area hotels and economic impact, where some events are attractive for the international exposure they can deliver.
"While major events will be the bulk of our emphasis, training and sports meetings remain high on our list of priorities."
Future events
Sarasota County is being represented at the SportAccord Convention for the first time in Aarhus, Denmark in April this year where it is hoped that further new relationships can be forged with international sport federations and organisations.
The county has hosted numerous international sports events and will continue to do so in the coming years, having already successfully bid for and delivered events in cycling, powerboating, sailing and triathlon.
Selected international sports events in Sarasota

Event

Dates

Venue

UIPM
World Cup 2014 – Final

06/06/2014

08/06/2014

Selby
Aquatic Center and Polo Grounds

UIPM
World Cup 2015 – Leg 2

18/02/2015

22/02/2015

Nathan
Benderson Park

UIM
Powerboat P1 World Championship 2015 – USA Race 2

04/07/2015

05/07/2015

Lido
Beach

UIM
Powerboat P1 World Championship 2016 – USA Race 1

09/04/2016

09/04/2016

Lido
Beach

UIPM
World Cup 2016 – Final

06/05/2016

08/05/2016

Nathan
Benderson Park

UIM
Powerboat P1 World Championship 2016 – USA Race 4

02/07/2016

03/07/2016

Lido
Beach

UCI
BMX Supercross World Cup

07/10/2016

09/10/2016

Sarasota
BMX Track

UIPM
Biathle and Triathle World Championships

22/10/2016

23/10/2016

Nathan
Benderson Park

UIM
Powerboat P1 World Championship 2017 – USA Race

01/07/2017

02/07/2017

Lido
Beach

World
Rowing Championships

24/09/2017

01/10/2017

Nathan
Benderson Park

ITU
Triathlon World Cup Series 2017 – Leg 13

07/10/2017

08/10/2017

Nathan
Benderson Park

2018
World Rowing Masters Regatta

25/09/2018

30/09/2018

Nathan
Benderson Park

2018
World Sailing Annual Conference

02/11/2018

11/11/2018

Sarasota
County

Source: Sportcal Research
The Sarasota Grand Prix Festival of powerboating has grown exponentially in recent years and now incorporates a leg of the UIM Powerboat P1 World Championships annually. In 2016, the week-long festival brought 115,700 spectators to Lido Beach, producing 18,300 room nights and an estimated $37 million in economic impact.
SCSC is working in partnership with USA BMX and USA Pentathlon to bring future UCI World Cup and world championship events and further UIPM events to the county. Having proven its international event hosting pedigree, there is now a specific focus on securing the UCI BMX World Championships in 2024.
It is also hoped that the county's hosting of the 2018 World Sailing Conference, attended by more than 400 participants from over 100 nations, will act as a catalyst for hosting World Sailing events in the future. The conference, which has never before been held in USA, will convene at the same time and location as the Offshore Racing Congress (ORC) and the Yacht Racing Forum, the annual conference for the business of sailing and yacht racing, covering professional events such as the America's Cup and the Volvo Ocean Series.
Sportcal