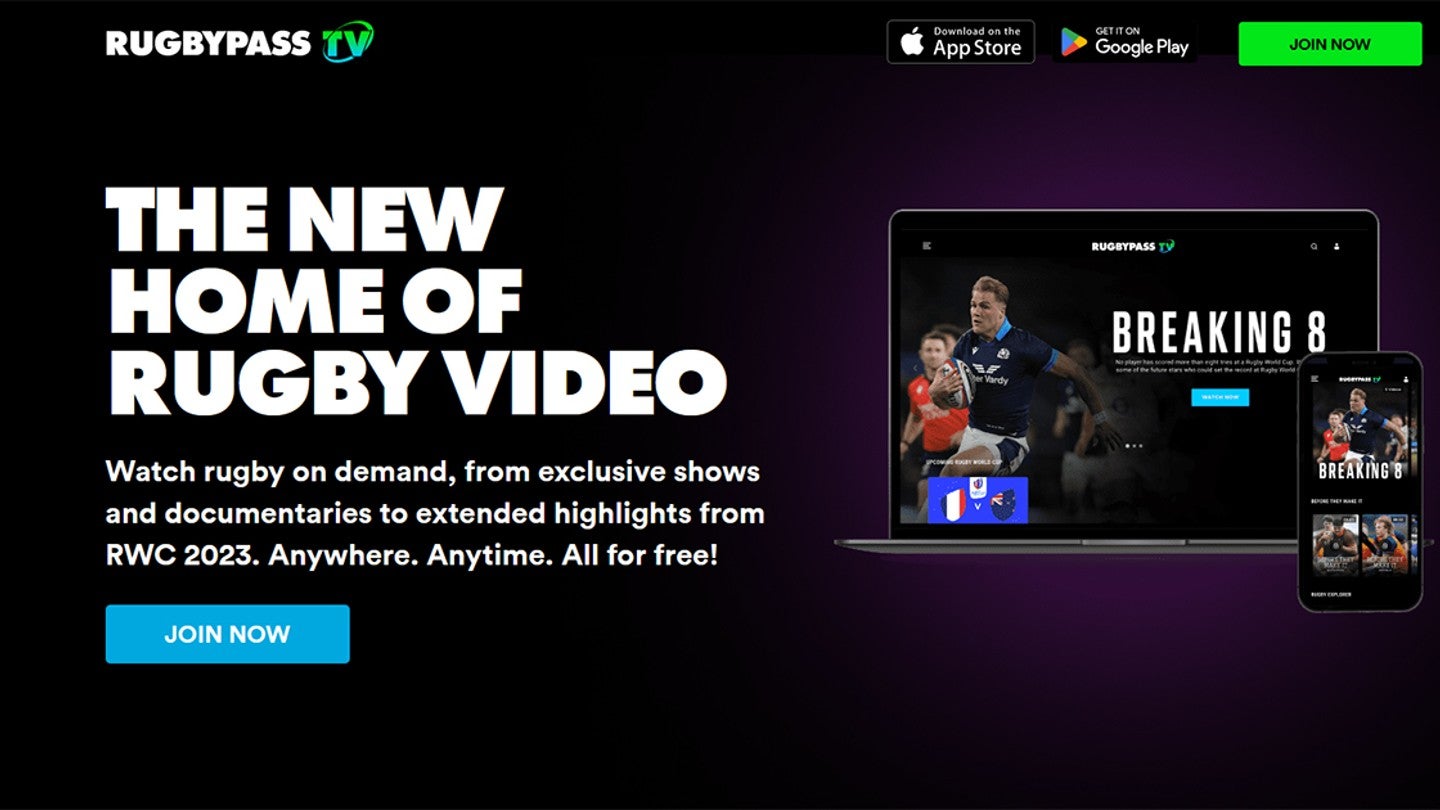 The deal
The World Rugby international governing body has launched the sport's first-ever global streaming platform in partnership with Endeavor Streaming, a subsidiary of the international entertainment agency giant.
RugbyPass TV, hosted on Endeavor's Vesper platform, has already been rolled out worldwide as a free-to-air (FTA) service ahead of the upcoming 2023 men's Rugby World Cup in France and will feature a mix of live coverage, archive content, and exclusive original programming.
The service will aggregate events into one place with coverage to include the men's and women's Rugby World Cups, the new women's WXV competition, and the relaunched top-tier rugby sevens series (rebranded as SVNS) with exclusive behind-the-scenes, documentary, and feature content produced by the federation's World Rugby Studios arm.
The platform's live coverage will start with the World Cup on September 8, with the 10th edition of the flagship tournament to be shown by the platform in nations where broadcast deals do not exist or where rightsholders and not showing all matches live.
Why it matters
Despite the rise of streaming in recent years, rugby as a sport has been relatively late to jump on the bandwagon and secure an established presence in the space.
However, rugby union's global federation believes the forthcoming period, with SVNS and WXV following the World Cup this year, provided the ideal opportunity to deliver an all-encompassing streaming product.
As well as its live offering, World Rugby has placed a significant focus on providing a raft of non-live content to maintain fan engagement throughout the year outside of competitions to keep interest in the sport alive.
Peter Scrimgeour, senior analyst at GlobalData Sport, said: "World Rugby's launch of its new global streaming platform ahead of the World Cup is further progress of the international governing body's strategy to grow the game globally and diversify revenue through engagement, participation, and competition.
"It follows the launch of WXV, a new annual three-tier global women's tournament, that will advance the growth of the women's game, and the launch of a revamped and rebranded rugby sevens circuit that will appeal to a younger, leisure-hungry audience.
"The recent actions are expected to be followed by growing the Women's Rugby World Cup from 12 to 16 teams in 2025, the creation of a new 'World League' rugby competition between tier one nations from the northern and southern hemisphere in 2026 to generate more meaning and revenue from the international windows and the expansion of the men's Rugby World Cup from 20 to 24 teams in 2031."
The detail
World Rugby acquired OTT digital media platform RugbyPass as part of a media rights deal with pay-television broadcaster Sky New Zealand in 2022 as the first step to launching its own platform.
RugbyPass TV will be a free service but will operate behind a sign-up wall, with fans needing to create accounts to access the content.
Rothwell said that this allows World Rugby to provide personalized content for fans and a wider offering of its digital service.
As with most free streaming platforms, the federation will seek to generate revenue through advertising.
The newly developed match center and editorial hub on RugbyPass.com will also provide fans with more data and statistics, while a new Fantasy Rugby offering on the RWC 2023 mobile app is the organization's first venture into gaming.
More reading
The Business of the Rugby World Cup 2023
Post-Event Analysis – Women's Rugby World Cup 2022
Our signals coverage is powered by GlobalData's Thematic Engine, which tags millions of data items across six alternative datasets – patents, jobs, deals, company filings, social media mentions, and news — to themes, sectors, and companies. These signals enhance our predictive capabilities, helping us to identify the most disruptive threats across each of the sectors we cover and the companies best placed to succeed.