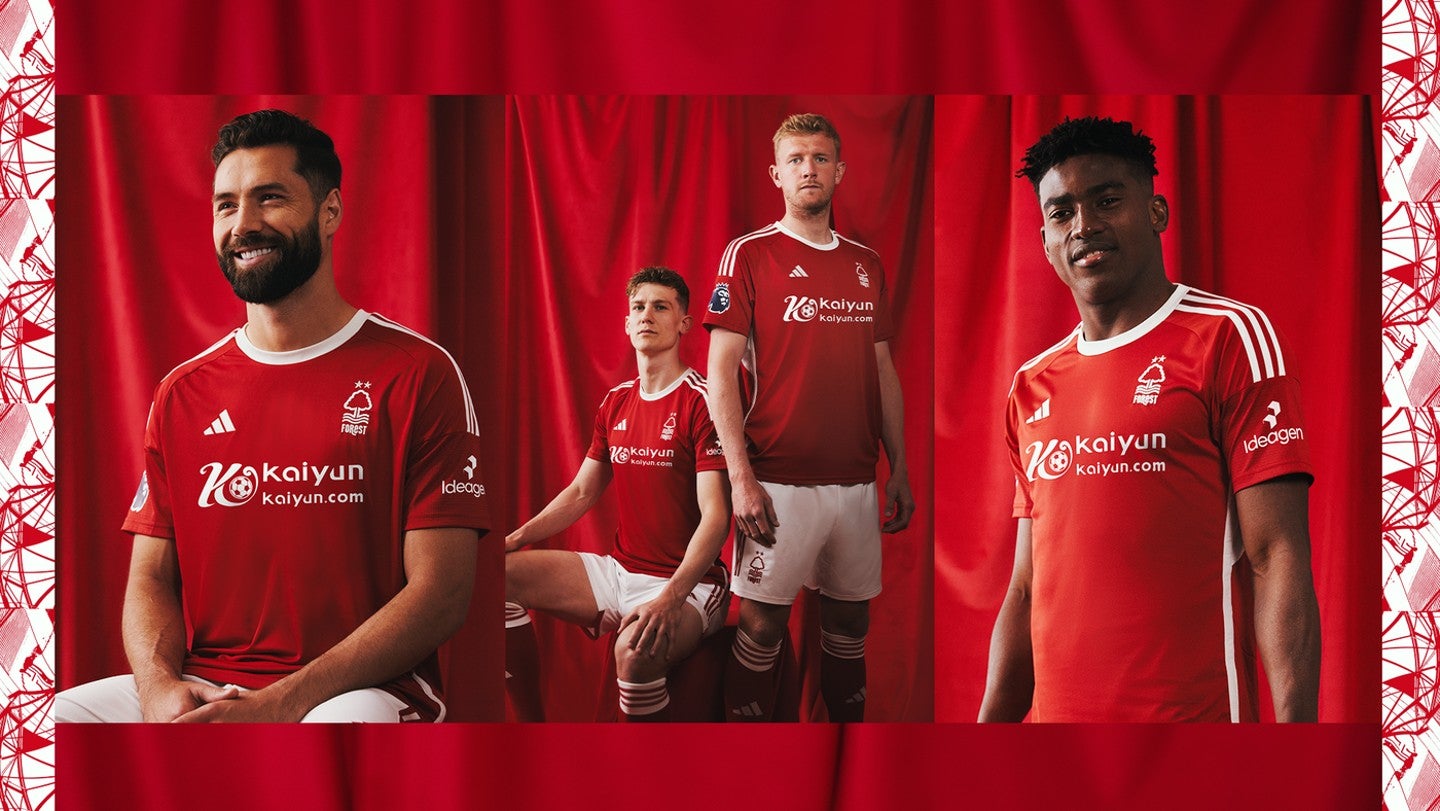 The deal
Nottingham Forest, the top-flight English soccer club, have ended their long wait for a front-of-shirt sponsor after agreeing a two-year deal with Asian online betting firm Kaiyun Sports.
The deal will see the Kaiyun logo featured on Forest's men's first-team shirts for the 2023-24 and 2024-25 seasons.
The company's branding debuted on the front of the team's kit for their Carabao Cup second-round match against Burnley last Wednesday (August 30) and in the Premier League for the first time during their 1-0 win over Chelsea on Saturday (September 2).
Kaiyun is featured on Forest's kit alongside kit supplier Adidas and sleeve sponsor Ideagen.
Why it matters
After being promoted back to the Premier League last season for the first time since the 1998-1999 campaign, Forest played the entire 2022-23 season without a shirt sponsor.
Boxt, the home heating systems and installation company, served as the club's last primary sponsor during their promotion-winning season in 2021-22. That deal was valued at $1 million.
The UK-based firm claimed it had made a "multi-million-pound offer" to renew its contract but was not accepted by the club. It was reported last year that Forest chairman Evangelos Marinakis was holding out for a deal worth between £10 million ($12.6 million) and £15 million per year.
From December last year, UNHCR, the UN Refugee Agency, had its logo featured on the team's shirts.
The East Midlands club's deal with Kaiyun has raised some eyebrows as it was reported Byrne Howard, the chief marketing officer of Kaiyun Sports who was quoted in the official announcement, does not exist.
Conrad Wiacek, GlobalData's head of sport analysis, said: "Forest finally signing a shirt sponsor, after going through the entire 2022-23 season without one and starting the current campaign in the same position, would have certainly raised a few eyebrows amongst commercial teams at other clubs and in the agency world.
"While Forest were apparently waiting for the right fee, reportedly $20 million per season, the likelihood was always for the club to accept a lower fee for a shorter-term deal just to generate some revenue given their unprecedented transfer outlay last summer.
"The club has finally secured a partner in Asian betting brand Kaiyun, despite the official release making no mention of betting or gambling, instead referring to the brand as a technology platform. While it is unlikely that Forest have received anything close to the revenue they were seeking, the sight of another Asian betting brand snapping up a valuable piece of sponsorship inventory in the Premier League is by now depressingly familiar."
He adds: "What has raised eyebrows is the fact that the spokesperson quoted in the official release seemingly doesn't exist, and the brand has no website and seemingly no online presence whatsoever.
"While the likes of Manchester City have signed deals with brands that seemingly do not exist or have exceedingly questionable ethical standards, such as Qnet being accused of human trafficking violations, questions must be raised of the Premier League.
"The league apparently blocked a shirt sponsorship deal between Paramount+ and Chelsea due to the potential of upsetting broadcast partners and have yet to approve a deal between Chelsea and Infinite Athlete, but have waived through several questionable partnerships, like those at Manchester City and Newcastle United.
"The Forest deal with Kaiyun seems to be firmly in this camp, but the Premier League has been silent on the matter."
The detail
With the Kaiyun agreement, Forest became the eighth Premier League club to have a betting shirt sponsor this season.
The team joins Bournemouth (Dafabet), Aston Villa (BK8), Brentford (Hollywoodbets), Burnley (W88), Everton (Stake.com), Fulham (Sbotop), and West Ham United (Betway).
Forest also became the latest team this season to sign a shirt sponsorship deal with a betting firm despite Premier League clubs recently voting to voluntarily ban front-of-shirt agreements with companies in the gambling sector from the start of the 2026-27 campaign
Betting brands continue to have a significant presence in the Premier League, accounting for more than 35% of the front-of-shirt sponsorship deals this season and for a total investment of over $72 million, according to a new report by GlobalData.
More reading
Business of the English Premier League 2023-24 report
English Premier League front-of-shirt rights see $71.79 million investment from betting brands with 35% market share, reveals GlobalData
Why have Nottingham Forest started the season without a shirt sponsor?
Our signals coverage is powered by GlobalData's Thematic Engine, which tags millions of data items across six alternative datasets – patents, jobs, deals, company filings, social media mentions, and news — to themes, sectors, and companies. These signals enhance our predictive capabilities, helping us to identify the most disruptive threats across each of the sectors we cover and the companies best placed to succeed.