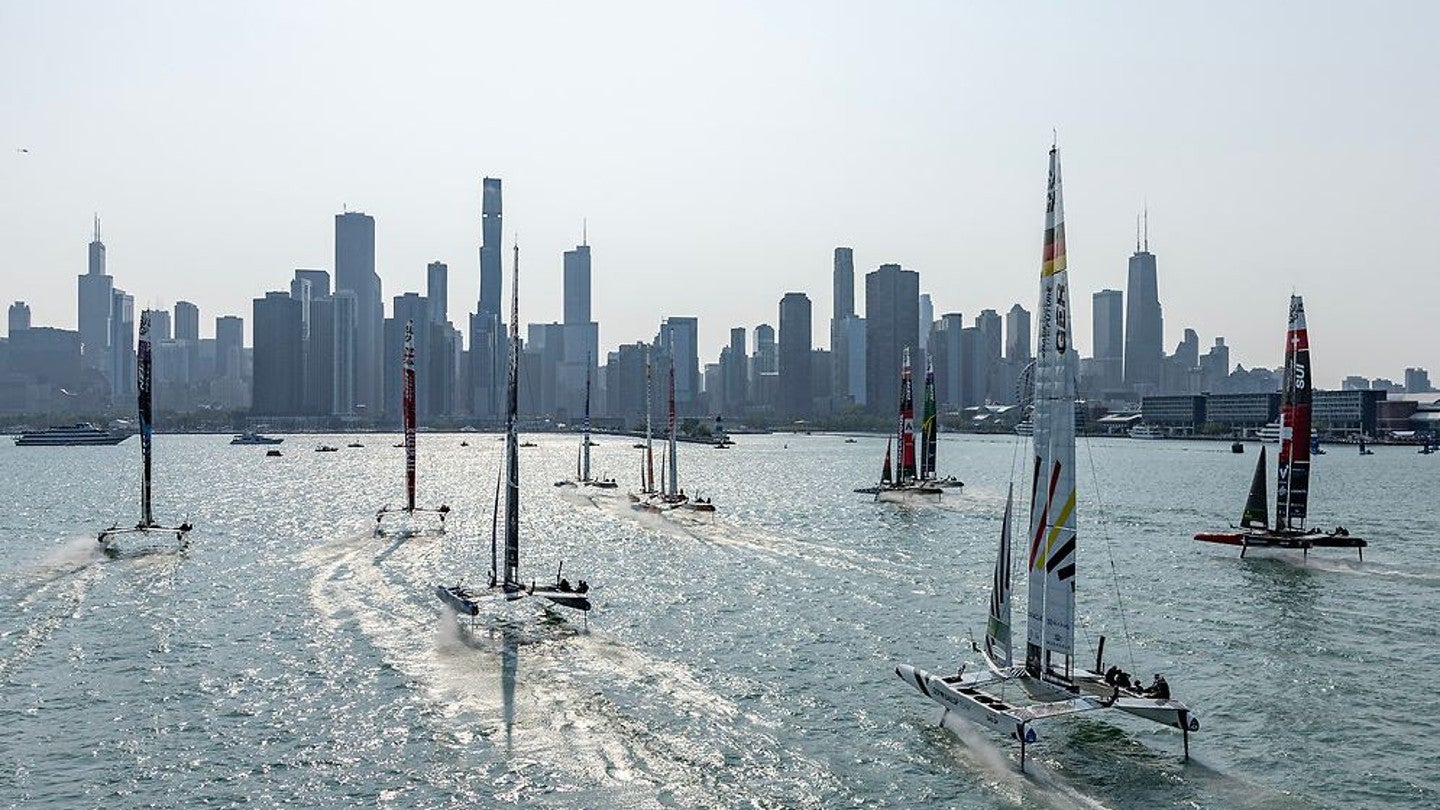 High-performance sailing league SailGP has begun its 2023-24 season with a pair of successful Grand Prix events in the US, kicking off an expanded edition of the championship that is larger than ever. This month the league went to Saint-Tropez, France (September 9-10), and will next head to Taranto, Italy (September 23-34).
Since its inception, SailGP has expanded every year, adding new teams, new locales, and new sponsors, the most recent of which is its deal with Accor to support SailGP's energy transition. Accor joins a burgeoning roster of sponsors that includes Rolex as a presenting partner, Mubadala as a global partner, and brands such as Oracle, Cognizant, Apex, and Kuehne+Nagel.
The league has prioritized such data and technology-led partnerships as a way to not just advance the league as a purpose-driven entertainment brand, but expand its profile globally.
With the first 12-race season in its history, SailGP sees 2023-24 as a breakout year. The company recently secured media rights deals with CBS in the United States and free-to-air broadcaster ITV in the UK, expanding the league's global reach.
Having run for three seasons before this one, SailGP believes it has learned a lot about what it is and what it wants to be. Speaking to GlobalData, SailGP global marketing director Leah Davis says: "It feels like we are throwing off the training wheels."
"We're bigger, we're bolder, we're braver. We feel like we've grown up as we moved into season four. For us it is about everyday excellence, how can we make sure that everything is working well, but above and beyond that how do we deliver these breakthrough moments that will give us visibility and something to talk about?"
"We spent three years really refining what SailGP is as a product. This is the year that we break through. It's the moment that we engage and enthuse a range of fans globally. After quite a lot of work on what our brand and our proposition is, it's very clear that our appeal is racing-first mindset fans. That's why that is our focus for season four, and very much on a global basis."
Putting SailGP on the map
In service of this, the company embarked on a new brand campaign that saw SailGP conduct a "3D visual takeover" of Piccadilly Circus in London. A 3D render of an F50 catamaran, the spec of vessel that SailGP races, flew out of the screens at the largest advertising display in Europe at 100 kilometers per hour, replete with SailGP branding and a pair of Emirates GBR's staff on hand in full race kit to support it.
Davis explains: "It's an awareness effort. We feel confident that our product is a great new sailing proposition and a great new sports product, so what we're trying to do with the campaign is really drive global awareness. We want to make people stop and think 'Hey, this looks exciting, what is this? I want to find out more'."
"We have set out this punchy target of doubling our global fans this season, and it's something that feels quite ambitious but also quite realistic based on how we're tracking so far."
Davis says that the extra location added this season, taking the calendar from 11 dates to 12, and the new team added to the competitors list in Germany SailGP Team, will not be the extent of the league's growth, but rather the beginning of a new raft of expansions for SailGP.
"We've got big ambitions as a league. We've extended our calendar this year and we're going to extend it further again in season five. We're just refining what season five actually looks like but that should see a further extension to our calendar," she says.
"You'll see a lot of growth and development within the league as well. Each of our teams is getting new identities to put them above and beyond just what their national identity is. We're creating an identity that resonates with their national fans, but is also more fun, and focused and allows fans to get to know the personalities behind the team, how the team ticks, and what the data helps the team with."
Along with these expansions is the potential coming of a fan-owned SailGP team, something that SailGP itself has actively been pushing for, with Davis saying: "We're the first [organization] to actually go to the Securities & Exchanges Commission (SEC) in the US to change the regulations so that we can have an SEC-backed fan-owned team."
"We're speaking to funds and accredited investors to take on this challenge of becoming a team, so the fundraising for that is well underway. We're hoping to have an update on that at some point through season four, but it's definitely an interesting growth area for us and the league and one that feels that it's still relatively innovative in this space."
Increased commercial opportunities
With an increase in the development of the league comes an increase in sponsorships it has attracted. While the sponsorship landscape has become more "sophisticated" since SailGP launched, Davis says that the brand is starting to truly gain recognition and attract sponsors that support SailGP's mission, mainly through its "authenticity".
"A lot of what we have delivered in the last three-and-a-bit seasons has proved the purpose-led narrative that we have. We're making a difference, we're changing the way sports are organized and run, and we're having conversations with other media rights holders about how we deliver both purpose and entertainment in a sports property."
One area where the company is continuing to deliver, sponsorship-wise, is with the title sponsors for the teams. In line with the ambition to expand the identity of the teams beyond their national identities, sponsorships can give the brands a recognizable face whilst still aiding Sail GP in being a "commercially viable business".
If anything is going to aid SailGP's attractiveness to investors, it will be the brand's expanding consumer reach. With the aid of sports agency IMG, SailGP recently secured an expanded TV broadcast deal with CBS in the US.
"We really are breaking boundaries out of the traditional sailing sense and beginning to get attractive to a broader audience. The CBS deal has been phenomenal for us in the US, but equally, we have just moved to ITV in the UK, so we're hoping to see that same level of breakthrough engagement with UK audiences as well."
Green credentials
One of the most important pieces of criteria for prospective sponsors in SailGP is a company's environmental contributions. The league has worn its green credentials on its sleeve since its inception and nowhere is this more apparent than in its Impact League.
Launched in collaboration with data firm Cognizant in season two, the Impact League is SailGP's second trophy, which is awarded to the team that accrues the most points based on a range of non-racing criteria.
As SailGP aims to be "the most purpose-driven sports and entertainment platform," these criteria cover a variety of areas in which society as a whole can improve. These include sustainability, diversity and inclusion, clean energy usage, travel pollution, and even food waste reduction.
Beyond simple baseline sustainability targets, teams are given focus area projects and campaigns to solve issues around the sustainability of the sport.
"We've got one team who are cycling down for our Saint-Tropez event next week because they don't want to take an airplane or drive in cars. It's beginning to change the mindset of how athletes, and also the team behind the team, think about doing things."
"What Cognizant helps us to do is put all that work all ten teams are doing into a fan-facing dashboard, so it actually means something. What does it mean if we change the ropes on our F50s? What does it mean in terms of output if our French team cycled to Saint-Tropez? All of that has now been communicated in a fan-first dashboard."
SailGP's partnership with IT company Cognizant is indicative of the brand's data-led approach. SailGP is also partnered with software company Oracle, which will also help sell the data-led story of the racing season.
"We've got 30,000 unique data points that come off each boat every five seconds. All of that data is shared with all of the teams, so when you've got Jimmy Spithill on the US team looking at how Ben Ainslie from [Emirates] GBR has won the latest race, everyone sees the same data at the same time, all the F50s are the same spec. By enabling that and by working with Oracle, we have really leveled the playing field."
These software partnerships leveling the playing field is what makes the sport so unique, says Davis: "So, the difference between us and various other sporting properties is that the success of a team and the outcome of a race is so dependent on the talent of the athletes, and I think that's something that makes it quite compelling."