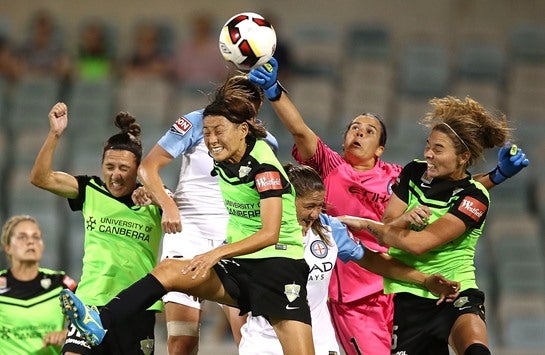 A year ago, Raymond Moore, the then tournament director of tennis' BNP Paribas Open in Indian Wells, infamously told reporters that female tennis players were "lucky" to be earning equal prize money at certain events because they "ride on the coattails of the men." Unsurprisingly, Moore swiftly stepped down after several players, including Serena Williams and Andy Murray, publicly criticised the controversial South African and voiced support for equal pay.
In that same month, five members of the USA women's soccer team, including superstars Alex Morgan and Hope Solo, filed a federal wage-discrimination lawsuit against the USA Soccer Federation and threatened to go on strike, after the federation's financial data revealed that the team were paid nearly four times less than the men's national side.
In April 2016, UK cyclist Jess Varnish filed a formal complaint against Shane Sutton, then the technical director of British Cycling, accusing him of telling her to "go have a baby" after Varnish enquired about the reason she was dropped from the team's world class performance programme.
All of this suggests that nothing much has changed in women's sport and that it continues to be hamstrung by attitudes and issues surrounding it. But, women's sport, especially soccer, cricket, tennis and golf, has made huge commercial gains and transformed 'female versions' into stand-alone sports properties and entertainment products in their own right. Rights to women's sports events are being increasingly marketed on their own (and deriving often sizable rights fees), as opposed to being bundled in with rights to men's competitions.
Nonetheless, women's sport still lags behind its male counterpart in terms of the stark contrast in prize money, media rights values and sponsorship fees. So how far has women's sport really come and how much further can it go before it is equal to men's?
Title IX & the growth of women's sport
It is difficult to pinpoint one particular reason why women's sport is where it is today, captivating television audiences and attracting high-profile sponsors, but in USA, the literal 'legalizing' of opportunities for women's sport has been noted by many as one of the central reasons why the country has been so successful, be it Williams' 23 grand slams or the national women's soccer team's three World Cup titles.
In 1972, the US government enacted Title IX, which established an equal opportunity mandate for all sports programmes or bodies that receive federal funding. Angela Ruggiero, chair of the International Olympic Committee's Athletes Commission, and former international women's ice hockey player, cites Title IX as having a direct effect on the women's sport industry in USA and around the world. Ruggiero believes Title IX began a women's sport revolution, as US colleges could offer athletics scholarships to women and, in turn, feed the recruitment of professional leagues and Olympic teams. She tells Sportcal Insight: "This [Title IX] expedited opportunities for women to compete at collegiate level, have the access to training, and exposure to the Olympic Games. "Why women have done so well is directly correlated to opportunities that we got at university, which is in part due to Title IX. It's not only North American women but international athletes that have come to the States on scholarships and got access to the best training."
In Ruggiero's own sport, ice hockey, the National Women's Hockey League is in its second season and recently revealed a wave of pay cuts to players in the four teams that make up the division, which only launched in 2015. But Ruggiero is adamant that women's sport could be even more of a commercial success and leagues, such as the NWHL, could secure their future if investors are patient. "Investment is the number one challenge," she says. "Women's sport is entertainment, and we recognise that. Any men's league that has been successful has had money poured into it and has been running for a number of years. The NHL has been running for 100 years and it has had its up and downs. The problem with women's sport is that someone will invest for two to three years and then pull out. It's too short-sighted."
This short-sighted approach is all too apparent in the potted history of domestic women's soccer competitions stateside. The NWSL is the third attempt at a professional women's soccer league in USA, having launched in 2013 and enjoying the stable backing of both the United States Soccer Federation and the Canadian Soccer Association, which has enabled it to increase from eight to 10 teams.
The league's heightened appeal has attracted the investment of US entertainment and female-focused television network A&E in a 25-per-cent stake, plus the television and sponsorship rights. It is a major step forward for the NWSL, which has been live streaming games on YouTube to supplement the handful of games Fox had televised in each of the last two seasons, and could finally provide the long-term financial backing that it craves.
Ruggiero notes: "For women's sport to succeed it needs the same type of investment as men's. The NBA has put a massive amount of capital in the WNBA and now realise it's a sustainable product. A&E with NWSL is the same thing. When you look at how the ATP used to compare to the WTA, now it [WTA] stands on its own relative to the men."
WTA
One year after Title IX came into law, Billie Jean King founded the Women's Tennis Association, which has evolved into one of the most commercially-driven women's sports properties, as well as one of the most financially successful, coming the closest to matching the riches on offer for men.
In 2005, the WTA signed the so-called largest sponsorship contract in tennis history with its $88-million Sony Ericsson global partnership, and, although the agreement was not extended when it expired in 2012, it began a long line of lucrative deals for the body.
In 2014, the WTA signed a 10-year $525-million broadcast and production deal with Perform, the self-proclaimed biggest media rights deal in the history of women's sport. Also in that year, BNP Paribas renewed as title sponsor of the WTA Finals for a further five years. The 2016 WTA Finals boasted a $7-million prize purse, a marked increase on the $4.9 million on offer four years previously, making it the most lucrative women's sport event in the world.
Women's tennis events have also netted significant television audiences, with a peak of 2.6 million viewers in Germany alone tuning into Eurosport to watch local hero Angelique Kerber beat Serena Williams at the 2016 Australian Open. The WTA is optimistic it can drive up its audience by 26 per cent over the next three years and has projected a global TV audience of 450 million and a household reach of 913 million for its 2017 events.
LPGA
Women's golf has been on a steady upward trajectory for some time, whether you judge it by the considerable prize money on offer, or the increased number of events and countries with players participating.
In 2013, the US Women's Open, one of the sport's five majors, offered a prize purse of $3.25 million, while this year the tournament boasts $5 million, and 16 of the LPGA Tour's events now feature purses of $2 million or higher, double the amount in 2011. Over the last year, the LPGA's total pool of prize money has increased by $4.35 million alone.
Jon Podany, chief commercial officer of the LPGA, tells Sportcal Insight that the central reason for this huge uplift is sponsor investment. "Primarily this growth has been due to title sponsors funding tournaments and through the growth in the number of tournaments [from 23 to 34]," Podany says. "Over the years, there have been some other factors linked to ancillary revenues like media rights that we generate as an organisation, but primarily it's down to the sponsors."
The LPGA's 10-year media rights deal with the Golf Channel, the NBC-owned subscription television channel, has ensured live coverage for the whole of its season, with some major events, including the US Women's Open, the Ricoh British Open and Women's PGA Championship, receiving final day exposure on US national networks Fox and NBC.
The LPGA is finally tapping into the potential of Asia, and it would be churlish not to, as 14 of the top 25 women's golfers in the world are from the region. A deal with South Korea's JBC, the largest rights deal in its history, plus agreements with CCTV and Golf Channel China, coupled with an anticipated wider streaming agreement with Ali Sports, are testament to that. This season, a third of the LPGA Tour events' title sponsors are Asian companies and there are eight Asian stops on the calendar.
Fifa Women's World Cup
The 2011 Fifa Women's World Cup in Germany featured 16 teams, 845,711 fans, 160 broadcasters and 5,931 hours of footage. Four years later, the 2015 edition in Canada comprised 24 teams, was attended by 1.3 million spectators, produced 7,781 hours of coverage and made huge strides in viewing figures.
The cumulative audience of 248.5 million for the 2011 competition more than tripled to 764 million in 2015. Moreover, USA's victory over Japan in the 2015 final became the most watched soccer match of all time in USA as 25.4 million viewers tuned in on Fox, outstripping the previous record of 18 million (for the USA's defeat of China in the 1999 Women's World Cup final).
The blossoming US ratings were mirrored by record figures in other key international markets. Canada's CTV netted 3 million viewers for the host nation's quarter final with England. Japan's Fuji TV pulled in an audience of 9.3 million for the semi-final win over England, a match that peaked at 2.4 million viewers on the BBC. Rising viewing figures in France have had a direct impact on the rights fee paid. Free-to-air digital terrestrial channel W9 broke its audience record several times during the event, culminating with the peak of 5.3 million viewers for France's penalty shoot-out defeat to Germany.
These figures prompted W9 to triple the cost of an ad spot during its coverage (to €56,000) and, ultimately, led larger rival TF1 to spend €10 million on rights to the 2019 Women's World Cup in France, over 10 times the fee paid by W9 and Eurosport France for the 2015 tournament.
Kelly Simmons, director participation and development at England's Football Association, tells Sportcal Insight that the federation is using the success of the 2015 World Cup to build the domestic women's soccer competition and pursue a financially sustainable professional women's league.
From this year, England's top-tier Women's Super League, which launched in 2011 after a one-year delay caused by the global economic downturn, will finally follow the men's calendar and run from September until May, after initially launching as a summer league.
Continental Tyres has sponsored the league since its inception and holds naming rights to the WSL Cup, the domestic cup competition, paying around £450,000 per year, while SSE, the UK energy company, has a four-year naming rights contract for the women's FA Cup competition. The WSL's media rights are shared between pay-TV's BT Sport, the lead sponsor and exclusive live broadcaster of the league, and the BBC, which shows the Women's FA Cup final and England women's international fixtures. Both deals run until 2021.
Simmons feels the increasing popularity of the English national team has spurred on the league, citing a "transformational change" with the majority of top-tier clubs now professional with "paid staff driving the clubs forward." She reflects: "Before we created the WSL in 2011, the top end of women's clubs had infrastructure and facilities at a level I would probably liken to grassroots football, which was no disrespect to the people running it but it was run predominantly by volunteers. There was no commercial, marketing and business expertise or even a paid work force. There were very few crowds because the games weren't marketed."
Uefa's plan: women's soccer becomes financially self-sufficient
Uefa's traditional commercial model has involved selling sponsorship packages for the men's Champions League and the women's Champions League final together, and then bundling sponsorship rights to the women's European Championships (and youth tournaments) with the rights to the men's European Championships.
This has meant that brands such as Heineken (a top-tier Champions League sponsor) and Hisense, (global partner of the 2016 European Championships and 2017 Women's Euros) have benefited from this additional exposure.
Uefa claims this new marketing plan will lead to a growth in participation, increase the visibility of the sport and improve the image of women's soccer. On the commercial side, Uefa is now moving to market exclusive sponsorship rights, as well as a complete set of new digital content rights to its women's tournaments. Uefa is hoping to maximise the increased spectator and viewing interest and develop new commercial revenue streams, while also tapping into the willingness of many companies to associate exclusively with the women's game.
Uefa's sponsorship proposal isn't necessarily new for some of its member soccer associations, which have struck separate deals for men's and women's soccer in recent years. In 2012, the FA launched its five-year 'Game Changer' plan for women's soccer. As part of its new strategy, the English association separated commercial opportunities and broadcast rights to women's soccer, but also retained some dual sponsors for the men's and women's international team (Nike and Vauxhall).
Similarly, Germany's DFB has separate agreements for the men's and women's national teams. Commerzbank, the financial services company, pays around €1 million per year to sponsor the women's side.
Uefa's five-year plan to redefine women's soccer also includes a large advertising and image campaign led by high-profile celebrity ambassadors and the separation of the women's Champions League final from the men's.
Since 2010, the women's final has taken place in the same city (or in a city nearby) as the men's showpiece, having previously been a two-legged affair contested on a home and away basis. At Uefa's executive committee meeting in February, Aleksander Ceferin, the Uefa president, acknowledged that the time was right to separate the women's final. He said: "We think that the women's Champions League final shouldn't be just a warm-up for the men's Champions League final. We will try to separate it because only that way we can promote it."
Uefa's revitalised marketing strategy could also result in television rights to the women's Champions League being centralised from the quarter-final stage. Broadcast rights to the Uefa Women's Champions League are sold by the home clubs up to the semi-finals, and many teams want to maintain control of kick-off times and television slots, but Uefa is in the process of surveying its member clubs to consider a centralisation proposal.
Through new partnerships, greater exposure and visibility, Uefa hopes to transform women's soccer in Europe, beginning with the 2017-18 season, when its new package of commercial opportunities will kick in.
Uefa will launch its 'Marketing Plan for Women's Football in Europe' at this summer's Women's Champions League final at the Cardiff City Stadium, Wales on 1 June.
On the up
The last few years have also seen the emergence of new domestic competitions for women's cricket, following international success for both England and Australia's women's teams.
The Women's Super League, the UK's new women's Twenty20 cricket competition, is entering its second season and this year has secured a deal with Sky Sports, meaning women's domestic cricket is aired live for the first time.
The potential of this young competition has also attracted automotive company Kia to take up the naming rights to the league in a £1.5-million two-year deal.
In Australia, the Women's Big Bash League, which launched in 2015, replaced the Australian Women's Twenty20 Cup and has already tapped in to the marked commercial success of its male namesake. In just its second season, the league has attracted a peak audience of nearly half a million for its live streaming coverage and an average of 300,000 viewers for some of its live broadcasts on Network Ten.
On the sponsorship side, Rebel, the Australian sports retailer, has committed to back the competition until 2018, and Cricket Australia has also implemented a new women's cricket payment structure which could see some players earn up to A$85,000 ($65,500) a year.
The success of the WBBL has provided a higher profile and, in some cases, greater financial gain for female cricketers, but it has not necessarily guaranteed equality. Cricket Australia is currently under investigation from the authorities after it was revealed that female cricketers were being asked to declare details about pregnancy and maternity leave before signing contracts.
The same can be seen across the field, as the country's women's soccer team briefly went on strike in 2015 after negotiations with Football Federation Australia about equal pay collapsed.
Calls for a redressing of the balance have also been made in Australian Rules football after this season's opener of the women's AFLW attracted a national TV audience of 896,000. Seven Network and Fox Sports cover just production costs currently, but Caroline Wilson, a leading commentator, believes it's time the broadcasters stump up rights fees so that the players can be paid more.
What lies ahead?
Women's sport is certainly not close to overtaking or replacing traditional male disciplines, and similarly, neither has gender equality in sport been achieved, but there is no shortage of evidence of commercial progress. Direct comparisons between women's and men's sport continue to look unbalanced and they must be taken as separate entities.
Jamaica's Molly Rhone, president of the International Netball Federation, tells Sportcal Insight that the leadership of women's sport and sport as a whole must change in order to provide better equality and investment. "We need to have women leaders in sport," she says. "The female story has to be told to get sponsors on board. There is a major gap in the higher management of sport and at the moment it's the male voices that lead sport.
"If women were in the leadership roles that would bring the funding, but we also have to be improving the quality of the sport. When you look across the spectrum, the IOC has asked that 20 per cent of NOC leadership is female. We have that in Jamaica, but in a lot of countries it's not there. It's a struggle for the women.
"At some point far in the future we will get there, but the imbalance is going to continue for some time."
Marisol Casado, president of the International Triathlon Union, and Kate Caithness, president of the World Curling Federation, are the only two female heads of Olympic international federations, and Rhone believes that federations can do more to encourage women to stand for leadership positions.
She stresses: "We have to empower women to feel like they could do a good job. It's not that men aren't voting for women to be president, women aren't putting themselves up for those roles."
In an attempt to combat this issue, UK Sport, the domestic funding and administration body, this year introduced new charter regulations requiring that a minimum of 30 per cent of those on the boards of sports organisations which receive its funding must be women, in attempt to tackle the leadership "imbalance" that exists across sport.
Rhone's views are shared by Ashling O'Connor, a former sports journalist with The Times, who, off the back of UK Sport's legislation, is heading up a new executive search firm for sports bodies. O'Connor is confident that the new initiative will encourage equal opportunity, while still ensuring top positions are awarded based on merit.
She tells Sportcal Insight: "Gender is irrelevant in the leadership of sport, in my opinion, but the leadership should reflect the end user. For example, many women's sports will be targeted and naturally be more popular among women, and that should be reflected in the leadership structure. If women are getting to the top of male sports then even better."
However, when pressed on whether women's sport should govern itself, away from the men's disciplines, O'Connor was clear that women's sport needs the men's game to aid its growth. She observes: "If women's sport is standalone it becomes more marginal and excluded from the important commercial discussion. It's better to be in the tent than outside of it."
Women's sport has matured commercially and developed under the leadership of predominantly male-led international federations. Now investment must continue and opportunities widen as it lets go of men's coattails and continues to find its feet.
The women running summer and winter Olympic sports
| | | |
| --- | --- | --- |
| Who | International federation/sport | Position |
| Marisol Casado | ITU/triathlon | President |
| Kate Caithness | WCF/curling | President |
| Judit Farago | ITTF/table tennis | Chief executive |
| Shiny Fang | UIPM/modern pentathlon | Secretary general |
| Fatma Samoura | Fifa/soccer | Secretary general |
| Sabrina Zeender | FEI/equestrian | Secretary general |
| Beng Choo Low | WBSC/baseball and softball | Secretary general |
| Debra Gawyrch | IFSC/sport climbing | Secretary general |
| Sarah Lewis | FIS/skiing | Secretary general |
| Nicole Resch | IBU/biathlon | Secretary general |
| Heike Grosswang | IBSF/bobsleigh and skeleton | Secretary general |