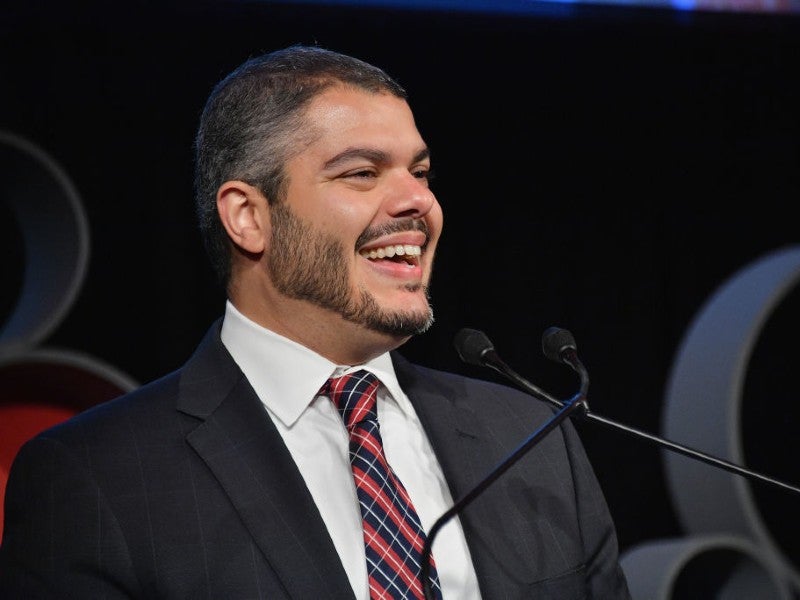 With the relationship between players and the ATP Tour becoming more strained, Ahmad Nassar, executive director of the new Novak Djokovic-led Professional Tennis Players Association, tells GlobalData Sport why tennis is in need of a governance shake-up.
History is on the line for tennis' former world number one Novak Djokovic at this year's ongoing ATP Finals as the Serbian looks for his sixth title crown – one that would see him equal career-long rival Roger Federer.
His quest was stepped up yesterday (November 16) when he defeated Andrey Rublev 6-4, 6-1 to reach the semi-finals of the season-ending tournament for top-ranked players in Turn, Italy. Tomorrow (November 18), he'll face American Taylor Fritz for a chance to seal the title.
He entered a similar record-breaking battle last year at the US Open when seeking his 21st major title – one that would shatter a three-way tie with Federer and fellow rival Rafael Nadal. The achievement was eventually thwarted by Russia's Daniil Medvedev during the final.
Djokovic is a battler. Not only on the court but off it. Only yesterday (November 16), he won his fight to play in next year's Australian Open Grand Slam after the federal government overturned his visa ban after being detained and deported over his refusal to be vaccinated against Covid-19.
It hasn't done much for his reputation. He has also had his work cut out to wrestle back some goodwill among fans and the tennis ecosystem that he has rankled in the process.
But his biggest battle so far has been leading a labor movement, one that will completely change the face of tennis if it succeeds.
It was at the US Open in 2020 that Djokovic and fellow player Vasek Pospisil announced the formation of their breakaway Professional Tennis Players Association (PTPA), targeting reforms such as increased prize money and greater transparency over revenue sharing.
Both had served on the ATP Tour's player council and had become disillusioned with how the system seemed to be working against the players' interests. Looking at other sports, the one thing that seemed to be missing was an independent union advocating on behalf of the players.
To union or not to union
In the US, it started in the 1950s and 1960s. After decades of failed attempts, standoffs, and negotiations, players from the four major men's American sports leagues founded the players' associations that formed the bedrock that unionized professional sports in the country.
In doing so, players had suddenly secured themselves some bargaining power in the wildly lucrative world of sports and a major step had been taken in how the leagues' commercial pies would eventually be split in the future.
With the associations came collective bargaining agreements that have seen players getting a markedly larger piece of the revenue pie than they would have: 48.5% in American football's NFL, 49%-51% in basketball's NBA, 48.5%-51.5% in baseball's MBL, and 50% in ice hockey's NHL.
Outside of North America, leagues and teams have different payment structures, wage bills, and varying degrees of player representation which, by all accounts, work for them.
Tennis, however, hit the headlines after its number one men's player made a surprise announcement at the US Open in 2020 that he, alongside a fellow player council member, had launched a new 'players only' union, claiming current player representation within the sport was no longer fit for purpose.
Djokovic, no stranger to controversy, had truly ruffled feathers up the sport's hierarchy. The move was met with staunch opposition from the tennis governing bodies, as well as some players and pundits who portrayed it as a cynical money grab by the Serbian.
Hitting back at the time, Djokovic claimed it was not that he believes he does not get enough money – he does, having pocketed close to $160 million in on-court earnings, not to mention sponsorship dollars – but that the players as a group do not receive anything close to a fair share of the revenue generated by tennis compared to other sports.
And, while there were vague attempts to discredit the organization, the fledgling association is now proving to be a popular concept amongst the sport's most important product – the players.
Follow the money
The ATP was founded in 1972 by top American players Donald Dell and Jack Kramer, along with South Africa's Cliff Drysdale, to protect the players. However, since then, it has evolved into the world's main tennis tour organizer and governing body of the men's ATP Tour, the Challenger Tour, and Champions Tour – a role critics say puts it at odds with its original cause.
At the top of the ranks are a handful of the highest-paid athletes in the world, bankrolled by bigger prize money wins and individual sponsorship deals. Players are self-employed, and, between travel, coaching, and other expenses, the overheads are steep and the pay often shockingly paltry for those lower down the rankings.
But, in 2019, the cracks began to show with how revenues were being distributed within the tennis ecosystem. That year, players received just 17.5% of the $2.2 billion in revenue generated from the grand slams and the larger ATP and WTA events that year.
More domestically the year before, the New York Times highlighted the disparity in revenue sharing using the US Open financials, which generated $380 million in revenue and paid $53 million in prize money, equating to 13.94%. Men and women competing at the tournament received just under 7% each.
Prize money at challenger events and smaller tournaments on both the men's and women's tours, meanwhile, are comparatively minuscule, and the amount eventually doled out often doesn't cover a competitor's travel or accommodation costs.
The figures, coupled with the fact that players do not currently have a players-only association via which to voice their concerns over issues like late-night match scheduling, court conditions like extreme heat, or inconsistencies around Covid-19 testing at tournaments, led to the murmurs of dissent getting gradually louder.
Through the noise, came some action with the founding of the PTPA, ironically with the same aim as the players in 1972 – to better protect the players' interests. At the time, it said it would aim to be a voice of the players and would negotiate on behalf of the players over money, scheduling, and other matters.
Since then, they have built what now appears to be an impressive entity backed by a trio of billionaires in American hedge fund manager Bill Ackerman and Canadian tycoons Anton Rabie and Rebecca MacDonald.
They have also appointed industry heavyweights including Adam Larry, the executive director of the PTPA, who has consulted for and negotiated the collective bargaining agreements for the NBA, NHL, and Canadian Football League. Other additions include a slew of lawyers, forensic accountants, and communications staff.
Notable members on the PTPA advisory board include Dr. Katarina Pijeltovic, a sports law expert in the EU, and Michael Hirshfeld, the head of the NHL Coaches' Associations.
However, the PTPA's biggest coup came in August, when it announced it had bagged former NFL Players Inc. president Ahmad Nassar as its executive director. A veteran in representing the commercial interests of athletes in a variety of sports, Nassar's appointment confirmed that the organization, while still in its infancy, is ready to ruffle even more feathers in tennis.
Speaking from Forth Worth in his native US, Nassar tells GlobalData Sport that, while Djokovic and Pospisil were the eventual catalysts for the organization's launch, the move was not an impulsive snap decision but one carefully considered after years of listening to the concerns of fellow players.
"Novak and Vasek are player leaders but by no means the only two players who felt there was a gap in the market," he says.
"They have both been on the player council and the tour for a long time and so they are speaking from experience about what they believe is missing in the tennis ecosystem. They are doing this for the next generation of players as any big changes won't affect their playing careers.
"What they realized, looking at other sports, is that a lot of the challenges athletes face are similar whether it's basketball, tennis, or American football. They all graft to make it into the professional ranks, try and survive as long as they can, and transition out whenever their run as a professional athlete ends.
"What they saw was missing was an independent voice structured as a player's association that is solely focused on servicing the players' needs while they are busy training and jumping around tournaments.
"It's a hard life for players on the tour. You wake up in a different city pretty much every week, the short offseason is pretty much non-existent, and, aside from a very select few, it's a tough sport to consistently make a living, especially at the beginning."
Player representation
The ATP and the WTA, however, claim adequate representation is already provided to athletes within their current governance structures and have forbidden tennis players from forming unions.
The ATP's governance structure comprises seven voting board members – a chairperson, three player representatives, and three tournament representatives. Player representatives are corporate partners such as tournament directors and media personnel, elected to the board by the ATP Player Council.
This setup has thrown up a conundrum. Corporate partners represent players on the board, and they must advocate on behalf of athletes, but their business interests may conflict with this.
The 12-member ATP player council, meanwhile, elects several members of the ATP's board but otherwise serves as an advisory function, conveying the views of the players to the group's executives.
Both Djokovic and Pospisil have served on the ATP Tour's player council, with Djokovic serving as its president. And, while the ATP had provided its players with several benefits during their time there – a livelihood, pension fund, and health benefits – they no longer felt their voices were being heard.
Pospisil especially became disillusioned after coming to understand the inner workings of the ATP and the overlapping interests of the board. One member, he said, was an agent for talent-management company IMG that represents players but also operates tournaments.
However, things came to a head last year, when the ATP introduced its '30-Year-Plan', which, beginning in 2023, would give 30-year licenses to the current Masters 1000 events, turn them all into two-week tournaments, and have them commit to sharing their net revenue 50-50 with the players. It would also lock in media deals, prize money distribution, and tour structure until the 2050s.
The ATP's refusal to release all the plan's details led to Djokovic and Pospisil launching their 'Delay the Vote' campaign so the ATP could answer players' concerns about what the deal would mean for them. They argued the ATP had formed a backroom agreement to streamline a deal that would put players' concerns in the backseat if the deal was voted in.
Andrea Gaudenzi, chairman of the ATP since January 2020 and architect of the deal, thinks differently. He has previously said he is pushing to increase revenues over the long term, by forging closer cooperation between the men's and women's tours and bundling media rights for all the big tournaments to grow the commercial pie overall, which will trickle down to the lower-ranked players.
His plan, however, assumes the majors will agree to pool the television rights with the men's and women's tours and that the players, already unhappy with the trickle-down system, are happy for the structure to stay the same.
The campaign won the backing of the players and the ATP eventually admitted "the plan will inevitably benefit some more than others" at the beginning. The vote was delayed to address the PTPA's concerns. It was a small victory for the organization's advocacy work but, in the end, substantial parts of the plan were eventually voted on and enacted anyway.
PTPA update: Thank you to the players, fans, media & more. #createdbytheplayersfortheplayers, we're working hard to create fairness & transparency.
The @atptour has provided many answers to the PTPA & players' questions. Read our responses:
👉🏽 https://t.co/FRjm4Yw0S4@ptpaplayers pic.twitter.com/7bW2ddF89Q

— Vasek Pospisil (@VasekPospisil) July 2, 2021
However, recent years have served up enough beyond the 30-Year-Plan to show that the PTPA is a necessary entity that the tennis world would benefit from, says Nassar.
"There have been a lot of issues over the past two years that have made people realize how vulnerable players are, especially with Covid when the pro tours shut down and players who had barely scraped by before suddenly had no work," he says.
"Earlier this year, with Russia's invasion of Ukraine, because of the way tennis is structured, Wimbledon took a hardline stance, and then the ATP and WTA reacted by stripping ranking points. As a fan, you're watching all this play out and you think, the only people that are really getting penalized are the players – where is their voice in all of this?
"Not just the Russian players, but someone like Nick Kyrigos – he got really far in the tournament but didn't get any points from that. That affects his career.
"People are starting to think, what would that all have looked like if we had a fully functional players association?
"A theme that has hit home lately is that the players have full-time jobs. it's really demanding and busy and there aren't any weekends where they can do some negotiating on the side, which means they are always on the back foot when dealing with issues."
Back to basics
The official launch of the organization in 2020 was, perhaps, slightly premature.
At the time, Djokovic and Pospisil didn't have an actual organization in place, just a name, a handful of player members, and an ambiguous aim that hadn't been officially documented. When pressed by journalists, many of the very players they wished to serve said they didn't know much about their apparent new union.
Internally, there was still confusion as to whether they wanted to label themselves as a union at all.
PR-wise, they didn't get off to the best start. The lack of solid foundations threw up skepticism from all corners and with no communications team, it was left to the beleaguered Djokovic and Pospisil to field an onslaught of technical questions they were ill-equipped to answer.
As the pair started adding more expertise to their management team, things started to take shape and their message has become clearer: to secure more value for players that sign up to the organization by negotiating with tours and tournaments for improvements in player compensation, benefits, and scheduling of tournaments and games.
However, there have been sizeable hiccups along the way. While claiming to want to represent men and women, the organization was slow to draw any public support from top female players – a failing in the wake of Naomi Osaka's withdrawal from the French Open last year, which raised questions about the rights and obligations of athletes.
Just last month, meanwhile, the PTPA suffered a backlash after offering its support to former number one Simona Halep after she suffered a provisional suspension due to doping allegations. While it issued a statement saying it would fight for her rights and ensure she got a proper appeal, they were accused of selective support having remained silent when a similar provisional ban was suffered by lower-ranked Tara Moore, who claimed the organization didn't respond to her plight.
And the PTPA still faces serious opposition, not just from the ATP but from the most powerful institutions in the sport – the four grand slam tournaments, which are happy with the way things stand. Influential players including Rafael Nadal, Roger Federer, and Andy Murray have also voiced their disapproval of the organization.
But the biggest issue the PTPA has had in the past two years has been its reputation. Public perception of Djokovic rightly or wrongly has played a part. From his apparent combative nature on the court to the bruhaha over his vaccine status, many are quick to question his motives for setting up a new union when he earns so much already.
He has argued his time as ATP Player Council president opened his eyes to how the system was set up to favor the tournaments over players and said that the pandemic showed what can happen if things are allowed to continue as they are.
Moreover, the PTPA needs to make the case that massive inequality exists in a sport that looks glamorous from the outside and throws up some pretty big numbers for its top players. The cyclical nature of being self-employed and on the fringes of the professional circuit means, if you don't make enough money, you can't pay for a team around you, making it tougher to succeed.
Nassar admits the messaging hasn't always been clear, leading to misunderstandings of what exactly the organization stands for and how far it is willing to go to achieve its aims.
"Certainly, there was a lot of reaction and I think that was down to a lack of clarity of what this is and what this isn't," he says.
"It's helpful to say what you're not, but at the same time, it's more helpful to say what you are and what the things you are working on. Something that we are working on right now is to be able to succinctly say 'here is the set of issues and this is how we want to resolve them'.
"If you look at the International Cricketers Association, which is in headquartered in Australia but represents cricketers all over the globe, on their website they have a nice document that articulates very clearly all of the things they work on.
"In terms of threats, I think the Players Council should still exist. We're not a rival, we're a complement, and I think players are free, at least from my perspective, to be both on the Player Council and PTPA leadership. We both want the same thing and it'd be useful to have that dialogue.
"I put that burden on us to explain where we fit in the tennis ecosystem, but there have been plenty of people, some of those very old, established tennis folks, who have been very welcoming because they acknowledge that if you and I had a blank piece of paper and we wrote out what an ideal governance structure for tennis would be, it would not look anything like what it is now.
"That's really at the root of why tennis is undervalued globally and why the calendar is a bit of a mess. There's a lot of work to be done to change that but these are known issues that no one has been willing to address within the organization."
Advocacy versus for-profit
So far, the message has reached the players. While Nassar won't confirm actual numbers, he says hundreds of players are now signed up to the organization. Media outlets earlier this year reported that more than 80% of ATP players have already joined the PTPA. A slew of women players also signed on after the organization opened dialogue with the women's tour.
Pospisil, who took a two-month hiatus from playing tennis to do a lot of the groundwork for the PTPA, played a significant role in its membership growth, making over 1,000 phone calls to make the association attractive to other athletes.
But now, with players firmly on board and less of a need for a membership drive, eyes have now turned towards making the PTPA commercially viable to continue its work as it does not charge players a membership fee to join.
A continuous theme that crops up is the PTPA's eagerness to emulate the successes of the North American players' associations and their willingness to flex their muscles to secure better deals for their players.
The PTPA even received support from basketball's NBPA last, which stated: "We stand with our fellow athletes in tennis in the formation of the PTPA. The NBPA supports all athletes united to use their collective power to improve conditions and create positive change within their sport."
On an internal level, having former NFL Players Inc. president Nassar on board has set the organization on a similar path to the NFL Players Association, which also has two sides – the advocacy side, which pools together a majority of players to enact change that will benefit them, and the organization's commercial arm, which negotiates commercial deals on behalf of the players.
Nassar explains the PTPA's newly launched commercial arm, Winners Alliance, will work in tandem with the advocacy side of the organization to first establish a group-purchasing program for base needs while touring including travel, food, accommodation, insurance, tax, and legal services to lower expenses for players who have traditionally been individually responsible for such aspects.
"One of the consistent things I've heard from the players are: 'hotels are a pain.' There will be an official rate the tour or Grand Slam has but you can often go on Google or whatever and find the same or an even better rate.
"The same with flights, it's up to the player to organize their travel or how they get to the hotel.
"These are very minor pain points but when you add them up, it takes time away from what they should be doing – playing tennis. So, we thought: 'how can we address that in our unique way?' Well, we can put commercial deals in place with travel firms, hotels, taxi services, all of that to alleviate some of that pressure."
Winners Alliance's board of directors now has a star roster of Ackman as chair; Christina Francis, president of Magic Johnson Enterprises and the former chief marketing officer of the Orange Bowl and NFL Players Association; Prysm Capital co-founders Jay Park and Muhammad Mian; and Nassar, who will act as the arm's chief executive.
With such a wealth of commercial expertise, it is clear that the PTPA intends to create a serious revenue-generating arm in the same vein as the NFLPA. As head of NFL Players Inc., Nassar helped grow the NFLPA's marketing and licensing business into one of the largest for-profit licensors in sports – a feat he believes he can replicate in the world of tennis.
Among the first initiatives, Winners Alliance has said it will establish a sustainable group licensing program for trading cards, video games, collectibles, and related opportunities.
"As a fan, there are products and services that should exist in tennis that don't – for example, trading cards. It's such a basic concept not just in sports but celebrities, musicians, entertainers, and yet there is no regular annualized set of trading cards and players in this sport," Nassar points out.
"There are plenty of people who would pay good money for that and there's not a lot of people who make those products. We know all of them because we've worked with them before.
"What's interesting is that having baseline card sets that have all the player images is a passive deal for players – there's nothing required of them, but it can create a jumping-off point for the stars to go do an annual autograph deal and memorabilia deals or for lower ranked players to get their names out there.
"That's been the discussion with agents and players. We are trying to fill a gap that doesn't exist right now. Trading cards are base level but there are other examples like video games, mobile, non-fungible tokens (NFTs), and merchandise that haven't been considered.
"There are lots of opportunities for these players as a collective but because the sport is so individualistic, there are no group deals, only individual sponsorship deals for the small few."
However, Nassar believes the individualistic nature of tennis has thrown him and his team an advantage when it comes to licensing agreements, as unlike team and league sports players are not locked into club- or league-level licensing deals that can complicate things.
"People often bring up the individual nature of tennis as a bit of a challenge but that's because they are talking about team sports. They all wear jerseys with team logos and it's an age-old question – on LeBron James' trading card, if he's not in his LA Lakers jersey, does it look right? And if not, then we're looking at a complicated deal that includes rights for those.
"Well, that situation doesn't exist in tennis – there's no jersey, you just want Serena Williams on a card with a tennis racket in her hand. And playing surfaces aren't proprietary so whether she's on a clay court or grass or hard court it doesn't matter.
"I highlight those because it creates all sorts of opportunities that I've never had the luxury of not worrying about a co-equal party that has different interests.
"We're just starting to think through hiring a team. We haven't gotten that yet, but, in six months to a year from now, what will be very interesting is what kind of opportunities are unique to tennis once we get past what I would say are the more global universal opportunities."
Show me the money
At the same time as unveiling Nassar's appointment and the launch of the Winners Alliance in August, the PTPA announced it had secured $26 million of new funding from Pershing Square Foundation, led by Ackman, as well as private equity firm Prysm Capital and Nassar.
With no membership fees, Nassar says the commercial arm will be tasked with creating revenue to fund the advocacy side of the organization and the fresh injection of funding will be used to grow the PTPA's backroom into a truly global organization.
"We're not charging membership, we want to deliver value to the players, not ask them for more dollars because that exacerbates the problem they're having.
"With the new funding, are some share expenses, such as legal and accounting which is super important and there is a lot of under-the-hood building of the organization – hiring a team, hiring people in different geographies like Europe, North Africa.
"The players come from everywhere so their association needs to have people who speak different languages and live in different time zones. They are also world-class athletes so they should have a world-class organization to represent them so that means we need to be competitive, which means having the funding to attract and retain those types of people.
"We're looking for player engagement, people who can help with travel and logistics, and those that can bring commercial opportunities. There's an initial team of four or five people right now and we're looking to build that out to 10 in the short term, but that can grow as we grow as a business.
"Right now, everything is just a little bit of an all hands on deck situation because there's just so much work to do but over time the PTPA and Winners Alliance become distinct organizations in four to five years."
Nassar has big ideas to create extra streams of revenue for players and ex-players alike. The question remains whether brands and the wider public are ready for such a radical change in marketing strategy from the traditional nuts and bolts sponsorship deals currently in place.
"Brands have been the most receptive and frankly, I started talking to them before I took the job because I wouldn't take the job without at least knowing there is a very strong expression of interest on both sides," he says.
"There was one meeting I had with four or five different brand partners and they all immediately said we're in, not only because of tennis but they've seen the work we've done previously with other sports, so from the brands, we have worked with previously, it's been a really warm reception.
"From the brands that haven't experienced it, they're all still keenly interested in this because they've heard of it but have only worked with leagues and teams, tournaments and tours, or individual athletes at a very high rank.
"So, in that way, even if you're Serena Williams, you're going to retire at some point or be injured but the notion of having an evergreen group of athletes to choose from is fascinating for brands.
"It's been so strong that I've completely accelerated the timeline for the projects and in my mind, over the summer, we have a neat and clear plan to get out into the real world."
But while Nassar is keen to get things moving on a commercial level, he believes the organization needs to be mindful of the first few deals they do as a new entity, which means focusing on a small number and seeing how they work before expanding out into more ambitious agreements.
Building blocks
From the outside, tennis is so pleasing to the eye that it is hard to fathom how much of a mess the sport has gotten itself into off the court.
Rather than a single controlling authority, it has an alphabet soup of associations, federations, and organizations that are so often at odds with each other that it's a wonder that they can run a successful calendar at all.
The ATP and WTA tours operate separately, while the grand slams are independent of the tours. The national team tournaments are again run by different entities altogether.
Administrative chaos aside, conflicts of interest run unchecked, with management companies that represent players also running tournaments, commentators who also coach, and governing bodies that award contracts to companies with links to board members.
It is ironic that amid the clutter, the best solution the players could find was adding yet another organization into the fold. More ironic was that it has taken one of the richest stars on the men's circuit to cast a rare spotlight on tennis' glaring inequality.
The test now is whether the PTPA can weather the criticisms, skepticism, and opposition to affect meaningful change for players in the long run. Putting pen to paper on all their ambitious ideas without alienating the very players they represent will be one of many challenges the organization faces in the short term, but Nassar is confident the sport is ready for a shake-up.
"Everybody in the tennis ecosystem from the fans to the tours, to the tournaments to the players feel that not everything is clicking on all cylinders and looking at other sports, there are so many opportunities being missed just because everyone's interests are tied up in other things," he says.
"We're building our principles document that we are going to circulate among a broad group of current and former players, as well as people in the tennis ecosystem right now to not only advertise to them what we are doing but also to demonstrate our willingness to have a collaborative input.
"It will be a draft and not the final document by any means but we're hoping to have that complete later this year.
"Then we'll have a shorter one-page version of what we're about and what we're focused on ready for a big general player meeting at the Australian Open in January, which will set the course for 2023.
"I'd say we're ready and open for business now."
Image: Dia Dipasupil/Getty Images for Up2Us Sports