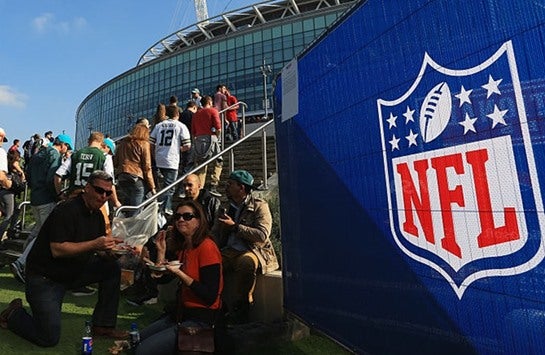 This September will mark the 10th consecutive year that the NFL has staged games in London, with four games on the schedule, the most the English capital has ever hosted.
The scale and success of the London games has increased dramatically since the Miami Dolphins took on the New York Giants at a washed-out Wembley Stadium in front of a hyped-up and maybe slightly baffled crowd in October 2007.
The game wasn't a classic (the Giants won 13-10) but it marked the flowering of a relationship between the NFL and the UK that had been blossoming for decades.
The NFL has now established itself as a permanent presence on the UK sporting calendar, but what is the long-term goal of this annual show? Well, as Brown explains, it's got to be more than "just the circus rolling into town."
Brown, who joined NFL UK just over a year ago, argues that it's the established appeal of the league that has enabled NFL UK to begin signing long-term commitments with sponsors.
The latest is a three-year deal with Subway, the sandwich
chain, which will be the presenting sponsor of the next three editions of the
London games.
The long-term Subway tie-up is the first of many for NFL UK,
according to Brown, who says more sponsorship agreements will be revealed in
the next few weeks.
During her short tenure, Brown has already established that NFL UK will not be agreeing any "short-term" deals. She has "re-packaged" its sponsorship offering and "realigned" its partnerships strategy.
NFL UK has also taken on an "in-house approach," aiming to be more than just a rights-holder and instead to provide "creative solutions for its related brands."
Brown says: "We're not just a rights-holder churning out the same old partnerships. We want do things in a creative way and be that rights-holder with a high bar.
"I don't care how anyone else is doing it in the industry, I want us as a sport to stand on our own two feet."
Brown's commercial approach fits nicely with the long-mooted idea of a permanent London-based NFL franchise.
Logistically, a permanent team across the pond would be tricky but the thirst for the "Americana" of the NFL is very tempting.
Shahid Khan's ownership of both the Jacksonville Jaguars and west London soccer team Fulham appears to create a bridge that could make the prospect of a London franchise a possibility, and NFL commissioner Roger Goodell said in January that plans were "moving closer."
---
"Look at all other sports out there. They are all looking at American sports to see what they do to bring in more fans. We already do all those things"
Melissa Brown, NFL UK's vice-president of commercial partnerships
---
However, the London games are a show, an entertainment extravaganza that is popular precisely because they're different, unique, and have scarcity value, with the British public only getting to experience games a few times a year.
Once the reality of a fixed presence kicks in, could UK and
European fans just tire of them?
That is Brown's challenge, but she believes the entertainment factor is the NFL's ace card.
"Look at all other sports out there," she says, "They are all looking at American sports to see what they do to bring in more fans. We already do all those things. It's very authentic to our game and it's always been there. It's easier in that sense because we are genuinely sport and entertainment.
"What happens on the field is just one part of it. All the razzmatazz is just as important.
"From a sponsorship standpoint, it's about finding our niche, recognising and having a dose of reality that we don't make sense for everybody, but then the brands where we do make sense, it's about being laser-focused on what we can do to help their business. And that's how Subway came about.
"They had certain business challenges, they're trying to appeal to a younger demographic customer and we bring those in bucket-loads.
"The NFL shield has huge value but that's not going to get us a sponsorship deal. We use stacks of research to show the value in our sponsorships. We're just trying to be more creative and act like an agency."
'Acting like an agency' includes the hiring of creatives that can churn out engaging content for NFL UK and its partners.
Brown's team recently boosted its creative offering with the hiring of a content specialist who is specifically working on providing the creative content that brands crave.
Brown says: "We need partners activating from September to Super Bowl and this new approach is really interesting for us."
Despite the "in-house approach," NFL UK is not going it completely alone and has worked with agencies including Clifford French, Hanover Communications (The Playbook), Macesport, LiveWire Sport, Wasserman Media Group, and companies that are part of the WPP advertising group.
In 10 years, NFL UK has expanded rapidly, it's opened shiny new offices in central London, hosted games at Twickenham, the English rugby stadium, and will stage games at Tottenham Hotspur's new stadium in north London from 2018. But how much further can it go?
"What NFL UK and the London games has shown is that we're investing in the UK and we are committed to the long-term not the short-term commercial success," Brown concludes.