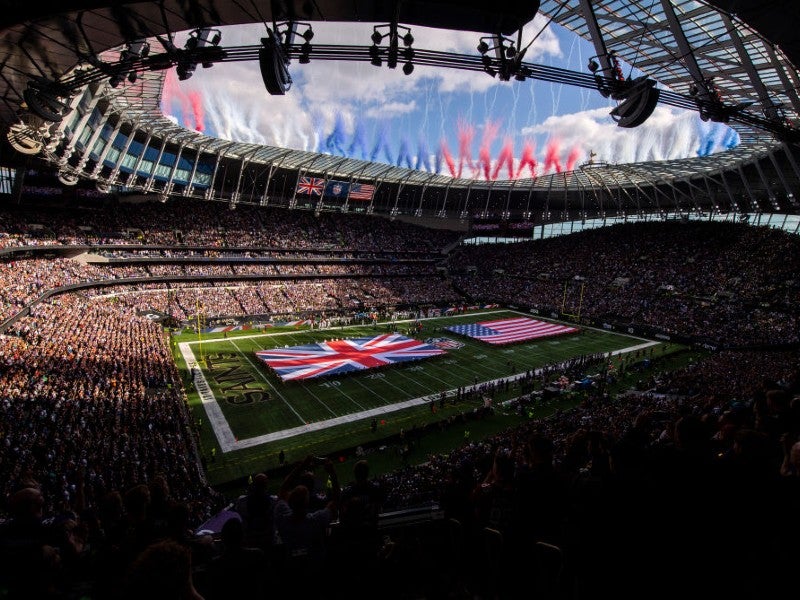 Every year like clockwork, as the days grow shorter and temperatures begin to fall, a familiar sound rings out around London at the beginning of October like a siren call beckoning swathes of UK sports fans to sample the entertainment bonanza that is North America's biggest league.
And once again on Sunday (October 2), The Star-Spangled Banner could be heard from North London's Tottenham Hotspur Stadium as it played host to the National Football League for its 15th trip across the pond – its eyes firmly set on globalizing the game one market at a time.
This is only the third year that Tottenham's new $1-billion stadium has staged NFL games, having hosted two games each in 2019 and 2021, but the UK capital is no stranger to the league, having now staged a total of 33 games since 2007, mostly at Wembley Stadium.
The NFL doesn't do things by halves and each visit has seen the series perform a masterclass in how to give fans the ultimate live experience. This is sports entertainment done the American way.
Sunday's opening game was no exception. The first of three games in London, the league was celebrating its 100th game ever outside the US, which ended with the Minnesota Vikings inflicting an agonizing 28-25 defeat on the New Orleans Saints in arguably the most entertaining NFL game playing in London to date.
A crowd of 60,639 at the stadium thought they were set for overtime at 25-25 with one minute 51 seconds remaining when the Viking's Greg Joseph restored the team's three-point lead with just 24 seconds on the clock – elevating himself into legend status to the UK crowd.
The frantic finale was exactly what the UK crowd has come to expect from their transatlantic cousins after the NFL's last trip to Tottenham saw a thrilling finish, as the Jacksonville Jaguars beat the Miami Dolphins with the last kick of the game.
And it's that level of hype and drama the league and the players are looking to lean on to spread NFL fandom and commercial opportunities across Europe and beyond.
Global goals
American football and the NFL have already conquered the US. From high school and universities to families and states, the sport is already integrated into American culture, and with the NFL's income sitting at $18 billion last year, it seems the only way to keep growing is to expand beyond its domestic borders.
According to Forbes, the average value of franchises increased 14% year-over-year and has a median value of $3.5 billion. Meanwhile, the sale of the Denver Broncos to an investment group led by Walmart heir Rob Walton for $4.65 billion set a record price for an American sports franchise.
If you're looking for a context to the growth of the NFL, the Broncos previous owner Pat Bowled bought the franchise for $78 million in 1984.
The NFL's broadcast rights with five different broadcasters, which run through the 2033 season, are set to generate $110 billion for the league over 11 years. Why? Because last year 75 of the 100 most watched broadcasts in the US were NFL games. There is no competition – in the US the NFL is king.
But in contrast to other domestic leagues such as the National Basketball Association and Major League Baseball, the NFL's income from international sources in the past has been relatively low. And while it seems like a commercial a no-brainer to tap into the lucrative overseas honey pot, the league was an extremely slow mover in making itself a global brand.
Between 1991 and 2007 the NFL organized a competition mainly contested by young players which took place either partly or completely in Europe. Although NFL Europa existed for a long time (under different guises) it was not the success the NFL hoped for.
Then, in 2007, the NFL made a conscious effort to broaden interest overseas by playing a regular season game in London under the name NFL International Series, which has expanded to three per season and plans to establish a franchise in the British capital imminently.
Moreover, the league announced in March that it would play its first-ever regular season game in Germany this year.
The demand for the NFL in Germany has always been high. NFL Europa featured five German-based teams and last year, German subscribers to Game Pass, the NFL's streaming service, rose by 125%.
So, it was little surprise when the league announced that Munich would host a game this year with four total games in Germany over four years – two in Munich and two in Frankfurt.
German fans duly showed their passion by snapping up tickets for November's game between the Tampa Bay Buccaneers and the Seattle Seahawks at the Allianz Arena, home of Bundesliga champions Bayern Munich.
It also seems inevitable that further games in Germany and an expansion into newer European markets will follow.
Star power
But with games only appearing once a year in these countries and a difference in time zones making it difficult for European audiences to maintain their interest, the NFL has had to get creative with how they sell themselves to a market already saturated in sports and home to the most popular league in the world – soccer's English Premier League.
The answer has been to utilize the biggest weapon the league has – its superstar players and the power they possess in creating a link between spectators and the sport.
Speaking to GlobalData Sport ahead of this year's London Series, Steve Scebelo, president of NFL Players Inc, the licensing and marketing arm of the NFL Players Association players union, said for overseas fans, having a particular interest in a player is a solid entry point into the game, which the league and teams can lean on to build their marketing campaigns.
"We know that the sport is complicated – there are a lot of rules and if you're new to the game and you haven't grown up with it, you might not understand everything that's happening and one of the best ways to get into the sport and connect with the sport is through the players," he says.
"That's our general program anyway but we think it makes sense that we help the sport grow here for the benefit of our players.
"It was clear once the league started going from one game a year [in the UK] to multiple games that they [the league] were making a real investment so for our players, we didn't just want it to be another game on the schedule where they come in, they play, and they leave.
"We think it makes sense for us to help the sport grow here by letting the fans get to know the players better and boosting their profiles."
NFL Players Inc, created as a marketing subsidiary of the NFLPA in 1994, is one of the largest and most influential licensors in the world, with licensing rights for over 2,000 active NFL players.
It grants more than 65 consumer product licensees the rights to use players' names, numbers, likenesses, and images for use in trading cards, collectibles, video games, fantasy football, apparel, and other online and retail products and services.
Player popularity is at an all-time high and amplifying NFL fandom around international games, with player-licensed retail products topping $2.2 billion in sales globally in 2021.
For Terese Whitehead, NFL Players Inc's vice president of consumer products, the international games are a perfect chance for the organization to ramp up its marketing of players that are looking to increase their global reach or players that already have a fan presence to boost retail sales.
"We do our research in terms of social media following of players that are on teams playing in London and we look at who has the highest percentage of followers in that territory.
"For example, players that already have some sort of organic connection to the market like former player Jack Crawford who was born and raised in London before heading to the States.
"But then also there are players that have an interest in building their brands overseas so it is thinking through some of the things that they can do like a jersey giveaway on their social media to UK fans or doing an Instagram Live Q&A with a lucky fan from the territory to build those connections.
"Generally, they are excited to do activations on the ground and in person, and from what we've seen through our retail, those players then see their opportunities increase."
European takeover
Such is the branding power of the NFL and its popularity across Europe, NFL Players Inc has been reporting increased demand by retailers for NFL player-branded products. From March 2021 to February 2022 (the NFLPA fiscal year), licensees operating in Europe generated 25 million in retail sales.
The NFL has licensee agreements with UK retailers including Sports Direct, JD, Foot Locker, ASOS, Urban Outfitters, GAME, The Hut, The Entertainer, ASDA, Tesco, and Sainsbury's, which all sell official NFL products.
European retailers selling NFL merchandise include Sportscheck, Lids, Sportland, Intersport, Bild Shop, Vertriebs Arena, Snipes, Aldi, Lidl, Game Stop, and more.
Every year, these retailers look to capitalize on increased NFL player presence to boost sales, says Scebelo.
"Like in the US with the Super Bowl, we'll see a huge uptick in sales around the International Series and part of our goal is to seek opportunities for the players who are here to engage with those licensees.
"For us, jerseys are a key driver as it's one of the most associated products for our fan base but there are other big sellers like the Madden video game that is being promoted this week to drive sales in the UK.
"Trading cards are something that has really skyrocketed in the US in the last three years, and we have seen some of that lift here too but not as much as I'd like to see, but I think we'll get there.
"With that being said, we just came from a meeting with a new licensee that had some ideas for hard goods like coffee mugs, keychains but the designs they were doing were different and not something that I've seen in the States. So, taking a different approach to a common object is refreshing and something we could take back to the States."
The NFL has a 10-year licensing deal with Fanatics, giving the online sportswear retailer exclusive consumer product licensing rights to manufacture and distribute all products designed by Nike, the US sportswear giant that is the league's official apparel partner.
Nike jerseys, sideline apparel, and fan gear are sold through the NFL online shop, run by Fanatics, and via NFL clubs and in retail outlets.
Earlier this year, the NFLPA invested in Fanatics in the company's latest $1.5 billion funding round, along with the NFL, who was the largest investor contributing $320 million to the overall figure. Other investors included Major League Baseball and its player's union, as well as the National Hockey League.
It's little surprise who has made Fanatics' yearly 'Top 20 Player Jersey Sales' list (date rage January 1 to September 21), with superstar quarterback Tom Brady of Tampa Bay topping the list, followed by fellow quarterbacks Joe Burrow (Cincinnati Bengals) and Aaron Rodger (Green Bay Packers).
For the league and the NFLPA, the list is an important yearly ritual identifying who the most popular players are. For fans and pundits, it's a talking point heading into the new season.
Speaking about other product opportunities in Europe, Whitehead says the organization is always looking at ways to keep merchandise fresh and interesting for younger fans.
"Just from the meeting we came from, things like scarves are becoming more popular in the US with the uptick in soccer and you can see it start to trickle into other sports and I think here it's just a natural extension to what is already popular.
"Another newer licensee does metal posters and signs and that's a way people can still display their fandom and the youth market is a huge driver for us too.
"I think it's just about making sure we have a wide variety of ways fans can purchase something that represents their fandom in a way that speaks to them."
Diving into digitals
The first professional sports league in America to really capitalize on the early non-fungible token (NFT) craze was the National Basketball League. In partnership with Dapper Labs, the NBA as well as the NBA Player's Association set up NBA Top Shot, a blockchain platform that offers NFT trading cards known as "moments".
Not to be outdone, the NFL announced its own partnership with Dapper Labs and launched an equivalent platform NFL All Day in August with Kansas City Chiefs superstar quarterback Patrick Mahomes serving as the face of the franchise for the 2022 season.
The use of NFTs as a form of fan engagement has boomed over the past year as leagues and clubs look for new ways to interact with their followers and identify new sources of income.
For Scebelo, it was a space the NFLPA was keen to enter as fans become more tech-savvy.
"There's a lot of activity in gaming and the NFT market but we definitely took a strategic approach to the category, but the demand was immediate and I do think part of that is because NFT products are a great fit for the sports market.
"For fans, it's about collectability and having that relationship with your favorite team and favorite player and there are also people who enjoy gambling on the game and betting if a player is going to appreciate over time.
"All of that went into our thinking about what NFT products might make sense to us and we wanted to make sure that there is utility around NFTs so it's not just something people collect and store but can actually use it in games.
"That's the approach we took and then we looked at which licensees or prospects were coming to us with proposals that were unique."
The NFLPA has a deal in place with gaming technology studio Mythical Games to introduce an NFT-based video game called NFT Rivals. The game, launching in 2023, will allow fans to compete against other gamers as the general manager of a team in a fantasy-style environment while assembling rosters with NFTs of their favorite players through a play-and-own system.
The NFLPA has also a similar NFT partnership with US fantasy sports and betting provider DraftKings where users can not only buy and sell player collectibles but also use them in games against each other.
Addressing some fans' skepticism of NFT markets and blockchain technology, Whitehead says it is an education process for those who don't understand the technology, but digital collectibles were fast becoming the go-to item for sports fans.
"In the US market there is still some skepticism, but it comes down to educating sports fans and taking the NFT side out of it and just looking at it as the product you're collecting.
"I would explain it like a physical photo album – that's how our parents collected pictures but now the next generation collect them digitally on their phone. It's still the same thing, it's still a photograph, it's just a different way of collecting it.
"The NFT side is just the mechanism, and the bonus is that you can do more with that digital product than you can do with a physical product."
However, going forward, Scebelo believes rather than taking over from physical products, digital collectibles will be another entry point for potential European fans to connect with the sport.
"We are still doing the core foundation work of growing interest in the player base so whether that interest results in a fan buying a jersey or a fan buying an NFT, we aren't trying to steer it one way or another," he says.
"We just want them to be fans of the players and for them to know the full breadth of merchandise that's out there so if they are skeptical of the space and it takes them more time to buy into the NFT market, then we have plenty of other options for them to buy into their fandom.
"I see our physical and digital merchandise almost running in tandem and just because of the market that we're in with sports products, I think that everything that we've done on the physical side can be replicated as a digital product.
"We're already seeing that in games. For years you'd buy Madden as a disc that you'd plug into a gaming console but much more people download it now, you can play it on your phone, and we've been seeing that migration."
World domination
The league's sudden acceleration overseas is a result of an ambitious growth plan set by NFL commissioner Roger Goodell, who declared at an owner's meeting in March 2010 that he wanted to see the league post a yearly revenue of $25 billion by 2027. At the time, the NFL's annual revenue was 8.35 billion.
Later, he said the real objective was to grow the game globally to achieve that goal.
To that end, this year the NFL launched its international "home marketing area" program. Eighteen teams were awarded the rights – in eight countries – on five-year deals during which teams can sell sponsorships and merchandise to build their global brands and attract new fans.
Apart from the UK and Germany, six other countries that make up the global program include Australia, Brazil, Canada, China, Mexico, and Spain. Some teams have rights in more than one country, like the Miami Dolphins with Brazil, Spain, and the UK.
The teams assigned to each market are as follows:
UK (six): Chicago Bears, Jacksonville Jaguars, Miami Dolphins, Minnesota Vikings, New York Jets, and San Francisco 49ers
Germany (four): Carolina Panthers, Kansas City Chiefs, New England Patriots, and Tampa Bay Buccaneers
Mexico (nine): Arizona Cardinals, Dallas Cowboys, Denver Broncos. Houston Texans, Kansas City Chiefs, Las Vegas Raiders, Los Angeles Rams, Pittsburgh Steelers, and San Francisco 49ers
Canada (two): Minnesota Vikings, and Seattle Seahawks
Brazil (one): Miami Dolphins
Spain (two): Chicago Bears, and Miami Dolphins
China (one): Los Angeles Rams
Australia (one): Los Angeles Rams
The NFL called the move "part of an important long-term, strategic effort to enable clubs to build their global brands while driving NFL fan growth internationally" adding it would "use its best efforts to ensure clubs play their international games in their international HMAs where possible."
So, now the league has concrete plans to spread across the globe, what's next for NFL Players Inc?
"I think from an immediate standpoint, we'll follow the league and where they are hosting games, and it's exciting that they've opened markets for different teams and that some teams are being very proactive as to how to exploit those right because that'll create opportunities for players, says Scebelo.
"For me, that makes it a much more systematic approach than just picking out countries randomly because that would be a huge undertaking."
On the licensing front, Scebelo says the organization will be looking at new opportunities to help increase their player's revenues.
"Gambling is a big one that we must approach with caution to make sure that we have products that fans can engage in responsibly but also that our players get their fair share from any revenue that is being generated off the game," he says.
"Human performance and data licensing of statistical information that is part of the player's intellectual property so ensuring there's a new revenue stream coming off that too.
"Besides that, it's exciting to be in a place where we know there's a lot of work to be done to elevate the NFL to the level of popularity that it has in the US and to know that there is an immense opportunity to work with the league in doing so.
"We had a meeting with our colleagues at the NFL international office and it's just about working together to promote the game and coming up with ways we can plug in players into those opportunities."
NFL's London Series continues this weekend (October 9) when the New York Giants take on the Green Bay Packers at Tottenham Hotspur Stadium. The action will then shift to Wembley Stadium on October 30 when the Jacksonville Jaguars play the Denver Broncos.
Image: Justin Setterfield/Getty Images