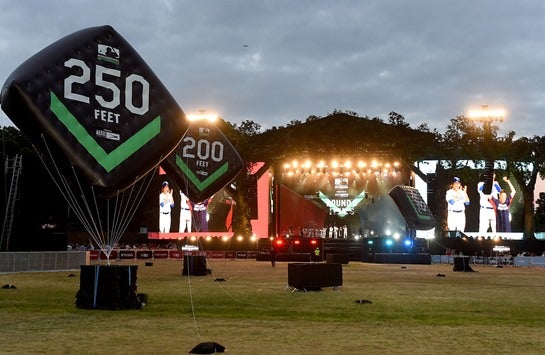 This autumn, American football's NFL staged a record four
regular-season games in London. In January 2018, the Boston Celtics and Philadelphia
76ers will descend on the UK capital for the NBA's eighth game at the O2 arena.
A year later MLB is, finally, expected to join the party.
Since taking the reins in early 2015, MLB commissioner Rob
Manfred has made no secret of his desire to follow in the footsteps of the NFL
and NBA by growing the league's brand, with designs on Europe, specifically
London.
Staging matches overseas is nothing new for MLB, with Asia,
Latin America and Australia having all played host, but it has yet to take the
plunge in Europe, which does not have the same baseball tradition.
MLB, under Manfred's rule, has been in regular talks with representatives in London about staging regular-season games – the Olympic Stadium has even been sized up, literally – but plans to play those matches this year were shelved, thanks to talks over a new collective bargaining agreement as well as spring's World Baseball Classic.
The attraction is mutual, with London mayor Sadiq Khan
having met with both Manfred and the owner of the New York Mets to push the
city's credentials while on a trip to USA 12 months ago.
In late July, the league unveiled plans to stage 13
regular-season series in cities outside North America between 2018 and 2021.
Mexico City, Puerto Rico and the Dominican Republic were on the list, as, to
the delight of Hill, was London.
A series has been pencilled in for June 2019 and it will
return a year later, with the likelihood that the fixtures will become a
regular sight on the UK sporting calendar.
Much of the work in getting those games on the discussion
table has come from MLB International's London office, and EMEA headquarters, which
Hill has headed up since December 2015.
It's a role that encompasses media sales, licensing,
sponsorship, special events, and relationships with local baseball federations
and governments across EMEA.
It's perhaps fitting that MLB's London office is situated in
Holborn, or 'Midtown' to give it the Americanised name dreamed up by marketers
a few years back to attract businesses.
Hill says it is "the worst kept secret" that MLB wants games
in London, but stresses the importance of taking the right approach at the
right time.
He tells Sportcal Insight: "The central idea to how we
approach this is to avoid forcing a foreign sport on a new market. First, we
have to understand the sporting landscape and culture of a new market and ask ourselves
how the sport we know and love from the US makes sense in the UK, for example.
We have to be willing to adapt to engage a new audience."
One innovative way to engage a new audience occurred in
London's Hyde Park on 4 July – Independence Day, of course – with 'MLB
Battlegrounds', a free festival of food, music and baseball.
To give it a local flavour, England cricketers Jos Buttler
and Alex Hales joined retired MLB stars including Carlos Pena, Shawn Green and
Cliff Floyd in a 'home run derby' hitting contest – a battle to score the most
home runs against the clock.
Hill calls it an "exciting statement of intent for Major
League Baseball in Europe," and the numbers suggest it was a success: 1 million
online viewers worldwide for the home run derby and more than 16,000 people attending
the event in Hyde Park.
"It was a valuable opportunity to showcase aspects of our
sport and the culture of baseball," Hill reflects. "We learned a lot about how
to build a relationship with new audiences outside the US and we will continue
to bring new, innovative experiences to audiences around the world.
"Events and activities like the event in Hyde Park are
important learning opportunities for us to see what aspects of our sport help
build a connection with a new, uninitiated audience."
---
" The central idea to how we approach this is to avoid forcing a foreign sport on a new market "
Charlie Hill, MLB's managing director for Europe, Middle East and Africa
---
Off the diamond, the league has been quick to tap into the
merchandise interest in its franchises. MLB, perhaps more than any of the other
major North American leagues, sees itself as a fashion brand.
It has operated a store in London's Covent Garden tourist
trap, baseball's first standalone retail space in Europe, for the past year,
selling caps, jerseys and memorabilia of all 30 teams, and in the days leading
up to MLB Battlegrounds launched an online store in Europe, the league's first
geographically-focused online store.
It expects to replicate that business model throughout EMEA.
A well-worn phrase from NBA commissioner Adam Silver is that
"probably 99.5 per cent of our fans are never going to have the opportunity to
go into an NBA arena."
With that in mind, how can MLB hope to capture and retain a
European audience?
Hill says: "Live content is always going to be key to
engaging a new audience. But timing of games in the US is obviously an issue, so
adapting formats to create compelling live content – like the Home Run Derby in
Hyde Park – is something we look at seriously.
"We continue to build out an aggressive international plan
to bring competitive games to new parts of the world."
As it stands, London will get its first glimpse of
competitive games in the summer of 2019.
So, does MLB feel like it is playing catch-up with its major
league brethren?
"We don't consider that our competition comes from major US
sports leagues, specifically," Hill says. "Most sports are – or aspire to be –
global, and that's the same with MLB. We have to consider our proposition in
relation to all sports and entertainment properties outside of the world of
sport.
"Again, I would reiterate that we need to be open-minded to
the idea that what makes us a compelling proposition in US, or Japan, or Mexico
might be different in UK. Same for any global business, we have to look at all
of the aspects of what we provide and recognise what is most relevant in
certain markets."