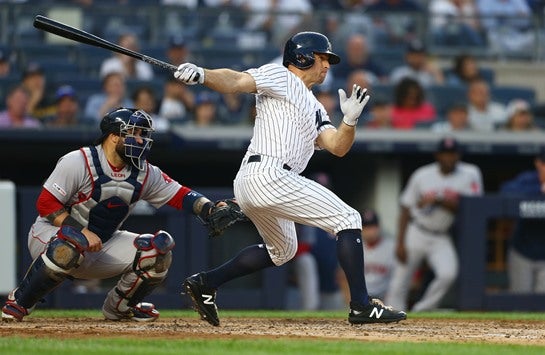 North America's Major League Baseball is one of the world's best-recognised, most-followed, and most successfully-merchandised sporting leagues. In 2018, it generated $10.3 billion worth of revenue, it regularly rates as one sport's best-attended leagues (over 73 million tickets for MLB games were sold in 2016, for example), and its best players regularly earn upwards of $30 million a year. It is definitively one of sport's greatest shows and spectacles. Now, for the first time in its lengthy and illustrious history, that spectacle is coming to London.
Last year, it was announced that the New York Yankees and
the Boston Red Sox franchises, fierce rivals, with 36 World Series titles
between them, and the franchises which compete in what many view as the
league's most iconic derby, are to contest the London Series. This comprises
two regular-season matches at the city's London Stadium, formerly the London
2012 Olympic Stadium, on 29 and 30 June 2019, in what has been a long-planned,
much-heralded exercise.
The MLB also announced recently that it will then return to
the London Stadium on 13 and 14 June 2020, with the Chicago Cubs taking on the
St Louis Cardinals in another two games.
Having already staged regular-season matches in Mexico,
Puerto Rico and Japan, and with a franchise permanently based in Canada, the
league has been expanding and growing in recent years, and those inside the MLB
hierarchy have long viewed Europe, and the UK in particular, thanks to it's
so-called 'gateway' status to the rest of the continent, as the final frontier.
---
" This starts here, but it certainly doesn't end here "
Charlie Hill, managing director of MLB, UK and Europe
---
Charlie Hill, managing director of MLB UK and Europe, is the
man with ultimate responsibility for the London Series, and has been involved
in increasing the sport's profile in the region since he was brought into that
position in December 2015. He has had the final say on many of the crucial
decisions taken over the last few years that have led to this point, as the
London Series has gradually moved from a pipe-dream to reality.
In an exclusive interview with Sportcal Insight in MLB's
slightly quirky, new-age London offices, shortly before the teams landed and
the action begins, Hill emphasises that the move is part of a much larger
planned European expansion, saying: "This starts here, but it certainly doesn't
end here…
"We'll all hopefully feel really good about what we've done
on 1 July, but actually that's when the real conversation needs to start!
That's when we need to start thinking; how are we going to keep on being
ambitious? How are we going to keep on entering new markets?
"The truth of the matter is that, yes, this is hopefully
very much the start of a European-wide project. While we don't have any other
specific European cities earmarked, there are definitely conversations we can
have about doing more across the continent of Europe, and make sure that we're
not just limiting ourselves to one city.
"The big thing we have to think about after these two series
is – how do we begin to take the next step, and put more boots on the ground in
other parts of Europe?
"So much of what we're doing here is essentially carrying
out a very complex learning process, so that we can take this experience and
then use it to work out how we can do more across the continent."
Hill's comments echo those made by Rob Manfred, the MLB's commissioner, last May, when announcing the teams that would visit. He said: "This is our first foray into Europe and it is important we make as big a splash as possible. We hope this series will be the beginning of a relationship with London that persists and a continuation of increased exposure for Major League Baseball in Europe."
Putting the league's decision to bring games back to the UK
capital in 2020 into context, Hill continues: "That was an important decision
for us – we're showing by coming back that this is more than just a one-time
event, we're trying to put something of substance down here, and trying to
build something. Talking about this project as a two-year operation at the very
least means we have a bit more credibility in terms of how we're viewed in the
UK."
Underlining the point, MLB will be taking on new recruits at
its London office, on the third floor of a Fitzrovia townhouse, Hill added,
saying: "This office absolutely needs to grow, it has to happen. What we'll try
and do first is bring people over here who can help us expand, who can help us
grow. In order to take the ambitious next steps that we want to, we'll need
staff to keep the growing number of partners in our business happy."
However, Hill responded cautiously to the possibility that a
permanent MLB franchise might one day be located in the UK, saying: "Our main
aim is always to make sure that elite baseball happens as frequently as it can
logistically in multiple markets around the world.
"Now, the best way to do that is not necessarily to take a
franchise and just setting one up here, or anywhere else.
"It might – and I mean might – mean that we set up a
franchise somewhere else, but that's highly complex and not something that many
sports have done to date. We've obviously got a team in Canada, so it can be
done, but it's a really, really challenging thing to do.
"Let's walk before we can run, essentially."
So what made 2019 the right year for the league to come to
Europe? And why London?
"If you look at sport generally, increasingly we're seeing
sports from all over the world try and globalise and move to new markets," Hill
replies.
"We have to be involved in this – if we want to be a global
sport, how can we not get involved?
"For us, the time just feels right to bring our best teams
to Europe. We've seen, for example, that European nations are now much more
competitive and increasingly performing well alongside teams from Asia and
Latin America in international competitions. So, for us it just feels right at
this point to begin to bring our sport over here for fans in Europe to see it
and enjoy it.
"There is a baseball scene, and a demand for live events, in
Europe that's been growing significantly in recent years.
"Why London? Well, firstly there are logistical reasons. The
flying time and so on does matter. A flight from Boston or New York over here
isn't too dissimilar to some of the domestic travel from coast to coast that
our guys have to do anyway.
"Also, other sports teams from the US have already proven that
they can come to London, put on a good spectacle, and that local fans will
enjoy it. It feels like a great platform from which to be able to tell more
people about our league and about the sport overall."
Anticipating the obvious follow-up question, Hill adds: "That doesn't mean we can't have teams from the West Coast over here at some point, but given that what we're trying to do is mitigate the complexity with these first two years, and that the Red Sox against the Yankees is such an iconic rivalry anyway, these two sides really made sense this year."
Both NBA basketball and NFL American football have enjoyed
mass support for games tagged in London. Since October 2018, more than 275,000
fans have attended the four NBA and NFL games the city has hosted in that
timeframe.
As for this weekend's MLB games, tickets for both games at
the 66,000-capacity London Stadium (which has been the home stadium of Premier
League soccer's West Ham United since 2016) were said to have sold out in
December, although the MLB did release another batch earlier this year.
StubHub, the official ticketing agent, announced before the season started in
March that the first London game looked set to be the best-attended MLB regular
season game of 2019, US games included. StubHub said that fans from 27 countries
have bought tickets, including 44 of USA's 50 states.
The sold-out stadium seems certain to please the games'
sponsors, including Mitel, a business solutions company based in Canada, that is
the series' title sponsor, having signed up for that role in November 2018.
Hill says: "Not only has Mitel been a great partner for a
long time, they also deliver a lot of tech solutions into our league, which is
important for the London Stadium – we need to make sure it's working and can
support the technical requirements of an MLB game.
"It just made sense to work with an existing partner [as
title sponsor], especially one that's enthusiastic and has a significant
customer base across UK and Europe."
The league will seek to slowly incorporate other existing
USA partners into the series over time, according to Hill, who says: "There are
partners who are not officially on board, who are keen to come over and find
out what it's all about. A lot of our partners from the US will be in London,
essentially as guests: 'prospects' if you like, who will be here to look at
what we're doing and how they can be involved in what we're trying to get done
next year, and maybe the five and 10 years after that."
The games will be shown live by BT Sport, the pay-television
operator, which acquired the series' TV rights in May. MLB has been televised
on BT Sport since 2013 when US broadcaster ESPN sold its UK and Ireland TV
channels business to BT, the UK telecoms giant.
The games will also be streamed live via BBC iPlayer, the
digital service of the UK's public-service broadcaster. However, they will not
be shown live on the main channel of a terrestrial broadcaster this year or in
2020, despite reports last summer that MLB executives were keen for the games to
be seen free-to-air to maximise exposure.
Asked if he was disappointed at that outcome, Hill says: "No,
I don't think that's the right word. How I'd respond to that question is to ask:
how are people watching content, how are they consuming it?
"We absolutely think free-to-air television will have a big
part to play in any expansion into Europe. We've got two years to talk about
how to make the most of these London games alongside them, that's how we see
it.
"As with all things new, you have to build. We don't think
the BBC conversation starts and stops with these two games, it actually takes
in a new sport that the BBC as an organisation is getting to grips with."
As regular visitors to London, both the NBA and NFL have
tried to make their chosen arenas feel like home. The NBA has played all its
games at the O2 Arena in the last decade, while the NFL signed a 10-year deal
with the Premier League's Tottenham Hotspur in 2015, meaning that two games a
year will take place at Tottenham's new stadium until 2028, 21 years since the
NFL's London debut in 2007. The NFL's original base in the city was Wembley
Stadium, England's national soccer arena, until 2016.
While the two leagues clearly enjoy a head start over MLB,
Hill said: "We're not trying to compete, but we are trying to offer something
different and distinct. If you look at sports generally, they're generally
looking to access new markets and to expand and do things in new places.
"For sure, the fact that the NFL and NBA have come to London
and have shown it can be done, that helps. However, with regards to
competition, when it comes to Europe and the UK we don't actually see ourselves
as competing with those two sports."
Both the NFL and NBA have admitted to losing money on their London
games, with Alistair Kirkwood, the NFL's UK managing director, having told
Sportcal Insight earlier this month: "I can't see a time when, as we're
currently structured, these games break even or make a profit. Games will
continue to be loss-leaders."
Hill's view is that the MLB leadership "recognises that
taking new sports to new markets requires a major investment, but that the
benefits we see for our business, and for the status of our sport as a whole,
means it makes a lot of sense."
There are other aspects of baseball that distinguish it from
the two other major league sports according to Hill, who says: "What our sport
offers is, of course, naturally different – we play in summer, so we look more
at how we sit alongside other British summer sporting events, as opposed to
other sports from America coming over here at other times of the year.
"On that basis, we think baseball does have its own niche,
and a definite role to play in the UK's summer of sport."
"We're trying to stay true to our own sport here, and not
mimic others."
So what about the UK's own indigenous summer sports? Won't
the London Series inevitably compete for eyeballs and attention with the likes
of cricket and tennis "I actually don't think we're bothered in competing
with cricket, either," Hill says.
"There are things that this series will offer, in terms of
both the players, and the fact that this is arguably one of the biggest
rivalries in sport, which mean that hopefully people who see this live will see
it as pretty unique.
"Look, what we're increasingly seeing now is that people
have a huge appetite for live entertainment, whether that be sport, music,
food, whatever. Sports therefore have to look at themselves in that regard – we
have to think, what are we offering people that provides a rounded
entertainment experience?"
As for tennis and, in particular, Wimbledon, which begins in
London on Monday, the day after the second London Series match, Hill says: "You
can have strawberries and cream in south London or you can have hot dogs and
beer in east London – I think that's a pretty compelling proposition!
"This is one of the biggest rivalries in sport, being played
by explosive, dynamic athletes. I'm hoping that people who see this live will
view it as an extraordinary, unique spectacle."