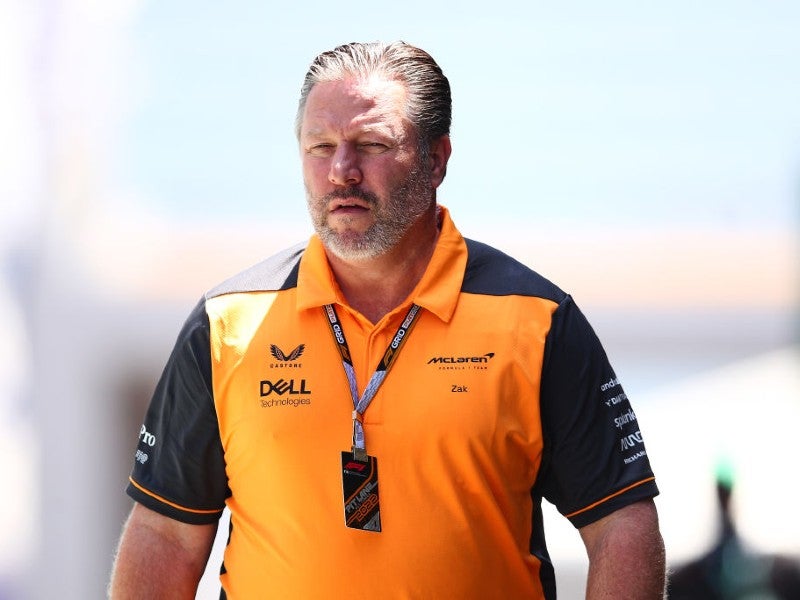 Motor racing powerhouse McLaren Racing is looking to capitalize on its popularity in Formula 1 to ensure the commercial success of its newly acquired Formula E team once it enters the all-electric series later this year.
McLaren is due to make its debut in Formula E, the all-electric racing series, in the 2022-23 season after announcing its acquisition of the Mercedes-EQ outfit in May, with the team having first struck an agreement with Formula E to join the championship for the Gen3 era in January 2021.
The 2022-23 season will be the ninth for Formula E and the first of the new Gen3 era, which will see faster, more powerful cars introduced.
The team was yesterday (June 27) officially renamed NEOM McLaren Formula E after McLaren Racing announced a title sponsorship deal with the Saudi Arabian eco-city project NEOM and launched its Gen3 car for the season.
The team is being led by Ian James, the former team principal of Mercedes-EQ Formula E, with the entire Mercedes factory team moving to a new facility in Berkshire in the short term to ensure integration. It joins McLaren's portfolio of racing teams that compete in the Formula 1 series, the US-based IndyCar series, and the Extreme E electric SUV series.
Speaking with GlobalData Sport and other media at the team's headquarters yesterday at the launch of NEOM's partnership, McLaren Racing chief executive Zak Brown said despite being under new ownership, he expects the team to be successful on the track and commercially.
He said: "From an on-track point of view, I see no reason the Formula E team can't compete for the championship in year one because we as McLaren are new to it but Ian [James] and the whole team are not so our expectations are to compete for the championships.
"Obviously, it's a new generation of cars so everyone's going to have a reset, but I don't see any reason why our team won't have all the resources to compete.
"Commercially, we are a very popular team, at least at the moment, and we have to keep that going.
"We've had a lot of commercial success in Formula 1 recently and before we make decisions like these [to enter a new series] we check in with our partners to get a feel of who might want to participate and our partnership team in the marketplace to have a sense of what would be in demand and one of a few reasons that gave us the confidence to jump in is that we think we will be commercially successful."
The calendar for the 2022-23 season has not been unveiled, however, six races are currently contracted to form part of season nine of the Formula E World Championship – in Saudi Arabia, India, France, Italy, South Africa, and Brazil.
The calendar strategy was initially designed for Formula E to take advantage of December, January, and February, which traditionally feature little racing and therefore would allow the championship to build its fanbase without clashing with other series.
However, the trend was broken for the seventh and eighth seasons of Formula E in 2021 and current 2022, which became in February 2021 and January 2022, respectively, due to ongoing disruption caused by the coronavirus pandemic limiting calendar options. Those seasons have officially kept the 2020-21 and 2021-22 designations despite neither featuring races in the first year of their names.
Alberto Longo, co-founder, and deputy chief executive of Formula E, earlier this year indicated the 2022-23 championship will revert to its original calendar dates from December to July.
The pandemic also caused issues with this year's calendar after the series had multiple cancellations, including city races in Korea, Canada, and South Africa. Races in Jakarta and Morocco were added to the calendar with the Rome ePrix and berlin ePrix made into double-header events to fill the gaps.
Asked about the commercial challenges the last-minute calendar changes might have on the team, Brown said McLaren and their sponsors would be flexible to a degree.
He said: "Formula E is a new series. I like it because of its city-center approach and as long as they replace races with other big venues, which they do, then that's fine.
"Obviously getting caught in Covid when you have city races is a bit more a difficult calendar put together than using permanent racetracks like Formula 1.
"I'd like to see the calendar announced and it doesn't move, and I think we'll get there but from what I can see, our sponsors will be flexible as long as we're replacing them with like for like big cities."
McLaren's Formula E team will have an all-new driver line-up when it takes over Mercedes' entry, with Stoffel Vandoorne and Nyck de Vires, the team's drivers since Mercedes entered the series in 2019, moving on at the end of the season.
Brown confirmed the team will have a new driver line-up at the team's headquarters today, with the team having already announced one of its two Formula E seats next year may be filled by Felix Rosenqvist, who drives for their IndyCar team but has previously won in Formula E.
Brown said McLaren's decision where to place Rosenqvist will be swayed by the availability of other drivers in both series, adding: "Ultimately, we're trying to put the best driver line-ups across all our racing activities. We're expanding to the three cars in IndyCar. Felix is unique in he's won in IndyCar and he's won in Formula E so he can race in either.
"So, it's really dependent upon either who our other IndyCar driver is or who our other Formula E driver is, that we'll then go 'this is the best line-ups we can put together across our Formula 1, IndyCar, Formula E, and Extreme E'.
"That's why we're undecided yet where we want to put him. It's really based upon what's the best line-ups we can put together across that."
Asked his opinion on the growth of Formula E and how McLaren could add to it, Brown said that entering and promoting the series would accelerate the development of battery technology for electric vehicles.
He said: "I think Formula E is entering a new era and it's great to see new technology continue to develop. These cars are going to be substantially faster than the previous generation.
"The stigma of battery technology going back 10 years about range and acceleration when Formula E first came along has changed – to not have to change cars or recharge or refuel – I think that showed where battery technology can go.
"I think battery technology, like mobile phones, will continue to evolve – range will get longer, power will be greater, cooling will get better, and I think Formula E is a motorsport platform that is going to develop that battery technology as we push to improve."
The current 2021-22 Formula E World Championship started on January 28 and is due to end on August 14.