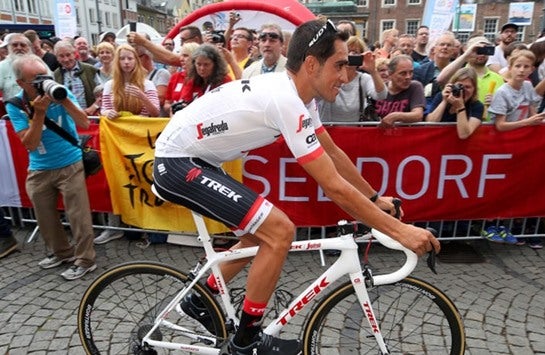 Last weekend's start of the Tour de France, the so-called Grand Départ, in Düsseldorf in Germany followed a trend for cycling's blue-riband race to begin outside the borders of the host country.
But there was a strategic reason to choose Germany that went beyond race owner and organiser ASO's general mission to spread the Tour de France gospel among neighbouring countries, says Lachaux. The move was part of a larger mission to reignite Germany's love affair with the sport of cycling after a period of disillusionment sparked by a series of doping scandals that led the Tour's traditional broadcaster ARD to drop its coverage of the race for four years.
Indeed, the public-service broadcaster only began showing race coverage again as recently as 2015.
The sport's reputation "on the other side of the Rhine" was badly hit by the scandals, Lachaux admits, and the aim now is to "get back to the story." With ARD showing up to an hour and a half of live coverage of each day's racing this year (more at the weekends), ASO is keen to find "new ways to develop the whole economy of cycling" in Germany, he adds.
In addition, Eurosport, the pan-European pay-TV broadcaster owned by Discovery, is showing over 100 hours of live coverage of the race in Germany, with most stages being shown live in full.
ARD and Eurosport (and ASO) were duly rewarded as early as the race's second day with a win on the stage from Düsseldorf to Liège in Belgium by German sprinter Marcel Kittel. Kittel followed this up with further wins on stages six and seven.
Last month, ASO entered into a strategic agreement with Anschutz Entertainment Group, the US events and venue owner, to develop cycling in Germany.
ASO said that, as part of the partnership, the pair will collaborate on a revamped Tour of Germany and on the annual Eschborn-Frankfurt classic, the 56th edition of which took place, as part of the top-tier World Tour, earlier last month
In January, ASO agreed a deal to take over the German race organiser Gesellschaft zur Förderung des Radsports, which previously ran the one-day semi-classic Eschborn-Frankfurt (formerly the Henninger-Turm), founded in 1962 and held each May.
The move was part of the new focus by ASO on Germany, a cycling market that is thought to have huge potential. ASO plans to revive the Tour of Germany next year under the name of Deutschland Deine Tour.
ASO said at the time: "As part of the comprehensive partnership between the global sports organizations, AEG will lead the sponsorship sales process for both the Eschborn-Frankfurt classic and the Deutschland Tour (Tour of Germany), an innovative concept which is designed as a bike festival that bridges the gap between professional and everyday cycling (Deutschland. Deine Tour)."
ASO has branched out beyond its French heartland in recent years with involvement in the Tour de Yorkshire in England, World Ports Classic in the Netherlands, and the Arctic Race of Norway, while the Tour de France has started in London, Rotterdam, Leeds and Utrecht (plus Düsseldorf this year).
ASO has also taken over full ownership of the Vuelta a España in Spain, and Lachaux draws a parallel with the work that ASO has done to revitalise that race, saying: "For the Vuelta there was a kind of disinterest but we saw that, by adapting to the Spanish market, we could get people to enjoy the advantage of the race back there.
---
"We really think we can construct an environment for people to look at cycling in a different way. We need time to put a new story on the road for the German tour, and maybe more races in the coming years "
Laurent Lachaux, ASO's head of marketing
---
"We really think we can construct an environment for people to look at cycling in a different way. We need time to put a new story on the road for the German tour, and maybe more races in the coming years."
This year's race is being seen on TV in 190 countries via about 100 channels, of which 60 are showing live coverage. The potential combined TV audience is 2 billion viewers, according to Lachaux. Broadcasters that are new to the tour include DSport, the Indian sports channel that is also owned by Discovery and is available in over 20 million households.
In many countries, including France (France Télévisions and Eurosport) and Germany, ASO is pursuing a joint pay-TV and free-to-air TV strategy, with Julien Goupil, the agency's media director telling l'Equipe: "At a time when sport is tending to switch more and more to pay, we're very keen to reach out to everyone. This double retransmission policy is particularly being applied in Europe, the principle cradle for broadcasting cycling."
Broadcasting stages live in their entirety requires a production staff of between 250 and 300 a day, but was requested by the broadcasters themselves, according to Goupil, who says: "The broadcasters were asking us why we were taking the race signal 50 kilometres after the start. The start of the race is the point where you can, for example, understand how a breakaway was formed. We heard this editorial question and we've been working on this development for nearly two years."
ASO's revenue sources from running the tour are in the following proportions, Lachaux says:
• Media rights: 50 per cent
• Sponsorship: 30 to 35 per cent
• Hosting fees and licensing: the remainder
New race sponsors this year include Century 21, the US real estate company that is present in about 130 to 140 countries in the world, which will be running a competition with a prize of a €200,000 ($228,290) house, according to Lachaux.
However, the five top-tier 'club partners' of the race remain unchanged: LCL (the Crédit Lyonnais bank and insurance company); Carrefour (the supermarket chain); Škoda (the car brand owned by Volkswagen); Vittel (the French bottled water brand); and Krys (the optician chain).
ASO is also working to develop social media content for the race, including 30-second flashes of race action of key moments of the race, without a voiceover, plus features explaining how each rider that wears the yellow leader's jersey obtained it, and "funny side stories."
Adrien de Cheveigné, ASO's head of business digital, tells Sportcal Insight: "As with most major sports events worldwide the key is to make sure to adapt to the way people are consuming sports, just as on TV. Mostly it's about providing what they're expecting on the platforms that are expected, trying to rejuvenate audiences. There will be three young digital reporters, one French, one English and one German, creating stories to give to these audiences about what it's like to be on the Tour de France."
De Cheveigné denies that ASO is concerned that the tour audience is ageing, but adds: "There are more and more new ways of consuming the Tour de France for children, family and friends and we aim to maintain links also with the new audience."
Although he acknowledges that at present there is no clear revenue stream from social media coverage of the race, he says: "There are new business opportunities linked with creating a specific audience. Partners are more and more keen on communicating to social media users and clearly this is a way for us to answer the needs of sponsors."
• Live rider data, such as heart rate, power, kilometres per hour and position of riders, was notable by its absence from television coverage of the opening time trial of this year's Tour de France, albeit some data has been shown on-screen in later stages of the race.
ASO failed to respond to repeated requests for information on the issue.
Source: ASO