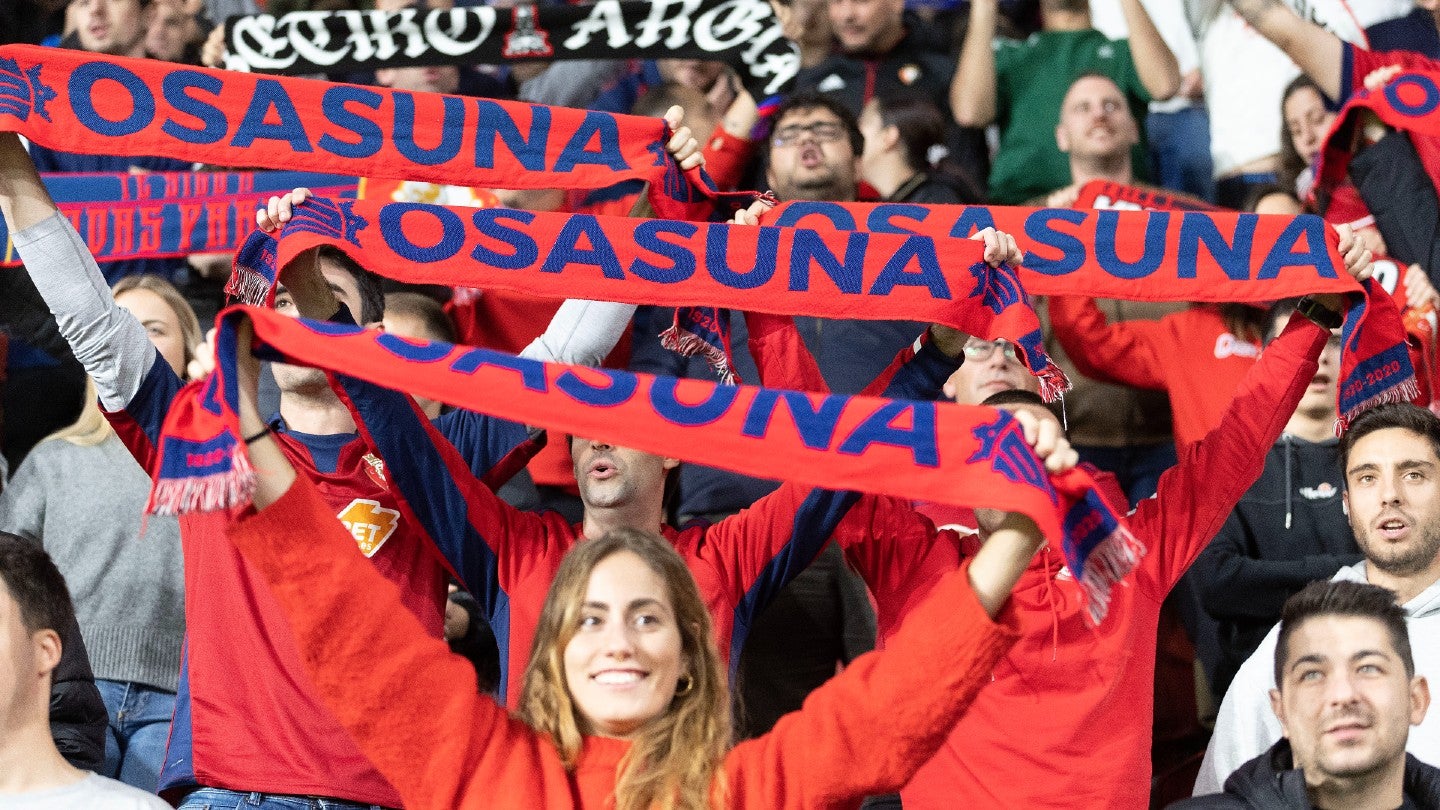 As the soccer cliche goes, goals change games. For Osasuna, one goal changed everything.
Following relegation to Spain's second-tier Segunda Division in 2013-2014 after 14 seasons in the top-flight LaLiga, the club was on the brink of successive demotions. But true to their gritty style, Osasuna battled, and a last-minute goal on the final day of the 2014-15 campaign sealed a point and their safety.
The importance of that strike cannot be overstated. With huge debts, relegation to Spain's third tier could have seen the club cease to exist.
In the midst of Osasuna's battle for survival both on and off the pitch, the club had been plunged into a match-fixing scandal after two former presidents and four ex-board members were investigated and subsequently charged. Osasuna were alleged to have used financial incentives to influence the results of relegation matches.
Ex-presidents Miguel Archanco and Patxi Izco, along with directors Txuma Peralta, Angel Vizcay, Juan Pascual, and Diego Maquirriain, were found guilty of misappropriation of funds, false accounting, falsifying documents, and corruption.
All six were arrested as part of an investigation into the disappearance of at least €2.4 million (now $2.6 million) from the club's coffers between November 2013 and June 2014.
In the words of current chief executive Fran Canal, "Osasuna reached the worst moment in its history."
The Pamplona-based outfit had amassed a debt of around €70 million during this time, which was discovered through the Navarre Tax Agency. With second division clubs earning an average of around €9 million, Osasuna had a debt of eight times what it could earn in a single year.
To stay afloat, the club reached an agreement with the Navarre tax authorities to hand over its El Sadar stadium and Tajonar training complex as payment. Although this reduced the debt significantly, it still stood at €25 million, illustrating the size of the financial hole they were in.
Osasuna's woes were compounded by a LaLiga sanction that restricted the club from signing players who earned more than the base salary.
"That season, we suffered a lot," Canal recalls. "When we scored the goal [the last-minute equalizer in 2015], the team was saved in the second tier [but] with an uncertain future.
"But at least the second tier in Spain means TV money. If you go down to [third division] Segunda B, it would have been practically the disappearance of the club."
Rebuilding
With Osasuna in dire straits and in need of a major rebuild, up stepped Luis Sabalza to take on the challenge.
The first order of business for the new president was to keep the club afloat for the short term during a "complex financial, judicial, athletic, and social time."
Sabalza set out to oversee more professional management of the club to move on from the mess left by the previous regime.
Canal was installed as chief executive and entrusted to build out a management team across the commercial, sporting, and communications departments. The task was clear: rebuild Osasuna's reputation and image and restore its credibility.
"We were very clear about the line we needed when the team was on the verge of disappearing," Canal explains. "Something that was not seen in the press was the complete loss of credibility. At that moment, sponsors fled.
"The few sponsors who stayed did so out of love, they didn't stay because they received any kind of good image, because we had the worst image in the world. Our club was the first case of a scandal involving bribes for matches, etc. under the previous board.
"We had to believe in ourselves and make others believe in us. We needed, above all, to demonstrate transparency."
Osasuna now makes all of its financial dealings public, including player transfer fees, release clauses, and contract lengths, information that is widely kept in-house by other Spanish soccer clubs.
In his first term, Sabalza was credited with reversing the club's dire state and restoring its good name, which allowed it to earn back the trust of other institutions, sponsors, and players.
Having come out the other side of this period, Osasuna embarked on a growth project centered on a renovation of El Sadar in 2018. The plan to remodel the stadium was forged despite the club, at that point, being back in the Segunda Division following a brief return to LaLiga in 2016-17.
With an old stadium that housed 18,000, an upgraded venue was needed to grow financially and meet legal safety requirements. With 14,000 members, the Navarrese side stressed a need to get more fans into the venue and modernize a facility initially built in 1967.
"We made the decision that we needed a much bigger stadium," Canal explains.
The big issue was financing, as Osasuna still had to pay off large debts and was still in the second tier. As a result, the club designed a financial plan in which it would pay off around €1.2 million of its debt annually.
Having evaluated its financial capabilities, the team allocated a budget of €16 million for the renovation and selected a construction firm to carry out the work following a tender process that involved fans voting for their favorite design.
After winning the Segunda in the 2018-19 campaign, a return to the top-flight allowed Osasuna to increase the budget to €23 million and commission an increase in capacity to around 24,000.
The main aspect of the reconstruction was a new grandstand, while the club also developed hospitality areas to improve that commercial revenue stream. The redevelopment, completed in 2021, ultimately provided a new source of income for the club as it increased its membership to 20,000.
Osasuna claims the changes have doubled its income from a stadium attendance perspective while creating a new business opportunity as well. The redeveloped venue was also named the stadium of the year by international portal StadiumDB in 2021.
"We fundamentally improved areas that were not foreseen in the initial reform plan to leave us with a stadium that would be a home for many years and that would allow us, above all, to generate more income," Canal says.
"At the moment, the income that we generate from the new stadium is slightly over €2.5 million. In practically eight years or so we are going to amortize the stadium and from then on we will continue generating income by having a brand new home."
This week, in an example of the club's approach to technological innovation, Osasuna announced 5G technology will be introduced at El Sadar through a partnership with telecoms firm Cellnex that will "bring income to the club for the next 20 years."
Financial recovery and international growth
Almost a decade on from turmoil, Osasuna has re-established itself as a LaLiga club and is enjoying a period of stability across all areas.
Most importantly, and even despite the global pandemic, Los Rojillos are in a relatively healthy financial state, a far cry from 2014.
"Our financial situation is stable and relatively strong," Canal explains. "In fact, we are one of the five clubs in LaLiga that has a more solvent financial situation.
"However, we must not forget that the [Covid-19] pandemic has caused an unprecedented economic crisis in the soccer sector. Thanks to the work in financial management that we have carried out since we took over the management of the club, we have been able to face this crisis with strength.
"But there is no doubt that the pandemic has done terrible damage to all of us, with an impact on a reduction in income of almost €18 million at our club.
"Even so, we have been able to improve the level of our squad, we have not had the need to sell players and when this season ends, we will only have €2 million pending to be amortized from the reform of El Sadar. Osasuna's financial situation today is stable, but without the pandemic, it would have been extraordinary."
A critical financial driver for the club has been an increase in commercial revenues. Osasuna has been able to restore trust with sponsors and return to a position where brands want to be associated with the team.
The club is budgeting for a record year for sponsorship revenue, which represents a significant transformation in nine years.
"The situation today is very different from what existed in 2014, when very few companies wanted to link their name to Osasuna," Canal says. "The management of Luis Sabalza and his team have completely reversed the situation.
"At this moment, Osasuna is a serious, respected, and even admired club. We have earned the respect of our sponsors with our way of working. In fact, we have budgeted €8.7 million in income from sponsorship in the current 2022-23 season, which is a record figure in the history of Osasuna.
"In recent years we have had an annual growth rate of more than 20% in this area and we aspire to continue improving, we are ambitious."
To take that next step commercially, the club is keen to attract more international partners and view this as a natural progression in its growth phase.
Many of Osasuna's commercial partners are based locally in the Navarre province such as shirt sponsor Verleal, Clinica Universidad de Navarra, Enhol, Jaylo DasGate, and Malón de Echaide.
Despite being a club deeply rooted in its local community, Osasuna believes it is close to exhausting all commercial avenues in its home market. With an already significant following outside Spain, the team sees wider opportunities.
"We are making a great effort to enter the international market," Canal states. "Traditionally, Osasuna has been very focused on the local sphere, but that market has a ceiling that we are very close to touching.
"In our communication and digital strategy department, we are making a great effort so that Osasuna is known internationally. In fact, 65% of our followers are already from outside Spain.
"This is making it possible for us to attract sponsors from geographical areas as different as Asia or the Baltic countries."
As an example of this, last week Osasuna partnered up with sports and entertainment brand OlyBet, which now becomes an official club sponsor across Europe.
In this respect, the LaLiga Impulso (Boost LaLiga) project has come at an opportune time for Osasuna, with the club considering it "a massive growth opportunity."
As well as paying off debts, the Navarra-based side is using the funds to expand and modernize the Tajonar facility. The club recently purchased a plot of land for €6.5 million and expects to share more news about the project in the coming months.
The money from private equity firm CVC will additionally be used to develop internal departments such as communications, digital, international business, and technology.
"For the first time in history, a project has been carried out so that all LaLiga clubs can grow together and at the same time, which will result in an improvement in the positioning of the competition in the long term," Canal says of LaLiga Impulso.
LaLiga this week revealed that half of the €1.99 billion fund has already been distributed to the 38 clubs involved in the project. The league expects teams to receive an additional €452.4 million this year and the remaining installment of €454 million in 2024 to finance modernization projects and infrastructure investments.
As part of the 50-year agreement, CVC holds an 8% stake in a new commercial entity established with the league that manages broadcast and sponsorship rights.
It was recently revealed that Osasuna was among the lowest earners in LaLiga in terms of media rights revenue distribution last season, with just six clubs generating less. The team's income stood at €51 million.
Despite acknowledging the work LaLiga has done to reduce the gap between the top earners, Canal hopes to eventually see a similar distribution model to the English Premier League introduced to improve the competitive balance in Spain.
"A decade ago, Real Madrid or Barcelona multiplied the audiovisual income of other first division clubs like Osasuna by eleven," he outlines. "Today, they multiply it by three.
"There is no doubt that with the centralized sale of audiovisual rights and the management undertaken by LaLiga in the last five years, the distances have been greatly reduced. It is something we must recognize.
"However, from Osasuna, we defend going towards an even more equitable distribution model, as can happen in England, since that will allow us to have an even more competitive and attractive competition. We have taken positive steps in this direction, but we still have a lot to do."
Image credit: CA Osasuna