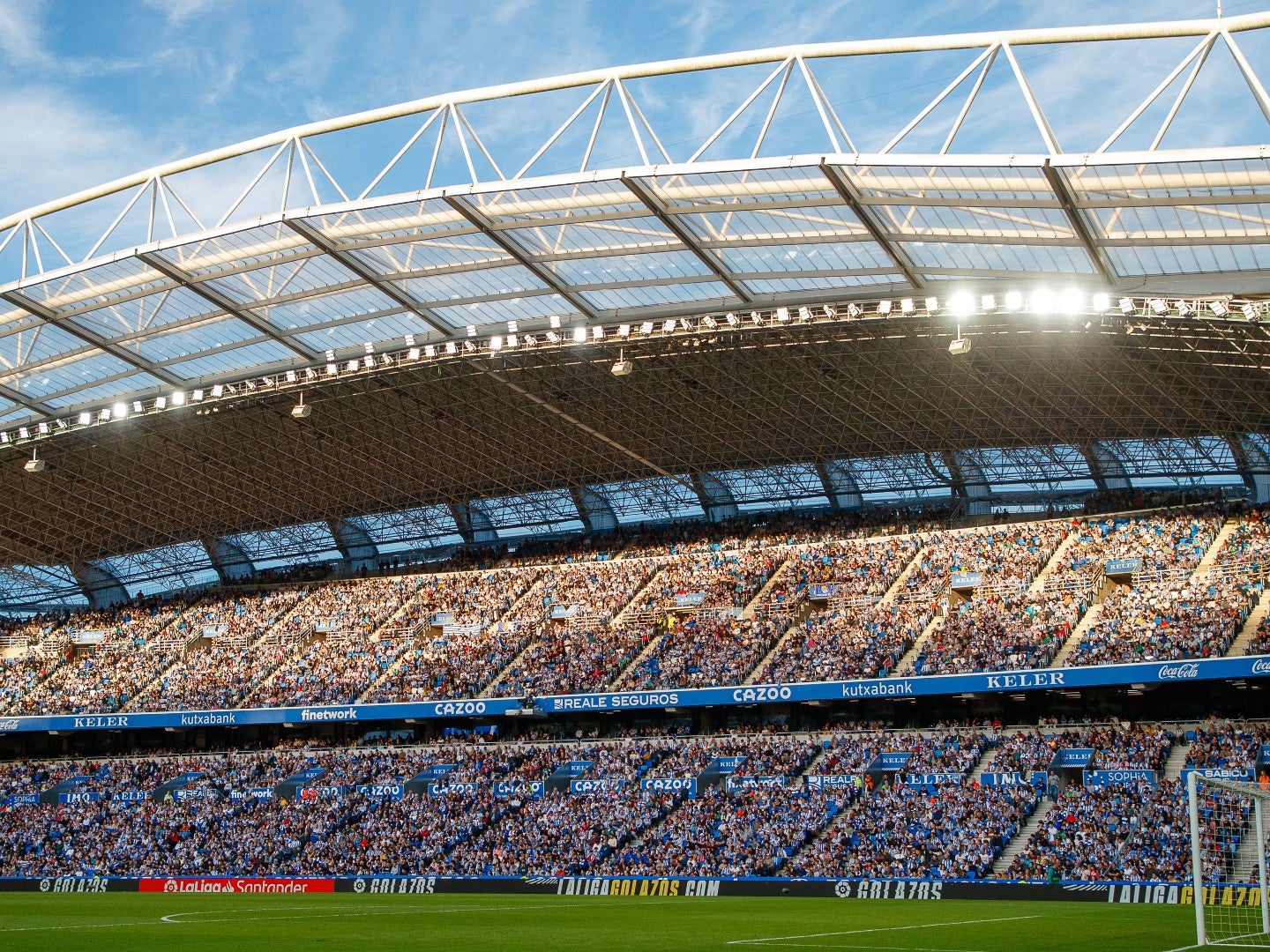 For many years, Real Sociedad had a visible problem in engaging fans and generating a positive atmosphere at their home matches due to an athletics track keeping supporters far away from the pitch.
Fans often complained about the distance to the playing field at the Anoeta stadium, which led to lower attendances at matches in the top-flight LaLiga.
Since 2004, several of the Spanish club's presidents have attempted to renovate the stadium to no avail having encountered difficulties with the local council. Sociedad were aware that a change was needed to build a more intimate and atmospheric venue and ultimately generate more income.
In 2015, the club finally got its breakthrough and announced plans to renovate the Anoeta, which included an increased capacity and the removal of the athletics track. The project resembled the renovation carried out by Italian giants Juventus at their stadium in 2011. Unlike Sociedad, however, Juve opted to reduce their capacity.
Construction on the Anoeta eventually began in 2017 and was completed in October 2019. The total cost of the refurbishment was €78 million (now $79.2 million), which was largely funded by the club, with support from the Basque government and the Gipuzkoa Provincial Council.
The stadium's capacity was increased to around 40,000, significantly higher than the old version of the Anoeta. The first game in the refurbished venue saw a club-record attendance of 33,374 against Atletico Madrid in September 2019. Five months later, this was topped in the Basque derby against Athletic Bilbao as almost 37,000 packed the stadium.
The changes have transformed the atmosphere and had a huge impact on the team both on and off the pitch over the last three years.
"We had a big problem with the old stadium because of the athletics track, and it was very difficult to improve the fan engagement and fan experience," Iñigo Díaz de Cerio, Real Sociedad's head of international strategy, tells GlobalData Sport.
"After many years, we decided to redevelop the stadium … We had some doubts because we had between 23,000 and 25,000 season ticket holders and we had decided to build a stadium with a 40,000 capacity. But it worked out because we now have more than 38,000 season ticket holders and it was a necessary thing that we had to do.
"We improved the hospitality area and the fan experience, and we now have more opportunities to recover the investment we made because we have new business areas that we did not have before. The stadium is also in the city, not on the outskirts, so it's an opportunity to help with tourism and it gives us an opportunity to stage big events outside of football."
The reforms have evidently had an impact on the pitch too in recent years. In the three seasons playing in the renovated stadium, Real Sociedad have finished sixth on two occasions (2019-20 and 2021-22) and fifth (2020-21), qualifying for the UEFA Europa League, Europe's second-tier club competition, each year.
Most notably, La Real, as the San Sebastian-based club is affectionately known, ended their 34-year trophy drought by winning the 2019-20 Copa del Rey.
Unsurprisingly, this has led to positive returns for the LaLiga outfit in terms of commercial and matchday revenue, with an improved hospitality offering becoming a key income generator.
"The new areas have helped because we didn't have hospitality [before] but now we have 2,300 hospitality seats and 82 [executive] boxes, and that's a business that didn't exist [previously]," commercial and marketing director Begoña Larzabal explains.
"Before the renovation, we had partnerships with 92 companies, and now with all the hospitality areas and sponsors we have 164, so we have almost doubled the number of partners. In terms of ticketing, we only have 2,000 tickets in this area for each match, but we have a lot of demand, so, for us, the experience and income have changed completely.
"We are one of the cheapest clubs in Spain in terms of our ticket prices, but we now feel we can increase the prices because of our sports results."
The club revealed it has recouped €9 million from sponsors and €11 million from ticketing, while attracting an average attendance of 36,400.
De Cerio adds: "We have increased our profits and our attendances have grown by around 30% (going from 23,000 to 34,000). We have many companies calling us to buy our season tickets but we don't have any more space, and we have companies waiting to buy boxes but everything is full, so we are in our best moment in the commercial area.
"We have 1,000 people waiting to be season ticket holders. It's crazy because [the Gipuzkoa province of which San Sebastian is the capital] has a population of around 700,000, so more than 5% of the region is in our stadium."
De Cerio, a former Real Sociedad player, adds that the stadium has "opened up a lot of doors" for the team, which included becoming one of the first clubs in LaLiga to secure a naming rights partner.
The stadium is presently known as the Reale Arena after a deal with the Spanish insurance company Reale Seguros. The firm, a Sociedad sponsor since 2012, agreed a six-year contract to put its name to the venue.
Larzabal reveals that the modernized stadium has attracted a different demographic, with the majority of season ticket holders being young people, while the number of women at games has increased from 18% to 26%, which she believes is due to the experience being "more than just the football."
In her view, the next step is for the stadium to host other events aside from Sociedad games. The Reale Arena has already been selected to stage the semi-final of rugby union's Top 14 competition in 2023 and is among the shortlisted stadiums for Spain's joint 2030 World Cup bid with Portugal. It also previously hosted the UEFA Women's Champions League final in the 2019-20 season.
International growth and digital transformation
Having retired as a professional player at the age of just 30 after an 11-year career – three of which were with Real Sociedad – De Cerio is now focused on his work off the pitch which, as his job title states, is geared towards the growth of the club's brand internationally.
Featuring regularly in Europe and earning eye-catching results like the 1-0 victory over English giants Manchester United at Old Trafford earlier this season will certainly earn Sociedad more recognition outside of Spain.
In what is a strong period in the club's history, the LaLiga side is keen to capitalize on the opportunities this presents.
"We have many local sponsors so our growth commercially has to be international," De Cerio outlines.
"We are building our new strategy with communication, marketing, commercial, and on the sporting side and our growth internationally will go with the sports area. We have to build our commercial agreements and marketing behind this and we are now building everything to grow internationally.
"We're not the biggest club in the world but we're different, we do things in a different way. The markets we want to grow in are North America, Japan (because of young Sociedad player Take Kubo), and Scandinavia."
With the current digital landscape, Sociedad understand the need to have a bigger presence on multiple platforms to increase its global reach.
The club has been on a digital transformation journey for a number of years and believes it is key to developing in this space to attract more international sponsors and fans.
"We started our digital transformation in 2015 and commercially it was something that was essential to try to modernize all the internal and external processes," Larzabal says.
"The digital area is very close to the commercial area because we knew sponsors would develop all their strategies around digital because it was easier to get to the fans individually. It's now easier for us to grow globally because we have everything built digitally."
In an effort to reach new fans, Sociedad was involved in the first-ever live soccer match to be streamed by a major European league on Twitch.
The derby against Bilbao in April 2021 was streamed on the Twitch channels of Gol, the free-to-air channel of the Mediapro agency, LaLiga, and Ibai Llanos, the Spanish internet celebrity, streamer, and esports commentator, and drew over 500,000 views.
"We learned a lot about Twitch so we wanted to see what we could do with that platform," Larzabal explains.
"It was the perfect moment, and it was the first time we broadcast on there. We had to convince the board and president that it's something in the future that will [deliver benefits] because at the beginning you have to invest in the digital space.
"We're very active in this space and we think it's the way forward. It's not something where we're going to have a big jump but we're clear it's something we have to do."
CVC and academy
Sociedad is known for having one of the best academies in Spain, having developed a host of talented players over the years, including the likes of Spain legend Xabi Alonso and French World Cup winner Antoine Griezmann.
With a relatively modest budget, the LaLiga outfit relies heavily on its academy products and has stayed true to a philosophy of developing and bringing through young players.
Sociedad was among the majority of clubs that voted in favor of the league's partnership with CVC, which will see the private equity firm invest a total of €1.99 billion in return for an 8% share of the Spanish top-tier's commercial business.
The club is keen to use the funding to further develop its academy and sporting model, as well as wider areas within its men's and women's teams.
"Our economic model is our academy and we invest money there because it is cheapest for us to invest in our academy and we know how to produce players for the first team," Larzabal says.
"With the CVC investment, a plan that we were going to carry out in six or seven years will be done in three, so investing in the academy is the most important thing we're going to do with the CVC funds.
"We're also going to continue with our technological development, not only for the men's team but also the women. The priority is to have the same technology for both as there isn't as much technology for the women's game compared to the men's and we have to develop this. Developing our facilities, sustainability, growing the women's team, and technology are the key areas we will focus on."
In De Cerio's view, the investment also presents an opportunity to adapt to the changing landscape in the soccer industry.
He believes it will be key for Sociedad to move away from traditional methods of generating revenue and be ahead of the curve in key marketing areas.
"We have to invest in new departments and grow in non-traditional areas because, in Spain, we have an old view of the soccer business, but it's changing very fast and the board nowadays is focused on this change. Projects like CVC present another way to do things faster than we usually do because the changes in the soccer industry sometimes are not easy," he admits.
"We have to be prepared when change is coming and be proactive and not start preparing when the change happens. This gives us a good opportunity to create an international area, invest in digital strategy, and improve on the sporting side.
"It's also an opportunity to increase investment in the new type of needs that we have in the industry. There are still a lot of things to do, we are late in a lot of them, so it's an opportunity to accelerate this."
Image credit: Real Sociedad