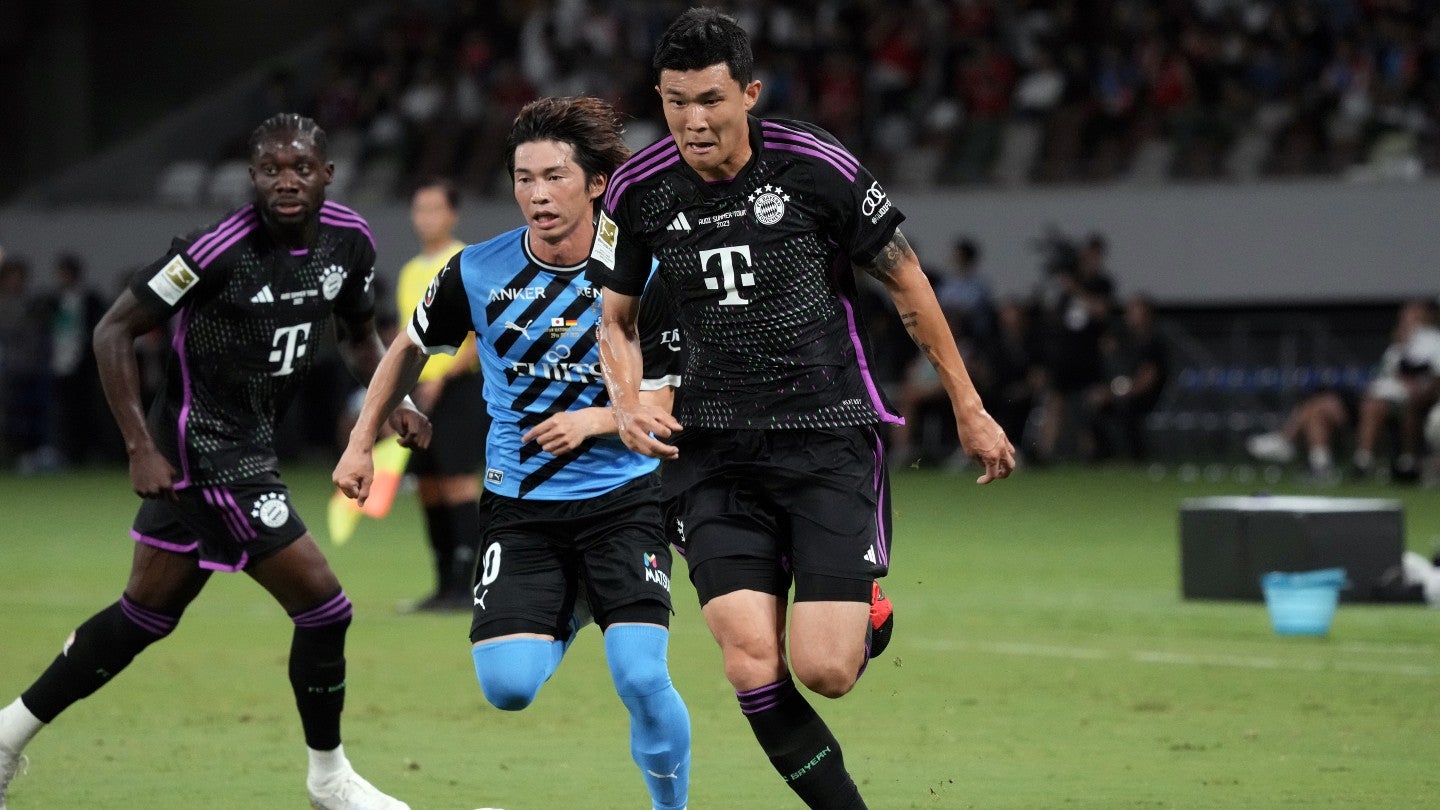 International pre-season tours have become the norm for top European soccer clubs. For German Bundesliga giants Bayern Munich, a trip to the Far East was on the itinerary this summer to tune up for the new season with matches in Japan and Singapore.
Such tours have become commercially lucrative for continental powerhouses such as Bayern, giving them the chance to engage with fans in key global markets and develop a wider audience.
Bayern's three matches in Asia – high-profile fixtures against England's Manchester City and Liverpool, and one against local Japanese outfit Kawasaki Frontale – attracted a total of 160,000 fans.
For the Bundesliga champions, the trips bring in between €2 million ($2.2 million) and €3 million, chief marketing officer Andreas Jung reveals in conversation with GlobalData.
"Our philosophy is always to say we have so many fans worldwide who do not have the chance to see us play, so it's more or less mandatory to [go on] an international tour every year," he outlines.
In the English Premier League, more than half the 20 clubs embarked on global pre-season tours with matches played across several markets including the US, Australia, Asia, and Europe.
The English top-flight stages pre-season tournaments annually and held matches in the US for the first time this summer as part of the inaugural Premier League Summer Series which featured six clubs – Chelsea, Newcastle United, Brighton and Hove Albion, Aston Villa, Fulham, and Brentford.
Meanwhile, Manchester United, Arsenal, and Crystal Palace toured the US as part of a separate series, while Manchester City (Japan and South Korea), Liverpool (Singapore), and Tottenham Hotspur (Australia, Thailand, and Singapore) headed to the Asia-Pacific region.
In comparison, Borussia Dortmund were the only other Bundesliga team to embark on a tour abroad, competing in the US.
Although other German clubs played occasional one-off matches outside of their home market, those lack the commercial benefits, exposure, and additional income that organized tours bring.
Jung believes it shouldn't be down to Germany's top two teams to grow the league globally and urges the German Football League (DFL) to take a leaf out of the Premier League's book and have a more hands-on approach to organizing pre-season tours to increase the league's commercial appeal.
"Bayern and Dortmund are the two biggest brands in the league, but it's not enough because we have 18 clubs," Jung says.
"For these international tours, the most experienced league is the Premier League, and we can learn a lot from them and do it like they do. They achieve much more money and bigger contracts from media rights because they show their product and brands … For only two German clubs to do it, it's not enough.
"It's okay what we are achieving now with two clubs, but there is so much more possible, and this is something I will talk to Peer [Naubert, DFL chief marketing officer] about.
"The level of interest must increase for all the clubs. Smaller teams are not sure if it's a financial risk, but we should discuss every issue openly so that we can improve regarding international trips in the pre-season."
As well as the Premier League, several major clubs from Spain's LaLiga and Italy's Serie A played pre-season matches overseas, which included games between traditional rivals designed to drive interest.
Most notably, Barcelona and Real Madrid faced off in a traditional 'El Clasico' fixture in the US which drew more than 82,000 fans to AT&T Stadium in Dallas, Texas.
To boost internationalization efforts, the Spanish and Italian leagues, as well as France's Ligue 1, also stage their annual Super Cup match or tournament abroad.
In the case of Spain and Italy, their versions of the Super Cup are played in Saudi Arabia and held under a new four-team format to increase interest and revenue.
Now, Jung is keen for the DFL to explore this option.
Speaking to international media ahead of the recent German Super Cup in Munich, he says: "The US is very interesting due to the FIFA World Cup in two years. The Italians play the Super Cup in Saudi, which is also interesting.
"If we play the Super Cup somewhere else and you have a deal and get, for example, a broadcaster from that region for the season, you get more awareness and financially it's also attractive. We should do more friendlies, but maybe also matches like the Super Cup on an international basis."
Despite winning 11 Bundesliga titles in a row and being one of the biggest brands in world soccer, there is a sense of frustration among the Bayern ranks that the league they compete in is not growing internationally at the level of other rival competitions in Europe.
The Bavarian outfit feel that not enough is being done to market the German top-flight internationally and increase its reach.
Jung oversees Bayern's commercial operations and wants the league to think outside the box and explore new methods.
"Clubs like Dortmund are interested in these things to improve, grow, and attract wider audiences," he says. "They are also willing to do new things regarding maybe kick-off times, but you can't convince most fans or people to do that.
"In England, matches are played on Boxing Day [December 26] and there are no other sports on that day. It's focused only on those matches, it's like a Champions League final. The audience that you have and how you can sell the rights for this matchday is incredible. It developed through tradition and it's perfect.
"We have no innovation like this to try something new. There is nothing. Therefore, I think we should have more open minds."
In terms of international marketing efforts, Bayern are focused on two key regions for growth – Asia and North America – with offices in both.
With the 2026 World Cup taking place in the US, Canada, and Mexico, the strategic goal for many top clubs is to grow their footprint in the region and particularly capitalize on the surge in soccer's popularity Stateside.
"We have offices in Shanghai, Bangkok, and New York and we'll discuss and analyze our trip from this year in Asia," Jung explains.
"We had a lot of contacts and are now working to secure new partners. Asia and America are the most attractive for us. Asia with big brands, especially with digital or electronic companies, and then America is getting more interesting because the World Cup is coming closer so the level of interest in soccer is increasing."
The Bundesliga International division of the league also has offices in New York, Singapore, China.
Private equity investment
Jung's call for more Bundesliga teams to play pre-season matches abroad and increase internationalization efforts is an indication that not all German clubs are aligned in their strategies.
This was further evidenced by the recent vote to reject private equity investment in the top two divisions in Germany.
The DFL is seeking to stabilize the financial future of the league and has been exploring investment opportunities.
Clubs in the Bundesliga and second-tier 2. Bundesliga, however, voted to end talks with private equity firms over a potential stake in their media rights business in May.
At that vote, fewer than the required two-thirds of the 36 top-tier clubs across the two divisions opted for the discussions to continue.
There were 20 votes in favor of continuing talks, with 11 clubs voting against and five abstentions. A minimum of 24 votes in favor was required for the talks to progress.
The DFL had received interest from five private equity firms, previously reported as CVC Capital Partners, Blackstone, KKR, EQT, and Advent.
Jung views it as a missed opportunity.
"It was a bit disappointing for everyone," he says. "The preparation was very good but then at the end the decision of the 36 clubs was to reject the investors. This is something, to be honest, I cannot understand.
"The smaller clubs always pressure the DFL to generate more money and sell media rights for higher prices. They have these requests, but their input on the other hand, business-wise, is zero. At this level, that's not okay and therefore it's not easy for the league to find solutions.
"Now, to resume talks with investors would be very difficult because there are top companies who bid and if you go back to them and say let's try again, this is not so easy.
"This is business and financial business, and I cannot imagine that in the coming years, there will be discussions again with the investors. It was a big chance. The investor would be only for the league, not for clubs, this is different but would have more opportunities, but now it's over. It's done."
Despite Jung's assertion, Marc Lenz and Steffen Merkel, the DFL's new joint chief executives (CEO) who took charge in July, have vowed to continue exploring investment opportunities with the clubs.
Prior to Lenz and Merkel taking control, Oliver Leki and Axel Hellmann served as joint CEOs on an interim basis but both left their posts on June 30 as part of the fallout.
"There are a lot of opportunities that both leagues could improve," Jung says. "But this chance [for investment] is unfortunately now not realistic. We must wait. They need to find a way to trust each other again because the situation was strange and I never expected that it would be rejected."
The DFL's plan for private investment into a media rights sales subsidiary would have seen €2 billion paid for a 12.5% stake in the vehicle, which would have been called DFL MediaCo. The entity would have managed and sold the league's broadcast rights for a 20-year period – and taken 12.5% of the profits from those sales.
Of the €2 billion, 40% would have remained with the DFL to help it increase the league's international and digital content efforts. This would have included the creation of a video content platform for a more youthful, international audience.
The other 60% would have gone to the clubs, with a sizeable proportion ring-fenced for infrastructure (meaning it could not have been spent on player transfers).
The distribution method, in terms of how much money went to each club, would have been the same as the Bundesliga's existing format for distributing media rights income.
The proponents of private equity investment have argued that German soccer is being left behind by other major European leagues in terms of overseas media rights values.
The Bundesliga currently receives in the region of €170 million from international broadcasters annually. By comparison, the Premier League is bringing in €6.3 billion between 2022 and 2025, or €1.6 billion annually.
In recent years, Spain's LaLiga and France's Ligue 1 have agreed to investment deals with CVC, giving up equity stakes in their media rights businesses in exchange for significant capital.
Jung again points to the soccer structure in England and how the top two divisions find a way to successfully collaborate despite operating as separate entities.
"I am always looking to England where you have the Premier League and the [second-tier] Championship and they decide everything [separately] but do it in a common way, and it's pretty good," he shares.
"Here [in Germany], you have the first and the second divisions who decide. The second division is always asking for more and I can't understand this request because it costs a lot of money to have a club in the second tier.
"They cannot get more in the distribution system and therefore, for me it looked like a reaction of these clubs to say yes or no to the investor.
"I think they were afraid that by bringing in investors, the distance between the top two leagues would get much wider. It's their opinion, it's their point of view. I think it would have helped both.
"If the Bundesliga gets stronger, it then helps the second division because then they also have more chances to learn from the top flight because all the decisions would be made in a common way. But we don't need to talk any longer about it. Unfortunately, it's done."