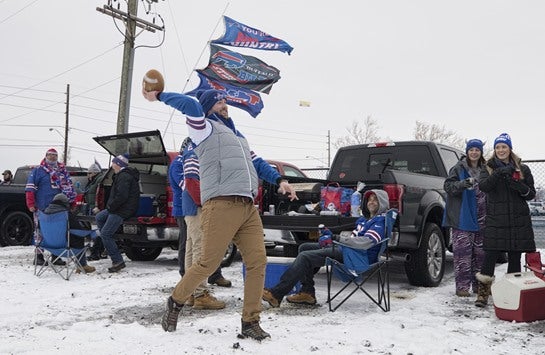 Top soccer leagues such as England's Premier League have much to learn from NFL American football in optimising the event experience they offer to fans and spectators, according to a new report.
Areas for improvement include: the availability of stats and replays; value for money spent; and the food and beverage experience.
The report, 'Optimising the sports event experience: key challenges facing event organisers globally' by Turnkey Intelligence, says that US events are achieving more positive ratings through investment in venues and technology, positioning sports as entertainment, and affordable options.
The report argues:
• Investment in venues and technology: "Huge amounts of money continue to be spent on US stadium technology like videoboards and wi-fi systems. This not only has a direct positive effect on fan experience, but also on sponsorship revenue –by offering brands more assets and opportunities to promote."
• Positioning sports as entertainment: "In the US, sporting events are positioned as entertainment options where the outcome of the game is de-emphasised. This not only attracts a more balanced audience in terms of gender and age than in the UK, but incentivises venue operators to monitor and strive to optimise all elements of the event experience that are under their direct control.
"Venue operators are committed to offering excellent dining experiences built around variety, integration of local restauranteurs or food staples and decadent food items available only in stadiums."
• Affordable options: "US sports marketers don't think twice about breaking season ticket membership into partial season plans and offering discounted packages targeting families and the fans of tomorrow. Fans appreciate the flexible and affordable options they have to experience live sporting events."
The report is based on an online survey conducted in December 2018 in USA, the UK, Brazil and China among sports fans aged 16-64. As part of the survey, sports fans were asked about their perceptions of, and required changes to, events in seven sports: soccer, American football, basketball, tennis, golf, motor sports and rugby.
---
Despite its global popularity, soccer significantly underperforms on food and beverage and venue entry and exit
---
Overall findings were as follows:
1. "Sports events offer a great experience and entertainment value, but fans would like to see improvement in three key areas: sense of value, food and beverage, and ease of entry and exit.
2. "Rugby and basketball events are seen to provide the most value, while motorsports –the least (except in the US).
3. "Among the seven sports in the study, American football is deemed to provide the best food and beverage experience.
4. "Despite its global popularity, soccer significantly underperforms on food and beverage and venue entry and exit.
5. "Comparing the leading sports in the UK and US reveals that soccer in the UK can borrow best practices from American football."
The report identifies three elements that consistently underperform relative to others: value for money, food and beverage experience, and venue ingress/egress.
Value for money spent
The report says: "Rugby and basketball rank at or near the top in all countries on value for money spent. The former enjoys strong perceptions even in non-traditional rugby markets like Brazil, China and the US. For rugby, this is one of several indicators in our study in support of the broad industry excitement recently that it's 'the next big thing'."
This conclusion is apparently borne out by recent news that three global players are jockeying for position over rugby union's international future, after it was revealed that IMG, the international sports and entertainment company, was set to present a £1.75-billion ($2.32-billion) investment proposal to the Six Nations Championship last weekend.
Earlier, it had emerged that Infront, the rival Switzerland-based international sports marketing company owned by Chinese conglomerate Wanda Group, is "the preferred commercial partner" behind World Rugby's highly controversial proposed new Nations Championship.
World Rugby, rugby union's international governing body, said that the new Nations Championship would be "underpinned by a record commercial partnership" with Infront, "guaranteeing almost £5 billion for investment in the sport over an initial 12-year period (of which more than £1.5 billion is guaranteed incremental revenue for the world game)."
This compares with a third alternative plan under consideration by the Six Nations unions in which they stand to profit to the tune of more than £100 million each from a bid by CVC, the private equity firm, to take a stake in the championship.
Returning to the Turnkey Intelligence report, in addition to value for money, basketball is identified as drawing "strong perceptions of entertainment value and overall experience. With long seasons and plenty of games, basketball leagues everywhere offer many affordable opportunities to experience the sport."
Conversely, defined by a generally limited supply of live events at the elite level globally, motor sports "tend to have higher price and be seen as less affordable than sports with many regular season events," the report continues, adding: "When assessing motor sports events' value for money, global motor sports fans likely also factor in the cost of travel and accommodation in order to attend a prominent race in their country or region.
"However, there's a clear difference between the value for money perception of motor sports in the US versus other markets. In the US, where NASCAR dominates, motor sports events provide very good value relative to other sports. The NASCAR race experience usually spans more than a day and is typically affordable. On the other hand, the market leader outside the US, Formula 1, potentially needs to address perceptions of its affordability."
The food and beverage experience
American football and the NFL "have successfully created associations of a positive food and beverage experience relative to other sports – perhaps consumers who follow American football everywhere are aware of the importance of tailgating as a gameday ritual," according to the report.
It continues: "Fans in the US, who are more likely to speak from experience, offer a more moderate assessment of football's F&B experience relative to other sports. Pimm's and strawberries and cream have become part of the Wimbledon experience and this is reflected in scores. A full day event offers a relaxed food and beverage experience and tennis in the UK earns the top ranking locally on this element."
Soccer scored poorly by this measure, according to the report, which says: "Unless visiting concession stands pre-match, fans are likely to face imposing queues at half-time of soccer matches when attempting to get food or drinks. While the sport suffers from a limited 15-minute half-time window to serve thousands, in many parts of the world variety and quality of food at soccer matches is also sub-par.
"Motor sports' F&B experience is also low, but for somewhat different reasons. With no set breaks in racing, fans have to miss some of the action if they want refreshment. This may also be impacted by the fact that racing also often happens in relatively dated venues with modest amenities, or on the roads/streets of a city – with makeshift concession service areas."
Speed of venue entry and exit
Rugby again tops the list with strong scores across all countries, according to the report, which says: "In part these scores may be driven by crowd sizes – aside from international matches, regular rugby venues tend to top out around 20,000 seat capacity in the UK with venues in other countries even smaller. Golf is ranked as a close second on this element, helped by the fact that fans tend to arrive and leave the golf course at different times throughout the day.
"It's no surprise that large crowds cause problems with entry and exit, and globally soccer and motorsports tend to draw well for their events. When considering soccer venues in the four countries in focus, one can identify numerous venues with capacity over 50,000.
"However, low rating may be exacerbated by dated facilities and the widespread culture around soccer games around arriving at kick-off and leaving immediately after the final whistle. Motor sports fans rated the ingress and egress at racing events only slightly better. A Formula 1 grand prix anywhere or big NASCAR races in the U.S. also draw an average attendance of 75,000 for race days."
What can be done?
The report concludes with recommendations under three headings: value, not cost; food and beverages; and ingress and egress.
Value, not cost
• "Experiment with a range of packages – particularly keeping in mind younger fans and families;
• "Add value through access to unique in-venue experiences that support your brand position in the market;
• "Expand entertainment beyond the sport itself for a more rounded, higher value experience."
Food and beverages
• "Utilise POS [point of sale] technology to improve speed of service;
• "Elevate quality of food and beverage and promote this as part of the experience;
• "Increase variety of options and service locations, including mobile vending solutions."
Ingress and egress
• "Incentivise early arrival, for example offering discounted food and beverage prior to start of event;
• "Invest in venue staff training to manage visitor flow on event day;
• "Optimise and adjust directional signage and communication to fans on event day."
The report can be found here.