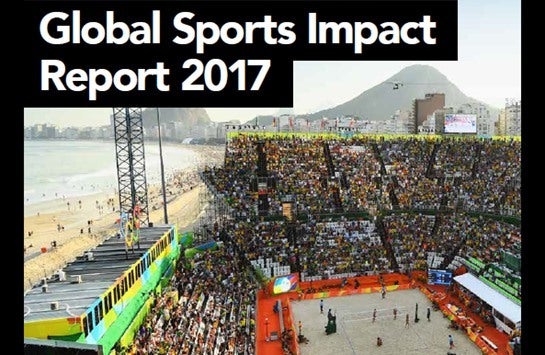 Within its Sporting Impact chapter, GSI Report 2017 has analysed 70 multisport games, world and continental championships that took place in 2016 as well as a selection of some of the world's leading sports properties covering the 2015-16 / 2016 season.
The Sporting Impact chapter explores the emerging trends in sport and includes analysis of:
Athletes and competing nations (2013 – 2016)
Athletes and competing nations (2016)
Domestic vs overseas athletes
Summer vs winter world championships
Athlete gender analysis
Medals analysis
Competition-specific fact files
Sporting Impact
Analysis of competing athletes, nations, event types, and medals performance has provided a broad overview of the sporting landscape in recent years. This analysis also highlights the differences between each year of the Olympic cycle and the progression being made in areas such as gender parity in sport.
The number of female athletes competing at events within the GSI scope of research increased again in 2016. The 50 mixed-gender events analysed experienced a 3-per-cent increase in the number of female athletes competing, compared with events analysed in 2015. At the Olympic Games in Rio 5,059 female athletes participated, the highest ever in an Olympic Games. The 2016 edition of the World Synchronized Skating Championships had the highest percentage of female participation at 96.3 per cent.
A total of 43,164 athletes competed across 70 events studied in this year's GSI dataset. 55.2 per cent of athletes competed in five multisport games, with the 61 world championships accounting for 42.2 per cent of athletes, while the remaining 2.6 per cent of athletes competed across four continental championships.
More than 86 per cent of these athletes (37,242) represented overseas nations at competitions. Attracting a high number of overseas competitors can be an important factor for cities when deciding to bid for and host sporting events, in large part because of the potential tourism benefits for the host city.
This year's report takes in four years of analysis from 2013 through to 2016, including a specific focus on the events of 2016 across a range of topics, including; Event Hosting and Bidding, Economic Impact, Sport Tourism, Sporting Impact and Event Analysis.
Please click here for further information.
About the Global Sports Impact (GSI) Report:
The Global Sports Impact (GSI) Report is a product of the GSI Project and is published annually. The report aims to analyse and benchmarks major events and their impacts using the GSI Methodology.
The GSI Report was first produced in 2015, bringing together data and narrative from major sporting events from the previous year, covering economic, media, sporting and social impact pillars.
For further information about the GSI Report and how to order your copy, email clientservices@sportcal.com or call +44 (0) 20 8944 8786