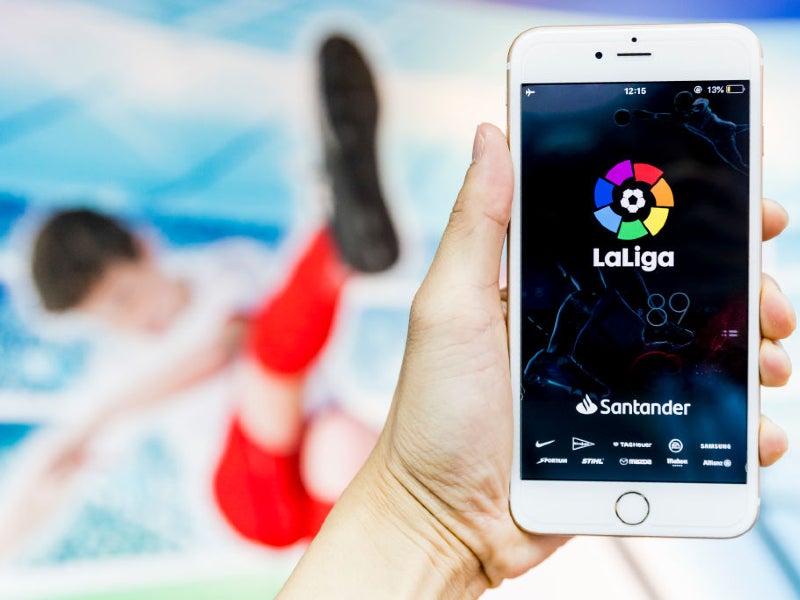 The concept of fan engagement has taken on a life of its own in the modern sports world and, as Tariq Saleh discovers, it has never been more important or rewarding.
Speaking at a conference in London on the eve of the NBA's London fixture back in 2016, commissioner Adam Silver was asked about the potential of virtual reality as a fan engagement tool in sport.
"Probably 99.5 per cent of our fans are never going to have the opportunity to go into an NBA arena, and I think the notion that you can become part of that experience is phenomenal," he replied.
Now during this era of Covid-19 when fans are locked out of venues worldwide, Silver's words resonate stronger than ever.
The significance of fan engagement has increased tenfold.
In this age, the term 'engagement' has developed several meanings. For fans, it is no longer about what they see on the pitch or on the court, it's also what they see off it, and quite often online.
Fans' thirst for more access and content of their favourite teams and players has opened up new commercial opportunities for rights-holders and new ways to monetise their assets.
With the coronavirus pandemic forcing sports to be played behind closed doors, matchday revenues have dried up, which has made it crucial to find new revenue streams to leverage large fan bases.
REACH
Sports fans range far and wide across various geographical locations across the world, so failing to put a strategy in place to engage with them and monetise that fandom should be viewed as a metaphorical own goal in this current age.
"The important factor is authenticity," Alfredo Bermejo, digital strategy director of Spanish soccer's LaLiga, tells GlobalData Sport. "For us, this comes from opening accounts in local languages on local platforms of choice, adapting our content to the requirements of that platform and building content strategies using local market experts.
"We then work with our business intelligence and analytics department to study the data relating to user engagement in order to refine and improve the strategy over time."
For major sports teams and leagues, it's easier to reach fans when they're in the hundreds of millions, but for those with smaller fan bases, the challenge is to attract new ones.
According to Adam Field, head of global fan engagement at English Premier League club Chelsea, big, tier-one clubs typically reach up to 500 million fans around the world.
Speaking at the Digital Transformation Conference in London in 2019, Field outlined how it is "a major challenge to communicate at scale but still have an impact with individuals" but stressed that it's something clubs cannot afford to ignore in this digital era.
The meaning of fan engagement has broadened and it has forced sports properties to do the same in their approach.
"Fan engagement has almost become a term that is so well used that I'm not entirely sure what people mean by it," Charlie Beall, consulting partner at digital sports agency Seven League, tells GlobalData Sport. "What I mean by it, is that you have some kind of two-way relationship with fans.
"Sport has been very good at broadcasting to fans and while there's still a need to do that and put a product in front of them, what we're seeing in media more generally, is that audiences are becoming more accustomed to interactive experiences where they play some kind of role in the experience. Whether that's guiding it, playing it through gaming, or just being part of the discussion around it."
From a broadcast perspective, fan engagement is now about giving the viewer a similar or better experience to watching it in a stadium.
UK pay-TV operator BT Sport is one broadcaster which has regularly looked to enhance the viewing experience since launching in 2013 with technological advancements aimed at increasing its subscriber base.
Its most recent offering came in collaboration with its mobile network EE in October 2020 to create 'Match Day Experience', which includes a function for fans to remotely watch games together.
"Ever since we've launched, we've always tried to put fans in our output," Jamie Hindhaugh, its chief operating officer, explains. "For me, fan engagement is personalisation and it's giving them information that enhances the viewing experience and that's what true engagement means.
"To be able to watch a game and know the speed a player is running at or who's passing to who and where different players are, that's engaging and engages me in the content.
"We're not just looking to roll-out gizmos and gadgets, because you can put a lot under fan engagement, but what we're trying to do is develop products as fans ourselves to enrich that engagement.
"It is prevalent at the moment, you can't go to games with your friends and we're enabling that. You can't be inside the stadium, we're engaging that, so it is true engagement in the way I would define the term."
In the context of fan engagement, a successful two-way relationship generally means fans getting greater access to the content they want and more interactivity, while for rights-holders it's about generating additional revenue and increasing their following.
CONTENT IS KING
In this particular period, content is very much king as it represents the most effective way of engaging with fans. Now more than ever, fans are craving as much content as possible as they can't get up close and personal to their favourite teams and athletes.
Teams, brands and broadcasters alike are all in the same boat and are increasingly looking to engage with fans to increase their reach and revenue. They may be competing for the attention of fans but ultimately need to utilise each other's assets to do so.
Marcus McDonnell, head of production at digital marketing agency FiftyThreeSix, says: "Any sponsor or marketer is going to be looking for content opportunities as a way of connecting with fans and if they connect with fans in the right way they can possibly do business with those fans or convert those fans into customers for themselves at a later point.
"Covid-19 has accelerated these trends and changes a little bit but you'll probably see a lot more money being invested into content opportunities as a means of engaging with fans."
This greater demand for content has seen several sports teams open up their doors to let fans in to see more from behind-the-scenes through trendy sports documentary series, with internet powerhouse Amazon especially bringing it to the forefront.
Amazon's 'All or Nothing' series has proved to be hugely successful and has featured several sports teams such as soccer's Manchester City, Tottenham Hotspur and the Brazil national team, the New Zealand rugby union team, Australia cricket team and a handful of NFL franchises.
The online retail giant has also produced a separate docu-series about Leeds United, while Netflix launched one with English third-tier outfit Sunderland, which particularly made waves globally because of the level of access given to fans.
Amazon recently released its All or Nothing series about Tottenham and featured some of the ways the club internally dealt with the 2019-20 season being disrupted by Covid-19, which provided a unique and timely insight. The nine-part series commanded a lot of attention on social media and proved to be hugely engaging to both Tottenham and non-Tottenham fans.
That attention is likely to lead to more clubs letting the cameras into their facilities as it represents an alternative revenue stream with big companies ready to offer up big bucks to create that content.
Tom Fox, FiftyThreeSix's head of digital, explains: "There's been an explosion of the behind-the-scenes docu-series stemming from [the NFL's] Hard Knocks and going into Sunderland, Leeds and Tottenham now and what they're trying to do is build their global fanbase.
"You feel like you have a connection with that team now and you develop a relationship with the players, key characters and narratives of the whole thing. That's on the club level and can only increase to drive revenue with companies like Amazon coming with big budgets allowing them to do so."
For rights-holders, fan engagement presently sits high in terms of the ways they can increase commercial income.
For many, fan engagement has been a key commercial aspect in their business plans and those who have always placed a degree of importance on it and have digital strategies embedded are likely to come through this period even stronger.
The pandemic has forced the sports industry to get creative and look for new ways to somewhat make up for the loss of matchday revenue.
"One of the central pillars of our team is activation," Jorge de la Vega, LaLiga's commercial and marketing director, says. "Where partners are willing to activate, rather than just rely on visibility, there is a stronger revenue opportunity. We have an expert international team that understands how to build sophisticated activations and create a marketing funnel, insights that we share with partners daily.
"Another advantage is our global network through which we have over 40 delegates on the ground in important markets. Their local insights and connections are invaluable in helping us create better local activations and increase our audience, which in turn increases our value to partners.
"There has naturally been a need to focus more on the experiential side and we have created new opportunities for our partners here. Our non-matchday content is extensive thanks to the work of our digital team, our apps and games, our OTT platform and more."
In the Premier League, for example, just 0.5 per cent of fans experience a match inside the stadium but its global viewership is in the billions. Therefore, the digital space has become key for connecting with all fans and bringing those communities together.
"There's a commercial element and an engagement element," Fox outlines. "They have to keep on trying to add value to the fan base, just because they can't buy a ticket right now or attend a game, it doesn't mean you can't communicate with them and bring value from their club, the athletes or the players themselves.
"On an engagement level, it's about keeping on and continuing to bring good content and from a monetisation and commercial point of view, there are a plethora of different assets such as retail, merchandise, direct-to-consumer, OTT, and it's about putting in the right tools to be able to sell these things and be able to recoup this lost revenue."
The entire sports ecosystem is undoubtedly undergoing a period of change and the big question, at least for the next 12 months, will be how can they make back the money lost and return to a stable financial position?
It's a question ringing in the ears of commercial directors throughout the industry and many will be searching for that lightbulb moment and working closely with their marketing teams to ensure they find the most unique and innovative ways to monetise their assets through alternative means.
"If you look at alternative revenue, one of our strongest beliefs is that sport needs to diversify its revenue," Beall explains. "I think it's got a bit lazy as a whole and become over-reliant on inflated media rights and if those were to go down, it's going to have to have much more of a mix of revenues. So it's going to be a combination of membership, ecommerce, ticketing, sponsorship and media rights and potentially wagering.
"The interesting one of that is going to be the membership piece. Can you get fans to give you micro-payments for certain things, whether it's benefits, access to exclusive content, and what will they and won't they pay for?
"Everybody thinks they can sell content to fans, and yes you can, but there's only certain content that people are prepared to pay for. So it'll be a question of how sports organisations can create bundles of value and then what the monetisation model for those bundles of value will be. Those are problems that are yet to be worked out and that's where it's going."
DATA AND TECH
Within the sports industry, many are increasingly looking towards technology and data to bridge that gap and tap into a wider audience. Professional sport now enjoys a truly global following, so it's only natural that organisations will look to utilise new and emerging technologies.
These include OTT, video-on-demand, augmented reality, virtual reality, wearable technology, artificial intelligence and blockchain, which have opened up new and innovative ways to reach a younger and more digitally-savvy fan base.
A huge trend in the soccer market at present is the use of blockchain-based digital collectibles as a fan engagement tool, which many of the top clubs in Europe have latched on to.
In recent years, several players have emerged within this market including Sorare and Socios.com, which between them have partnerships with the likes of Barcelona, Paris Saint-Germain, Juventus, Atletico Madrid, AS Roma, West Ham United, Belgium's Pro League and Japan's J. League.
Another emerging player in this sector is sports tech company Fantastec, which was founded in 2017 with an aim to "enable ever richer, more rewarding fan experiences" as well as "inventing the future of international sports fan engagement."
Fantastec already has partnerships with Spanish giants Real Madrid and England's Arsenal and are developing an interesting proposition for the sports market after spotting a gap in the market.
"I recognised that fans were just jumping on Twitter, Instagram, Facebook or Snapchat but go a little bit deeper in that data and you'll find out that they want to do a little bit more," Steve Madincea, Fantastec's managing director and founder tells GlobalData Sport. "They want more engagement and more interaction because 99 per cent of them are never coming to a match."
So what value do blockchain-based digital collectibles offer to clubs?
"First and foremost it's an engagement tool for those 99 per cent of fans that are never going to come to a match," Madincea explains. "People are getting tired of just liking a social thing or retweeting it or something, they want to actually engage, that's number one."
"The second is the monetisation aspect, there is a way to monetise these things and the third thing, that is a huge benefit to the clubs, is they get this data direct now and get to control that environment. You're really reaching out to those fans at the top of the funnel with digital collectibles."
Understanding fans and their consumer behaviour is also another key aspect within fan engagement and having this information allows sports properties to target and personalise offerings to maximise the potential of monetising their assets.
Fan data has always been crucial for sports organisations, and it's even more so now that teams cannot engage with fans the way they are used to – in stadiums and arenas. For commercial and marketing teams, it's now easier and more important to measure if you're achieving the levels of engagement you set out.
Data-driven decision-making is almost as vital as anything when it comes to understanding your fan base.
"From the activations and content we already offer, we work with our business intelligence team to study the data about how fans engage in order to refine and improve future activations," de la Vega says. "Many of our partners are very active in these fields and are willing to activate, which means we can all share insights and improve."
US-based location company Gravy Analytics recently launched fan engagement platform, FanVue, which it describes as a data dashboard that provides a comprehensive view of sports fans' real-world behaviour and the brands they engage with.
The company claims that FanVue offers sports franchises data-driven insights on where and how to reach fans, making it easier to guarantee brands a return on their sponsorship investments.
"In the television world, they've been doing this for a long time," Jeff White, Gravy's chief executive, explains. "You watch a sporting event and they know the viewership, they know the exposure and it impacts ad rates so we've just taken that same concept to the sports world so sponsors now can understand if the fans' behaviour changes before and after the event.
"As much transparency and measurability as we can get on behalf of the venue owners and sports teams, the better they can command higher rates and the brands will be more comfortable knowing they haven't wasted their sponsorship dollars."
According to White, data and measurability can provide a win for sports teams, sponsors and fans alike.
"Gone are the days when sponsors are going to blindly hope and pray that their sponsorship opportunities are leading to downstream results," he says. "Before, we had the excuse that it was impossible to measure, but now in an aggregated way we can understand the impacts of those sponsorship opportunities.
"I don't think we're ever putting the toothpaste back in the tube from the ability to create transparency and measurability to the sponsorship opportunities and if they do it right, it should create three wins.
"It creates a win for the consumer, where they have a better relationship and more intimate discussions with brands. It should be a win for the venue owners because they should be able to command higher rates by providing transparency and measurability to their sponsorship efforts, and then the brands can now better target and understand the impact of the dollars that they're spending. So if they do it right, all three parties should win."
So will commercial teams be at a disadvantage if they don't make data-driven decisions in their marketing efforts?
"I believe that's true across the board," White replies. "Those that don't recognise this new era of data-driven consumer impact, they're missing it. For sure they'll be at a disadvantage."
FAN ENGAGEMENT TOOL
With clear opportunities to understand and target fans, there has been a rise in fan engagement tools as start-up companies are continuously spotting a gap in the sports market to support these efforts.
One company which has made a huge splash in this space recently is IQONIQ, a dedicated platform which exclusively targets the sports and entertainment industry.
IQONIQ officially launched its brand at the start of 2020 and was due to go live in the autumn armed with an array of partnerships predominantly across soccer, but also in basketball, handball and motorsports. A tie-up with LaLiga is arguably its most high-profile contract.
IQONIQ's offering has quickly resonated with the sports market as it claims that unlike other digital platforms, it provides a first-of-its-kind unified service with all content features for fans across all sports on one app such as live-streaming, ticketing, gamification, blockchain, club memberships and direct engagement with athletes.
"Looking at it from a rights-holder's point of view, they have all those fans which they say and claim but there is no monetisation, there's no understanding of their fans," IQONIQ's chief executive Kazim Atilla says.
"Who are their real fans? The ones who are coming to the stadium are typically the season ticket holders. They're buying tickets and merchandise. They know those are the fans but that's around the stadium or in their city but if you look at the bigger picture, they don't know who their fans really are and since the GDPR rules came into effect heavily last year, many of them lost their databases. They were forced to clean them up so that is a big impact on the revenue basis.
"By understanding, learning and knowing their fans, they can better understand what they can give to these fans. We've created a platform where they can, through their profile, access many different revenue streams as we have a business which we share with them. Each rights-holder so far likes it."
Another platform where sports properties are increasingly seeking to target fans is Twitch, which has engagement at its core and is a major USP of the international video-streaming service.
Twitch has largely been utilised by US sports leagues, with the likes of the NBA, the NHL and women's soccer's NWSL being active on the platform, as well as UFC.
The popularity of the Amazon-owned platform has gradually filtered into the European sports market, notably in soccer
As a result, Twitch saw an obvious opportunity to expand from its origins of gaming and launched a traditional sports vertical earlier this year and immediately teamed up with Real Madrid, Arsenal, Juventus and PSG, which broadcast on new Twitch channels.
The four clubs began streaming exclusive, interactive content and experiences to their global fan bases.
Twitch worked with Seven League on the launch of the vertical and the soccer club partnerships.
"Twitch has been a real eye-opener for the sports industry because it's a platform with interactivity at its heart," Beall says, who works part-time with the streaming service and is assisting with their sports strategy.
"It has grown massively in scale and usage, particularly in this time but even before that it was growing. Everybody thinks of Twitch as a gaming and esports destination but actually it's a media platform for live interactive experiences.
"It's where people go to be with their community. A creator may be streaming in a very similar sense to how a broadcaster might show a game but the experience on Twitch is very much that while they're doing that, they're talking to the audience. Sport has got a lot to learn from that type of engagement, so when we talk about fan engagement, that's where I see it heading.
"There's an expectation that they are actively doing something while they're using their entertainment time. Sport can definitely take a leaf out of the gaming and live-streaming gaming market to engage its fans further."
LaLiga recently became the first European sports competition to have joined the social media platform by launching an official account. Along with its deal with IQONIQ, the Spanish top-flight has been ramping up its fan engagement efforts in recent months and has frequently embraced innovation and technology in an effort to reach more fans and boost its internationalisation strategy in recent years.
Its strategic plan to reach a wider audience has always focused heavily on digital and technological innovations. The league has also developed a business intelligence and data analytics strategy, launching its Mediacoach platform for in-game analysis, audiovisual production techniques and an OTT platform, LaLigaSportsTV.
Without fans in stadiums, LaLiga has rolled out several broadcast innovations for television and digital coverage, including new graphics using AI and AR, aerial shots using drones and aerial cameras, and 360-degree replay technology.
It also recently teamed up with major electronics brand LG to "improve the fan experience." For LaLiga, the partners it brings on board all serve a strategic purpose.
"These types of partnerships allow us to get closer to fans," de la Vega says. "For many years we have been diversifying our offer to focus on content and experiences that last all week, across the platforms where people are active. Building that type of connection is part of building a stronger association to our brand. Rights holders cannot rely on match content and match days alone to do this."
It's evident that fan engagement is now a key aspect in the sports industry and is embedded in commercial strategies. There are many ways to execute plans around fan interaction but it's fair to say not all of them work.
So who's doing it well?
"The NBA tend to be ahead of the game," Beall says. "As an organisation, they're always prepared to innovate around new technology with their use of VR and AR in broadcasts and their use of innovative platforms like Twitch."
The NBA is certainly the standout sports property which has embraced technology the most and adopted a digital strategy very early. The league has reaped the rewards by increasing its fan base and popularity globally through innovation, which included rolling out VR broadcasts through its League Pass OTT service, something which was largely unchartered territory in the sports world.
After deciding to complete the remainder of its coronavirus-disrupted 2019-20 season inside a 'bubble' without fans at the Walt Disney World resort in Orlando, Florida, the NBA tapped into its digital bag of tricks to find an innovative way to keep fans involved.
The league teamed up with technology powerhouse Microsoft to create virtual 'courtside' fans inside the arenas which was received well and proved to be a relative success.
Simply put, if you don't have a digital strategy to reach your target audience in this climate, you're selling yourself short.
"In 2020, any competition that is not mature in its digital strategy is losing maybe half of its potential audience, a percentage that will only increase with the arrival of new generations that use digital as their go-to for both personal interactions and entertainment," Bermejo warns.
"Fan engagement has always been key to our digital strategy. The understanding we are building from digital fan engagement does not just help our own approach, it helps define how other areas of the business operate, be it broadcasting, marketing or international development.
"Digital has to be able to stand on its own feet, rather than simply echoing what happens within matches. It is the ideal platform for building a deeper understanding of player stories and club histories. We dedicate significant resources to producing content that helps create this more intimate understanding of the league."
With fans unlikely to return to venues in most countries for the foreseeable future, we can expect the sports world to continue to push the boundaries and deliver new meanings for the term fan engagement, as it has very much become a game outside the game and involves millions of players.
A version of this article appears in the latest Insight magazine available at https://sportcal.nridigital.com/sportcal_insight_magazine_dec20/issue_4