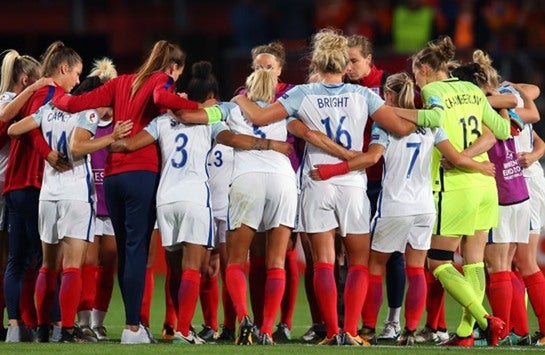 It's been a rollercoaster few months for English soccer's Football Association. A semi-final appearance last August for the women's national team at the 2017 Uefa Women's Euro, the quadrennial European Championships, which was watched by record audiences, was preceded by allegations of racism against the team's now former head coach Mark Sampson.
The Lionesses' bruising 3-0 defeat by host country the Netherlands in the semi-final was followed by weeks of media scrutiny and criticism as more details emerged over the culture surrounding the former coach.
But the association is now looking to bounce back and focus on a new commercial strategy for women's soccer that it launched in March last year.
Heading up that strategy is Marzena Bogdanowicz, the former director of marketing at the British Olympic Association, the UK's national Olympic committee.
The 'Gameplan for Growth' blueprint outlines the FA's commercial plans for the growth of its international women's soccer team and its domestic league, the Women's Super League, and cup competitions, over the next three years.
In a nutshell, it's about marrying the national federation's participation targets with its commercial strategy.
Bogdanowicz explains to Sportcal Insight: "Firstly, when I came in there was just a women's strategy in terms of performance and participation, which was being led by Sue Campbell [the FA's head of women's football]. I came in to look at how we can support that plan with commercial marketing and communication."
The strategy comprises a four-point plan to increase the commercial appeal of women's soccer and thus increase participation. The FA's four targets are to: "change perceptions; raise profile; signpost; and build commercial value."
So far, Bodganowicz is confident that the
FA has helped increase the profile of the Lionesses, as a peak audience of 4
million watched their semi-final in August on Channel 4, the UK commercial
free-to-air broadcaster.
The FA harnessed the success of the women's team at the Euros to launch a series of girls-specific soccer programmes, which Bogdanowicz argues have been extremely successful, given that the association was setting off from a "standing start."
---
We've built engagement on social media platforms. The followers on the Lionesses' Twitter and Instagram have almost doubled
---
"We've built engagement on social media platforms," she says. "The followers on the Lionesses' Twitter and Instagram have almost doubled. Those are the areas where we're seeing there is an appetite. The level of engagement in women's and girl's football is that much greater."
Increased media exposure from the recent
controversy actually helped attract new sponsors, according to Bogdanowicz.
She says: "I think the one thing that surprised me was the level of media coverage and interest in it. Five years ago, would many people have actually listened or written about it as much? No."
Bogdanowicz adds that there were two potential new sponsorship enquiries during the period of heightened exposure and that the FA "will be looking at new deals coming through" this year.
The FA's women's soccer sponsors include long-term partners such as Continental Tyres, SSE, the UK-based energy company, and BT Sport, the UK pay-TV broadcaster, but Bogdanowicz hints that new brands could be coming on board, if they are willing to embark on a "long-term journey" with the association.
The FA is one of several soccer associations to offer separate sponsorship packages for its men's and women's teams, with Uefa, European soccer's governing body, recently announcing that it plans to follow suit.
Bogdanowicz does not rule out signing up sponsors that have been linked to the FA's men's properties, but makes it clear that those companies have to be willing to show a "commitment" to women's soccer, adding: "There's a theory that you have to un-package it and you have to sell it to someone different, but that isn't necessarily what we mean.
"Many brands will come to us and say, 'We want to be equal to men and women, we want to have both'. The difference is that it's not an add-on, it's not, 'here's the men's and then you get the women in for free'.
"If you want the women's game, you have to commit to it and commit a marketing spend, and if you don't want to show that commitment, we will go outside [of the FA's men's soccer sponsors] and offer it to someone that will."
For the FA's domestic women's competitions and clubs, the 'journey' is likely to focus on local sponsors, while the women's national team seeks to find support from national brands that are willing to spend money and help increase the exposure of the game, according to Bogdanowicz.
When pressed on whether the boosted profile of the women's national team will mean that some of the FA's long-term women's soccer partners could face competition for their spots, Bogdanowicz insists that any brand has to align with the association's overall marketing message.
She says: "We're looking at everything, but the exciting thing is bringing in partners that want to go on a long-term journey with us. The potential in the women's and girl's game is huge and we've seen that in terms of the following and fans that are growing. We want someone to come with us on the journey of empowerment. We want a partner to come with us and build that journey.
"Football has the power to make girls active, more so than any other sport because it is such a passion for this country. If we can grab that and use that, that is where the opportunity lies."
Bogdanowicz will now turn her focus towards England's bid to host the 2021 Uefa Women's Euro, which is presently uncontested by any rival bidder.
Last month, Uefa issued details of the bid
process for the tournament and the FA expects to progress with its bid early this
year in a campaign that is set to last eight months.
A successful bid would "help build football across Europe," Bogdanowicz claims.