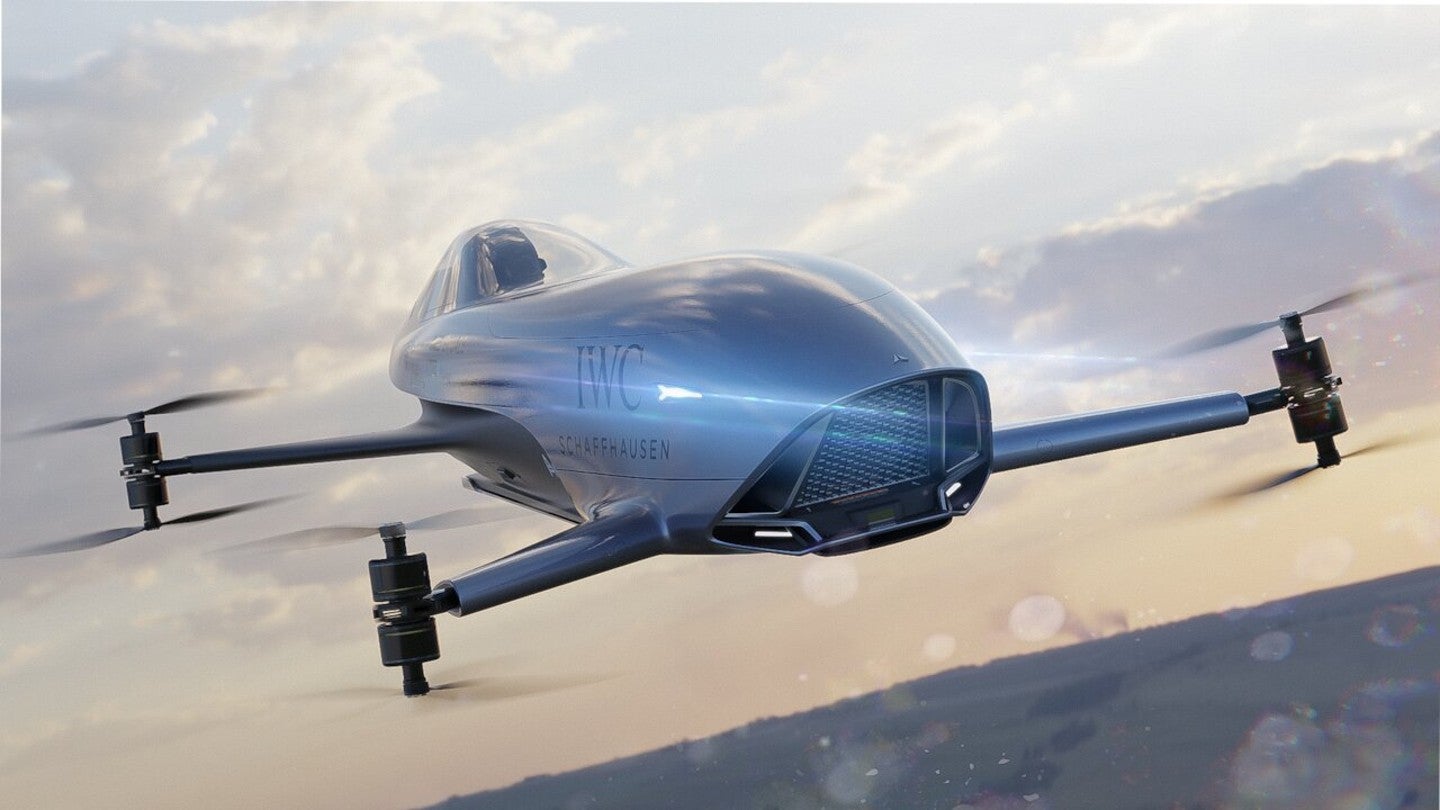 Airspeeder, the flying car racing series described as "Formula One in the sky," has unveiled its first crewed flying racing car, produced by Australian aerospace company Alauda Aeronautics.
While there have been three remote-controlled races so far, crewed racing is currently being trialed behind closed doors, with the first crewed races scheduled for 2024.
The new Airspeeder Mk4 is claimed to be the world's fastest electric vertical take-off and landing (eVTOL) aircraft, with a top speed of 360 kph (225 mph) that can be achieved in 30 seconds from a standing start.
The vision is to deliver "the most exciting and future-focused motorsport on the planet" when elite pilots take to the skies to race on electronically governed racetracks in the skies above some of the most visually striking scenery in the world.
Preparations are well underway, with the sport having already secured Aurora Media Worldwide as its broadcast and digital partner to provide multi-format coverage of Airspeeder events and non-live content.
It has also struck its first media rights partnership with Australian pay-television operator Foxtel, which will air four content series about the sport over the next two years to educate fans ahead of its debut in 2024.
Funding
Speaking to GlobalData Sport, Stephen Sidlo, head of media at Airspeeder, says the series will take a similar approach to the top-tier Formula 1 motor racing series, with elements such as team entry fees.
"We're bringing technical partners on board on that journey because of that opportunity of technical innovation and market size," he says.
"We have big technical powers like Telstra in Australia, Amazon Web Service, or DHL because they want to do technical innovation in our world.
"So, we're funded on the technical side by them, so they come in and they pay to play, they give their technical power, and they get some rights on top of that.
"We're also privately funded by venture capitalists in Australia."
Airspeeder plans to utilize new technology to help provide revenue, especially since it will not feature live audiences at races due to the extreme locations in which the events will be staged, including deserts and the Arctic.
They plan to do this through the use of "mixed reality," both on regular screens and through virtual reality (VR), which they believe will allow for a lot of space for sponsored digital signage.
The tracks will be augmented reality-projected through Unreal Engine, a 3D computer graphics game engine. Airspeeder is also speaking to VR platform Meta Horizons about collaborating on content.
Sidlo believes this new use of this technology will provide a "sandbox environment for large telcos and for large innovators in that space" to find new ways to sponsor events.
Media Rights
In terms of media rights for the sport, Sidlo said that Airspeeder is looking to have the US, UK, and Middle East as core regions, targeting fanbases across esports, science, technology, and motorsports.
Negotiations so far have predominantly taken place within the US market and the sport is aiming to hold races in the region over the next two years as well as secure a broadcast partner.
Sidlo explains that, as the company is coming from a position of "not having a legacy," its content deals include elements that educate viewers on the new sport, rather than simply providing them with live races they don't understand.
As part of its deal struck with Foxtel, the pay-television operator is set to air several content series about Airspeeder over the next two years across its Fox Sport linear channel and Kayo Sports streaming service in Australia.
The content will include highlights from Airspeeder's first-ever race, the EXA Series Race, which was staged in South Australia in October, its Finding Extreme Pilots series, and How to Build a Flying Car series.
All content will be in easily digestible 30-minute programs, with a six-part show on the development of the series, and five-part series looking at finding pilots to compete in the competition.
The inaugural 2022 season race of the Airspeeder EXA series was filmed by sports production company Aurora Media Worldwide, who also executive produced the Road to Flying Car Racing docuseries.
All the shows included in the content partnership are jointly created by the in-house team at Airspeeder and supported by Aurora Media Worldwide.
Pilots and teams
There are three levels of driver. In the first level, there is no entry requirement, the company simply wants users to test the physics of the cars within their simulators, with a particular focus on video game players.
On the second level, are those who will control real flying cars remotely, with experience in either drone racing, motorsport, or the military. One such development pilot is former Formula 1 and Formula E driver Bruno Senna, who is also the series' global ambassador.
On the third level, Airspeeder plans to utilize pilots from the Top Gun program in the US, global air force graduates, and astronauts.
Sidlo explains: "Those that are not just pilots but have a real racing gene, like acrobatic pilots.
"Those that work in highly stressful airborne situations, I think that's the best way of putting it. It's those that can deal with those types of scenarios."
In terms of racing teams, Airspeeder is looking at companies that are already in motorsport or air force manufacturing, believing that they can help develop their technology, such as the batteries, propellers, and motors that the cars use.
Race format and governance
Airspeeder is currently only using remote-controlled cars in races, but they are currently trialing crewed flying in the first and second quarter of this year behind closed doors.
They plan to move into either drag racing or a Guinness World Record attempt for the fastest flying car on Earth, before aiming to be ready for full grand prix racing in the 2024-25 season.
The races will be around 45 minutes long, over three kilometers, with two pitstops for a rapid change of battery. There will be a maximum of 10 cars in the air at once, going between 100 and 300km/h.
In terms of governance, there is currently no regulator for the series, with the company looking to have this in the future, once more of the details of the sport have been ironed out after more testing.
Wider Implications
Sidlo suggests that Airspeeder will have greater implications outside the world of sport, due to Alauda's eVTOL technology.
Sidlo says: "The industry as a whole, on the Alauda side, is worth around $1.5 trillion in the next 10 years.
"So that's the eVTOL, or new aviation market. That's everything from drone delivery systems all the way through to air taxis that many big companies are now building.
"Effectively, we're all moving to this world where there's a new mobility solution, or these new urban mobility solutions coming through the door. And aviation is one of the more sustainable, and cheaper solutions for the common person to travel in."