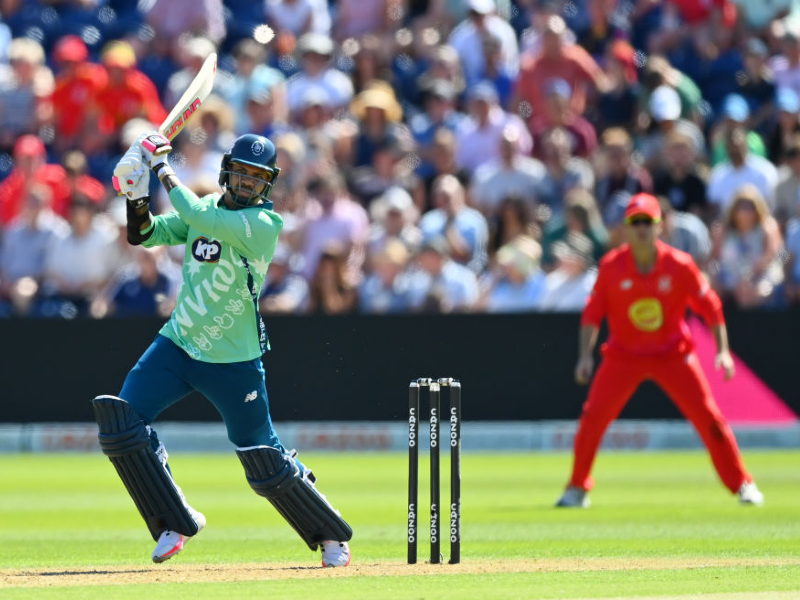 When The Hundred, English cricket's new and controversial short-format domestic competition, launched last year, one of the most prominent off-field developments was the centralization of sponsorship and media rights for the tournament.
The England and Wales Cricket Board (ECB) governing body decided, for reasons outlined in the first part of GlobalData Sport's (GDS) 'Inside The Hundred' special feature, to sell and distribute the tournament's sponsorship slots in-house.
One of the major beneficiaries of this decision, as year two of the competition moves into its second full week, has been KP Snacks, the UK-based snack foods retailer.
That company, in July 2019, was appointed as the official teams' partner for the competition.
Under that deal, which runs through 2025, the firm has allocated one of its brands to each of the tournament's eight city-based franchise sides (both men's and women's squads, so 16 teams overall). These brands are now those teams' front-of-shirt sponsors.
GDS estimates the KP Snacks deal as being worth $970,000 annually to the ECB, and that five partners have more significant financial deals in place this season. A full analysis of The Hundred's sponsorship portfolio from GDS is available here.
The Hundred's principal partner is the online car marketplace Cazoo, while other official sponsors include Vitality, Lifebuoy, Sure, and New Era.
The tie-ups between KP Snacks and the eight teams are as follows: London Spirit with Tyrrells; Oval Invincibles with KP; Southern Brave with Pombear; Welsh Fire with Hula Hoops; Trent Rockets with Skips; Birmingham Phoenix with Butterkist; Manchester Originals with McCoy's; and Northern Superchargers with Popchips.
The partnership has been developed in this way because the ECB holds all-encompassing commercial rights to the tournament – meaning it can allocate partners as it sees fit. This was discussed in the first part of 'Inside The Hundred', through an exclusive interview with Rob Calder, the tournament's commercial director.
In the second part of 'Inside The Hundred', GDS talks exclusively to Kevin McNair, KP Snacks' marketing director, about what was behind the company's decision to take such a prominent role in the new tournament, what sort of market development they are seeking from the association, and the challenges of being a snack foods brand sponsoring a competition trying to attract families and children.
McNair starts off by explaining what KP Snacks was looking for in terms of a sponsorship deal when it partnered up with the ECB.
He says the brand was "looking for something – not necessarily in sports sponsorship – that would lend itself nicely to our portfolio of brands, where they're all in the same category and targeting roughly the same people but have different profiles.
"We'd had discussions previously about sponsoring different soccer teams and competitions – but soccer teams can be quite polarising, and also unless you're paying top dollar then you get lost in the broader array of brands.
"We have seven or eight brands we're focusing on – we wanted something that features all of them in a portfolio, and also something that would be really engaging with families."
These criteria meant KP Snacks discounted some traditional UK sporting teams and properties.
He adds the ECB has been looking to attract a new, urban audience with its partnerships.
McNair says: "There was a really nice fit between what the ECB is trying to do in terms of getting people from all backgrounds into cricket via urban-centric teams … that worked really well for us.
"The ECB was really honest – it knew it needed different brands partnering with it to those which had in the past been traditional cricket sponsors. It's not the 'whiskey, wine, banking, insurance' approach' cricket was taking previously … so this new approach isn't really for the traditionalists.
"The ECB would rather have fewer major relationships than multiple ones [in competing positions].
"There's definitely a focus on family-focused, trusted brands. There's not really a lot of competing space, so they can all play an individual role targeting their own categories."
He says that "the T20 Blast [the incumbent men's domestic short-form competition, launched in 2003] wasn't really appealing to families."
Does he think it would have been technically possible for the ECB to attract similar new brands, and this fabled new audience, through a remodeled, remarketed T20 Blast that had this family-friendly approach at its core?
He says: "If they'd said we want to evolve the T20 Blast to get families into cricket – then possibly we would have been interested, but we would have wanted to see how they planned on doing that.
"That would have been a major rebrand for an existing tournament, but if we felt that it was right, then yes, possibly we would have been interested.
"The ECB would have had to work really, really hard to rebrand an existing tournament, and to convince a non-cricket audience to get into it."
From when CSM Sports and Entertainment, the commercial agency employed by the ECB specifically to identify the right commercial partners for the tournament, got in touch with KP Snacks over three years ago, McNair says the association has been a success.
He says: "This has worked out really well – we're a teams partner, across eight different sides, allowing us to put a different logo on each shirt-front, over a short period where media partners are driving brand awareness.
"Being a shirt sponsor is perfect – people watch the players, they don't watch the perimeter hoardings [another popular form of sports advertising]."
The deal does have contractual get-out clauses, as McNair admits, and what he terms as a "safety net … with break clauses, just like any contract would have."
McNair clarifies that the brand used both art and science to determine which brand would work best for each team. Part of it was purely based on aesthetics, and the look of each brand design with the kits the ECB were working on for each team.
The other part was a detailed analysis of which of their brands needed a boost in each area of England and Wales and then ascribing those products to the respective teams.
In terms of the contract length, he says that "it's a long-term deal because both sides wanted to make a commitment to a longer-term partnership, – we weren't buying rights to an existing property, it wasn't an overnight build-up process."
The marketing director also admits that in the early days of the partnership, there "was a slight wobble on both sides" – several of his colleagues were nervous about the possibility of a tournament that was extremely unpopular in some quarters having a negative effect on their brand, while some at the ECB were apparently concerned around the optics of bringing a snack food supplier in as a sponsor of a tournament aimed largely at families with multiple children.
He says that in order to assuage ECB fears, "we talked to the ECB board about what responsible marketing means to us – we don't advertise to children under 16, we won't be putting the logo on underage kits."
While stressing the point that advertising to young children is not permitted, McNair cannot ignore an incident from April this year, when the UK's advertising standards watchdog banned two promotional campaigns associated with the tournament, for targeting children with junk food.
Messaging from McCoy's and Butterkist was found to have reached under 16's, which was found by the Advertising Standards Authority (ASA) to have breached that regulator's code.
The ASA told the ECB "to ensure that HFSS [foods high in fat, salt, and sugar] product ads were not directed at children through the selection of media or the context in which they appeared."
Two complaints were received by the watchdog concerning the matter – from the Children's Food Campaign and from Food Active.
McNair says: "Ultimately that was a human error – a database where a large proportion of people were under16 was activated by accident.
"We had to hold our hands up – that was wrong and a mistake, and we've now put processes in place so it doesn't happen again."
When the deal was struck, the KP Snacks-ECB tie-up was heavily criticized by UK health campaigners, with childhood obesity numbers currently rising.
In terms of the positive visibility the snacks brand is generating through the tie-up, meanwhile, McNair says the domestic media partners for the tournament – pay-TV heavyweight Sky as the lead partner, alongside the BBC, the UK's public-service broadcaster, covering a small number of fixtures – have been a good combination for commercial sponsors.
He believes "It's worked really well having the action both on the BBC and Sky, getting our brands on channels that most other brands can't activate on.
"The BBC has been very important for us, in terms of getting reach beyond a cricket-specific audience who would be watching on Sky … I don't think the construct would have worked entirely for us if it was just Sky involved.
"We've got metrics to show spontaneous awareness has increased for the brands that participated, and also increased distribution figures.
"Overall we got really good media value, the numbers are phenomenal."
For the first edition last year, he describes the situation as "a perfect storm … it was one of the first live competitions to start after the various lockdowns so people were hungry to go to live sport, and also to watch it."
Another subject discussed, in terms of the future both of the tournament and of KP Snacks' involvement with it, is the possibility of The Hundred becoming a completely franchise-based tournament, with private equity groups controlling each of the eight sides. 
This model is increasingly used in T20 leagues around the world, most notably in the new South African competition set to launch next January, where all six sides are owned by groups who already control teams in the glamorous Indian Premier League tournament.
From KP Snacks' point of view, McNair says: "If the league went franchise-based, as long as The Hundred was still kept fresh and relevant, and was doing what it set out to do, to bring a new audience to cricket …
"If it was still doing that, and going from strength to strength in terms of more and more people watching it, we would continue."
However, he adds: "We'd need to look at 8 different deals in that case – but would that then lead to tribalism, if we get outbid for several of the teams [and had to take lesser branding opportunities]?
"If we just ended up as a non-shirt sponsor, that's probably not where we'd want to be."
On the general subject of what the brand has learned so far as a sponsor of the tournament, McNair suggests that "the lesson we've learned is that there's something really in this – it's about how we work with all partners, from media partners to the ECB to the local teams, to really build a platform …
"We want to create a lasting legacy, this is about more than just putting a logo on a shirt, it's about making sure that in 20 years' time – no matter how involved we are at that point – there are projects in place where it feels like we've helped make them happen."