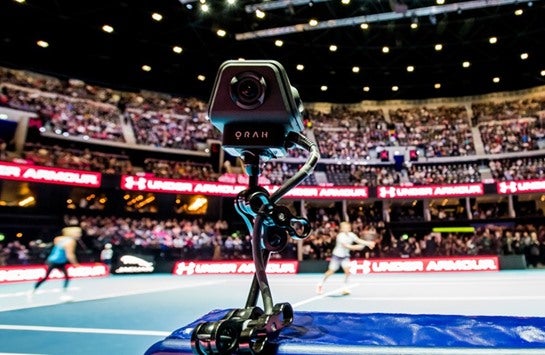 As host broadcaster and pan-European rights-holder for a tennis event returning for the second time to Glasgow's SSE Hydro, Eurosport took the opportunity to test out new broadcast technology following talks with Murray's management team.
Shorn of the restrictions in place at tour events or Grand Slams, the Discovery-owned broadcaster was able to incorporate a net-cam, live 360-degree virtual reality coverage from cameras on the net post and on Federer's chair, and even a micro camera worn by a ball boy.
The results provided the sports broadcaster with more food for thought, as it seeks to incorporate broadcast innovations into its future coverage – be it the main live feed or add-on output designed for a digital audience – and as it firms up technology offerings for its Olympics debut in PyeongChang.
---
"The event was a chance to try things, put the 360 [degree] content out there and see how that helps us build an audience and be aware of what the younger, non pay-TV audience wants to watch"
Peter Hutton, Eurosport's chief executive
---
Adding streams of (relevant) biometric live data is also very much on Eurosport's radar, although initial plans for heart-rate monitors to be worn by one or both players on Tuesday were not achieved.
Peter Hutton, Eurosport's chief executive, tells Sportcal Insight that the event was an ideal showcase to "to try things, put the 360 [degree] content out there and see how that helps us build an audience and be aware of what that younger non-pay TV audience wants to watch."
He adds: "It was a really good chance to experiment, but with the credibility of two of the top players playing a part. You don't want to experiment with something that doesn't feel serious because intrinsically the whole experience gets devalued."
Having offered live VR footage from last year's Vuelta a España on the Eurosport VR app, the broadcaster continued its experiments in the emerging technology with live content from Andy Murray Live on both Facebook and the app.
Eurosport has dabbled in VR at tennis events in the last 18 months, typically showing players' on-court entrances, but the action from Glasgow represented a major step up, with two VR producers on site. Eurosport's Facebook Live VR coverage of Murray-Federer (available here) has attracted 157,000 views since Tuesday, underlining that there is an audience there for the output (even if most viewers will dip in and out and continue to watch the main linear feed).
Hutton is encouraged by the results of Eurosport's VR trials, which began with a 360-degree video of Bode Miller's descent at the Alpine Skiing World Cup event in Beaver Creek, but continues to weigh up the commercial reality.
He notes: "I think the jury's still out. We've done a lot of experiments with it in the last 18 months. It's a really nice way of giving a different experience to an event. The broadcasts have been useful tools as we try and win new fans to a sport and change the Eurosport brand by being associated with new experiences."
But is there a model around live VR or will it remain an
inventive digital plaything to entice millennials?
"The issue is whether there is a longer-term business plan that can really sustain that," Hutton adds. "We've seen a lot of trials where people have tried to give you VR live experiences that show you the game in a different way, and we're not convinced by any of them yet. But there's enough there to say 'let's keep experimenting and investing'."
Hutton is keen to identify how many of the 157,000 Facebook Live viewers do not invest in pay-TV subscriptions and if Eurosport is "hitting new people or just the same people in a different way."
A net-cam was first introduced at the recent Laver Cup, the new teams competition backed by Federer and delivered by Tennis Australia's host broadcast team, and was a valuable addition to the main broadcast feed from Glasgow, showing replays of players volleying at the net. Eurosport is keen to develop such innovations in its own coverage, although it is reliant on the will of the rights-holders.
However, Hutton stresses: "We're working with all four Grand Slams and what impresses me about all of them has been they're open to technical change. You look at Wimbledon's plans to bring in 4K [for example], or the Australian Open trying to innovate. All the Grand Slams are aggressively looking at different ways of making their coverage more relevant.
"It's a good time to be testing out things, as I believe the sport is challenging itself."
The link between tennis and winter sports coverage might not be obvious, but Eurosport will similarly be offering new broadcast innovations around the 2018 winter Olympics as its €1.3-billion European rights contract kicks in. The difference is that the host broadcast will be delivered by OBS, the IOC broadcast subsidiary, although Eurosport is understood to be in talks about whether it can directly host-broadcast certain events at Tokyo 2020.
The 'Eurosport Cube', a state-of-the-art free-standing studio, will be one such innovation, allowing presenters to use augmented and virtual reality to explain the finer details of winter Olympic sports and performances.
"We don't want tools that are just toys, we want them to tell a story and make the sport more accessible," Hutton says. "Good camera angles that get you closer up to the athletes or good analysis to help explain what's happening is the key to making the experience better. That philosophy does connect PyeongChang with what we tried in Scotland."
While biometric data did not end up being overlaid onto the screen for viewers of Andy Murray Live, the addition of data to major sports coverage is a clear priority for Eurosport, and indeed for Hutton, who describes it as "a big part of the future of sports broadcasting."
Eurosport has been working with the USA-based Sports Data Labs about the release of various different types of in-game human data from 'patches.'
"The challenge is how you make it editorially relevant and use that data in real time to tell a story," according to Hutton. "It's a question of making sure the pace is right, the technology works, the athletes are comfortable with it and the production companies can do something useful with it. You feel that momentum is building. To be able to say a player has this amount of glucose in his body at this time as opposed to a commentator saying 'he looks a bit tired' has clearly got to take the story on a bit and make it more accessible."
Despite the will of Eurosport and others to be at the
forefront of displaying sports data to viewers, broadcasters are reliant on
rights-holders or athletes (or sometimes sponsors) to authorise the publication
of data. Cycling is a glaring example of a sport that would be greatly enhanced
by live data, but resistance appears to have slowed any breakthrough.
Hutton remarks: "There's clearly some reluctance on many rights-holders' side but you talk to the individual athletes and they understand that if they're carrying data that's [potentially] part of the TV story, then that will get more exposure for them and their sponsors, and it does make the coverage of the sport better. We're seeing signs of that [resistance] breaking down a bit now."