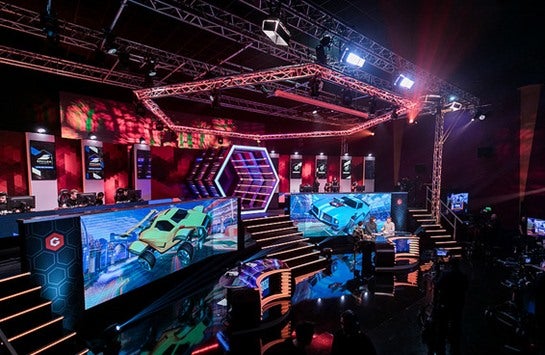 October 1972, Stanford University in California, USA, and a group of students gather to play a game called Spacewar. The group are competing for the chance to win an annual subscription to Rolling Stone magazine in an event that many cite as one of the first competitive video game competitions.
Now fast forward to nearly 50 years later, and a group of teenagers have gathered to play EA Sports' Fifa 18 video game in a cinema in Fulham Broadway in west London.
The competition is the Gfinity Elite Series Season 3 and the prize pool is over £250,000 ($344,000).
The crowd for this opening round of the competition is made up mainly of teenage boys who definitely look more like gamers than athletes.
Judging from the atmosphere and energy, it feels like this is a demographic that is getting its dose of competitive 'sport', a group that perhaps in the past hasn't been able to relate to traditional sports. For some of these gamers, this will be the only soccer they know.
The fact that eSports involves watching other people play video games is quickly forgotten, as the graphics and gameplay of Fifa are so realistic it almost feels like you're just watching soccer in the pub, or at a friend's house.
---
The broadcast is tailored to recreate the traditional sports experience as commentators accompany the contest and pundits preview and analyse the games with former eSports players alongside them
---
The broadcast is tailored to recreate the traditional sports experience as commentators accompany the contest and pundits preview and analyse the games with former eSports players alongside them. A touch screen is even used to break down each goal.
It's a nice introduction to eSports, one that can lure in a semi-enthusiastic video gamer and huge sports fan rather than just a traditional hard-core gamer. Could this be the key to achieving success in eSports, turning niche into mainstream?
Whatever, eSports has come a long way since those college students were playing for magazines, albeit the ages of the individuals playing have more or less remained the same.
Despite a few anomalies, such as Steve 'Undecuva' Allen who at 44-years-old took part in Gfinity's inaugural Street Fighter competition last year, most of eSports' audience and players are part of the 'millennial' demographic- individuals aged between 18 and 35.
Much like the ageing audience problem that television is presently battling with, and which has led us to the emergence of over-the-top platforms and social media streaming, eSports provides a perfect remedy for brands and companies that want to connect with the next generation.
However, eSports can also be a minefield of video game publishers and streamers as well as a highly-critical audience that spends most of its time on the internet. In the world of eSports, authenticity is vital.
Gfinity, a UK-based promoter, is confident that it is providing this "authentic" pathway to a coveted demographic.
The company, part-owned by Pitch International, the international sports marketing agency, has invested heavily in its arena in Fulham which has been kitted out with huge video monitors, Sky Sports-style touch screens and live commentators.
The vision is to provide eSports content that is attractive to a mass audience as well as the hard core gaming community.
---
" It's about how we effectively integrate a brand into content, and make sure it's done in a way that doesn't jar "
\r\n
\r\nMark Brittain, chief commercial officer, Gfinity
---
Mark Brittain, Gfinity's chief commercial officer and an experienced television executive, and Martin Wyatt, the promoter's head of partner relations, spoke to Sportcal Insight about the promoter's plans during the Gfinity Elite Series Season 3 playoffs.
Many consider eSports to be a risk, but Brittain draws on his experience working with Simon Cowell, the well-known pop music and reality TV impresario, to explain the cross over into the world of competitive video gaming.
He says: "I was fortunate to work for Simon Cowell at the peak of his career when Idol and X Factor [the series of TV talent shows in US and UK] were drawing millions of viewers – but underpinning all of that it was about connecting with an audience and selling to a particular demographic.
"The reason I came into eSports is it's the one sector where the core demographic is 16-24, the holy grail for advertisers. What I found really interesting is that plenty of brands are fascinated by eSports and want to learn more but they're also hesitant to dip their toe in the water as it's not something they understand.
"So my job is to create tangible opportunities and break it down in a way brands and agencies can understand, and also creating a package that takes the risk out of eSports. It's about how we effectively integrate a brand into content and make sure it's done in a way that doesn't jar."
Wyatt adds: "What works for us is we're able to translate what money for value looks like. We try to de-risk as much as possible: for example, we work with games that aren't going to cause too much controversy. This season of the Elite Series all the games are quite safe, we don't have any shooting games.
"Also with the production capabilities we can guarantee a level of quality of live content or ancillary content that a brand can hang their hat on. Then, when they start to share it through their social channels no one is going to criticise it for being below par.
"There are examples where brands have tried to own certain parts of the eSports eco-system and there's been a clear lack of advocacy off the back of that. Part of the job that we're trying to do with these brands is get everything executed in the right way so that they are accepted credibly straight away."
---
" We try to de-risk as much as possible: for example, we work with games that aren't going to cause too much controversy. This season of the Elite Series all the games are quite safe, we don't have any shooting games "
\r\n
\r\nMartin Wyatt, head of partner relations, Gfinity
---
Gfinity's 'safe' approach is a logical blueprint for mainstream sports bodies like the International Olympic Committee, which has been flirting with the concept of eSports, beginning earlier this year when 'TOP' sponsor Intel ran an eSports event alongside the winter Olympics in PyeongChang.
As well as providing a platform for sponsors, Gfinity also acts as an event organiser, and last year it handled the debut of Formula 1's eSports project.
The first edition of the Formula 1 eSports Series, which is based on publisher Codemasters' racing simulation game, attracted good audiences across the world, with broadcasts in 123 countries.
The final in Abu Dhabi, which took place on the same weekend as the season-ending grand prix, received a total of 1.8 million video views on Facebook, with 2.8 million minutes watched.
A record linear TV audience also tuned into watch the semi-finals on Sky Sports, the UK pay-TV broadcaster that holds rights to Formula 1.
Gfinity is returning for the second season of Formula 1's eSports competition and Wyatt and Brittain are confident the model will bring more opportunities for the promoter from other rights-holders.
Arguably, the series' most important success was that it attracted new fans to Formula 1, a typically male-dominated sport which has often struggled to attract younger, less affluent audiences.
Wyatt explains: "What's interesting about how the Formula 1 programme turned out is that we had a combination of different populations of people. We had Formula 1 fans watching the broadcast and engaging with the broadcast, and then we had racing video game fans, eSports racing fans and then you just had automotive fans. That was really powerful for us because it showed what the potential is for something like Formula 1."
Last year, a study of Formula 1 fans conducted by sports agency CSM Sport & Entertainment revealed that 75 per cent of fans were in the top economic group (ABC1).
Brittain describes eSports as a logical extension for traditional sports, and not a threat of extinction, saying: "Nobody is in any way suggesting eSports will replace Formula 1 or football but it allows these governing bodies to start legitimate conversations with the fans of tomorrow. Through Fifa there's been a whole of group of people that learnt about players or teams that they never would have heard of.
"This isn't about replacing the core sport it's about complementing. It's about bringing in the fan of tomorrow into the sport.
"The sports that are going to win will be the ones that are brave enough to embrace it and realise that they're going to make mistakes but will make it better. The sports that sit back and wait until something's bullet-proof until they go will get left behind. The danger is that teams are doing their own initiatives, but you need these governing bodies to take the lead."
Not all sports are as lucky as soccer, basketball and motor racing, with direct video game titles to engage with. However, Brittain doesn't think that should stop a sport from getting involved with eSports.
"There is a misconception that a sport has to have a really good video game title to be in eSports", he says, "but that's not the case because you can legitimately run an eSports programme perhaps using a game that isn't necessarily leveraging the core sport.
For Gfnity, and most eSports organisations, media rights and sponsorship are the biggest revenue-drivers. As eSports lives on the internet, linear television deals are scarce.
Earlier this year, Gfinity signed an exclusive deal with Facebook to make the social media site the exclusive streaming partner of the Elite Series. The deal marked a "tent pole" moment for Gfinity, according to Brittain, and a fairly risky one as Gfinity moved away from streaming giant Twitch.
When pressed on whether there is a place for linear television in the eSports world, Brittain and Wyatt stress that the heart of the gaming community is online, albeit some ancillary content is suited to traditional platforms.
Brittain remarks: "We are evolving our distribution strategy. This is a sector that is moving so quickly. For Season 1 and Season 2 we did a combination of Twitch, [online TV channel] BBC Three, [pay-TV's] BT Sport and Eleven Sports and looked at various combinations to reach as wide an audience as possible.
"Our mandate has been about creating content that also appeals to the wider fan. One of the things about Facebook that people don't realise is that there's 800 million connected gamers on the platform and they wouldn't necessarily go to Twitch as their first port of call, they're just very casual gamers.
"One of the big words of eSports is community. When people are watching eSports they're doing so with different devices in their hands and engaging and sharing and talking about that content. We want to be accessible and as widely viewed as possible, but that's not to say we're abandoning any linear strategy at all. It's about finding a linear partner that suits our ambitions. We don't just want our content to be put on at two o'clock in the morning. We want to find a platform that is telling the story with us.
Yet, putting content on at two o'clock in the morning has been successful for some eSports properties. ELeague, the eSports competition launched by Endeavor, the sports and entertainment company formerly known as WME-IMG, and Turner, has regularly attracted viewing figures in the hundreds of thousands for some of its Counter Strike: Global Offensive content that has been shown in the early hours of the morning on Turner's TBS channel.
With lucrative streaming media rights deals now becoming commonplace for some eSports properties, the industry's big players are starting to bring in significant revenue. Twitch paid out $90 million for the global streaming rights (excluding China) to the Overwatch League earlier this year, and it followed this with the acquisition of rights to the inaugural NBA 2K League.
Gfinity's own revenues have soared in the last year. In the final six months of 2017 revenue increased by 103 per cent compared with the same period in 2016. However, the company still posted a loss before tax of £7.7 million ($10.5 million).
Yet Brittain remains positive, saying: "From a commercial point of view there's some key revenue streams, one is media rights and distribution of our content, the second really is sponsorship and commercial partners, the third is teams that are paying a franchise fee to participate and the fourth is, when we license the Elite Series internationally we get revenue back through that.
"The media rights have been the most visible and perhaps actually the most lucrative, and I think that is testament to the investment we've made in production. The fact that we've added the teams that we have and that those teams are paying to participate shows that the model is the correct one and it's only going to grow."