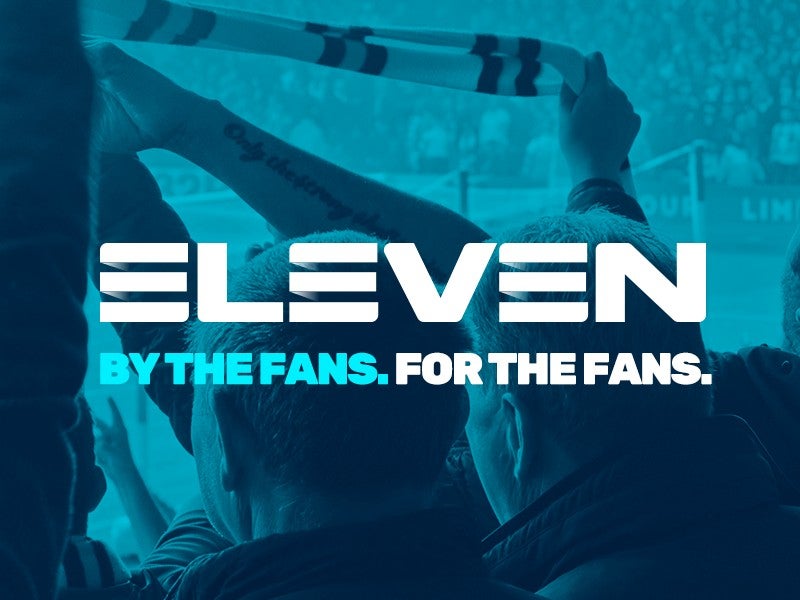 Eleven's Guillaume Collard tells Tariq Saleh how the broadcaster has seen early success from the Pro League rights deal and expanded into new global territories despite the pandemic.
The Covid-19 pandemic presented an unprecedented challenge for sports broadcasters all over the world as major competitions were halted in 2020, affecting existing rights contracts and live coverage.
For international pay-TV subscription broadcaster Eleven Sports, however, the challenge was significantly tougher, with it having begun its biggest domestic media rights deal – with Belgian soccer's Pro League – in the midst of the global health crisis.
Eleven, which launched in Belgium in 2015, began a lucrative five-year contract with the Belgian top-flight at the start of the 2020-21 season and had committed to rolling out a content strategy that included the launch of branded Pro League channels for the first time.
The network vowed to become a "Belgium football hub" by providing dedicated 24/7 content for domestic competitions, having secured rights to the Belgian First Division A, the First Division B, the women's Super League, the Croky Cup, the Belgian Super Cup, and the e-Pro League – the first time a Pro League tender had included all six professional competitions.
In total, Eleven launched six channels (three French and three Dutch) focused on the domestic competitions and partnered with Mediapro and Proximus Media House (PMH), the production arm of the Belgian telecoms firm, to produce the offering.
Guillaume Collard, managing director of Eleven Belgium and Luxembourg and Eleven group chief rights acquisitions and distribution officer, tells GlobalData Sport: "Having been granted the Pro League rights just before Covid and after negotiating the contract, we had to set everything up in the middle of Covid with people stuck at home and within weeks we launched a brand new 24/7 channel.
"In addition to the live games, we are producing about 20 hours of fresh content every week in a very strategic partnership with the league. The Pro League signed a five-year contract for the first time ever, they usually work with a three-year cycle, so it really means that we are into a long-term partnership and we really work as partners."
Eleven's desire to roll out a strong product was enhanced by fans being unable to attend matches in Belgium last season.
The increased number of eyeballs also afforded an opportunity for the broadcaster to build its subscriber base in the country and a return on its €103 million ($115.4 million)-per-season investment in the Belgian properties.
By December 2020, less than six months into the Pro League rights deal, Eleven revealed that more than one in five Belgian households was paying for a subscription.
With spectators back in stadiums this season, Eleven has maintained impressive numbers due to its work in the previous campaign.
In December 2021, Eleven's Pro League coverage reached 1 million viewers for matchday 20 – a viewership record for a pay-TV channel in Belgium.
Overall, Pro League viewership is up 15% for the 2021-22 campaign compared to 2020-21.
"The audience has been very good, more than what we initially thought," Collard admits.
"We launched the dedicated channels and for the first time those channels are officially being measured in terms of audiences, so we didn't really know what to expect.
"More surprisingly, this year, the season started with full capacities and in the year to date, if we compare the same period last season, audiences have increased by 15%.
"Considering stadiums are now back to full capacity, this shows we have really made a difference in terms of the product."
There was also a significant increase in social media engagement, with more than 600 million impressions for Eleven's social content in 2021 (up 30% from 2020).
After securing the rights – under an agreement running through to 2024-25 – Eleven devised a distribution strategy to make the Pro League available across multiple platforms in Belgium.
The pay-TV operator replaced previous rightsholders Telenet, Proximus, and Voo but agreed subsequent carriage deals with the three telecoms firms, as well as Orange and Telesat/TV-Vlaanderen. The package of deals secured 100% linear distribution for the Pro League for the first time.
In addition, Eleven claims to have become the first broadcaster to sell near-live clips to a bank in an agreement with KBC.
Through that deal, fans in Belgium – both KBC customers and non-customers – are able to use KBC Mobile to view goals and highlights during matches with the company launching a new service on its app.
Collard explained that it was part of Eleven's plan to "bring Belgian football to as many fans as possible".
"Our distribution strategy has been very consistent," he says. "Since day one in 2015, the model has been very simple.
"We acquire rights, most of the time on an exclusive basis, and then we sell on a strategy which is called 'agnostic distribution', which basically means that we want to be everywhere. We want to be where the fan is and be as accessible as possible. It's easy to say but it's not so easy to implement.
"Having been established in Belgium since 2015, it gave us the position then to have very strategic partnerships with all distributors in the country. When you acquire such a big contract, the real challenge is to sell and to recoup the investment and make money."
He continues: "The Pro League used to have three distributors but we have managed to, for the live matches, increase this to five and basically by matchday two (in 2020-21), we got full distribution which is very crucial in the market for the business plan and strategy.
"We did that with five distribution platforms and deals with free-to-air channels for highlights magazines and for the cup. We innovated and we should be the first player ever worldwide to have sold the near-live clips to a bank. We also produce a betting show for Bwin so we have very broad international distribution."
OTT focus
Along with the dedicated Pro League channels, Eleven has been focusing on an OTT strategy in Belgium, as well as its wider global business.
Collard stated that OTT is "in the DNA of Eleven" having rolled out a streaming platform and linear channel when it first launched but stressed that "the balance between linear and OTT is very different" depending on the territory.
In Belgium, Eleven also offers coverage of the Pro League on its streaming platform to complement the linear channels, which Collard said is about "following consumer behavior" as the OTT industry is growing in the country.
"What we try to do is have a complementary business model and we see for instance in Belgium that the OTT business has become bigger over time with a big boost thanks to the local league, but what we also see is it's much more complimentary than really cannibalizing the linear business," he explains.
"We do see that linear base is growing vis-à-vis the situation with the three telcos and so we manage thanks to a decent, innovative platform to attract users and fans who in the past were not attracted or maybe went to piracy to watch games."
In addition to the Pro League, Eleven's streaming service offers Spain's top-tier LaLiga, Italy's Serie A, Germany's Bundesliga and France's Ligue 1, as well as US sports including the NFL, NBA, MLS, and mixed martial arts' UFC.
Eleven has taken a flexible approach in terms of pricing its streaming service having recently launched a 'day pass' for consumers unwilling to sign up to monthly or annual subscriptions.
Collard believes this allows the company to be more innovative in terms of content compared to a more rigid structure with linear television.
"An OTT strategy is key and we can expect over the years that the balance between linear and OTT will change and evolve," he says.
"What is also very important is it allows us to produce shorter content, which is then immediately published on that platform that you can watch on demand, which is not really the same way when you are linear."
To broaden its OTT strategy, Eleven acquired international soccer streaming platform MyCujoo in 2020 as part of plans for a truly global network.
MyCujoo's consumer platform was folded into Eleven, with its tech stack used to power a new global Eleven service – which was rebranded as Eleven International.
The global content offering is focused on delivering thousands of hours of niche-premium and longtail football to underserved communities of fans around the world.
The addition of the Eleven International platform gave the group a range of longtail sports rights to go alongside its premium offerings in certain markets such as the UEFA Champions League and top European leagues, Formula 1 motor racing, and North America's major leagues.
"Eleven International is a tech platform and a fantastic asset for us," Collard says.
"As an example, we decided to launch in Asia and within two weeks, we had an OTT platform ready. It's crucial for us to have such an asset. Eleven International has been very successful in broadcasting hours and hours of tier-three, very local content.
"We have been working very hard to acquire new content that we will announce very soon in order to boost that business even more. The beauty of it is we can basically launch in every territory of the world in a few weeks because the platform is there and it allows us to be very close to the sports community which is crucial."
The new global Eleven International OTT service sits alongside Eleven's regional platforms in Belgium, Portugal, Italy, Poland, Taiwan, and Japan, which continue to serve local fans directly with live sport and entertainment.
In Italy, ‍Eleven relaunched its offering in the country within the global streaming platform for the 2021-22 season.
Eleven followed up the MyCujoo acquisition with the purchase of Team Whistle, the New York-based publisher and digital marketing agency, to expand its operations to North America and accelerate the group's plans to create a global sports media destination and B2B offering for rights holders and brands.
Whistle, which launched in 2014 as Whistle Sports, is a creator and distributor of online content that appeals to a younger audience. It claims to have 1,655 distribution channels, 629 million aggregated social media followers, and 4 billion monthly video views.
Eleven said Whistle helps fulfill its mission to "deliver for fans and partners everywhere, across multiple channels."
"Team Whistle is a very complementary asset with the business of Eleven," Collard outlines.
"It is US-centric with the ambition to be deployed all over the world. Over the past few months, we have been growing but furthermore, we have been developing very strategically by acquiring very complementary assets to what we do to be stronger after Covid than before and we did quite well despite the challenges."
Expansion
Despite the natural effects of the pandemic on the business, Eleven identified an opportunity to expand and widen its product offering.
A keen new focus for the company in Southeast Asia and Hong Kong is to provide "local and locally relevant content" to develop a strong presence in specific territories and cater to fans in those markets.
The broadcaster's offering has been available in Thailand and Hong Kong since November 2021, while it launched in Malaysia, Indonesia, Singapore, Brunei, and the Philippines in January 2022.
Eleven has taken an "over-the-top first approach" in all territories across the region and aims to deliver over 2,000 hours of live sport to fans in 2022.
The company's strategy to expand into Southeast Asia came after Fox Sports Asia, the regional sports broadcaster owned by the Disney corporation, shut down its own 18 regional channels last year and exited the market.
Eleven launched in Southeast Asia and Hong Kong with the acquisition of exclusive Asian Football Confederation rights late last year for the 2021-24 cycle.
It recently expanded its portfolio in the market with the additions of Spanish soccer's Copa del Rey, the Japanese T1 Table Tennis League, the Malaysian SPL Sepak Takraw League (STL), European badminton, and a slate of international cricket.
Collard believes developing a strong local offering will allow the broadcaster to have a long-term footing in the region.
"When Fox decided to exit, it obviously opened a lot of doors with a lot of rights coming to market," he explains. "Then you start analyzing what would be available.
"We don't try to copy others. We do what we are good at. We don't want to replace Fox there. We come with our own strategy, which we call a 'glocal strategy'.
"We want to be very strong locally. The AFC is a very good example. It's a very well-known brand internationally but very relevant locally."