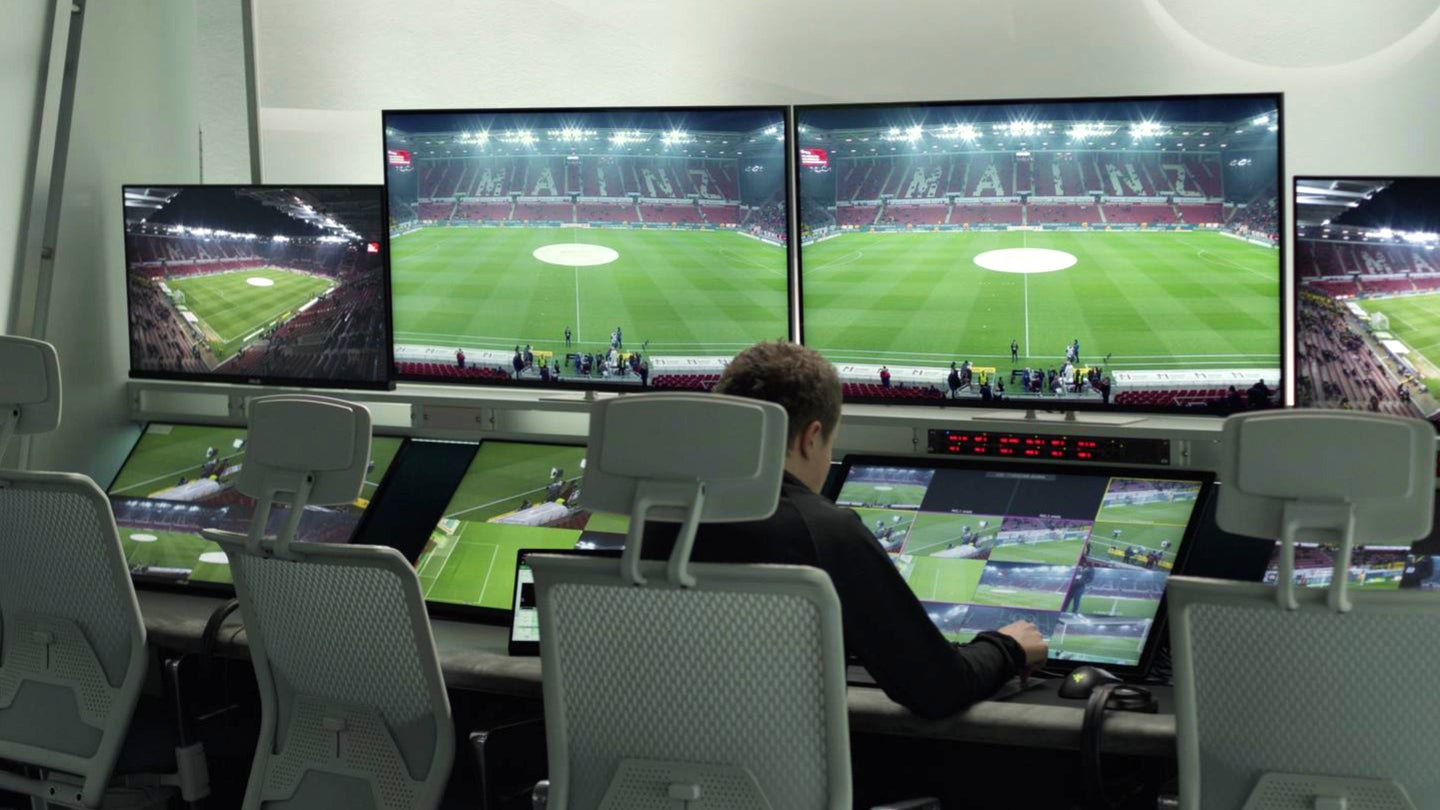 Audiovisual tech services firm Deltatre is a rising force in top-tier soccer leagues.
This time last year, it took a majority shareholding in the Vieww camera systems and technology firm, which produces video assistant referee (VAR) services for Germany's Bundesliga men's top-tier leagues, while, earlier this month, a multi-year data distribution deal with North America's Major League Soccer (MLS) was announced.
That tie-up entails Deltatre, headquartered in Milan but also incorporating a UK division, using its Sportec Solutions subsidiary to handle all aspects of data gathering, collection, storage, and distribution for the 29-team US and Canadian league. It is a major coup for the company, which will work alongside industry leaders IMG and Apple in a new era of MLS broadcast coverage.
As part of Sportec's acquisition of Vieww, which is a joint venture between Deltatre and the German Football League (DFL), a five-year agreement was struck that sees it working alongside the Bundesliga and its TV partners to provide the cameras, systems, and premium technology needed for the operation of VAR across the top two divisions of German soccer.
The Bundesliga's use of VAR contains several innovative aspects unseen elsewhere, and, in general, is considered to be a relatively successful example of how best to utilize the technology.
GlobalData Sport recently visited the facility in Cologne where the Bundesliga's VAR infrastructure is housed.
Through interviews Sportec's managing director Christian Holzer, its director of video solutions (and Vieww's managing director) Tom Janicot, its head of refereeing technologies Lukas Glockner, and Deltare's director of growth and sports data Simon Farrant, meanwhile, Deltatre's desire to work at the intersection of visual technology and top-tier sport is made clear, along with its willingness to tailor solutions and technology to the needs of specifics clients and rightsholders.
Getting to grips with VAR
For Janicot, part of the appeal of working with the Bundesliga is the recognition of it as a hothouse of new technological ideas.
While several other top-tier European soccer leagues bring in outside firms to run their VAR operations, the DFL, in partnership with Deltatre, used Sportec to acquire Vieww and take control of operations.
The DFL's innovation center (pictured) in Cologne is the coalface of the joint venture, where employees from both organizations work together throughout games. Sportec and Vieww personnel operate the remote technology and screens alongside referees (provided by the DFB, German soccer's governing body, but working in this instance for the DFL) making decisions about the on-pitch action.
"The Bundesliga has a very high bar in terms of quality and standards around technology, which is good for us but also challenging," Janicot says.
"We need to make sure we deliver our best service all the time, thinking about all the scenarios where our system could fail and then heading those off."
He adds that, because the DFL has this as such a high priority, "there is a compulsion for us to create a system which works 99.9% of the time. Getting to 98% is relatively achievable, its the remainder which takes plenty of time and effort."
Farrant agrees: "The DFL is a great partner to have. One of their main stated goals is to be an innovative, technology-focused, digital-centric league … their whole approach is really interesting and exciting."
Benefits of collaboration
As Sportec is a joint venture, the DFL is able to retain in-house control over its data and key technology processes while allowing the Vieww side of the business to have more open lines of communication with the German soccer body should issues arise that need resolving.
It also ensures that the DFL keeps ownership of the data and feeds from the 30-plus (and sometimes more) cameras that operate at all Bundesliga venues and can potentially be used for VAR if needed.
Of these cameras, 14 are there for goal-line technology and, Sportec says, operate at 200 frames per second when capturing images.
In short, the model gives the Bundesliga a level of control over its own data that is rare across soccer and means the DFL can use that data however it wants.
Holzer explains the factors that made last year's move a relatively simple one: "The fact we'd already been working in German soccer made the transition easier, for sure. Our ongoing collaborations with the DFB and the DFL meant we were already familiar with the team and the requirements."
From a Sportec point of view, Janicot says: "The organization of our partnership, through the joint venture, makes how we work very transparent, so both parties find it very easy to communicate whenever we encounter challenges."
He adds that "there's no hiding, everyone's on the same page – this alignment of strategy, vision, and purpose is key."
Data, data, data
Holzer, meanwhile, says that the joint venture stems from the DFL "recognizing the need for this ownership [of its data sources] very early because that means they have the freedom to create additional value [through its sale]."
He explains that data is, after all, just another form of content that can – through the right methods – be monetized: "Video content is obviously valuable because it's how everybody watches the game – but data is also content, it might be more difficult and beneath the surface but it's still there.
"You have to create a story around the data and package it, so there are multiple steps between raw data and output that can be valuable – because it's not immediately visible.
"Leagues began taking more and more of this data under their own control a few years ago. It's just a natural consequence after that to want ownership of the whole chain – not only the statistics and data points themselves but also their source."
This message is to be at the core of the Deltatre (now owned by US private equity firm Bain Capital and Italian asset management company Nextalia SGR) and Sportec offering – the desire to assist sports properties with their data and infrastructure, instead of taking it over completely.
Holzer says that, so far, "the feedback we've received [from the Bundesliga] is positive, and there are already discussions taking place around how to proceed further and what's next, how to best develop the system in future."
He notes that one way in which Sportec sets itself apart with its Bundesliga tie-up from other European sports technology operators is the relatively small logistical footprint it leaves.
"These technology solutions need to be as small as possible but also as integrated as possible – in [some other] European soccer leagues for example there are multiple camera systems deployed, and these all have installation costs, running costs," he says.
"We've been able to reduce the logistics necessary to run such a system … enabling us to move some operations to the cloud and keep our physical presence in the stadium relatively minimal."
Glockner tells GlobalData Sport that last year's expansion of its partnership with the DFL "represents a logical next step in the overall approach."
"The DFL produces its own TV signal, and can now enhance that by bringing in a development like this that will enhance our media product," he says.
"The DFL is in a unique position by controlling elemental parts of the value chain."
He adds: "Being on the forefront of exploring our media products and exploring innovation is very important for Sportec and DFL – it's about keeping up with developments in the market and that's also what current and future generations want to see.
"The VAR partnership with Deltatre through Sportec is a world-leading solution, we're confident of that … we have high requirements around precision with VAR, so it's very important to have a world-class product in this department."
Stateside expansion
Holzer says that the MLS tie-up, meanwhile, had been in the works for over a year and was made easier in terms of negotiations by the Bundesliga work Sportec and Deltatre have built up.
He says: "The combination of a global rightsholding tech heavyweight like Apple, with the fact there is a home [men's] FIFA World Cup in the US [with Canada and Mexico] in 2026, should help drive the growth of soccer here even further …
"This is a great opportunity for us to develop even more innovative products and services, using the knowledge we've gathered through working with the Bundesliga to help MLS leverage the Apple partnership.
"The streaming element, through MLS League Pass, is very interesting … the opportunity to break out data clips for use via an interactive streaming solution, either on the main feed or elsewhere in the viewing experience, is a significant proposition."
Related to this aspect of the deal, Deltatre was hired to build the platform for the new sports streaming service Dyn Media.
From the start of the ongoing 2023 MLS, which began at the end of February, every game for the next decade is being shown around the world on the Apple TV streaming service – through the MLS League Pass app – until 2032 in an agreement worth around $2.5 billion, or $250 million per year.
Deltatre and Sportec will also be working alongside IMG Arena, the betting arm of the international sports and entertainment giant that last July was brought in as MLS' official data distribution partner.
The aim is to "create an unprecedented dataset from every MLS, Leagues Cup, and MLS Nextpro match" and will see MLS use 12 4K cameras to capture real-time tracking data from every league stadium.
This information will be stored in the cloud and then made available to both fans (through broadcasts) and MLS coaches. In addition, IMG Arena will distribute the information to media, sports betting, and tech firms worldwide.
With these various partners, Holzer believes they "can play a very small part, potentially, in reinventing how people watch live soccer through this deal – that's something which Apple and MLS will be looking to take on."
In terms of making sure Sportec will be able to cope with the demands for different data sets from various sets of stakeholders – fans, sportsbooks, and a range of broadcast networks – he says the database infrastructure in place "means we can assign content to the most relevant parties, making sure everybody receives specifically what they've requested."
"We've had that workflow in place for several years, it's not dissimilar to what we've done for the Bundesliga in the past," he adds.
The original tie-up between Deltatre and MLS dates back to March 2021, at which point the company was made the league's web technology provider.
What's next?
As for future expansion and growth plans for Deltatre, Holzer believes there is no reason these types of partnerships, with their collaborative characteristics, can't be replicated over the next few years and used elsewhere in the sporting world.
"For sure, that's our plan, to transfer this model elsewhere … working with other leagues and properties to create full ownership of data," he says.
"That was an important point for the Bundesliga, to have control over the whole infrastructure system behind the data.
"That model is definitely of interest to other leagues and that's what we're trying to export."
Deltatre already works, for example, with soccer governing bodies FIFA (global) and UEFA (Europe), as well as with English soccer's top-tier Premier League.
Farrant says that, while soccer is the primary focus right now, largely because of the substantial tech-focused budgets involved, "you could apply these same processes to any other sport in which lots of athletes are running around a pitch."
"We would absolutely consider replicating this joint model in other situations if we find the right partner," he says.
"If other sports want to explore this in the future then it's right to at least have a conversation about it."
For Janicot, past a certain point, it doesn't matter what sport is being considered, which offers plenty of options. He believes the technology could be replicated across a wide portfolio of leagues, federations, and other properties.
"Across other sports, we're open to any opportunities that come in," he says. "A lot of potential clients we've been speaking to have been waiting to see how things have gone with the Bundesliga – could we survive the first half of this [2022-23] season?
"We're now being taken seriously by a lot of big players in the sporting world."