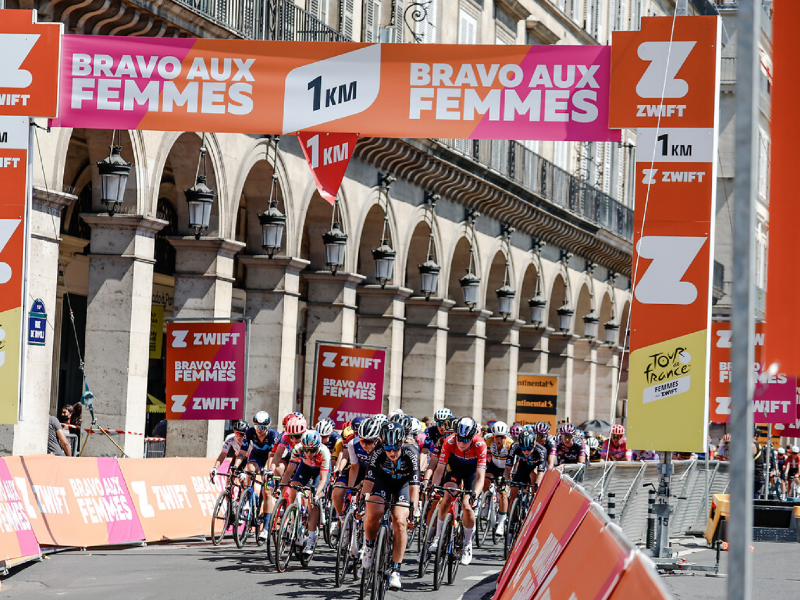 Right now, it feels like everyone connected to sport in a professional capacity is talking about, learning to engage with, and attempting to gain a greater understanding of women's sports.
Governing bodies want to know where they can find more of it to schedule, broadcasters demand high quantities of new, fresh content to put on their screens, and potential sponsors are lining up to associate their brands with it.
Over the last few months, two events in particular from the world of women's sport seem to have caught the imagination – the 2022 UEFA European Women's Football Championship in England, which attracted record television viewing figures for a women's soccer tournament and record attendance figures for a men's or women's Euros, and the return of the women's edition of road cycling's iconic Tour de France (TdF).
That event, which was reinstated to cycling schedules for the first time since 1989 between July 24 and 31 along an eight-stage route in northern France, was title sponsored by Zwift, the US-based online fitness platform.
The 1,029km route of the Tour de France Femmes avec Zwift began at the Eiffel Tower the day after the men's race finished, with the 82km first stage culminating on the Champs-Élysées. The subsequent stages then wound through eastern France before a finale at Planche des Belles Filles.
Zwift took up title sponsorship rights through a four-year deal struck in June last year, with Amaury Sport Organisation (ASO), the promoter and de-facto governing body of the men's TdF.
Now, in an exclusive interview with GlobalData Sport, their director of women's strategy Kate Veronneau explains where she feels the race leaves women's cycling, the effect it must look to have on that sport in a wider sense, and plans for Zwift in terms of its association going forward.
She starts by explaining what brought about the launch of the Tour, after 33 years without a women's TdF.
Verroneau explains that the idea for the project first began to gather pace in 2020, during the height of the Covid-19 pandemic when Zwift and the ASO came together to create a virtual women's TdF alongside a similar men's competition, with riders using equipment in their own homes to record times set on training bikes and thereby complete the stages.
She says "the global audience really reacted to our successful partnership with the virtual TdF two years ago, and to see that reaction to a women's road cycling event really sparked those conversations between us and ASO.
"We worked together on the best format and the options for the timing … and then talked a lot about the prize purse and ensuring that, through bringing in that incentive, that this would be the best modern women's cycling race.
"There were a lot of conversations with ASO, partly negotiations like any other deal, but also taking a good look at the calendar and talking to the teams, essentially getting a place where everybody was excited about the partnership."
The event carried the same branding and symbols as the men's competition and is intended to honor the previous iterations of the women's TdF, which ran from 1984 to 1989.
In terms of how the feels the event went, and how it was received, Verroneau is unashamedly positive: "It was an unprecedented success.
"It was thrilling, it did what we wanted it to in terms of proving that there is a substantial global audience for women's cycling, and from what we've seen the worldwide reaction has been very enthusiastic.
"To come away and know that we've done enough for this to be sustainable long-term, is a brilliant feeling.
"It made a huge splash and was the main event across all cycling that week."
As she points out, however: "It's a bit too late, to be honest, but I'm very happy everything has happened and aligned now."
Zwift has since used the momentum gained from that race and taken that into another women's cycling sponsorship deal. In March this year, it became the presenting partner of the Paris-Roubaix Femmes in a four-year agreement.
In terms of specific factors behind the female TdF being a success, Verroneau says one of the most significant contributors was the deal the ASO struck with the European Broadcasting Union (EBU), the continental coalition of free-to-air broadcasters, in October last year.
This led to Eurosport, the pan-continental broadcaster owned by US media giant Discovery, securing rights to show the women's competition in more than 50 European markets, excluding France itself, for four years.
That deal saw coverage of the Women's TdF available across various Discovery outlets, including its pan-European sports network Eurosport, the Eurosport app, the GCN+ streaming platform of the Global Cycling Network online community, and the discovery+ over-the-top streaming platform.
It covered all of Europe except the host nation itself, where public-service broadcaster France Televisions showed the event.
The EBU also provided race coverage on its own digital platform.
The Zwift director believes: "The key to success for this race is viewership. If people don't tune in and therefore don't turn up, it's hard to make a case for continuing it.
"Having the most eyes on the race as possible is vital in helping unlock future investment and more fan participation.
"The EBU deal was a game-changer. ASO can't shout out the preliminary viewing figures loud enough, they've blown us all away.
"We've been encouraged by the reaction to the broadcast in general, no one's really seen women's cycling like this – the best coverage, the most angles, the way it was captured with multiple motorbikes for example, the best commentators …
"That's all been a huge game changer because we probably had a lot of new fans watching."
Other deals struck included a tie-up in Canada with FloSports, with that deal concluded in November 2021.
Verroneau adds that, in terms of analyzing how to manage the balance between FTA exposure levels and pay-TV financial assistance, "we'll explore the data around similar events and look at what the best way forward is in terms of reaching similar audiences."
Of potential sponsors for future editions of the women's Tour, meanwhile, she notes: "There has to be an authentic interest from brands in the racing itself. We're looking for progressive and smart thinking companies to get behind this because they hopefully recognize that the growth potential for women's cycling far exceeds that of men's right now.
"It's a great investment for anyone considering it. It will be very interesting to see which companies come to the table, and I expect we'll have to turn some away."
Zwift, and indeed the race's other commercial partners, including social fitness app Strava, all signed multi-year deals, a choice which Verroneau said came about because we "recognize that's the best way for this race to become a permanent fixture and for us to help it grow … It remains to be seen which partners and what type of brands want to get involved.
"There's wonderful collaborative energy between the partners, we're all in on the ground level together. Success for this is success for all of us and there is a wonderful camaraderie.
"I'm proud of the brands which signed up first before we knew what kind of a success it was going to be."
"Now, I want to demonstrate how much women's cycling can bring on new sponsors from new spaces, and therefore new audiences. That's what will grow the sport, we're looking at more than just capturing men's cycling fans."
Zwift itself has been active in men's cycling as well recently, late last month adding the 2023 Cycling World Championships to its portfolio after striking an agreement with governing body the International Cycling Union.
Under the agreement, Zwift will become the official virtual fitness platform for the inaugural edition of the quadrennial event, which will take place in Glasgow, Scotland, between August 3 and 13, 2023.
Verroneau says the brand is also planning to raise its women's sport levels of engagement across triathlon, which apart from cycling is Zwift's other primary target sport.
Last August, for example, it signed up to become a sponsor of triathlon's inaugural Collins Cup event.
Speaking generally about the prospect of taking this focus into other sports, she adds: "We're always on the lookout for organizations and sports which are doing their best to shine a light on women athletes and creating opportunities that will make progress towards gender parity.
For other brands considering taking the plunge into either the specific women's TdF, other women's cycling, or indeed women's sport as a whole, meanwhile, Verroneau suggests: "If you are going to pick a moment, it is now – that's what will give us the best chance of having a major impact.
"As much as I'm thrilled with this specific moment, now is the time for us to take the momentum and run with it."
Primarily, she is now excited about the future of women's cycling in general, saying that she envisages the race "is setting the stage for running women's cycling in a new way in the future …
"In the future, I want this race to grow to more stages. I want audiences to be getting through the men's tour and looking forward to the women's. I think the races could be on par in terms of audiences and expectations.
"I see so many of these riders becoming household names, with an accompanying growth in terms of fanbases for teams and riders.
"In terms of achieving the level the men's tour has done in a hundred years, we're going to do that in just a few."