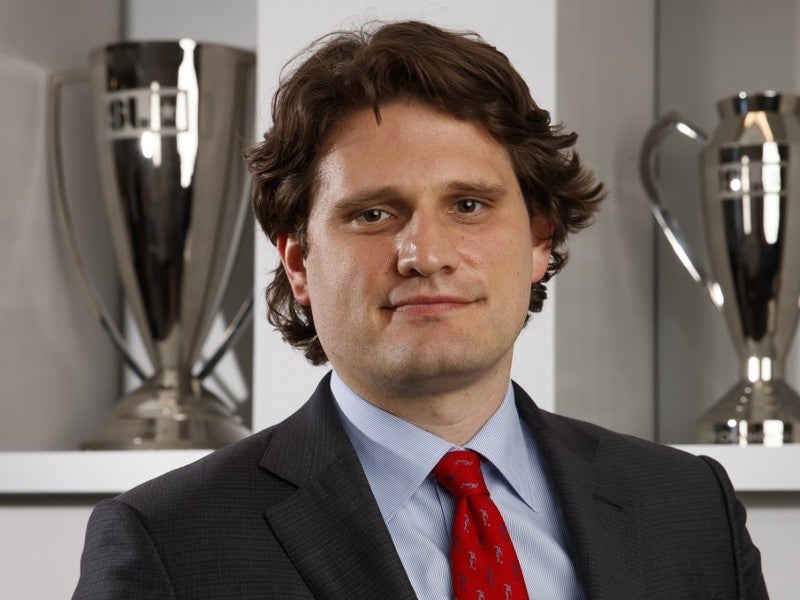 Expansion teams, building stadiums, and boosting fan bases – Justin Papadakis, chief operating officer of the United Soccer League, speaks to Susan Lingeswaran about what's next for the US' soccer pyramid in the run-up to the country's hosting of the FIFA men's World Cup 2026.
A lot has happened since world governing body FIFA awarded hosting rights to its 1994 men's World Cup to the US in 1988.
FIFA hoped that staging the world's most prestigious tournament in one of the world's biggest markets would lead to a growth of interest in the sport in the US. Tapping into all that commercial promise was also at the forefront of the organization's mind five years later when it awarded the country hosting rights to the 1999 edition of the women's World Cup.
Their prescience paid off and the game seemed to enjoy a period of major growth through Major League Soccer (MLS), the new league founded in 1993 as part of the country's successful World Cup bid.
But, while that league flourished and matured into the fifth biggest league in North America behind the 'Big Four' of the NFL, NBA, MLB, and NHL, beneath the surface, not everything was glittering gold.
Building blocks
Almost all attempts at professionalizing the game further down the pyramid in the subsequent years ended in drama and conflict between the alphabet soup of entities and organizations trying to control the lower divisions of the game.
That period saw the United Soccer League (USL), organizer of both professional and amateur soccer leagues, launch, merge, and rename several men's, women's, and youth leagues before a rift with team owners led to the launch and collapse of a breakaway second division, the North American Soccer League (NASL), and with it, several clubs relocate, switch leagues, go on strike, or fold entirely.
However, out of the chaos has now come a nascent league system headed by MLS and the USL, not yet linked by the system of promotion and relegation typical of the game elsewhere but three divisions sanctioned by the United States Soccer Federation (USSF).
Due to its structure, multiple leagues can exist in the same division if sanctioned by USSF, setting the scene for more potential war games as the MLS and USL compete for ownership groups, eyeballs, and sponsorship dollars.
Moreover, FIFA's decision to award the US co-hosting rights, along with Canada and Mexico, to its men's World Cup in 2026 has set a deadline for both leagues to ready themselves for the next surge of interest the event will inevitably bring.
And while MLS, the only sanctioned first division men's league in the US, has been grabbing headlines with its aggressive expansion plans – growing from 10 teams to 28 teams as of the 2022 season, and further increasing to 30 teams by next year – the USL has also been paving the way for the imminent expansion of the multiple leagues they organize.
Rise of the USL
After a series of name changes, league creations, and mergers, the USL began its modern era in 2010 as USL Pro, which merged the USL First Division and USL Second Division. Three years later, a partnership with MLS was announced to enhance the development of professional players in the US.
The USL rebranded its divisions in 2018 to what they are now with the USL Championship, USL League One, and USL League Two representing the second, third, and fourth tiers of soccer in the country below the MLS.
Today, the USL is composed of 27 USL Championship clubs, 11 USL League One teams, and 115 League Two teams. A second-division women's league, the USL Super League, is due to be launched next year with an initial 12 teams.
USL League One, meanwhile, is one of three third division leagues, sharing its status with the National Independent Soccer Association (NISA) and MLS Next Pro – the new league due to start in 2023 comprising MLS, USL Championship, and USL League One reserve sides.
Speaking from the organization's headquarters in Florida, Justin Papadakis, the USL's chief operations officer and chief real estate officer, tells GlobalData Sport his team has used the last five years since the US was announced the co-host of the FIFA men's World Cup to pave the road for their ambitious expansion plans.
"The purpose behind the World Cup in 1994 was to drive the professional side of men's soccer here in the US and we'll be able to build on that again in 2026," he says.
"I think [the growth] will be beyond even the most bullish scenarios. Just in the men's USL Championship, we'll have 35 to 40 teams and the same in League One, but most importantly we'll have around 35 teams in the women's league.
"It's a bit different this time around as we have a dual mandate to building the men's and women's side simultaneously but we looking to have all the new men's sides open and operating by 2026."
For the public, the first they will hear about a new team is when it is being launched and later through an ownership announcement. But, as Papadakis explains, the process of establishing a new team in a USL league starts years before that.
"Over the next 18 months you'll start to see the announcements rolling about new teams being launched and that's because if we want them operating in 2026, there's the time and complexity we need to establish them," he says.
"There are so many elements beyond just the money – it's getting zoning approval, it's getting buy-in from the community, having a stadium that drives traffic, and all other dynamics that are unique to a stadium.
"That's what we've been focused on for the past five years – we're working in more than 40 [state] markets identifying the land to build on, relationships with stakeholders, and ultimately getting those sites zone and approved before we bring in an ownership group.
"The fun part of owning a professional sports team is not going through zoning hearings, it's trying to win championships, so we have a fantastic team here that will get us to a point where shovels are in the ground."
The USL's latest development was announced earlier this month with the Tidewater Landing development breaking ground on a riverfront soccer-specific stadium that will house the USL's 2024 expansion club in Pawtucket, Rhode Island.
The stadium, which is set to be completed in Spring 2024 and seat 10,500, is one of 16 soccer-specific stadium projects across the USL, and one in five current stadium projects under construction in the USL Championship and USL League One.
The Rhode Island soccer club, whose name is yet to be unveiled, plans to begin to play in the USL Championship alongside fellow northeast clubs Hartford Athletic and Pittsburgh Riverhounds SC.
Also soon to be added to the USL Championship will be a New Orleans team, which the league plans to launch by 2025. Warren Smith and Jamie Guin, whose company, USL Nola, has the rights to develop the team, say they have had talks about several potential sites, including a newly built stadium in the River District.
On the West Coast, meanwhile, the USL League One has introduced the Santa Barbara Sky FC as its newest expansion club. The team, which is led by former Liverpool FC chief executive Peter Moore, is due to begin playing in 2024.
The long game
While the building of a new stadium and surrounding developments may seem like a huge undertaking, the USL's strategy has now switched from establishing individual teams with individual stadiums to clubs with men's, women's, and academy sides, making it more economically viable for investors.
"The core part of our thesis is building these stadiums that are multi-use, that men and women can both play in because it doesn't make environmental or financial sense to build two stadiums and training grounds – there isn't the land opportunity either," says Papadakis
"It makes investment sense too because, with the value of women's sports growing and the fan demand that is coming with it, it's what our investors and corporate partners want too.
"It's been an education process here in the US compared to Europe because over there [in Europe] they are called football clubs because there are more than one team – there's a men's team, a women's team, a reserve teams, and academy teams."
With no relegation and promotion between leagues, Papadakis explains new teams are generally placed in leagues according to population size, with cities that have over two million playing in the Championship and cities under that number placed in League One. However, that may change in the future as the league structure develops.
"We are looking at and having discussions with our ownership groups about the possibility of promotion and relegation and how those mechanisms will work.
"Our strategy at the moment is to get the leagues established, stadiums built, fanbases developed, and then build those regional rivalries between Championship and League One which will get us to a point where we can start having that discussion on implementing a true kind of promotion/relegation structure."
The possibility of promotion and relegation will set it aside from other sports pyramids in the US, which generally do not have that kind of structure as owners remain keen to safeguard their investments. MLS has so far ruled out any possibility of promotion or relegation.
When it comes to attracting owners and investors to their projects, Papadakis says the USL prefers to have groups who care about the community they will be investing into, including local business owners and celebrities who can add to the economy through their projects.
The most successful American soccer player in history Landon Donovan, the US men's national team's (USMNT) joint all-time leading scorer (57 goals) and MLS star, is a co-owner, executive vice president of soccer operations, and head coach of San Diego Loyal SC, which was awarded an expansion franchise in the USL Championship in 2019.
Donovan's former USMNT teammate Tim Howard, meanwhile, is a minority owner and sporting director for Memphis 901 FC, which began playing in the USL Championship in 2019. DaMarcus Beasly, another former USMNT teammate is part of an ownership group that has brought a USL League organization to his hometown of Fort Wayne, Indiana.
"I think celebrities, whether they'd be national or local, have powers. However, the core part of a successful team is having individuals who really care about their community and so we like local investors," Papadakis says.
"We want owners who view this as an investment. It isn't a yacht or a luxury purchase, so they must believe in that long-time thesis. It's an investment, but a one we have a strong record in, and the bottom line is that it adds economic impact to their community."
Commercial potential
With soccer being a relatively new disruptor to the traditional four big leagues – basketball, American football, ice hockey, and baseball – it makes sense that many investors have been those that have worked within the industry like Donovan and Howard.
However, with the popularity of men's and women's soccer soaring in the country, Papadakis says the conversations have become easier, with potential partners already convinced of its economic potential.
"When we first started having conversations with city county and state partners, the questions were 'Is soccer investable?' and 'Is soccer something that the city or county wants to invest in for their community?' and excitingly now, a lot of our conversations have turned to enthusiasm for the women's game especially," he says.
"We've jumped that hurdle now and rarely do we ever get those kinds of questions, so it shows the progress that we've made here in the US in a relatively short space of time with the men's and women's game.
"A lot of those questions around sponsorship gaps between men's and women's sports weren't comparing apples to apples anyway. If you take away the [NFL's] Dallas Cowboy's AT&T Stadium and put them in a high school stadium, take away the structural revenue streams around the league itself and all that pomp and circumstance, that would significantly limit their commercial potential.
"Now we can put these amazing women athletes in quality facilities we can see, given the opportunity to play in a great fan experience environment, they can draw the same attendance, same sponsorship dollars, the same media revenue, and same viewership too.
"So, building out that foundation we believe first is key to bringing in the big commercial deals.
"That's why location is so important, and when we think about adding not only a stadium but a stadium development that has bars, restaurants, we can think about the entire fan journey from pregame to in-game, to post-game."
The organization has boosted its commercial activity, establishing a business presence in New York City earlier this year and beefing up its broadcast and media presence with the launch of a new media group under industry veteran Michael Cohen.
Cohen, who advised the USL on its broadcast deal with ESPN, will oversee live match production, media partnerships, distribution strategy, and premium content, including docuseries, feature shorts, and panel shows.
The organization also secured a partnership with the international sports marketing agency Sportfive to support the league's international expansion and media distribution efforts.
The USL's domestic broadcast deal with international sports media giant ESPN running to the end of 2022 sees ESPN show over 700 games per season from the USL Championship and USL League One.
Last year, the broadcaster also agreed a new deal to show USL action in 55 different territories, extending to over 58 million linear TV homes, and 46 million digital homes, across South and Central America, and the Caribbean until the end of the 2024 USL campaign.
In August last year, Sportfive brokered a deal – USL's first overseas – between the league and Flow Sports, a Caribbean pay-TV operator, running to the end of the 2022 campaign.
Last November, German sportswear giant Puma signed up as a USL sponsor, in a three-year deal brokered by consulting firm Premier Partnerships.
However, the USL's biggest commercial deal so far came in June when it signed a 10-year partnership deal with premium experiences company Legends to push "the next evolution" of the league's business.
Under that deal, Legends will increase national sponsorship sales, provide fan insights, and find innovative business solutions for the USL's men's and women's soccer teams, including the Championship, Super League, and League One.
Legends will also assist USL clubs to boost their local presence and business growth through stadium planning, development and operations, ticketing strategy, stadium naming rights sales, merchandise, and technology and digital solutions.
With buy-in from broadcasters and a slew of corporate partners helping to build out the league, Papadakis says the focus of the organization is now building out fanbases that will ensure the growth will continue.
"Our strategy on commercial and media growth is very simple and that is to build fan bases. If you build quality fanbases in the 70-plus markets and you add in women's sides on top of that, you can have hundreds of passionate supporters and the media deals, the commercial deals will follow," he says.
"Those passionate supporters watch the game, they come to games, they bring friends, they buy products associated with brands that they care about. We know the media deals and sponsorship deals will take care of themselves once we have the viewership.
"Our long-term partnership with Legends happened because they saw those passionate fan bases that we're developing and for us, it's really about connecting with brands that believe in our mission."
Onwards and upwards
Last year, MLS announced the official launch of its third division league, MLS Next Pro, which began this year with 21 teams, 20 of them being MLS reserve sides and another eight slated to join next year.
Considering that a significant number of these teams will be leaving the USL for MLS Next Pro, you would think it would not be a happy ending to a partnership between the two organizations that has been in place since 2013.
However, so far, USL leadership has taken the stance of viewing the ending of the partnership as a unique opportunity to establish its own distinct identity apart from the MLS, with its goal of a promotion and relegation model.
USL president Jake Edwards even proposed a major change in the league's schedule to coincide with the European calendar as a way of better aligning itself with the international transfer market.
For Papadakis, in a country as big as the US, there is room for both leagues to exist harmoniously, and the launch of MLS Next Pro, while technically in the same division as its League One, isn't comparable in terms of fan bases and commercial opportunities.
"Next Pro is a very different type of league to ours [League One] and more comparable to the Premier League reserve sides that play each other," he explains.
"Largely speaking, they don't sell tickets, they don't sell sponsorships, the games aren't nationally broadcast, and they essentially play in behind closed doors environments as they are focused on player development whereas our USL teams are building $100-million to $1-billion stadiums and on any given weekend, we can have teams that draw more fans than the MLS.
"We've also been able to show that off and on the field that we are very competitive with the MLS through our interleague competition the Open Cup. Next month, we'll have the final between a USL Championship team and an MLS team, and even though their budgets are much higher, we can compete and win."
The Open Cup, the oldest soccer knockout cup competition in the US, is played between leagues sanctioned by the USSF – MLS, USL Championship, ULS League One, and the National Independent Soccer Association (NISA), as well as amateur clubs that qualify through their leagues.
This tournament was played for the first time since 2020 due to the Covid-19 pandemic, starting on March 22. The final, to be played on September 7, will be played between MLS' Orlando City SC and USL Championship side Sacramento Republic FC.
This year's final will be broadcast domestically by ESPN as part of a four-year agreement between the broadcaster and US Soccer. Turner Sport and Bleacher Report have secured the rights from next year.
The cup final will set the stage for a showdown between the two organizations that US media have dubbed "SoccerWars" and will be keenly watched by commentators eager to expose the closing or widening gap between the leagues.
But for now, Papadakis says their plans will be to focus on building out their leagues as a different prospect to MLS and the first division National Women's Soccer League.
"That gap, because of the stadiums we are building and revenue we are generating will continue to decrease, which is exciting," he says.
"It's a really exciting time in our sports industry, where we can also finally have that parity between the men's and women's game on a large scale. It's all to play for."
The 2022 USL Championship season started on March 12 and is due to end on October 15.