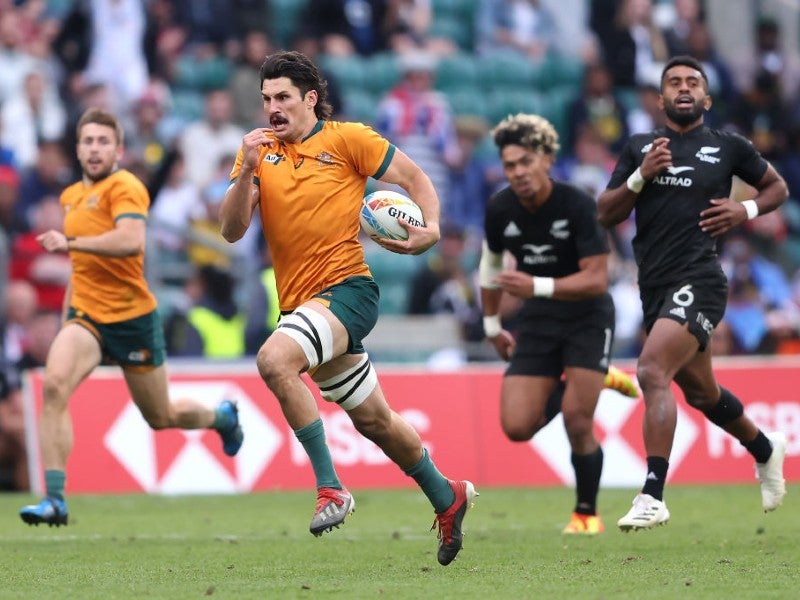 World Rugby, rugby union's global governing body, has announced a revamp of its Sevens World Series, the popular annual series of tournaments for the seven-a-side game, that will see the competition transformed into a sports entertainment brand with equal men's and women's tournaments.
The series will now feature seven festival-style events in seven destinations across seven months beginning in December 2023. All seven rounds will feature combined men's and women's events.
The men's series has been reduced from 16 to 12 teams, while the women's series will have an equal 12 teams. Both men's and women's teams will also receive equal participation fees, with a 70% increase in the governing body's investment.
An annual grand final event will be staged in the seventh round of the series, which will see the top eight ranked teams after six rounds compete to become series champions. The teams ranked ninth to 12 will join the top four teams from the Challenger Series in a play-off competition, with four teams qualifying for the next edition of the Seven World Series.
The four unsuccessful teams from the playoff will compete in regional tournaments to qualify for the next Challenger Series, which will feature 12 men's and 12 women's teams in the second tier of international rugby sevens.
World Rugby chief executive Alan Gilpin said: "The reimagined Sevens World Series will be a game-changer for the global growth of the game.
"Research insights have demonstrated that sevens plays a vital role in reaching and engaging new rugby fans, particularly in emerging rugby nations and with younger audiences.
"Moving to full gender parity between the men's and women's Series reflects not just our commitment to accelerating the women's game, but also recognition of the powerful personalities who are inspiring a new generation of fans across the globe."
World Rugby's new events arm, World Rugby EventsCo, will adopt greater responsibility for events alongside host organizations in a bid to attract a younger and more diverse global fan base and generate more revenues.
The revamp of the series comes after a widespread consultation process involving representatives from participating teams, existing tournament hosts, player welfare representatives, and fans.
Media and sponsorship rights will be sold and managed by World Rugby's in-house business development and account management teams.
Media rights to the World Rugby Seven Series are sold by international sports marketing agency IMG in Europe (excluding the UK and Ireland), the Middle East and North Africa, the APAC region (excluding Oceania), and Latin America.
World Rugby said there has been "unprecedented" interest from cities wishing to stage the series' and discussions with potential hosts were ongoing.
The governing body said it will announce more details over the coming months, including hosts, competition dates, and a new brand identity. The first edition of the new series is set to run from December 2023 to June 2024.
Richard Heaselgrave, World Rugby chief revenue and fan engagement officer, said: "The simple aim of the remodeled series is to grow the game by reaching more fans, generating greater revenues to reinvest in performance, and deliver bigger, better, and more engaging and entertaining event experiences for fans in the stadium, interacting online or watching on broadcast around the world.
"We will continue to build the series into a global sports and entertainment brand by widening our event experience offering. The series has a great opportunity to develop world-class events that integrate top-level sport, live music, culinary experiences, retail, art, culture, and mass participation, providing fans with the flexibility to watch, play, and engage across a range of event experiences."
The 2023 World Rugby Sevens Series started earlier this month, featuring 11 men's events and seven women's events. It will be the first time since 2020 that rounds will be staged in Australia, New Zealand, and Hong Kong due to the coronavirus pandemic.
The men's series began in Hong Kong from November 4 to 6, while the women's series starts in Dubai from December 2 to 3.
Dubai will be the first of four consecutive and seven total joint men's and women's rounds.
The final women's round of the series will be held in France from May 12 to 14, 2023, while the men's series will wrap up a week later from May 20 to 21, 2023, in London, UK.
Image: Warren Little/Getty Images