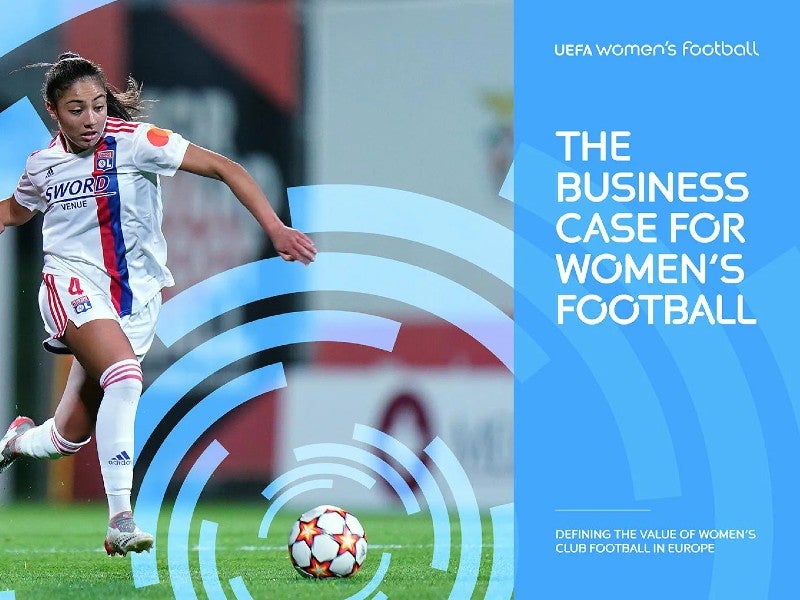 UEFA, European soccer's governing body, has revealed the commercial value of women's club soccer across Europe could reach €686 million ($695 million) by 2033.
The figure, which represents a six-fold increase in value, was detailed in the organization's newly released report The Business Case for Women's Football, which outlines the potential growth of European club and league soccer over the next 10 years.
The report said that while the successful staging of the Women's Euro 2022 tournament in England last month highlighted the potential of international women's soccer, the game had also made significant progress at club level, particularly with the revamped Women's Champions League competition.
Last year, UEFA decided to adopt a new competition structure, including a group stage, and introduce a centralized commercial model for the 2021-22 to 2024-25 cycle. Up to that point, UEFA had only been responsible for selling broadcast rights to the final, with the clubs involved distributing all other fixtures themselves.
The decision led to international sports streaming platform DAZN securing exclusive global hosting rights to the Women's Champions League in a four-year deal covering all territories except the Middle East and North Africa (where it can offer clips and highlights) and China and its territories.
Under that deal, DAZN agreed to broadcast all 61 matches from the group stage onwards live and for free on its YouTube channel and on its global service for the first two seasons of its contract to increase the competition's visibility.
Results showed straight away, with DAZN setting a new viewership record with 3.6 million tuning in to watch the final of the Women's Champions League as France's Lyon beat Spain's Barcelona 3-1 in the final at the Allianz Stadium in Turin, Italy, on May 20.
As well as DAZN and its YouTube channel, the game was shown by ITV in the UK and Ireland, TF1 in France, RTVE and TV3 (Spain), RTBF (Belgium), SVT (Sweden), NRK (Norway), Sport5 (Israel), and RUV (Iceland) after the streaming platform agreed sub-licensing deals with the 11 broadcasters.
The report said the value of women's club soccer in Europe came to €116 million last year, broken down into €12 million in match day value, €65 million in sponsorship value, and €35 million in media rights value.
However, by 2033 the women's game could reach a base value of between €552 million (€105 matchday, €252 million sponsorship, and €194 million media rights) and €686 million (€135 million matchday, €295 million sponsorship, and €256 million media rights).
It added that as the women's game is family-friendly and inspirational, its young fanbase is set to grow from 144 million to 328 million over the next 10 years.
UEFA said the report aims to provide comprehensive reasoning for increasing investment into women's soccer, particularly at club level, and give a clear understanding of the sport's potential growth.
It was produced after consultation with 42 leagues, 162 clubs, the European Club Association, and 11 commercial partners, as well as 30 interviews with top executives and consumer research across 14 markets and more than 20,000 individuals.
Giorgio Marchetti, UEFA deputy general secretary and director of the Football Division, said: "The Business Case for Women's Football is a very ambitious project that has been developed in partnership with representatives from all football stakeholders including national associations, leagues, the ECA, clubs, broadcaster, sponsors, fans, and academic institutions.
"This report provides all of our stakeholders with a clear understanding of the benefits of investing in the women's game and provides them with a clear rationale for increasing that investment."
Looking to the future, the report makes 20 recommendations to support stakeholders in developing the women's game and maximizing a return on investment.
Grouped under five key themes, the report suggests stakeholders: develop strategies and business plans, raise standards and professionalism on and off the pitch, build a sustainable ecosystem, increase visibility and strengthen audience engagement, and build on the unique strengths of the women's game.
UEFA chief women's football Nadine Kessler said: "Women's football is on an incredibly exciting trajectory, with growth being seen across nearly every metric and across all of our stakeholders across Europe.
"The potential of the women's game is limitless, and we believe we are on course to take women's football to heights that were unimaginable just a few years ago. As this report shows, now is the time to capitalize on the momentum we have created together, now is the time to get involved, now is the time to invest."