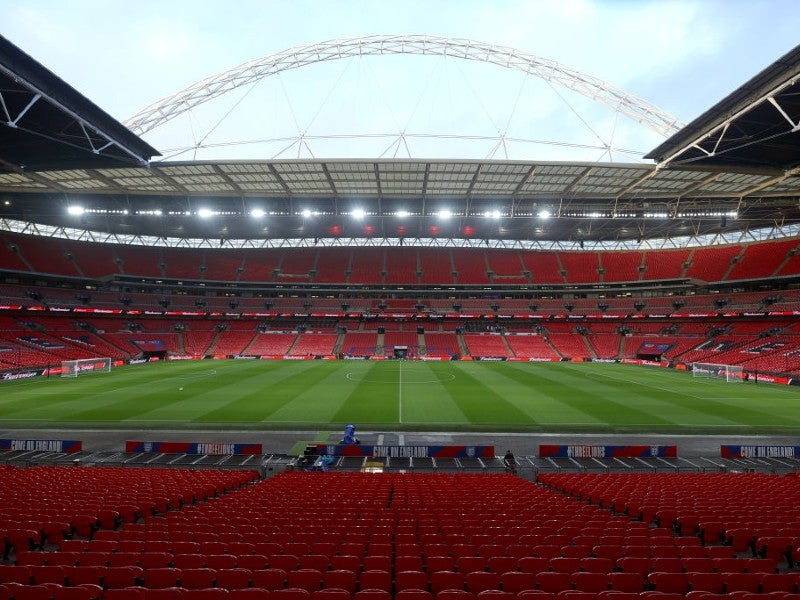 The national soccer associations of England, Scotland, Northern Ireland, Wales, and the Republic of Ireland have today (November 16) officially submitted a preliminary bid dossier to host the 2028 UEFA European Championship, the continent's top-tier national teams tournament.
The five-nation bid has received support from the respective governments of each country.
UEFA will set a deadline of the end of the year by which all the necessary government guarantees will have to be submitted. Failure to do so will see the continental body re-open the bidding process for the tournament.
In the dossier, the soccer bodies have proposed a shortlist of 14 stadiums, with nine in England, two in the Republic of Ireland, and one in Northern Ireland, Scotland, and Wales.
The shortlisted venues are Villa Park (Birmingham), Everton Stadium (Liverpool), London Stadium, Tottenham Hotspur Stadium, Wembley (London), City of Manchester Stadium and Old Trafford (Manchester), St James' Park (Newcastle), Stadium of Light (Sunderland), Dublin Arena and Croke Park (Dublin), Casement Park Stadium (Belfast), Hampden Park (Glasgow), and the National Stadium of Wales (Cardiff).
A final list of 10 stadia will be submitted to UEFA in April 2023.
The national soccer bodies believe a tournament in the UK and Ireland will "achieve a strong and sustainable legacy for football and wider society, helping to drive economic growth in local communities."
In a statement, the organizations added: "The UK and Ireland's track record of hosting successful major sporting events over many decades means we have the expertise and experience to take this world-class tournament to new heights.
"Our compact plan and pioneering, multi-partner collaboration can usher in a new era for the Euros. Through the latest digital and marketing innovations, we will help UEFA and its partners engage new audiences and the world's youth to extend the impact and reach of the tournament further than ever before."
The bid dossier is the next step in the countries' campaign to stage Euro 2028 after submitting a joint expression of interest in March.
They will face competition from Turkey after it also submitted a declaration of interest to host the Euros in either 2028 or 2032.
UEFA will announce the host nation for the tournament in September 2023.
It was recently reported that UEFA is set to abandon plans to expand the Euros to 32 teams in 2028 due to concerns raised by broadcasters.
The continental body had planned to increase the number of teams in the tournament again but broadcasters around Europe believe it would diminish the commercial value of the qualifiers.
Confirmation is expected at UEFA's next executive committee this month.
UEFA previously increased the Euros in size from 16 to 24 teams in 2016.
A 24-team tournament would mean only 10 stadiums will need to be used for the tournament.