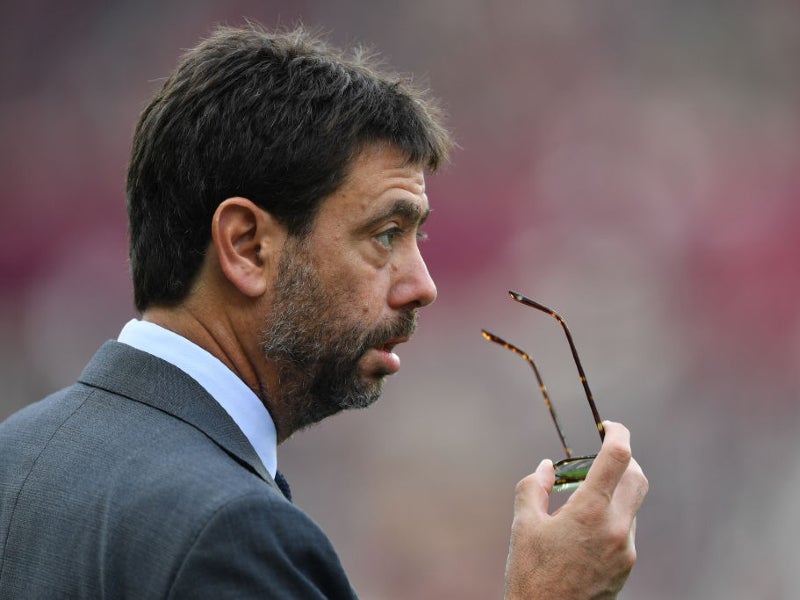 UEFA, European soccer's governing body, has launched an investigation into Italian soccer heavyweights Juventus for potential breaches of its Financial Fair Play regulations.
Earlier this week (November 28), the entire board of directors of the Turin club resigned over issues with the 2021-22 financial accounts.
Yesterday (December 1), Italian prosecutors called for former chair Andrea Agnelli (pictured) to stand trial over alleged false accounting. The prosecutors extended that request to 11 other individuals and also to the club itself.
UEFA has already held one recent investigation into Juventus' financial affairs. In August, a settlement was reached with the club, covering financial information provided between 2018 and earlier this year.
This new probe will focus on "alleged financial violations that were recently made public" by the aforementioned Italian authorities as a result of these latest developments.
The Turin prosecutors have been investigating Juventus' accounting and financial statements since 2019 and believe that the side understated financial losses for three consecutive seasons.
For the 2021-22 season, Juventus' accounts show a post-tax loss of €254 million ($263.2 million), a record-breaking figure for the Turin club.
The prosecutors have been assessing the values ascribed to player transfers over the past few years, and whether player salaries were sacrificed entirely during the Covid-19 pandemic (as stated in the Juventus accounts), or whether they were deferred.
Potential alleged charges against the club – all of which have been denied – include false accounting (through the production of invoices from non-existent transactions) and market manipulation, with the Italian financial and markets regulator Consob having been investigating the club's practices over the last year.
UEFA said in a statement that if "the club's financial situation was significantly different from that assessed by the [UEFA club financial control body] first chamber at the time the settlement agreement was concluded, or if new and substantial facts arise or become known," it holds the right to terminate the said agreement and take disciplinary measures "in accordance with the applicable rules."
UEFA's relevant club financial control body has said it will "cooperate with national authorities."
Juventus, meanwhile, have said that the prosecutors' allegations "do not appear substantiated nor aligned" and that they are "convinced that the club has always acted correctly."
The incident has brought forth comment from Spanish soccer's top-tier LaLiga, which has now demanded that "immediate sport sanctions" be applied to Juventus.
LaLiga said in a statement: "As part of its campaign to promote financially sustainable football in Europe, LaLiga continues to pursue these complaints against Juventus and demands immediate sporting sanctions to be applied on the club by the relevant authorities,
"LaLiga has long been a major proponent for the implementation, application, and enforcement of strong financial sustainability rules in soccer."
Both Agnelli and Juventus' vice president Pavel Nedved have been under investigation for some time now, with police having launched an investigation into "revenues from player registration rights" between 2019 and 2021 in November last year.
Maurizio Arrivabene, the team's chief executive, offered to resign too but will instead stay on in order to ensure a transition to the next board.
The other members to have stepped down are as follows: Laurence Debroux, Massimo Della Ragione, Katryn Fink, Daniela Marilungo, Francesco Roncaglio, Giorgio Tacchia, and Suzanne Keywood.
Image: Valerio Pennicino/Getty Images