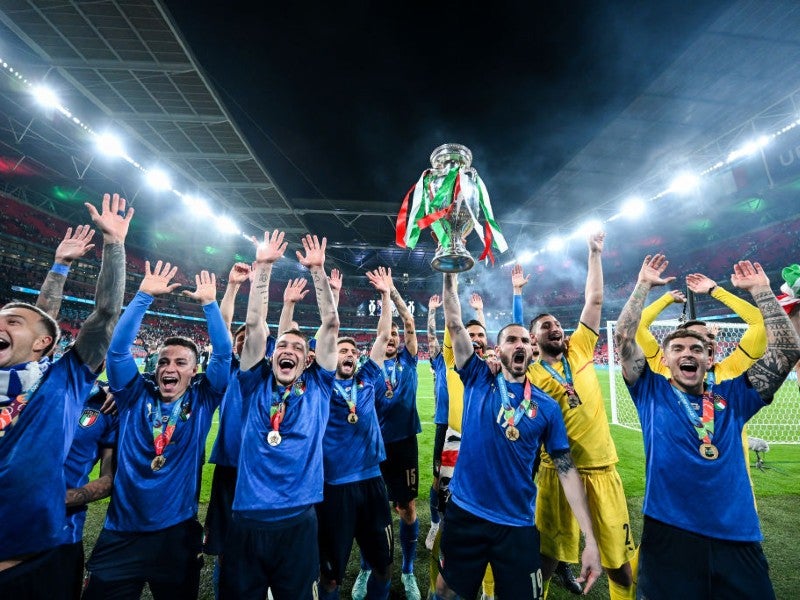 UEFA, European soccer's governing body, has launched a tender process to find a licensing rights partner in the non-fungible tokens (NFTs) space.
Yesterday (August 9), the organization launched a request for proposals (RFP) from companies interested in licensing NFT rights for UEFA's various national team competitions during the 2023-25 cycle.
UEFA has launched the tender alongside CAA Eleven, its rights partner agency for national team competitions.
All parties looking to submit proposals should register by contacting licensing@caa11.com, with a deadline of Friday, August 19.
The period in question will cover tournaments such as the UEFA European Championships in 2024, the UEFA Nations League Finals in 2023 and 2025, and the UEFA European Women's Championship in 2025.
UEFA already has an NFT partner for its various top-tier club competitions – in September last year, the body agreed a deal with existing sponsor Topps, which is now the exclusive and official collectibles partner of those competitions.
The deal between UEFA and Topps covers the 2021-22 to 2023-24 period, and now covers digital as well as physical collectibles.
UEFA becomes the third major soccer body in the last two weeks to launch an NFT tender process – after Liga Portugal, and English soccer's Football Association (FA).
The FA said it is seeking a partner to build a long-term NFT-based platform that will feature imagery, iconography, and match footage of England's men's and women's national teams.
Liga Portugal, meanwhile, has launched a double-headed tender – featuring an NFT fantasy game component and a digital player collectibles aspect.
UEFA, last week, launched a process to find a company to provide rental vehicles and related services for top-tier events it will be organizing over the next two years.
The other major UEFA tender ongoing at the moment is the US media rights sales process for top-tier UEFA club competition action in the next broadcast cycle from 2024-25.
The sales process, for the cycle running between 2024-25 and 2026-27, is expected to be completed before the start of the 2022-23 European soccer season, an ECA announcement has said. The tender will cover rights to the Champions League, Europa League, and Europa Conference League.
Currently, all those competitions are covered in the US by the national network Paramount (previously called CBS), with those rights running through to the end of 2023-24 from a three-season deal struck in March 2020.
The deadline for submissions of bids for this tender is August 15.