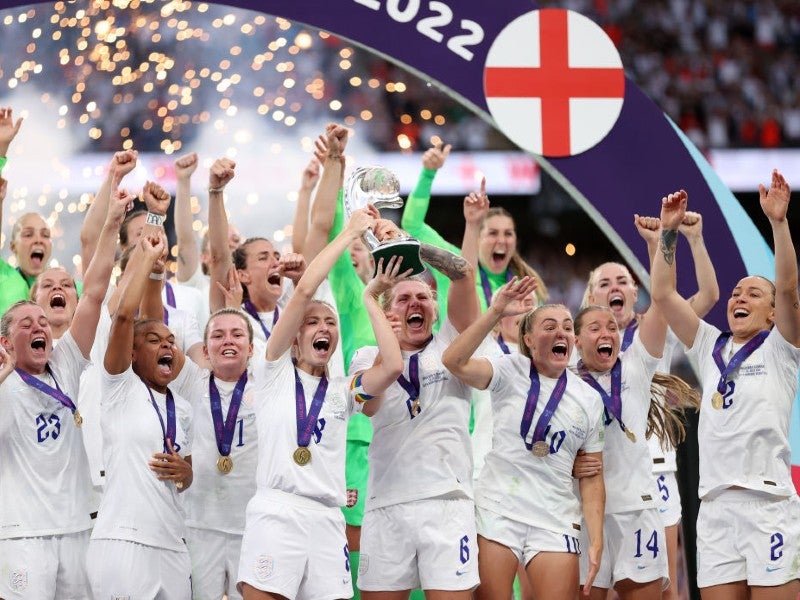 UEFA, European soccer's governing body, announced it has received four bids to host the 2025 Women's European Championship following the deadline on Wednesday.
Denmark, Finland, Norway, and Sweden have submitted a joint bid to host the tournament, while France, Poland, and Switzerland have proposed staging the event individually.
France hosted the women's World Cup in 2019, while Poland co-hosted the men's Euro 2012 alongside Ukraine. Switzerland was the joint host for the men's 2008 tournament with Austria.
The tournament was held in England this year, with the host beating Germany in a record-attended final at Wembley Stadium to win their first major trophy.
The tournament set attendance records and viewing records in England, as well as across Europe.
Last week, an impact report by UEFA and England's Football Association revealed the national teams competition delivered an economic boost of £81 million ($89.4 million) for the host cities in England and generated an increase of almost 300% in media rights value from the previous edition.
In November last year, UEFA announced it had received a record five declarations of interest to host the next Women's Euros in 2025, including the Nordic nations, France, and Switzerland. Poland and Ukraine also submitted their interest.
The Nordic bid has promised the biggest edition of the Women's Euro, with more than 800,000 tickets available for sale.
The bid named the 50,000-seat stadium Friend Arena in Stockholm as the location for the final. Each country's capital cities of Copenhagen, Stockholm, Oslo, and Helsinki have been included, as well as one additional city from each country – Odense in Denmark, Goteborg in Sweden, Trondheim in Norway, and Tampere in Finland.
The French Football Federation, meanwhile, said it had included eight cities in its bid, including Len, Lyon, Metz, Nantes, Pair, Reims, Rennes, and Valenciennes.
The Swiss Football Association said its candidacy had received support from the Swiss government, with the cantonal governments of the planned venues promising CHF45 million ($45 million) towards the event.
Switzerland's bid includes staging matches in Basel, Bern, Geneva, Zurich, St Gallen, Sion, Lausanne, Lucerne, and Thun.
The winning bid will be announced by the UEFA executive committee on January 25, 2023.
Image: Naomi Baker/Getty Images